The in-house design team at PSW Homes, Austin, Texas, had already used a leaf motif on murals in the first two buildings of the 104-unit Thornton Flats luxury apartments, in South Austin. But the architects wanted a graphic treatment with a lot more pop for the third building in the complex.
"We were seeking a more natural and chill South Austin vibe that would not only create a welcome departure from the feature-laden rentals popping up in the area, but also accentuate the indoor-outdoor living that PSW strives to create," said Andy Webre, PSW's Architectural Project Manager. "We wanted something that had the ability to create a sense of place other than a boring building number."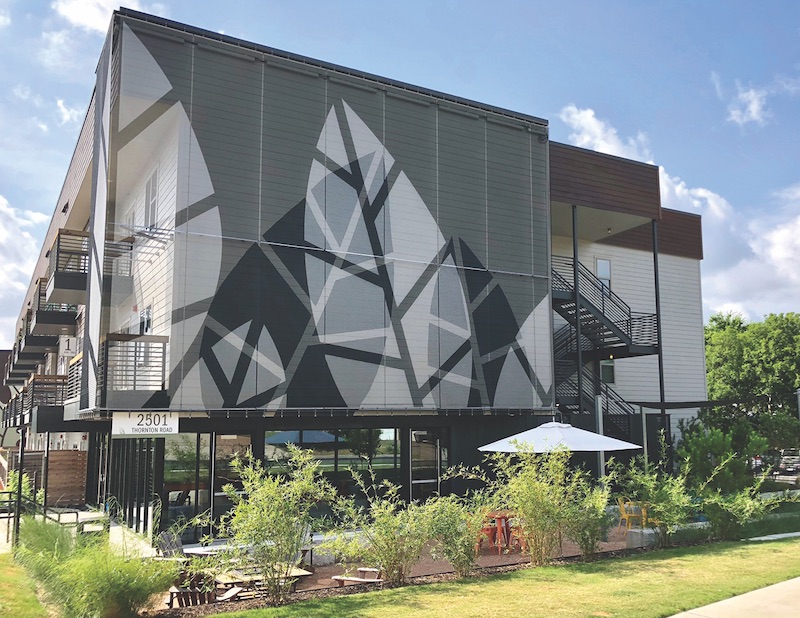 Webre and his team turned to Cambridge Architectural for the new graphic element. The manufacturer started with 10 panels (1,276 sf) of raw stainless steel in its Mid Balance mesh pattern. Leaf "cutouts" were created by powder coating the surrounding metal in antique bronze, which looks black to the eye. L&S Erectors, Litchfield, Ohio, installed the 50%-opacity mesh screen. A tan wall behind the mesh produces a 3D effect; at night, color-changing lighting provides added visual depth to the leafy new façade.
"We had never used metal mesh," said Webre. "We liked the translucent layering design opportunities the mesh screen created, and the long-term durability of powder-coated stainless steel."