This year could see the opening of the first inland park exclusively for surfboarding in North America. NLand Surf Park is developing such a park on 159 acres near the airport in Austin, Texas, three hours from any coastline.
It will feature a 1,082-foot-long, 492-foot-wide lagoon, in which a hydrodynamic blade, or wave foil, will move underwater from one end to the other, creating waves up to six feet high and rides up to 35 seconds long, at a rate up to 300 waves per hour.
NLand's Golden, Colo., address hints at who's behind this effort: Doug Coors, of the brewing dynasty, an engineer and avid surfer. Coors told ThinkProgress that he's been investigating wave technology for 15 years. Beyond that, Coors isn't revealing much. No renderings or cost estimates had been released as of mid-December.
The history of surf parks, which dates back to the 1960s, is rife with false starts and flops. But Felip Verger, a spokesperson for Wavegarden, the Spain-based firm providing the wave foil technology, says NLand is "well under way," under a site-development permit the city issued in June 2014.
The 10-year-old Wavegarden has 15 engineers and two architects on staff. It opened its first surf park, Surf Snowdonia, in northern Wales last August. That park's 985-foot-long, 360-foot-wide lagoon accommodates up to 36 surfers simultaneously. News reports peg Surf Snowdonia's cost at between £12million and £14 million, with financial support from the Welsh government.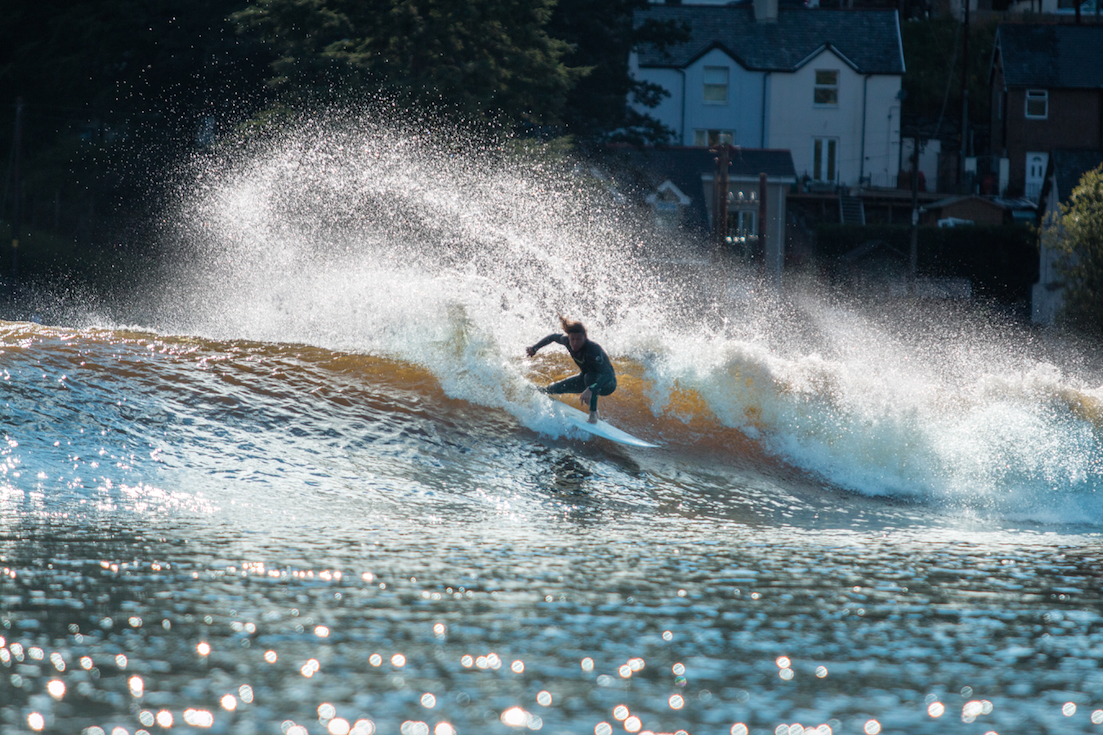 Photo: Wavegarden
The publicity around Wavegarden's projects has raised questions about its technology, especially after mechanical problems forced Surf Snowdonia to close weeks before its season was supposed to end.
Greg Webber, Founder of Webber Wave Pools in Australia, claims that in order to increase the waves per hour it can produce, Wavegarden's technology sacrifices ocean-like authenticity. Webber's own technology—which has yet to get beyond renderings—involves a kind of underwater monorail driving computer-operated hydraulic hulls that alter the waves' size, shape, draft, and angle.
Verger insists that Surf Snowdonia will reopen in March. Wavegarden is determined to open surf parks on five continents within the next five years. It has an exclusive agreement in Australia with Perth-based Wave Park Group, whose Founder, Andrew Ross, tells BD+C that he wants to have 10 surf parks operating by 2025. Ross estimates a 350x130-meter surf park would take a year to build and cost $14.5 million to $18.1 million, plus land costs.
Surfing is one of several sports that have been shortlisted for possible inclusion in the 2020 Olympic Games in Tokyo. And Wavegarden is one of several wave-making technologies vying for the International Olympic Committee's attention.
A leader in this field is Murphys Waves, a 15-year-old manufacturer based in Glasgow, Scotland, that has installed 14 surf parks, including Disney World's Typhoon Lagoon. Its hydraulic Point Break Surf System can generate surfing waves as high as 11 feet, and offers computerized control of the wave's right, left, and point breaks. Jim Stuart, its Sales Director, says Murphys Waves is working with a client in Malaysia on an Olympic Surf Competition System, which he wouldn't talk about except to say it will produce waves up to 13 feet high.
American Wave Machines, Solana Beach, Calif., uses pneumatic air pressure to create waves in smaller pools that are scalable for different indoor and outdoor spaces, and are designed to maximize the number of rides per day. Founder Bruce McFarland says AWM's technology will be deployed at the $3.7 billion American Dream entertainment complex being built in Secaucus, N.J.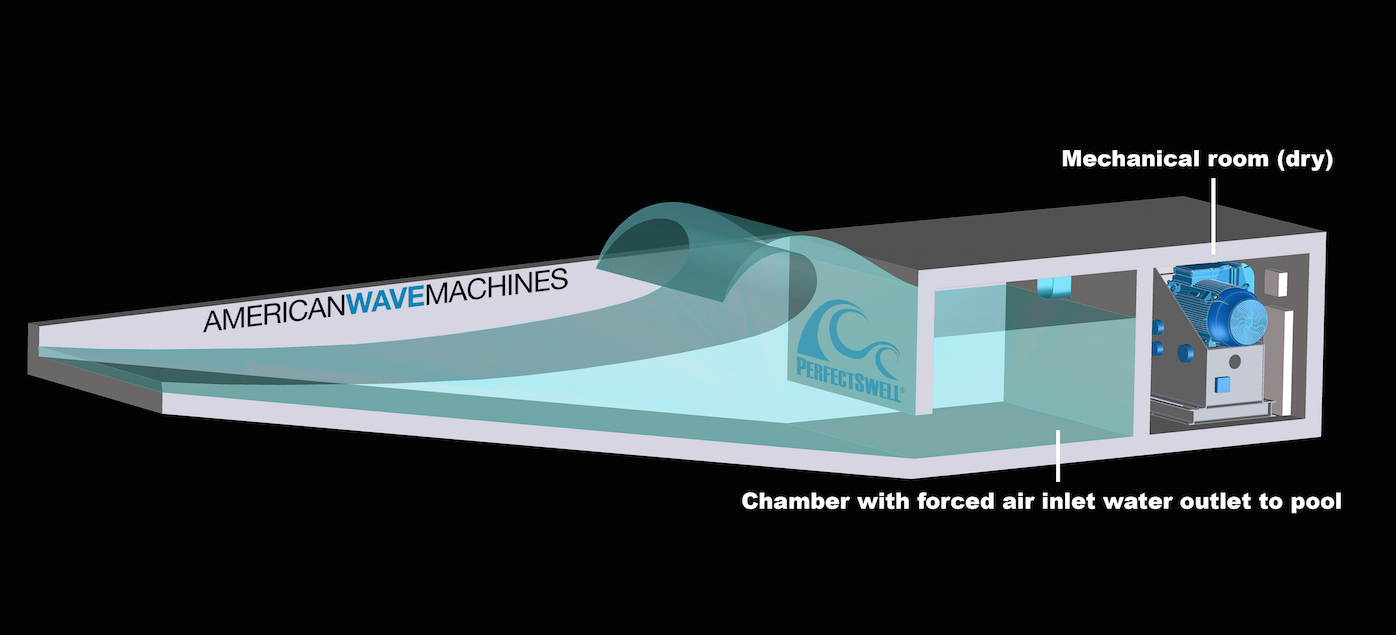 American Wave Machines uses air pressure and digital controls to produce wave swells.