Building Design+Construction is pleased to introduce our "40 Under 40" Class of 2014. They join 320 previous recipients of the honor, dating from 2006.
These emerging AEC leaders
range in age from 31 to 39 (as of December 31, 2013), with a median age of 36. The editors of
BD+C
selected them based on their career achievement, service to their professions and communities, and active participation in charitable work.
The winners will join other up-and-coming AEC professionals for three days of leadership development, team building, and professional networking at "Building the Future You," our fourth annual
U40 Leadership Summit
, which will be held in New York City September 17-19. Visit the
U40 Summit registration page
for complete details.
Architechie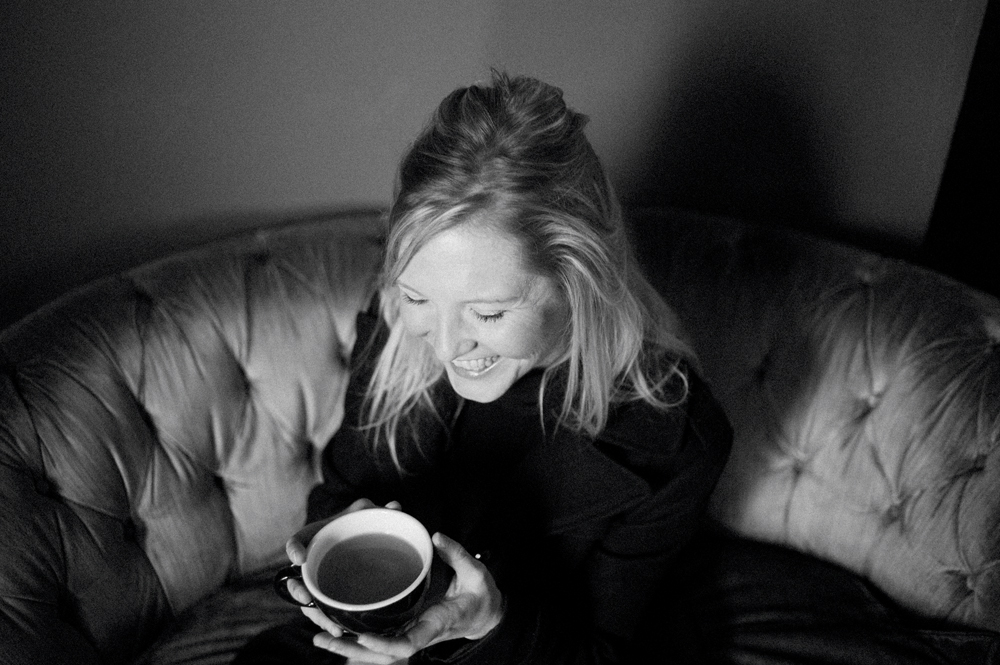 RACHEL RIOPEL WILEY, AIA, NCARB, LEED AP BD+C
Central Region BIM Director
HDR, St. Paul, Minn.
AGE: 32
BS, North Dakota State University
ACCOMPLISHMENTS
Former CAD coordinator with DLR Group, where she taught LEED AP prep classes while learning Revit on her own. Joined HDR in 2008 as a Digital Design Technology Analyst; promoted to Project Architect–Best Practices Development. In 2013, named Central Region BIM Director––HDR's youngest (and first female) BIM Director.
Led creation of HDR's Level of Development document, resulting in the Model Progression Baseline, which defines the minimum BIM deliverable. Led development of HDR's Project Execution Plan for management of VDC.
Registered Architect in Minnesota.
EXTRACURRICULAR
Member, AIA Minnesota (co-chair, Intern Development Program; state convention planning team; past co-chair, Emerging Professionals Group; Architect Registration Exam Review Sessions instructor; member, Architects in Commerce Research Initiative Taskforce).
Board member, Minnesota Revit Users Group.
Member, US Army Corps of Engineers Industry BIM Committee.
Member, Building SMART Alliance and National BIM Standard V3.0 Standard Practice Subcommittee and Technical Committee.
OFF THE CLOCK
Passions: fitness, photography, yoga, cooking, wakeboarding, hiking, trap shooting, and music.
SECRET LIFE
Thirteen-year veteran of the family's catering business. Recently took over HOTdish Products, a spinoff company that designs and sells patented chafing dishes.
LISA BLAKE, PE, LEED AP
Assistant Project Manager
Manhattan Construction Company, 
Falls Church, Va.
AGE: 34
BS, Virginia Polytechnic and State University
ACCOMPLISHMENTS
After studying animal and poultry science and biological systems engineering, switched to civil engineering and then commercial construction. With Manhattan Construction, progressed from Senior Project Engineer to Assistant Project Manager in two years.
Representative projects: Gaylord National Resort and Convention Center, Prince George's County, Md. (1,500 hotel rooms, 400,000 sf of convention space); U.S. Army Medical Research Institute of Infectious Diseases' 835,000-sf replacement facility at Fort Detrick. The latter is the largest, most complex biocontainment facility ever built by the DoD, including labs up to Biosafety Level 4 and Animal Biosafety Level 4, and is designed to work with the world's most dangerous biological agents.
Professional Women in Construction, Washington, D.C., Chapter, Rising Star Award, 2011.
EXTRACURRICULAR
Member, event and golf committees, Professional Women in Construction, D.C. Chapter. 
Presenter to groups of young engineers at George Mason University, the University of Virginia, and the SAME Young Members Council.
Volunteer, D.C. Habitat for Humanity.
Coordinator for Manhattan Construction volunteer group with iCan Shine, a charitable nonprofit that helps children with disabilities learn to ride bicycles.
Completed charity marathon for Leukemia & Lymphoma Society in memory of her mother.
OFF THE CLOCK
Loves hiking the trails of rural Virginia, including Old Rag Mountain, Great Falls, and Gambrill State Park. Also enjoys water sports and is currently teaching a young niece to ski.
World travel: India, England, Italy, Mexico, Caribbean islands.
SECRET LIFE 
Hot sauce enthusiast. "I have an extensive collection. Some favorites: Barons, Dave's Ghost Pepper Naga Jolokia Hot Sauce, and Mo Hotta Mo Betta 'Yard Bird' Wing Sauce."
JUSTIN CRANE, AIA
Associate, Cambridge Seven Associates
Cambridge, Mass.
AGE: 36
AB, Harvard University
MArch, Massachusetts Institute of Technology
ACCOMPLISHMENTS
Project architect with significant experience in academic, civic, and hospitality work. Representative clients: Bowdoin College, Hard Rock Café, Kraft Group (New England Patriots owner). Recent projects: Giant Ocean Tank renovation (200,000 gallons) and exterior master plan for New England Aquarium; new science center and building renovations at Westfield (Mass.) State University.
Founder, Common Boston, a volunteer organization that connects architects with the general public and explores progressive ideas in design. Co-chaired the group from 2005-2011, including development of festival and tour events (www.commonboston.org).
EXTRACURRICULAR
Board president, Learning by Design in Massachusetts (nonprofit spun off from the Boston Society of Architects, focused on K-12 architecture and design education). Assisted in facilitating the group's transition after achievement of 501(c)(3) status.
Chair, BSA Ethics Committee (2012). Regular contributor to ArchitectureBoston journal.
Ran Boston Marathon in 2011 to benefit the nonprofit WalkBoston. Augmented his fundraising by leading walking tours around his Cambridge neighborhood.
OFF THE CLOCK
Has hiked more than 1,000 miles of the Appalachian Trail, mostly solo. "Hiking the AT did a lot to reinforce my appreciation of the kindness strangers often show toward one another." One such gesture: getting a Snickers bar "from someone I would probably never meet again."
SECRET LIFE
Grandfather Bill Hume was a cartoonist in the Navy newsand published several cartoon books about American servicemen in Japan after World War II ("Babysan," "Babysan's World"). "These would be considered completely politically incorrect now," Crane says. "He went on to make animated films, including one used to teach Disney artists how to animate. I like to believe I received some of his artistic talent."
Irish Import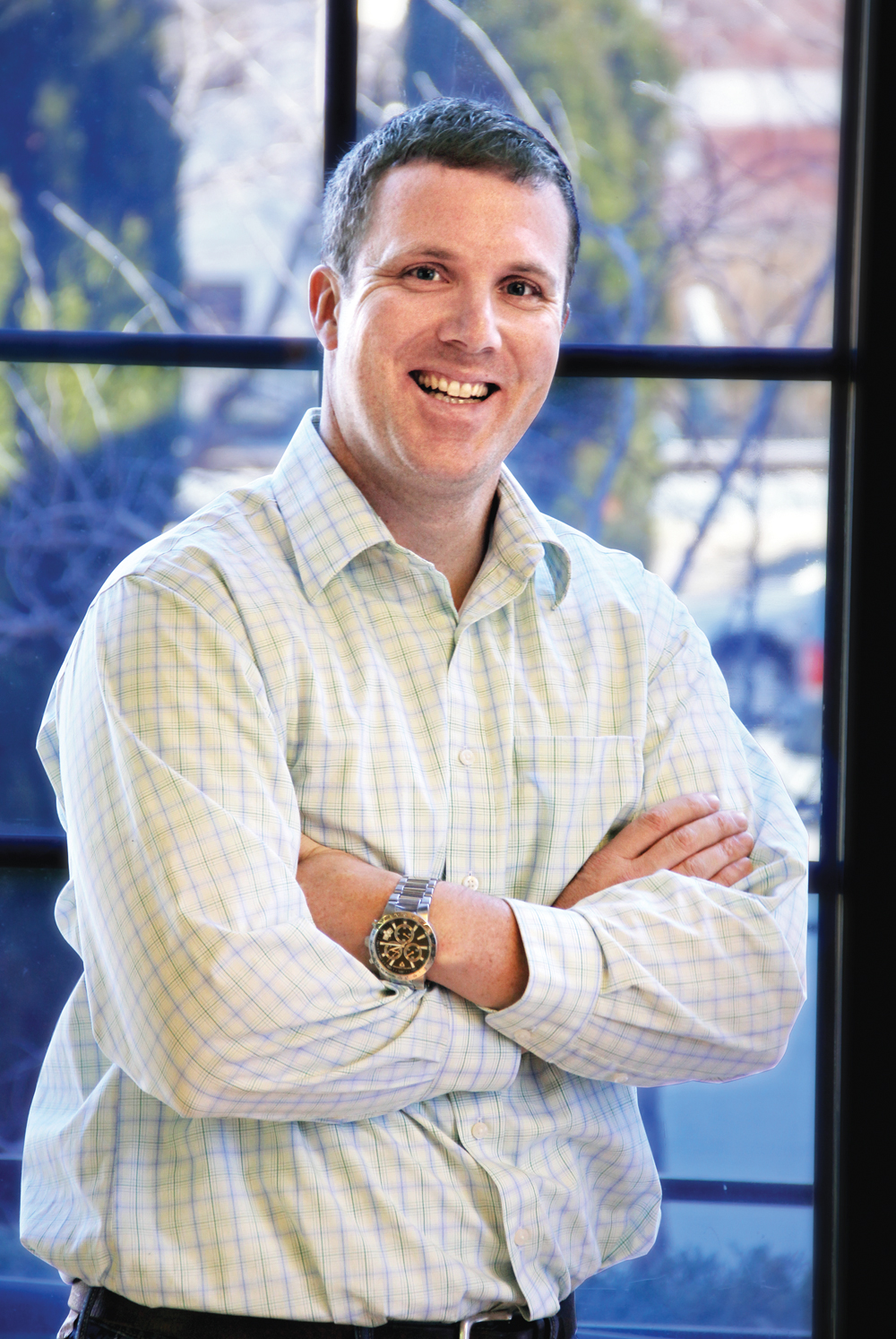 MARTIN WALSH, LEED AP, DBIA
Vice President, National Mission Critical
Balfour Beatty Construction, 
Charlotte, N.C.
AGE: 39
BS, National University of Ireland, Galway
ACCOMPLISHMENTS
After completing his civil engineering degree, worked for London-based Coffey Construction. Relocated to the U.S. in 1998 to be closer to his wife's family. After six years working for a concrete company, was recruited by Howard S. Wright, a construction firm later acquired by Balfour Beatty. Promoted to VP for the Mission Critical team earlier this year, overseeing business acquisition, operations, and account management and supporting mission-critical projects in the East, Central, and West regions.
Actively involved in a partnership with The Uptime Institute and others to streamline data center operations. Representative clients: Intel, Time Warner Cable, Compass Data Centers.
ASHE/AHA Healthcare Construction Certificate.
EXTRACURRICULAR
Board member, Design-Build Institute of America, Western Pacific region.
Board member, Morrison YMCA, Charlotte (Growth & Development Committee, Golf Tournament Committee).
OFF THE CLOCK
Passions: mountain biking, adventure racing, skiing, "old man's soccer."
Participates in YMCA Y-Guides with his older daughter.
SECRET LIFE
Fanatic follower of Gaelic football games administered by the Mayo County Board of the Gaelic Athletic Association. Attended the Irish equivalent of the Super Bowl, the All-Ireland Football Final, last year in Dublin.
SCOTT TOMHAVE, LEED AP
Director of Operations, Austin Division
Swinerton Builders, Austin, Texas
AGE: 37
BS, Texas A&M University
MBA, Webster University
ACCOMPLISHMENTS
Spent eight years at a contracting firm before diving into real estate development and ultimately running the company he worked for, Sprout Holdings. Later opened own real estate investment and advisory company, Lonestar Advisors. Named Director of Operations for Swinerton's new Austin Division in 2012; recently secured a $100+ million project to develop Chevron's Midland, Texas, campus.
Representative projects: Lucasfilm Ltd., Nicasio, Calif. (185,000-sf Big Rock Ranch, a Prairie-style addition to Skywalker Ranch); Kaiser Permanente, Vacaville, Calif. (232,000-sf medical office and ambulatory surgery center); Bella Vista, Dripping Springs, Texas (164-acre site to be developed into an 86-home gated subdivision).
EXTRACURRICULAR
Member, Real Estate Council of Austin and Urban Land Institute.
Volunteer, Habitat for Humanity and Austin Achieve (charter school program for under-served neighborhoods in Austin.)
Soccer and baseball coach, Dripping Springs Youth Sports Association.
OFF THE CLOCK
Loves playing the guitar, enjoying outdoor activities, cycling, board sports, and tennis.
SECRET LIFE
Front man for rock bands in high school and college. "I played guitar and sang—horribly—but I enjoyed every minute."
Healthcare Guru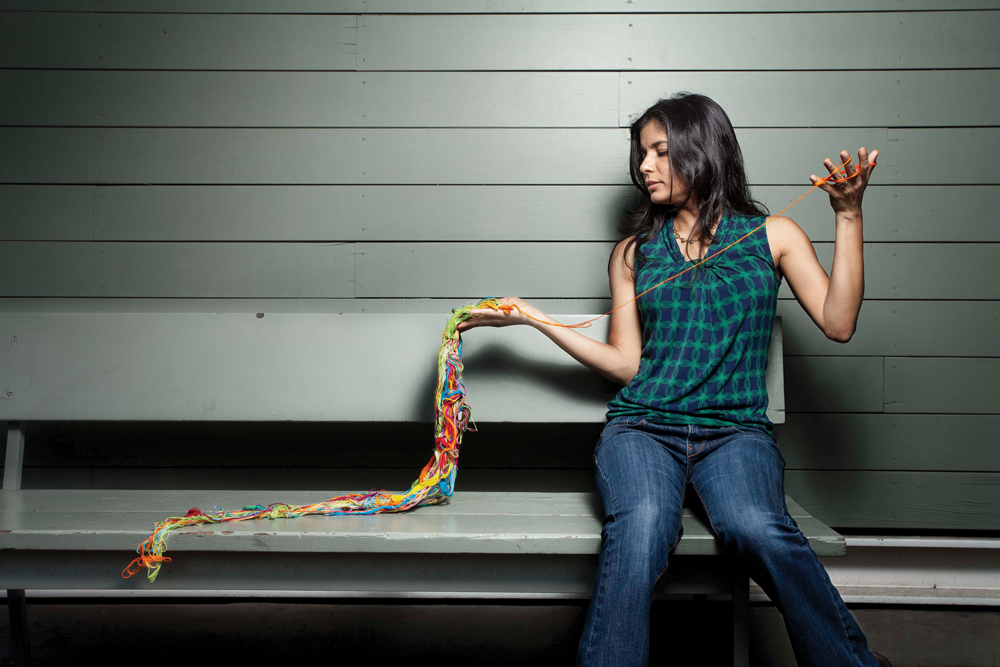 PRAJAKTI "PJ" GLASCO, AIA, ACHA, LEED AP BD+C
Senior VP/Senior Project Planner
FKP Architects, Houston
AGE: 38
BArch, Dr. Bhanuben Nanavati College of Architecture, Pune, India
MArch, University of Houston
ACCOMPLISHMENTS
Certified by the American College of Healthcare Architects at age 38. Portfolio includes about 1.7 million sf of built healthcare facilities and 2.5 million sf of planned facilities. Has special expertise in the design of cancer-care environments. Created an oncology planning guide that won an award from the Society for Marketing Professional Services in 2012.
Representative clients: Children's Hospital of Philadelphia; St. Vincent's Health System, Birmingham, Ala.; Harris Health System, Houston; University of Arkansas for Medical Services, Little Rock; University of Texas Medical Branch, Galveston; Texas Children's Hospital, Houston.
Registered architect in Texas.
AIA School Medal and Achievement of Merit for Excellence, Gerald D. Hines School of Architecture, University of Houston. Class valedictorian.
EXTRACURRICULAR
Chair, AIA Houston Committee on Architecture for Healthcare (2011).
Volunteer, Habitat for Humanity and Search's House of Tiny Treasures (early childhood activities for children whose parents are working to break the cycle of homelessness).
Home tour docent, Rice Design Alliance. 
OFF THE CLOCK
Stays busy with two-year-old twin daughters, but also enjoys yoga, cooking, and complicated cross-stitch work. "My husband says that just looking at the patterns I work with gives him a headache."
SECRET LIFE
Won a gold medal in a national taekwondo tournament in India at age 14.
ANDY FRY, PE, SE, LEED AP
COO/Senior Principal
Magnusson Klemencic Associates, Seattle
AGE: 39
MS, University of California–Berkeley
BS, University of Illinois at Urbana–Champaign
ACCOMPLISHMENTS
Progressed from entry-level engineer to Principal in a bit more than a decade, followed by a 2012 promotion to COO. Manages staff recruitment, work assignments, professional training, human resources, and physical facilities for MKA. Led a company initiative in performance-based seismic design, leading to a new methodology for high-rises in earthquake-prone regions.
Representative projects: 300 N. LaSalle, Chicago (57-story, 1.3 million-sf office tower); The Infinity, San Francisco (four concrete residential buildings totaling 1.4 million sf atop a mixed-use podium).
Registered in Washington as both a civil and structural engineer.
EXTRACURRICULAR
Assisted in MKA-initiated research at the University of California–Los Angeles involving link beam performance and construction, leading to a modification to ACI Code 318-08.
Published author: ACI Structural Journal, Structural Design of Tall Buildings (a publication of the Los Angeles Tall Building Structural Design Council), ASCE Structures Congress Proceedings, PTI Journal.
Longtime volunteer with Seattle Children's Hospital. Served on the Parent Advisory Council, whose mission is to help ensure that the organization meets the needs of children and their families.
Church elder.
OFF THE CLOCK
Enjoys running, watching college basketball, and reading. "I worked on a golf course for two summers in high school and during that time taught myself how to juggle, but not how to golf."
SECRET LIFE
Fry is a member of his church choir, met his wife in a college band, and has memorized every song from "The Little Mermaid." Unusual talents include the ability to drink a carton of milk in three seconds.
Hawaiian Guy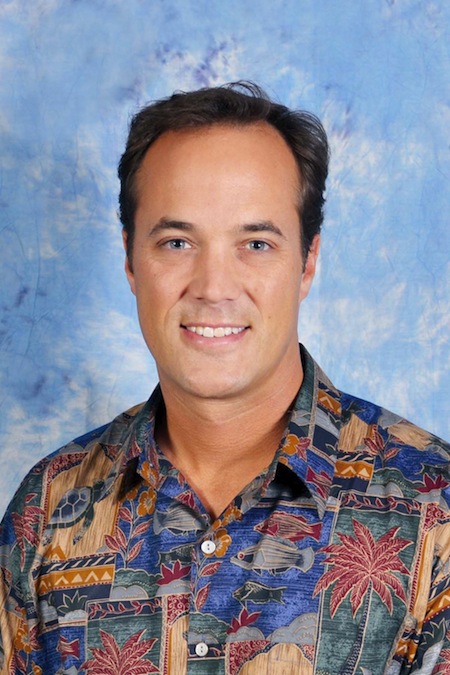 AARON WIEHE, LEED AP, DBIA
District Manager
Nordic PCL, Honolulu
AGE: 39
BS, Purdue University
ACCOMPLISHMENTS
PCL's youngest district manager. Oversees daily operations of 175 employees. Received the Robert Stollery Corporate Award, PCL's most prestigious internal leadership recognition, in 2004.
Representative projects: Symphony Honolulu ($191 million mixed-use condominium development); Kamehameha Schools Kapalma Strategic Redevelopment Project (athletic complex, middle school, cultural center, parking structure, and residence halls); Bravern Signature Residence Towers, Bellevue, Wash. ($249.2 million condominium project).
EXTRACURRICULAR
Past member, Academic Advisory Board, Purdue Construction Engineering and Management Program.
Member, Associated General Contractors of America (served seven years on the AGC Collective Bargaining Committee).
Volunteer, Associated Schools of Construction student competition.
Volunteer, ACE mentoring program. 
Board member, Aloha United Way.
Volunteer, Habitat for Humanity and Special Olympics.
OFF THE CLOCK
Passions: surfing, water skiing, scuba diving, rock climbing, cooking, and driving fast.
SECRET LIFE
Still harbors fantasies about becoming a professional racecar driver. 
Keeps Thin Mints Girl Scout cookies in his freezer: "I ration them throughout the year."
Emerging Architects' Advocate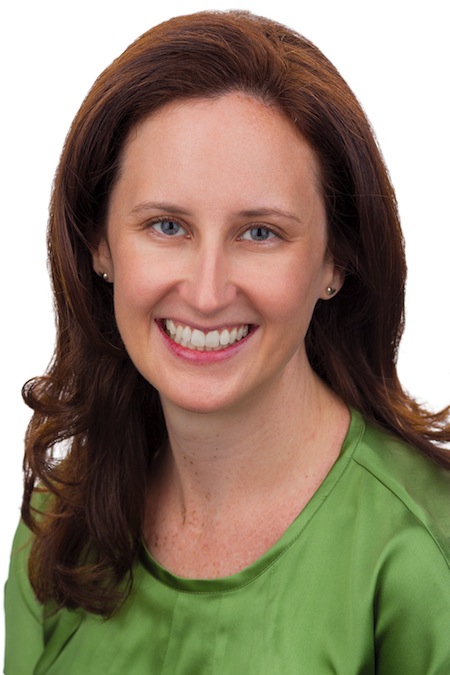 ERIN MURPHY, AIA, NCARB, LEED AP
Director, Emerging Professionals
American Institute of Architects, Washington, D.C.
AGE: 33
BArch, Syracuse University
ACCOMPLISHMENTS
Hired by Robert A.M. Stern shortly after completing college. Later recruited by the AIA as Director of Emerging Professionals, working with the National Associates Committee (interns, nonlicensed professionals) and the Young Architects Forum. 
Projects include organizing the Emerging Professionals Leadership Summit (2014) and the 2012 YAF Summit20; developing the AIA Emerging Professionals Toolkit (used by AIA components nationwide to help interns become licensed architects); and revising and updating the Emerging Professionals Companion.
Licensed Architect in New York.  
EXTRACURRICULAR
Volunteer designer, NYC Leukemia & Lymphoma Society Black Tie & Black Jack event, which has raised >$300,000 a year for the LLS.
OFF THE CLOCK
Vinyasa yoga and spinning enthusiast. Favorite meal: penne á la vodka.
SECRET LIFE
"I can hit a really straight golf ball, though never much farther than 75 yards."
Speed Demon

ANTHONY CATALDO, AIA, NCARB, LEED AP BD+C
Director, Commercial Architecture
Ware Malcomb, San Ramon, Calif.
AGE: 36
BArch, Cal Poly Pomona
ACCOMPLISHMENTS
Over 11 years at the firm, progressed from drafter to job captain to project manager to studio manager and now office director in San Ramon. Firm provides planning, architecture, interior design, graphic design, and civil engineering services to commercial, corporate, and public clients worldwide.
Grew a single fast-food restaurant renovation into a continuing account involving more than 60 restaurants.
Representative clients: Sears, Toyota, Mercedes-Benz, Home Depot, IKEA.
Licensed Architect in California.
EXTRACURRICULAR
President, AIA East Bay Chapter (2012).
Director, AIA California Council (2011-13).
UC–Berkeley Portfolio Reviewer for scholarship program (2011-13).
Advisor, 2008 Livermore (Calif.) Planning/Building Process Review. 
OFF THE CLOCK
Has run the Kaiser Permanente San Francisco half marathon four times, raising funds for nonprofits that promote a healthy lifestyle. Enjoys runs around Lake Chabot.
Studied in Florence, Italy, during college and says it's still one of his favorite vacation spots. "I love walking through the Renaissance city, hearing the beautiful language, and taking in the beautiful architecture. There is a little gelato shop downtown that you can't beat!"
SECRET LIFE
Favorite read: Road and Track magazine. "I can quote the horsepower and the specifications for all the latest exotic cars at any given time."
ZACHARY BENEDICT, AIA, RD, NCARB, LEED AP
Partner
MKM architecture + design, 
Fort Wayne, Ind.
AGE: 33
BS, BArch, MArch, 
Ball State University
ACCOMPLISHMENTS
Benedict studied urban sociology in graduate school before joining MKM, a firm focused on design for healthcare and wellness. His research shaped MKM's "Lifelong Village" initiative, exploring the connections between aging Baby Boomers and rural downtown revitalization. Became the firm's youngest managing partner in 2012, at age 31. Oversees brand and communication strategies while continuing to participate in design and research.
Facilitated a national study entitled "Community AGEnda: Improving America for All Ages," in 2013, supported by the Pfizer Foundation and Grantmakers in Aging.
Ball State University College of Architecture and Planning Alumni Award of Outstanding Achievement, 2013 (youngest person ever to receive the award). 
Registered Architect in Indiana and Michigan.
EXTRACURRICULAR
Created partnership between Ball State and local AIA Chapter to initiate and oversee more than 120 student projects focused on the redevelopment of Fort Wayne. 
From 2005-09, was one of three managing directors of AB417, a think tank aimed at social and community problems. Currently serves as Chair of Fort Wayne's Downtown Improvement District, the largest economic improvement district in the state.
Board service: Greater Fort Wayne Inc. Metro Chamber Alliance, Fort Wayne Museum of Art, Northeast Indiana Passenger Rail Association, Northeast Indiana Green Building Coalition, Friends of the Parks of Allen County.
OFF THE CLOCK
Loves listening to music; owns every Tom Waits album ever made.
Spends most free time with sons aged three and five: "My hobbies tend to revolve around dinosaurs and 'Despicable Me.'"
SECRET LIFE
Great-grandfather owned a Chicago car dealership and customized bulletproof cars for Al Capone.
JON PENNDORF, AIA, LEED AP BD+C
Associate
Perkins+Will, Washington, D.C.
AGE: 36
BS, MArch, The Catholic University of America
ACCOMPLISHMENTS
Involved in the management and high-performance design of corporate, commercial, civic, academic, government, and mixed-use projects. Currently managing repositioning efforts for multiple office buildings and complexes in D.C., Maryland, and Virginia. 
Representative projects: Asia Trail at National Zoological Park, Wakefield (Va.) High School (LEED Gold targeted), Flint Hill High School, Oakton, Va. (winner, Presidential Citation for Sustainable Design from AIA/DC).
EXTRACURRICULAR
Volunteer, DesignDC Conference & Expo (Planning Committee member, 2008-11; Planning Committee chair, 2013; organizer, Emerging Architects Afternoon).
Helped launch (with Steelcase Furniture) work+dc, a multi-workshop study dedicated to the future of workplace design.
Member, AIA Washington, D.C., Chapter (board of directors, 2008-13; member, 2012 National Convention Steering Committee; founder, Emerging Architects Committee; founder, AIA/DC Mentoring Workshop; founder, AIA/DC Emerging Architects Award).
Regional director, AIA Young Architects Forum.
Chair, DC Habitat for Humanity Public Relations Committee.
OFF THE CLOCK
Travel aficionado, foodie. "I seek out local, authentic places to eat everywhere I go. I also like to find new small-batch gins." Favorite vacation spot: Outer Banks of North Carolina.
SECRET LIFE
Competitive ballroom dancer in college: "Somewhere I have the ribbons to prove it."
Early Achiever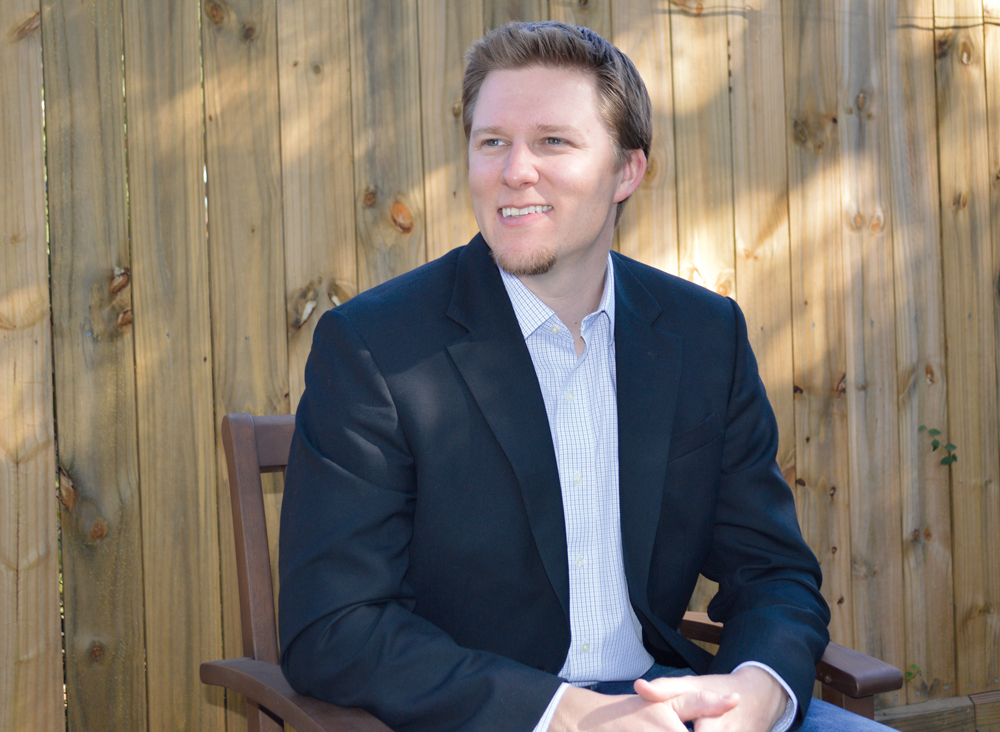 ADAM CRYER, PE
VP/Principal
Pinnacle Structural Engineers, Houston
AGE: 34
BS, Rice University
MS, University of Texas
ACCOMPLISHMENTS
Cryer co-founded Pinnacle at age 25 with a partner while still enrolled as a grad student at UT–Austin. Currently leads employee recruitment, marketing, and business development for the firm, as well as managing and training staff engineers.
Has served as EOR on more than 250 projects, including blast-resistant structures for Houston-area petrochemical facilities. Also experienced in the worship, office, and K-12 sectors. Recent projects: 107,000-sf TGS Nopec Headquarters, Houston; 37,500-sf Mary Queen Catholic Church, Friendswood, Texas; 35,000-sf The Varnett School (elementary building), Houston.
Licensed Professional Engineer in nine states.
EXTRACURRICULAR
Serves on the Board of Directors for the Houston branch of ACE; active in the Mentors Program.
Presenter on AEC topics for classes at Rice University, University of Texas, and University of Houston.
Published author (Modern Steel Construction, Structural Engineer). 
Member, American Concrete Institute and The American Institute for Steel Construction.
Volunteers with his wife on projects for Rebuilding Together Houston.
OFF THE CLOCK
Co-captain of the company bowling team, competing in the Houston Architects/Engineers Bowling League. Pinnacle has won the league title in two of the past three years. Bowled sequential 300 and 279 games in 2011.
Completed his first marathon earlier this year.
SECRET LIFE
Crazy about rock and the blues, from Led Zeppelin to Gary Clark Jr. to Stone Temple Pilots. "My love of music and concerts led me to pick up the guitar during my senior year of college. I hope to join a band in the not-so-distant future."
Straight Shooter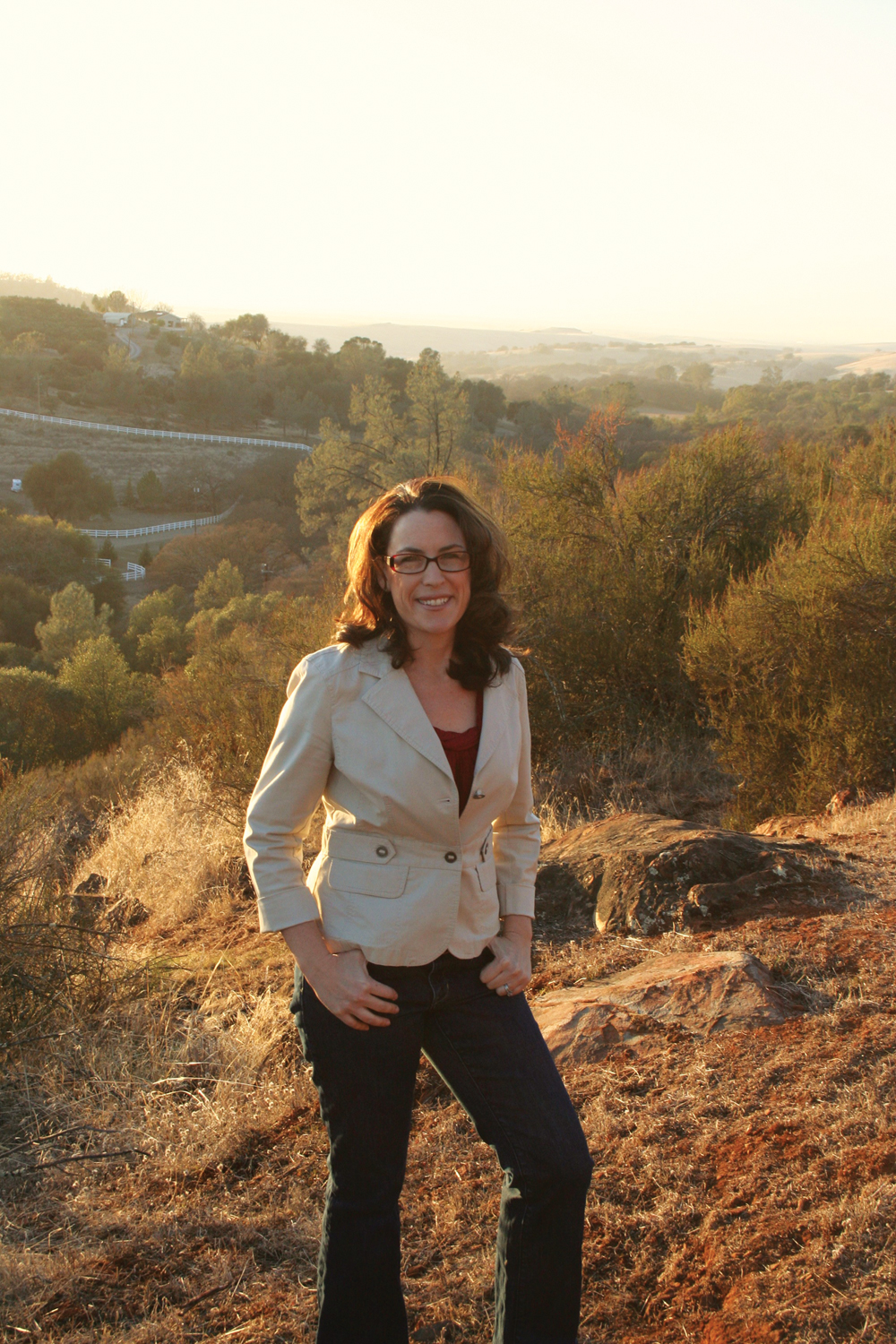 SARA CARMODY
Project Executive
Hathaway Dinwiddie Construction Company, San Francisco
AGE: 39
BS, Santa Clara University
ACCOMPLISHMENTS
Raised in a family of contractors, Carmody earned a civil engineering degree and progressed from entry-level Project Engineer to Project Executive in 13 years. She is now a company shareholder.
Developed a specialization in life-science construction, identifying it as a strong growth opportunity early in her career. Created and advocated for an internal Northern California Life Science Strategy, which targeted key clients, promoted relationships, and arranged the necessary staff training. Life science is now a core market for Hathaway Dinwiddie, representing more than $1.75 billion in revenue and including high-profile clients such as Genentech, Gilead, Amgen, and HCP Life Science Estates. 
EXTRACURRICULAR
Member, International Society of Professional Engineers.
Assisted in the build-out and relocation of offices for BayBio, the primary life-science industry organization in the Bay Area, in 2012.
Member, Santa Clara University Alumni Association (aka Bronco Builders). 
With her husband, runs a small trucking business that serves the needs of state and federal clients during wildfires.
Regular church greeter and usher.
OFF THE CLOCK
Enjoys skiing and horseback riding—the legacy of a childhood spent jumping horses in equestrian events. She now prefers a quarter horse and slower-paced trail riding with her two daughters.
Experienced marksman: "I am a really great shot, both target and skeet."
SECRET LIFE
Owns a Honda 250X dirt bike and loves to ride in the Nevada desert.
Mentor by Design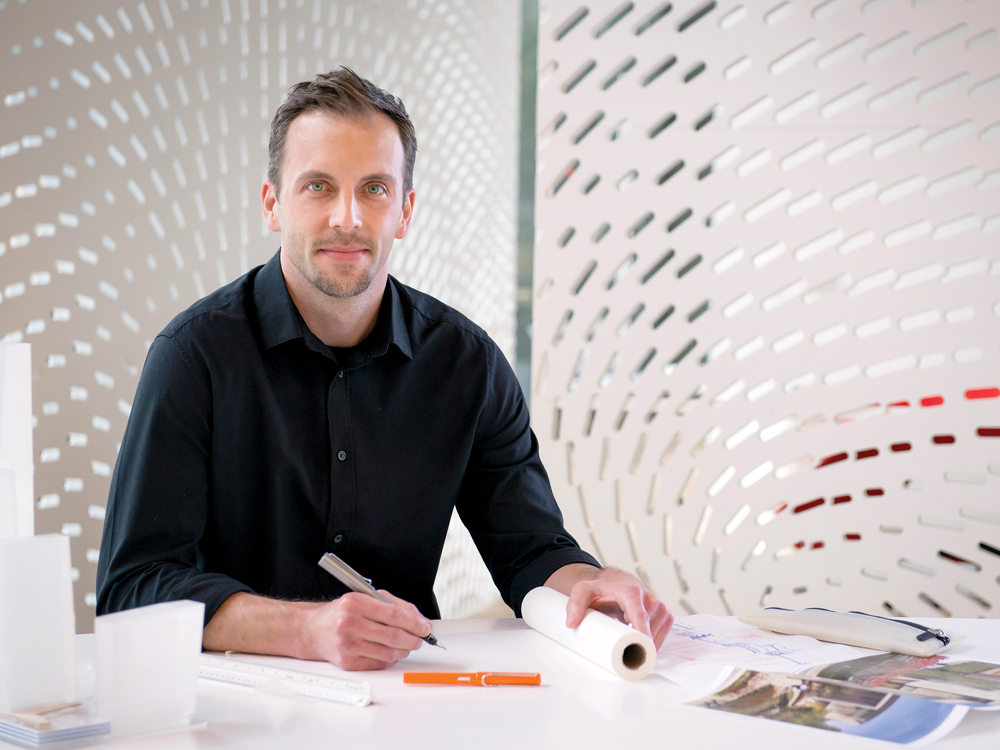 WYATT FRANTOM, AIA, LEED AP
Associate and Senior Architectural Designer
Gensler, Los Angeles
AGE: 39
BS, The Ohio State University Knowlton School of Architecture
MArch, Rice University
ACCOMPLISHMENTS
Frantom is a Senior Designer in the firm's Commercial Office Building studio, with a staff of more than 70. Expertise includes workplace, high-rise, mixed-use, and exterior façade systems. Recent projects: Sunset Media Center, Hollywood (reposition of an exisiting 22-story tower); NBCUniversal Broadcast Center, Studio City (150,000 sf broadcast HQ).
In a previous position as Senior Designer at HOK, Frantom worked on such projects as the King Abdullah University of Science and Technology and the 400-meter Capital Market Authority headquarters tower, both in Saudi Arabia.
Honors: 2014 AIA Young Architects Award; AIA COTE Top Ten Green Projects Award; The Chicago Athaneum's International Architecture Award; the International Sustainable Campus Network's Sustainable Construction Award.
Registered Architect in Texas and California. 
EXTRACURRICULAR
Communications Director, AIA National Young Architects Forum Advisory Committee. Editor-in-Chief of Connection, the official bimonthly publication of the YAF. 
Graduate Design Studio Advisor, University of Southern California. Formerly held faculty appointments at the University of Houston (Adjunct Design Studio Professor, Assistant Research Professor).
Co-founder, Houston Mod, a nonprofit group promoting knowledge and appreciation of modern architecture and design in Texas (secretary, vice-chair).
OFF THE CLOCK
Into fitness activities and hiking. Favorite reads: detective novels by Raymond Chandler.
SECRET LIFE
Closet is organized by the ROYGBIV rainbow system, "with very little O and Y and even less V."
Tower of Power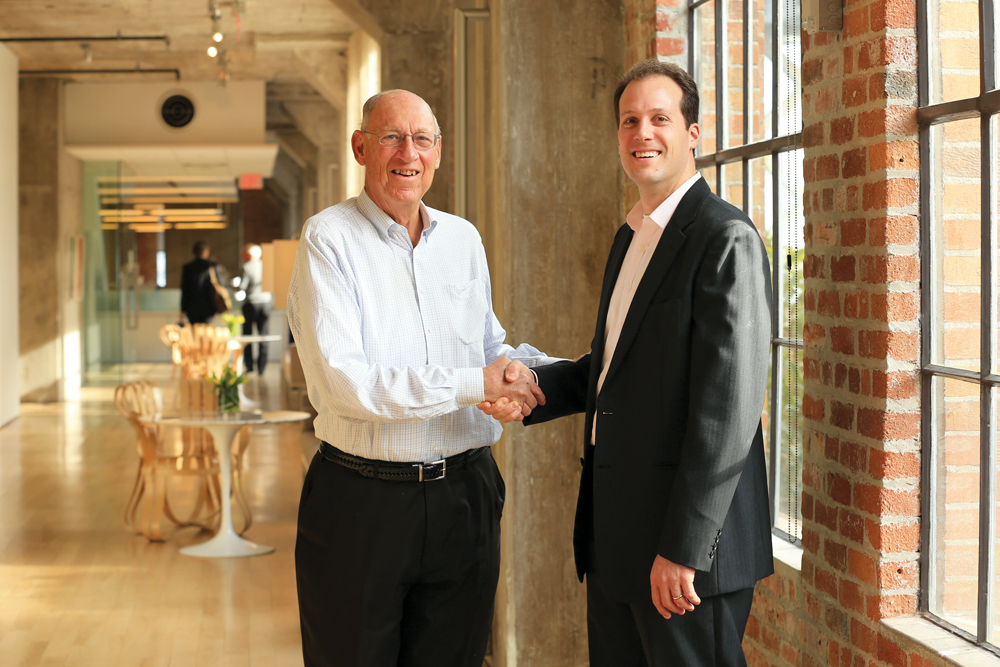 Ben Tranel (right) with Art Gensler
BEN TRANEL, AIA, LEED AP
Senior Associate, Firmwide Technical Director, Global Design & Delivery Director
Gensler, San Francisco
AGE: 39
BA, Washington University in St. Louis
MArch, Columbia University
ACCOMPLISHMENTS
Leads Gensler's technical design for high-profile, high-performance buildings incorporating research on efficient technologies, materials, and systems.
Current projects: the 632-meter Shanghai Tower, the super-green Tower at PNC Plaza (Pittsburgh), a San Francisco high-rise for Tishman Speyer, and a half-million-sf headquarters for visual technology company NVIDIA in Santa Clara, Calif.
Oversees the firm's design and delivery efforts in Asia and the Pacific Northwest.
EXTRACURRICULAR
Board member, Tranel Properties (family-owned real estate business).
Visiting faculty and/or critic, University of California–Berkeley, Academy of Art University, Pratt Institute, New Jersey Institute of Technology, Fordham University, Columbia University.
OFF THE CLOCK
Classically trained pianist who enjoys improvisational composition. Also enjoys woodworking, furniture making, skiing, hiking, board games, and cycling across the Golden Gate Bridge from San Francisco to the Marin Headlands.
Favorite flick: Wim Wenders' "Der Himmel über Berlin." "The sense of time and space in the movie as the camera moves through the city is quite architectural and moving."
SECRET LIFE
Grew up on a beef cattle ranch in rural Montana; still keeps a horse there.
High-Powered Iowan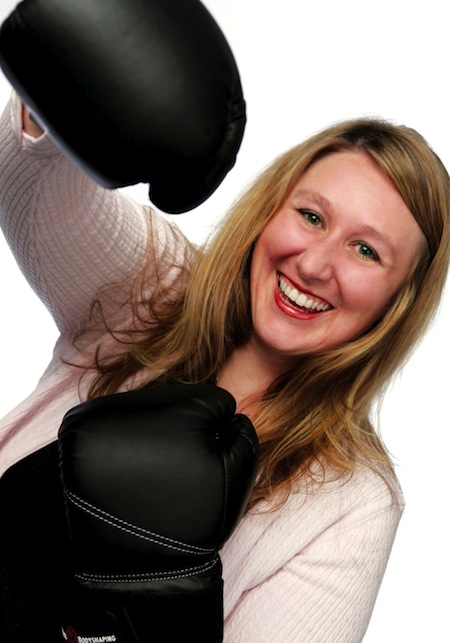 KELLY ALTES
Project Executive and Lead Structural Engineer
KJWW Engineering 
Consultants, Des Moines, Iowa
AGE: 35
BS, Iowa State University
ACCOMPLISHMENTS
Altes joined KJWW in 2001 and became one of the youngest department supervisors in the company's history six years later. A licensed PE, she has supervised four engineers and three drafters, including two in the firm's India office. Altes recently shifted from internal operations management to Project Executive, again one of the youngest in the company. Works in business development and project support, providing project-management mentoring and technical expertise on design of structural systems.
Representative projects: Advocate Sherman Hospital, Elgin, Ill. ($200 million replacement hospital); Grand River Center, Dubuque, Iowa ($26 million convention center).
Outstanding Young Engineer of 2013, Iowa Engineering Society, Central Iowa Chapter.
EXTRACURRICULAR
ACE Mentor Program of Central Iowa (guest speaker, board member, board secretary, and public relations committee chair).
Scholarship committee chair, Iowa Engineering Society, Central Iowa Chapter.
Mentor, Iowa State University Senior Design Capstone Class.
Society of Women Engineers (secretary, treasurer, fundraising chair, president).
Community service with St. Francis of Assisi Parish's Young Catholic Adults and Friends group; Dowling Catholic High School Color Guard (coach); Central Iowa Shelter and Services (liaison and coordinator); Boy Scouts (educator in engineering topics); and the Greater Des Moines Leadership Institute's Community Leadership Program (Class of 2010).
OFF THE CLOCK
Altes recently gave birth to her third son but makes time for kickboxing and turbo-kick classes at her local Y. Also loves snow and water skiing, swimming, and tailgating at Iowa State football games.
Favorite authors: John Grisham, Ken Follett, Ben Mezrich.
SECRET LIFE
Dad is a genealogy buff and has traced the family name back through 12 generations, or more than 350 years.
Entrepreneurial Engineer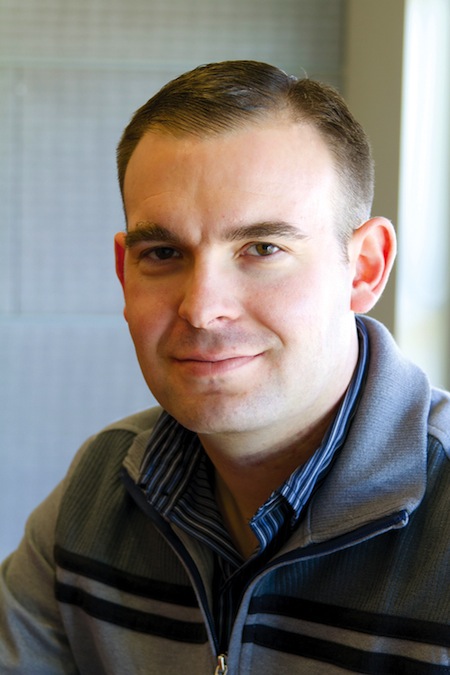 JARED HIGGINS, PE, CEM, CDSM, CPMP
Mechanical Engineering  and Energy Services Discipline Leader
Parkhill, Smith, & Cooper Inc., Lubbock, Texas
AGE: 31
BSME, Texas Tech University
ACCOMPLISHMENTS
Joined PSC, an engineering/architecture firm, while completing his collegiate degree. Became the company's first Certified Energy Manager, Certified Demand Side Management Professional, and Commissioning Process Management Professional. Led formation of a new Energy Services Team, which now includes five employees offering energy modeling, benchmarking, grant writing, solar hot water design, gray water reclamation, and building systems commissioning. In 2013, assumed leadership of all mechanical engineering work within the six-office firm; later named corporate Associate.
Collaborated on creation of the Energy Reduction and Commissioning Design Guide for the Department of Defense Education Activity office, guiding work on schools for military families. 
Licensed Professional Engineer in Texas and New Mexico.
EXTRACURRICULAR
Active in ASHRAE and the Association of Energy Engineers. Serves on two ASHRAE technical committees and contributes frequently to ASHRAE Journal. Instrumental in formation of a West Texas Chapter of the AEE; inaugural chapter president, 2013. Currently one of five VPs on the national AEE executive committee.
Volunteers in engineering education at local high schools and middle schools. Serves as free tutor for several families.
OFF THE CLOCK
Favorite pastime: river and ocean kayaking. "I usually plan vacations around a new river—Class 4 minimum—or a stretch of coastline with good surf." Enjoys still photography; working on a book spotlighting America's national parks.
SECRET LIFE
Higgins has traveled the country to see old steam engines and trains that are still in working condition. "I'm particularly a fan of the narrow-gauge engines used in the West in Colorado, New Mexico, Utah, and Nevada."
TIM MASA, LEED AP
Vice President
PARIC Corp., St. Louis
AGE: 38
BS, Master of Construction Management, Washington University in St. Louis
ACCOMPLISHMENTS
During 17 years at PARIC, rose through the ranks from Project Estimator to VP, in charge of the firm's academic and commercial market sectors.
Representative projects: Webster University, St. Louis (90,000-sf, LEED Gold Academic Building); Express Scripts (multiple projects on the client's campus in Normandy, Mo.).
Established a subsidiary, Cooperative Building Solutions, to deliver turnkey planning, design, and construction work for rural electric cooperatives in Missouri. Business met the goals of its five-year plan within three years—expanding the client base into Kansas, Arkansas, Illinois, and Oklahoma—and is projected to produce $40 million in revenue this year.
EXTRACURRICULAR
Board member, Logos School (therapeutic middle and high school), St. Louis.
Director and board vice president, Lutheran High School, St. Peters, Mo.
Chair, Building Expansion Committee, Zion Lutheran Church and School, St. Peters.
OFF THE CLOCK
Loves running; coaches his three sons' basketball, baseball, and soccer teams.
SECRET LIFE
Treasures his extensive collection of 1980s-era baseball cards.
Superman's Student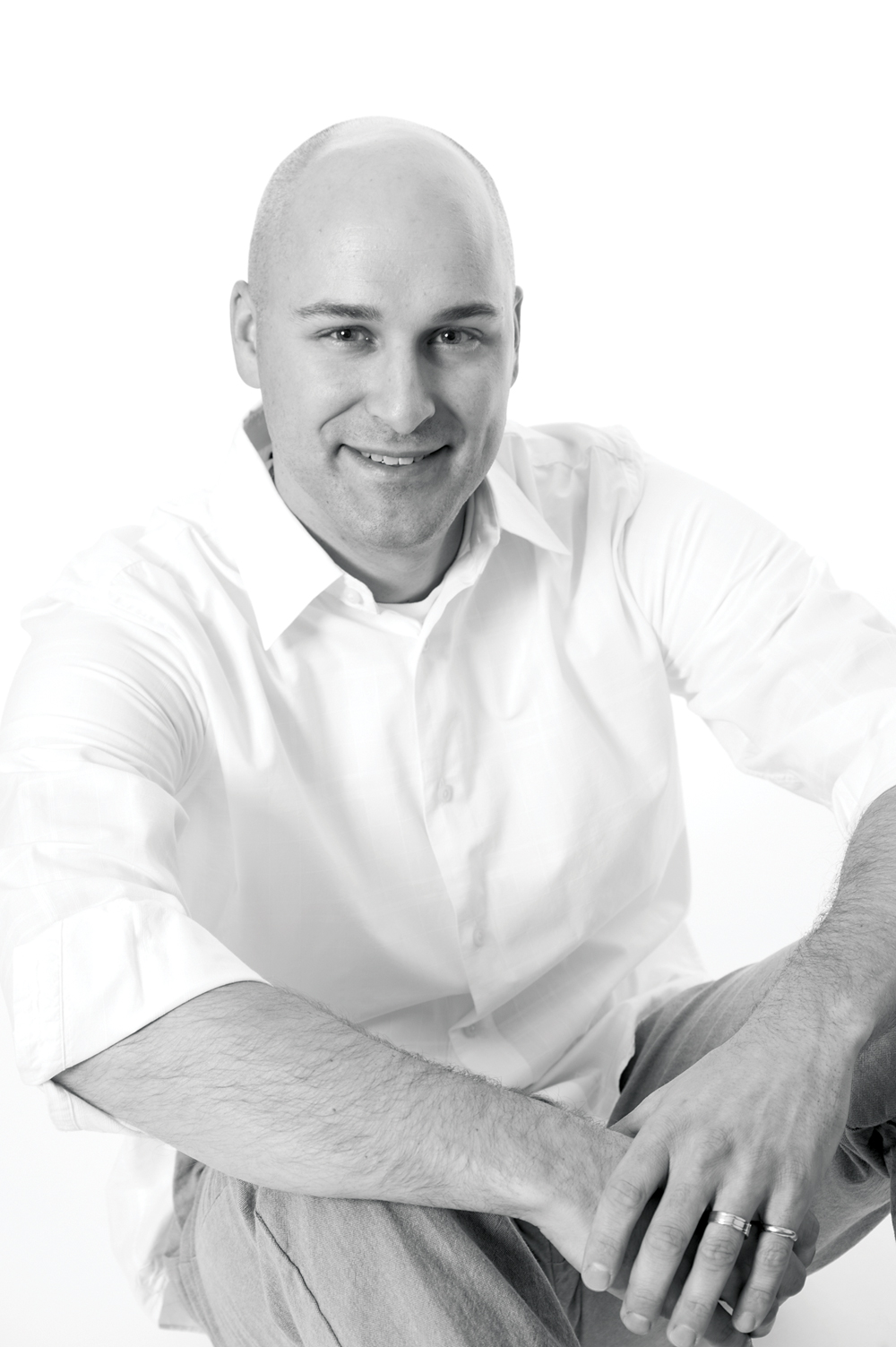 JEFF ROMAN, PE, LEED AP
National Director of Engineering
Little Diversified Architectural Consulting, Charlotte, N.C.
AGE: 35
BSCE, Lawrence Technological University
MBA, University of Florida, Warrington College of Business
ACCOMPLISHMENTS
Former CFO, Director of Engineering, and co-owner of a Fort Myers engineering company; helped rebrand the company and get it out of debt. On the side, initiated a program called EnRichment to introduce young people to engineering.
Joined Little in 2013 as National Director of Engineering, a newly created position; active in Little's business planning and daily management of 20 MEP and structural engineers.
Licensed Professional Engineer in 15 states.
Top 40 Under Forty, Gulf Coast Business Review (2012) and Gulfshore Business Magazine (2011).
Engineer of the Year, Florida Engineering Society, Calusa Chapter (2011).
EXTRACURRICULAR
Education Advisory Board for STEM Education Center, Discovery Place, Charlotte.
Member, Planning and Zoning Commission, Cape Coral, Fla. (2012).
Board member, Imaginarium Science Center, Fort Myers (2011-12).
Member, National Society of Professional Engineers, Professional Engineers of North Carolina.
OFF THE CLOCK
Building with LEGOs. "I'm currently enjoying the Architecture series. My sons have picked up my passion, and our house is a LEGO minefield at times."
SECRET LIFE
Collector of Superman memorabilia, including limited-edition numbered sneakers. "His values of honesty and empathy are ones I still hold dear today."
JENNIFER WORKMAN, AIA
Associate
Good Fulton & Farrell, Dallas
AGE: 33
BArch, University of Texas at Austin
ACCOMPLISHMENTS
Lead architect for the firm on high-rise residential, cultural, retail, and mixed-use projects. Collaborated with the California office of Morphosis Architects on the design of the Dallas's Perot Museum of Nature and Science.
Representative projects: The Alexan, Dallas (250,000-sf multifamily residential); Arlington (Texas) Highlands East (100,000-sf retail center); Frisco (Texas) Family YMCA (24,000-sf community center and gym). 
AIA Awards: Young Architect Award, 2013; College of Fellows Chancellor Cup, 2011; Dallas Chapter Associate of the Year, 2004.
Registered Architect in Texas.
EXTRACURRICULAR
Member, AIA Young Architects Forum, Dallas Chapter (revived through her leadership after having been abandoned). Communications Advisor to national YAF Advisory Committee, editing the bimonthly Connection magazine.
Chair, AIA Young Architects Forum (national, 2012); leader, YAF Summit20.
Membership VP and board member, Texas Society of Architects (has served on Continuing Education, Membership and Services, and Honors committees).
Volunteer, Girl Scouts of North Texas and The Family Place (serving victims of domestic violence).
OFF THE CLOCK
Cultivates an organic vegetable garden.
SECRET LIFE
Dad once played keyboard for Great Southern, a side project of Dickey Betts of the Allman Brothers. Her family nickname, "Jenny," comes from a character in the group's album "Atlanta's Burning Down."
JASON HEFFELMIRE, PE, LEED AP BD+C, CxA, PMP
Gulf Coast Regional Operations Director
TLC Engineering for Architecture, Tampa, Fla.
AGE: 37
BS, University of South Florida
MBA, University of Tampa
ACCOMPLISHMENTS
Trained as a mechanical engineer, Heffelmire worked in the family contracting business. Joined TLC in 2010 and has since assumed responsibility for the entire Gulf Coast Region. The youngest of the firm's leaders, he now oversees engineering and operations staff to meet marketing goals and revenue projections, as well as leading procedures for BIM and IPD.
Notable projects: Florida Polytechnic University Campus, Lakeland (with Calatrava and Skanska, $100 million); All Aboard Florida Terminals, Miami and West Palm Beach ($550 million); Tampa International Airport, Consolidated Rental Car and Automated People Mover ($734 million); Project Hal Data Center, Aurora, Colo. (LEED Silver, $25 million).
Registered Professional Engineer in nine states.
EXTRACURRICULAR
Revived rugby as an intercollegiate sport at the University of South Florida during his undergraduate years, and later became a USA Rugby Certified Coach. 
Head Coach, Florida Rugby Union Collegiate All-Star Team (2002-2010).
Past president, South Florida Rugby Alumni Association (2009-10). 
Member, University of South Florida Mechanical Engineering Department Advisory Board.
Member, University of Tampa Board of Fellows, Academic Affairs Committee.
Member, USGBC Florida Gulf Coast and Louisiana chapters.
Top Walker, American Heart Association Tampa Bay Heart Walk (over $6,500 raised, 2012 and 2013).
OFF THE CLOCK
Father of a toddler and newborn, Heffelmire enjoys wakeboarding, mountain biking, and snowboarding. Self-confessed foodies, he and his wife have recently indulged in 20-course tasting dinners.
SECRET LIFE
Grandfather worked for the federal government investigating and prosecuting mobsters. "He has a lot of wild stories that include getting out of a safe house just minutes before it was shot up."
KENT SAYLER, PE, LEED AP BD+C
Electrical Engineer
P2S Engineering, Long Beach, Calif.
AGE: 33
BS, MS, Auburn University
ACCOMPLISHMENTS
Joined P2S Engineering after finishing his master's degree. Since 2009, responsible for firm's master planning, project management, electrical design, and construction administration of more than $70 million of electrical projects at the Port of Long Beach, as well as design of $45 million of electrical work split between the ports of Long Beach and Hueneme. The firm's recently completed shore power projects will be a model for sustainable terminal design.
Representative projects: Middle Harbor Terminal, Long Beach (300 acres, first fully automated and electrified container terminal in the U.S.); Kai Tak Cruise Terminal, Hong Kong; Universal Studios, Universal City, Calif.; multiple projects for California State University sites in Fullerton, Long Beach, Northridge, and San Bernardino.
EXTRACURRICULAR
Member, Institute of Electrical and Electronic Engineers (Power System Engineering Committee vice chair and paper review chair; Technical Book Coordinating Committee, Power System Design Working Group).
Member, P2S Spirit Team (charitable work with the Long Beach ACE Mentoring program, Ronald McDonald House, Orange County Canstruction, Toys for Tots, and Assistance League of Long Beach).
OFF THE CLOCK
Avid recreational runner, poker player.
Watches "way too much TV," including anything with Anthony Bourdain.
SECRET LIFE
At age five, proposed to his kindergarten teacher in the middle of a school concert. "Oh, Miss Douglas … the one that got away." 
Geometric Genius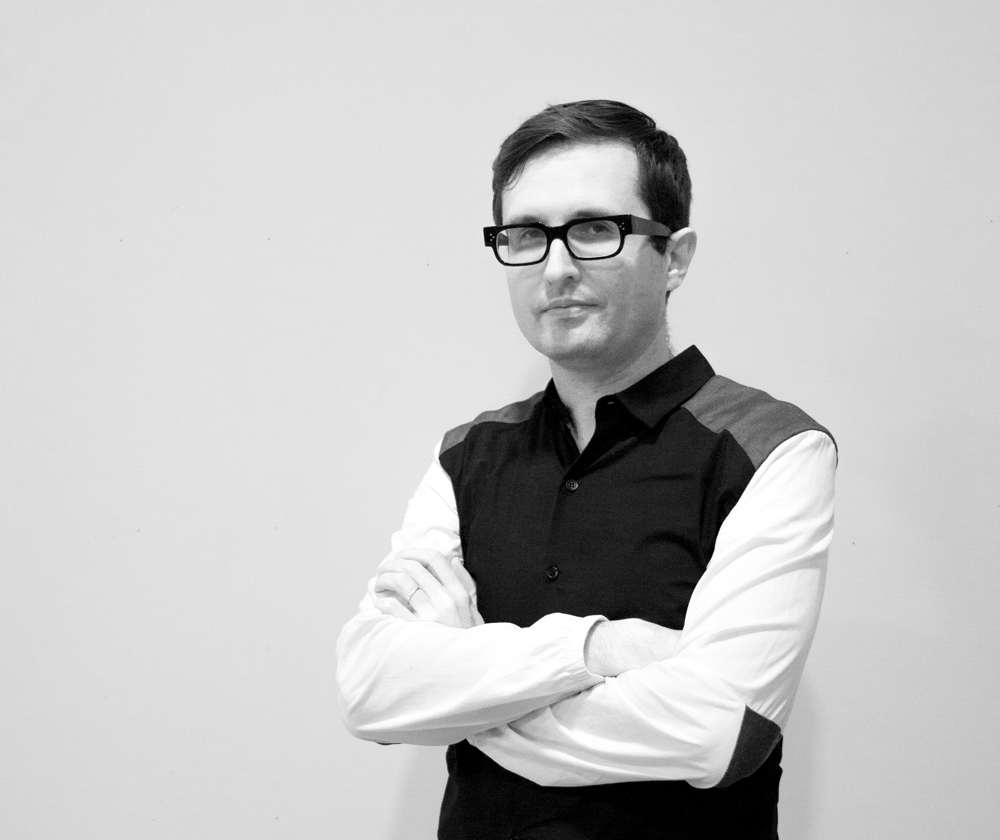 ANDREW WITT
Research Advisor, Gehry Technologies, Los Angeles
Assistant Professor in Practice, Harvard University
AGE: 36
BS, BA, Brigham Young University
MArch, Master of Design Studies, Harvard University Graduate School of Design
ACCOMPLISHMENTS
Trained in architecture, mathematics, philosophy, and the history of design. Hired in 2007 by Gehry Technologies, where he helped found the company's Europe office, in Paris. Expertise includes research on advanced architectural geometry tools, Web 2.0 concurrent design systems, fabrication automation, generative detailing, optimization, and cloud computation for environmental simulation.
Founder and Director, Harvard University Geometry Lab, developing automated systems for building design and construction, including robotics.
In June 2014 will begin a position as Assistant Professor in Practice for Harvard, focusing on the relationship between design, science, and technology (architectural technology, bespoke machinery, custom automation, technology startups).
EXTRACURRICULAR
Frequent lecturer on advanced architectural technologies at Princeton, MIT, Yale, USC BIM Futures Conference, and Revit Technology Conference.
Published author, notably in Advances in Architectural Geometry. 
OFF THE CLOCK
Collects perceptual and drawing instruments––camera lucidas, stereoscopes, ellipsographs, planimeters.
Favorite location: Muhu Island off the coast of Estonia.
SECRET LIFE
Possesses an extensive knowledge of the history of chocolate.
DANIEL ULBRICHT
Vice President
Leopardo Companies, Chicago
AGE: 38
BS, Northern Illinois University
ACCOMPLISHMENTS
Majored in marketing and worked for an interior design firm before joining Leopardo's tenant interiors group in 2004. Responsible for bringing in >$340 million and 5.6 million sf of projects over the past nine years, doubling the unit's revenue, average project size, and number of projects. Aids large corporate clients in developing office spaces, several of which have been selected as "Coolest Offices" by Crain's Chicago Business.
Representative clients: BlueCross BlueShield Association, Zebra Technologies, American Hospital Association, Tyco International, Big Ten Conference, Integrys.
EXTRACURRICULAR
President, CoreNet Global, Chicago Chapter. Has increased program attendance to historic highs (120/month) and helped establish the chapter as a 501(c)(6) nonprofit professional association.
Member, International Facility Managers Association and Commercial Real Estate Organization.
Lead singer and guitarist for Liquidated Damages, a rock band made up of Leopardo employees. The band has raised >$2.5 million for charity. Standout gig: Annual City of Hope REACH Social at the Chicago House of Blues, raising more than half a million dollars over 10 years.
OFF THE CLOCK
Loves cruising on his Baja 25 Outlaw powerboat, wakeboarding, water skiing, and snowboarding.
SECRET LIFE
Almost became a professional musician during college when his group was approached by '90s rock band Brother Cane to tour with them as an opening act. "Unfortunately, the four of us couldn't make such an impulse decision."
SARAH HOLSTEDT, LEED AP
Associate Principal
Callison, Seattle
AGE: 32
BArch, Oklahoma State University
ACCOMPLISHMENTS
Won Callison's Co-op Scholar internship in 2005 and left with a full-time job offer. Awarded the OSU School of Architecture's Caudill Travelling Fellowship and studied cultural venues in Europe for two months before joining Callison, initially providing design support for projects involving regional retail centers, mixed-use developments, and large-scale master plans. Promoted to Associate Principal within six years, Holstedt has helped design more than 236 million sf worldwide.
Representative projects: Khams Shamat retail center, Damascus; IKANO Mega Bangkok West; Cairo Festival City; Outlet Collection, Auburn, Wash.; IKEA Mega Active Mall, Moscow; The Red Sea Astrarium, Aqaba, Jordan.
Henry Adams/AIA School Medal of Honor (for the highest GPA in a graduating class).
EXTRACURRICULAR
Active participant in the International Council of Shopping Centers.
ACE Mentor and team leader for Callison's work with high school students.
Co-chair of the firm's Community Outreach Committee. Co-led Callison's team in three years of Gingerbread House design/build activities, benefitting the Juvenile Diabetes Research Foundation.
Treasurer and choir member, Trinity United Methodist Church, Ballard, Wash.
OFF THE CLOCK
Holstedt periodically works as a summer camp counselor at Heartland Presbyterian Center in Kansas City, Mo. "Having campers recount their experiences back to me years later reinforces the fact that we can have an impact on the lives of those around us."
Karaoke singer; competitive soccer and volleyball player.
SECRET LIFE
Collector of Barbra Streisand movies. Favorite is "'What's Up, Doc" for its car chase.
JOSH R. GREENFIELD, PE, CEM, BEMP, 
LEED AP BD+C, LEED AP O+M
VP/Energy Services Manager
Primera Engineers, Chicago
AGE: 33
BS, Washington University in St. Louis
ACCOMPLISHMENTS
Expert in sustainable design, energy modeling, and life cycle cost analysis. Active in development of green construction codes, including the International Code Council's International Green Construction Code (development committee for the first edition, 2012). Reviewer for Chicago's Green Permit Program energy models.
Oversees firm's LEED projects, including 70 completed projects and 35 pending certification.
Representative clients: Macy's Department Stores, Marriott, AT&T, Chicago Center for Green Technology, The Field Museum, Gary Comer College Prep (Noble Network of Charter Schools), Chicago Public Library.
Licensed Professional Engineer in Illinois.
EXTRACURRICULAR
Member, USGBC Green Schools Advocacy Education/Research Committee. Also active in ASHRAE at both the chapter and national levels.
Regular presenter at industry events.
Volunteer, Canstruction Inc. and Juvenile Diabetes Research Foundation Ron Santo Walk for a Cure.
OFF THE CLOCK
Travel enthusiast. "Italy is a favorite vacation spot. The scenery is amazing, and you can eat bread, prosciutto, and cheese for every meal and still be considered normal." Up next: Costa Rica.
Member of "Steak On A Plate" dinner group (aka "SOAP"), whose goal is to eat at every steakhouse in Chicago.
SECRET LIFE
Self-labeled "bourbon snob": "I can mix up a great bourbon Old Fashioned."
ALANNA CARTER, LEED AP
Director, Health and Science Studio
RSP Architects, Minneapolis
AGE: 38
BS, University of Minnesota
ACCOMPLISHMENTS
Founded RSP's senior living design services; now leads a team of 30 in healthcare and environments for aging. Has grown firm's business in the sector to 20% of RSP's revenue. 
Current projects: Seventy-One-Ten Health Style Campus, Kansas City, and a sister facility in Billings, Mont. Sites include an ambulatory hospital, hotel, arena, fitness center, retail, restaurants, and senior living.
Speaker, Environments for Aging Conference and Senior Living Summit.
Published author on topics involving design for healthcare and senior living.
EXTRACURRICULAR
Participant, Leadership Twin Cities, a nine-month program developed by the Minneapolis Chamber of Commerce examining critical needs facing the Twin Cities community.
Founder and past president, Minnesota Chapter, Society for the Advancement of Gerontological Environments. Culture Change Steering Committee, Aging Services of Minnesota.
Volunteer, Habitat for Humanity, Gillette Children's Ronald McDonald House, Feed My Starving Children, and St. Olaf's "Teach a Man to Fish" program (distributing seeds and gardening advice to disadvantaged families).
OFF THE CLOCK
Enjoys outdoor recreation, even during Minnesota winters: snowshoeing, hiking, and sitting round the campfire near the family cabin.
SECRET LIFE
Loves sewing, a.k.a. "getting my 'Project Runway' fix." Clothes, curtains, pillows, blankets, "anything."
DULCE MARIA TORRES-RUIZ, ARQ.
LEED AP BD+C, AIA INTERNATIONAL ASSOC.
Healthcare Practice Leader for Mexico and 
Central America
HKS, Dallas
AGE: 35
BArch, Diploma of Interior Architecture, Universidad Nacional Autonoma de México
ACCOMPLISHMENTS
After two years with a Mexican architecture firm, joined HKS's new Mexico City office in 2003. Four years later, moved to the Dallas HQ, where she rose from Project Architect and Medical Planner to Practice Leader for Mexico and Central America. Initiated a partnership between HKS and healthcare provider Methodist International to provide services to international clients. Has worked in Bulgaria, China, India, Mexico, Costa Rica, Honduras, Panama, Chile, Peru, and Trinidad and Tobago.
Representative projects: Pacifico Salud Clínica El Golf, Lima (303,000-sf, 300-bed hospital master plan expansion); Couva (Trinidad) Children's Hospital and Training Center (290,000-sf, 230-bed hospital and 90,000-sf nursing school); Ciudad Hospitalaria Panamá, Clayton (3.1 million-sf medical city).
EXTRACURRICULAR
Member, Mexican Society of Architects and Mexican Society of Architects Specialized in Healthcare.
Member, AIA Dallas (Emerging Leaders Program graduate; Latinos in Architecture Program). 
President, Homeowner Association Board, The Colonnade at Turtle Creek.
Volunteer, Hearts and Hammers home repair program (2012). 
OFF THE CLOCK
One-time competitive swimmer. Finished the Toyota U.S. Open Dallas Triathlon in 2010. Passions: real estate investing, residential interior design.
SECRET LIFE
Claims she can tell the gender of a pregnant woman's child just by looking at the woman's hands. "So far I have 100% accuracy, even with twins of differing genders."
Corporate Builder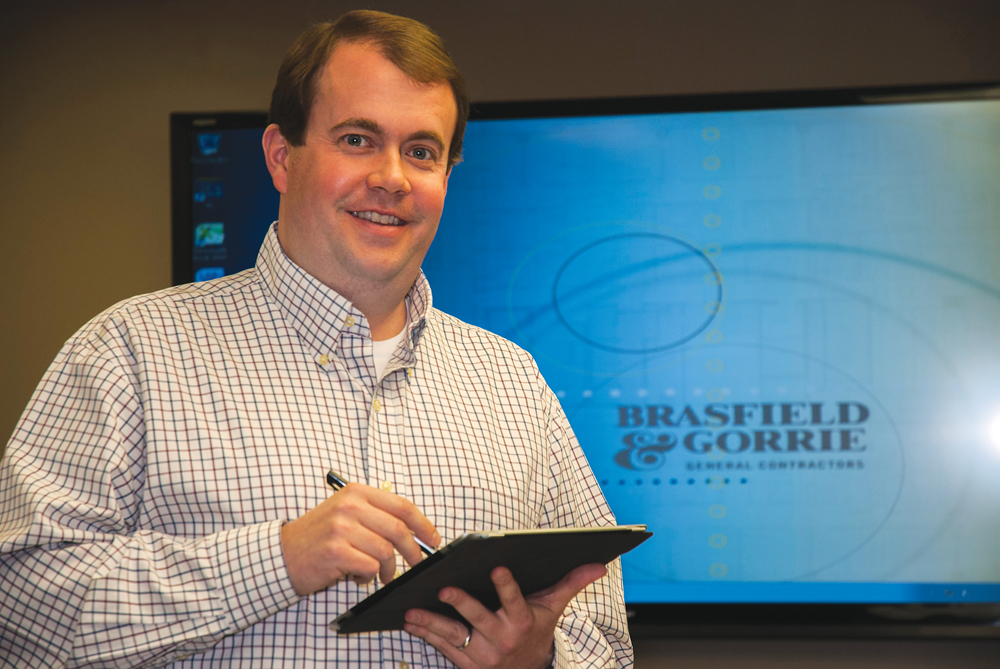 ROBBY HAYES, LEED AP
VP/Division Manager, Corporate Services Division
Brasfield & Gorrie, Birmingham, Ala.
AGE: 34
BS, Auburn University
ACCOMPLISHMENTS
Oversees all business development, preconstruction, and project operation functions for the Corporate Services Division in Brasfield & Gorrie's Birmingham office. Provides strategic direction for the firm's work in the commercial market. Has led projects worth more than $650 million total.
Advanced from college grad to VP in 11 years.
Representative projects: Medical University of South Carolina (hospital replacement, $208 million, Charleston); data center for confidential client, Jackson, Miss. ($19 million); Our Lady of Lourdes Regional Medical Center, Lafayette, La. ($150 million).
EXTRACURRICULAR
Active in NAIOP, the Commercial Real Estate Development Association; the 7x24 Exchange–Greater Florida/Alabama Chapter; and ABC Future Leaders in Construction.
Helped plan company's Estimating BBQ Cookoff for eight years, which has raised more than $550,000 for charity since its inception. 
Junior Board member, United Cerebral Palsy of Greater Birmingham.
Leadership Vestavia Hills, 2011-2012.
OFF THE CLOCK
Loves outdoor activities. History buff. "The closer the story is to the community/state/country that I know and live in, the more engaged I am. I also enjoy reading our local papers and business journal on a daily basis."
SECRET LIFE
Grandfather worked in telecommunications during World War II and was in the Guam radio station that transmitted President Truman's orders to bomb Hiroshima and Nagasaki.
JOSEPH S. IMAMURA, ASSOC. AIA, ASLA, AICP, PMP, LEED AP
GSA Office of the Chief Architect, Washington, D.C.
Adjunct Professor, Texas Tech University, Lubbock
AGE: 36
BS, MArch, Master of Urban Planning, Master of Landscape Architecture, and current PhD candidate, all at Texas Tech
ACCOMPLISHMENTS
Hired as a Special Assistant to the Chief Architect at the GSA in 2007, Imamura has held multiple positions within the agency, including work on the 2008 Presidential Transition Team, managerial support in the Construction Excellence program, and urban planning and public outreach. Has overseen more than 50 public meetings in cities where GSA was working on projects. In 2012, led the GSA Geographic Information System initiative to develop a Web-based map tool that illustrates the agency's property portfolio. Currently supports the GSA National Design Director for Landscape Architecture.
Adjunct Professor, Texas Tech. Teaches online courses for junior- and senior-level students in the Department of Integrative Studies.
EXTRACURRICULAR
Independent research in public architecture and emergency preparedness, including current dissertation work.
American Planning Association Ambassador, working with high school and college students considering careers in planning. 
Founders Forum Fellow, American Society of Public Administration (2014). 
Official proposal reviewer, Texas Tech University Arts and Humanities Graduate Research Conference.
OFF THE CLOCK
Self-proclaimed news junkie and political wonk. Favorite reads: political biographies, including Allan Greenberg's George Washington, Architect.
SECRET LIFE
"As a kid, I rode my bike around our neighborhood and drew a plan of the subdivision, so my friends and I could map out a route on Halloween to target homes that would hand out the most candy."
SARIKA BAJORIA
Founding Principal, Architect
Per-forma Studio, NYC
AGE: 37
MArch, University of 
Pennsylvania
BA, Luther College, Iowa
ACCOMPLISHMENTS
A Calcutta native, Bajoria studied physics, math, and art at the undergrad level before earning her MArch degree. After stints at Kieran Timberlake, Spacesmith, and Skidmore Owings & Merrill, founded Per-forma Studio in 2010. The practice serves commercial, hospitality, retail, residential, and institutional clients, including nonprofits and underserved communities, and emphasizes the integration of design, architecture, research, and art.
Awarded permanent residency status in the U.S. through the EB-1 process, requiring applicants to demonstrate "extraordinary ability" at the "top of the field of endeavor."
Representative projects: 700,000-sf tower and retail development, Mumbai; 8,000-sf Kadampa Meditation Center NYC (pro bono); 50,000-sf Indian Chamber of Commerce, Kolkata; 20,000-sf flagship store for a luxury retailer in Dubai.
EXTRACURRICULAR
Serves as jury member for student reviews at University of Pennsylvania, Columbia University, Pratt University, and City College of New York.
Founding Director, Architecture for Humanity, New York Chapter (designs projects pro bono for nonprofits and underserved communities). Work includes a master plan for an orphanage campus in Indonesia and projects for THE POINT Community Development Corp., South Bronx, and ABC No Rio nonprofit artists' collaborative, New York City.
Member, IvyLife International (co-chair, Mumbai Chapter), Penn Alumni, USC Real Estate Group NY, Indian Real Estate Network.
OFF THE CLOCK
Practices meditation; currently training to become a Buddhist meditation teacher. "My practice helped me understand that being 'busy' or 'stressed' is a state of mind and I have a choice in how to respond."
Mixed-media artist (oil, collage, watercolor, colored pencil, chalk).
SECRET LIFE
Acquired a degree in Indian classical vocal music at age 16; plays the harmonium and tanpura.
Environmental Exponent

SUSAN HEINKING, AIA, NCARB, LEED AP O+M
VP/Sustainability Leader
VOA Associates Inc., Chicago
AGE: 33
BS, Southern Illinois University
MArch, University of Oregon
ACCOMPLISHMENTS
During undergrad and grad school, Heinking worked full-time as a residential contractor, tutor, graphic artist, and graduate teaching assistant. Hired by HOK, she progressed from Architectural Technician to Project Architect to Sustainable Design Manager in five years. Coordinated green assessments for 62 Chicago Housing Authority properties.
At VOA, leads sustainable design efforts for nine offices worldwide. Promoted to VP in 2012. Has 15 LEED projects in the works and has facilitated more than 50 LEED projects during her career, resulting in 2.4 million sf of Silver-certified, 1.5 million sf of Gold-certified, and 9,000 sf of Platinum-certified space.
Winner, 2013 USGBC Emerald Award and 2013 AIA Chicago SustainABILITY Honor Award.
Registered Architect in Illinois.
EXTRACURRICULAR
Frequent conference presenter (USGBC Illinois Chapter, AIA Chicago, HUD Conference). Active in development of Chicago's Energy Use Benchmarking & Transparency Ordinance. Currently creating a related application for energy benchmarking data and verification.
Active with the Retrofit Chicago Commercial Buildings Initiative and ACE Mentors program.
Proposal reviewer, USGBC Greenbuild conference.
Organized VOA's community service event in 2013, designing and installing six environmental learning gardens for Chicago Public School students with special needs. Raised more than $75,000 in donations for this effort.
OFF THE CLOCK
The mother of two-year-old triplets, Heinking enjoys listening to music, playing soccer, and reading Google News. "For a mother of triplets, sleep is the ultimate form of relaxation."
SECRET LIFE
Loves escaping to camp in the woods. "As long as there are trees, a hiking trail, and a campfire, I'm happy."
MARK WINSCHEL
Director of Business Development
S. M. Wilson & Co., 
St. Louis
AGE: 37
BS, University of 
Missouri–Rolla
ACCOMPLISHMENTS
Joined S. M. Wilson, a general contractor, in 2002 and rose through the Project Engineer, Project Manager, Business Development, and Executive Committee ranks. Appointed Director of Business Development in 2012 and secured more than $50 million in new business for the firm within 18 months, leading a team of five marketing and support professionals. Currently leading a corporate rebranding initiative and new Customer Relationship Management program.
Representative projects: Clayton (Mo.) School District ($90 million in projects); MasterCard International, O'Fallon, Mo. ($90 million Global Technology Operations Center); The Cedars at the JCA Senior Skilled Care Facility, St. Louis ($43.5 million).
EXTRACURRICULAR
Member, Advisory Board, Southern Illinois University–Edwardsville Construction Leadership Institute.
Chair, Membership Committee, Associated General Contractors St. Louis Chapter.
Volunteer, Construction Careers Center Charter High School, sponsored by AGC of St. Louis and the St. Louis Board of Education.
Volunteer, Big Brothers Big Sisters of Eastern Missouri.
OFF THE CLOCK
Passions: golf, attending St. Louis Cardinals baseball games, grilling baby back ribs.
SECRET LIFE
Past devotee of the local karaoke scene.
CORTNEY KIRK, RLA, ASLA, LEED AP
Project Manager
Copley Wolff Design Group, Boston
AGE: 36
BS, Syracuse University
Master of Landscape Architecture, Rhode Island School of Design
ACCOMPLISHMENTS
After completing a degree in TV, radio, and film production, Kirk moved to Boston and began photographing urban spaces, which eventually inspired her to earn a master's in landscape architecture. Spent four years at Payette Associates, where her projects included planning 30 acres of a 460-acre liberal arts campus for Aga Kahn University in Pakistan, and two facilities for the VA Boston Healthcare System. Joined Copley Wolff in 2012.
Now working on seven projects in four states, including a campus green for UMass Amherst, a Jewish temple in Omaha, and a luxury high-rise in downtown Boston. 
Adjunct faculty, Boston Architectural College (2008-present). Received a grant for the purchase of cameras and video editing software for students in a new workshop course combining filmmaking and design.
EXTRACURRICULAR
Past member, Payette Women in Design and Young Designers Corps, including Canstruction events benefiting the Greater Boston Food Bank.
Member, Architecture for Humanity Boston (landscape consultant in joint initiative with City Growers, developing an organic urban farm).
Volunteer, Parkolation Project involving VSA Massachusetts (the state organization on arts and disability) and Boston Green Academy (a specialty high school). Park(ing) Day event resulted in design for a parklet in collaboration with at-risk teens.
Member, American Society of Landscape Architects, Boston Society of Landscape Architects, Boston Society of Architects.
OFF THE CLOCK
A "super-taster" who can detect flavors that most people don't pick up on; dabbles in home brewing. Enjoys snowboarding and making pizza.
SECRET LIFE
As an undergrad, wrote an analysis of the movie "Fast Times at Ridgemont High" comparing the characters to Jeffersonian Democrats and Hamiltonian Federalists.
SHANE H. NAULT, PE, CEM, CxA, LEED AP BD+C
President, Principal Commissioning Agent, Energy Engineer
Building EnergetiCx, Huntersville, N.C.
AGE: 38
BS, Vermont Technical College
MS, Old Dominion University
ACCOMPLISHMENTS
Before founding Building EnergetiCx in 2011 was Regional Director for another firm. Currently responsible for directing, monitoring, and executing Building EnergetiCx's commissioning, energy consulting, and green building consulting services.
Representative projects: SAS Institute, Frösunda Office Building, Solna, Sweden ($15 million); Becton Dickinson, East Coast Distribution Center, Four Oaks, N.C. ($38 million); Queens University, Rogers Science and Health Building, Charlotte, N.C. ($15 million).
Licensed Professional Engineer in Virginia and North Carolina.
EXTRACURRICULAR
Board member, USGBC North Carolina Chapter.
Member, Branch Leadership Group, USGBC North Carolina Charlotte Branch.
Founding board member and current Secretary, Association of Energy Engineers North Carolina Piedmont Chapter.
Volunteer, Operation Christmas Child, Charlotte Rescue Mission, church mission trips.
OFF THE CLOCK
Competitive cornhole (bean bag) enthusiast. Last fall, the Building EnergetiCx team finished seventh out of 144 teams in a tournament benefiting Make-A-Wish.
SECRET LIFE
Avid fantasy sports manager. "Mostly football now, but during my peak it was fantasy everything: football, baseball, basketball, NASCAR, golf, horse racing, fishing."
Fire Protection Pro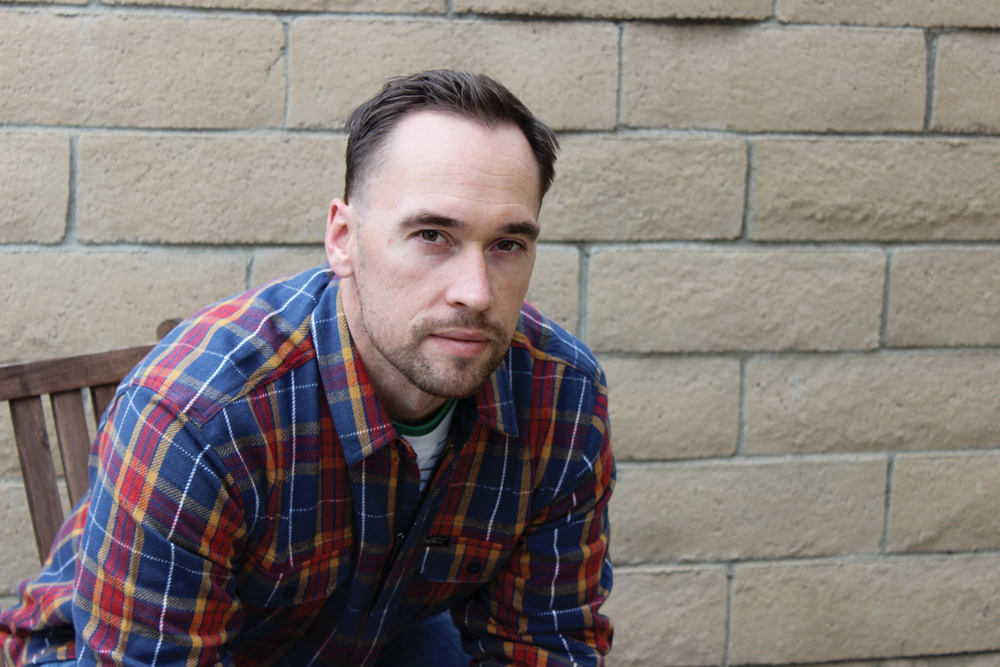 TIMOTHY LaROSE, PE, ET
Director, Los Angeles office
Hughes Associates Inc.
AGE: 35
BS, MS, Worcester (Mass.) Polytechnic Institute
ACCOMPLISHMENTS
Specialist in fire protection engineering and life safety code consulting. During 13 years at Hughes Associates, advanced to Director of the Los Angeles office at age 33; increased the branch's revenue by nearly 75% within two years.
Representative projects: University of Rhode Island fire and life safety improvements ($50 million, four campuses, 80 buildings); World Trade Center Vehicle Roadway Network, New York City (fire protection systems); Port Authority Trans-Hudson Corp., New York and New Jersey (PATH subway system fire alarm review); Ronald Reagan State Office Building, Los Angeles (1 million sf, corrosion investigation for sprinkler and water systems).
EXTRACURRICULAR
Member, National Fire Protection Association (Principal on NFPA 20 Technical Committee), Society of Fire Protection Engineers, National Council of Examiners for Engineering and Surveying, Rhode Island Society of Professional Engineers (executive board, past president).
Participates in charity bike rides and runs, including the MS 100 Ride, Boston-to-New-York AIDS Ride, and Boston Marathon (benefiting the Fallen Firefighters Fund of Massachusetts).
Co-organizer, Ride New England for WHY ME/Sherry's House (four-day, 400-mile event raising $5,000).
OFF THE CLOCK
Marathoner, biker, triathlete, competitive adventure racer, and adventure sportsman (white water canoeing, rappelling). 
Other hobbies: vegetable gardening, carpentry, card playing.
SECRET LIFE
Father completed two tours of duty in Vietnam so his father's younger brother didn't have to go. 
JASON CHANDLER, AIA, NCARB, LEED AP
VP/Director of Project Management
Epstein, Chicago
AGE: 36
BS, MS, MArch, University of Illinois at Urbana–Champaign
ACCOMPLISHMENTS
Helping to implement Epstein's transition to a project/market-based structure. Directs all of Epstein's Project Managers; member of the firm's Senior Operations Committee.
Representative projects: SC Johnson Fortaleza Hall & The Commons, Racine, Wis.; Edward Hines Jr. VA Hospital Building 13 Renovation, Hines, Ill.; multiple locations for Medline Industries.
Registered Architect in 26 states.
EXTRACURRICULAR
Active in the AIA, Design-Build Institute of America, USGBC Chicago Chapter, and the Project Management Institute. Member of several AIA Knowledge Communities, including the Committee on the Environment and Young Architects Forum. Board member, Global Design Alliance.
Volunteer: Habitat for Humanity and Civic Consulting Alliance (including pro bono work for the Chicago Transit Authority). Community service in Racine, Wis., while working on a three-year project for SC Johnson.
Regular presenter at university classes and industry organizations.
Peer reviewer, BUILDINGChicago/Greening the Heartland conference.
OFF THE CLOCK
Chandler has visited 47 U.S. states and five continents, and lived in Paris for a year. Prefers mountains and waves, and is particularly fond of Ireland and Germany's Autobahn: "I've had the opportunity to drive Audis, Mercedes-Benzes, and BMWs, but the first car I drove on the Autobahn was a four-cylinder Dodge Grand Caravan."
SECRET LIFE
Owned a 1972 American LaFrance pumper fire truck in college—"a perfect tailgate machine."
Eagle Scout.
AMY THERESA MOCKAPETRIS
Project Designer, Associate
Development Design Group, Baltimore
AGE: 32
BFA, BArch, MArch, Savannah College of Art and Design
ACCOMPLISHMENTS
Finished three degrees in five years in Savannah while also working an average of 30 hours a week and restoring a historic home. Worked at two design firms in Washington, D.C., completing projects for Andrews Air Force Base and the Federal Emergency Management Agency.
Joined DDG in 2006; now works primarily on mixed-use projects. Since promotion to Associate (2012) has completed several international projects and assumed responsibilities in employee training (company procedures, software programs, architectural codes).
Representative work: Peninsula Town Center, Hampton, Va. (75 acres, 1.2 million sf mixed use); Dalian (China) 100 complex (14 city blocks, luxury multifamily towers and private residences plus commercial, education, and support facilities); Pondok Indah Grand Mall 3, Jakarta (224,000 sm of retail, restaurant, entertainment, residential, and office space).
EXTRACURRICULAR
Member, National Trust for Historic Preservation. 
Volunteer, Habitat for Humanity, Chesapeake Branch (regular and women's builds).
Alumni Advisory Board, Savannah College of Art and Design.
Volunteer, Baltimore Symphony Orchestra.
OFF THE CLOCK
Avid gardener; maintains rare iris plants descended from those brought over from Scotland by her great-grandmother.
Wine collector; currently has 300 catalogued bottles.
SECRET LIFE
Music trivia whiz; can name and sing back most songs after hearing only a few notes or lines. "Thanks to my parents' love of music, I have memorized almost every popular song between 1960 and 1990."
KEVIN J. SINGH, AIA, LEED AP BD+C
Associate Professor, School of Architecture
Louisiana Tech University, Ruston
AGE: 39
BArch, Ball State University
Master of Building 
Construction, 
Auburn University
ACCOMPLISHMENTS
Joined Louisiana Tech faculty in 2006. As Director of the school's Community Design Activism Center, conceived South of California Avenue project, which gives architecture students the opportunity to collaborate with multidisciplinary teams on community-
oriented projects. Currently establishing a tax-exempt nonprofit to serve the SOCA neighborhood, with the goal of building a community center.
Presented his research at the AIA's Walter Wagner Forum and a podcast on the AIA Website (www.aia.org/practicing/AIAPodnet/pod_walterwagner).
Led the University Design Assistance Center, which allows architecture students to consult on campus construction projects (2006-12).
EXTRACURRICULAR
Gulf States Regional Liaison, AIA Young Architects Forum (2009-10).
Participant, AIA YAF Summit20 (2012).
Co-chair and founder, USGBC Northeast Louisiana Chapter.
Lead Instructor, HabiTECH design-build program (partnership between the Louisiana Tech School of Architecture and North Central Louisiana Habitat for Humanity, 2012-13).
Board member, Association for Community Design.
OFF THE CLOCK
Founding member, Piney Hills Cyclists club. 
Raised >$10,000 for cancer research biking solo from San Diego to Charleston, S.C.
SECRET LIFE
Can't live without: Faber-Castell e-motion black wood mechanical pencil.