Between 2013 and February 2018, cumulative investment in construction technology totaled $18 billion, or double the amount invested during the previous five years.
A new analysis of the construction technology ecosystem by McKinsey & Co., the global management consulting firm, identifies where that investment is being directed, how the market is likely to evolve in the next few years, and how the construction and engineering industries can accelerate their transitions into a digital future.
McKinsey has expanded its study to include the entire asset life cycle across more than 2,400 technology solutions companies—from concept and feasibility, to design and engineering, preconstruction, construction, and operations and maintenance. In doing so, McKinsey identifies 38 "use cases" that are spurring the creation of new companies and attracting investment capital.
Among the key trends has been the emergence of constellations of solutions around established use cases. The most prominent include 3D printing, modularization, and robotics; digital twin technology; artificial intelligence (AI) and analytics; and supply chain optimization and marketplaces.
McKinsey sees all of these are being "poised to be transformational for the industry." AI, in the form of machine learning, is gaining momentum as an overarching use case, particularly in reality capture. "Indeed, by applying machine learning to an ongoing project, schedules could be optimized to sequence tasks and hit target deadlines, and divergences from blueprints could be caught closer to real time and corrected," the report's authors write.
While the report foresees only modest market penetration in the immediate future, "the potential impact [of AI] is so large that the industry can no long afford to ignore it."
As for 3D printing, modularization and robotics, McKinsey's research finds that consistent use of these techniques, on projects where they are economically feasible, "could boost the sector's productivity by five- to tenfold."
In fact, one of the "most exciting" applications of digital twin technology invnolve the seamless integration of 3D models generated by drone imagery.
McKinsey is less sanguine about the near-term growth of supply-chain optimization and marketplaces, observing that it's still "nascent and limited to North America."
'Cross-cutting' technologies could soar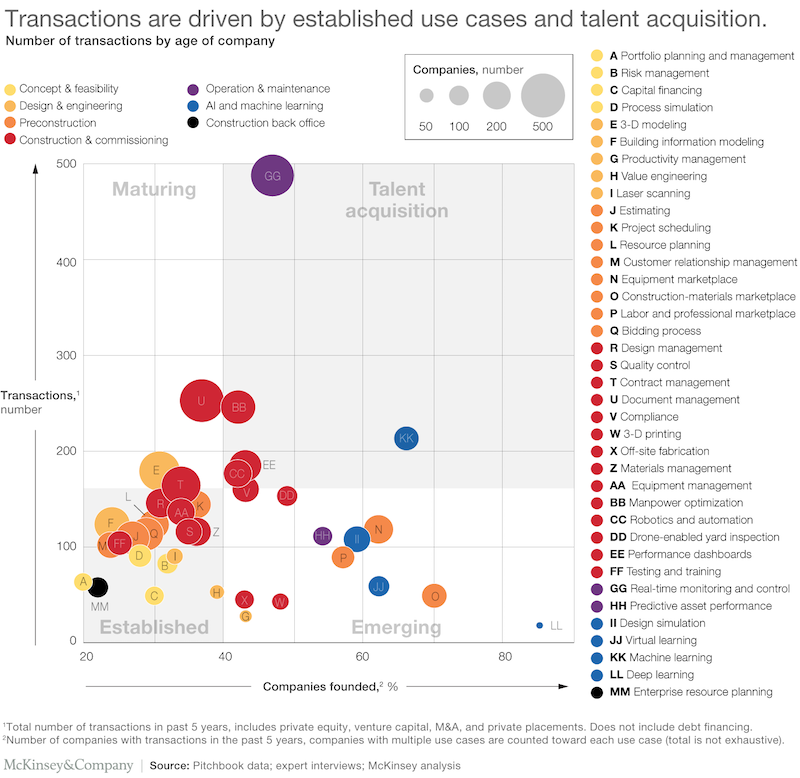 Over the past five years, investments into construction technology have fallen into four quadrants (see chart above), which McKinsey further breaks down by user cases to suggest where future opportunities might be most fertile. Image: McKinsey & Co.
From 2013 to early 2018, there were 908 investment transitions for construction technology, 75% of which involved early-stage venture capital. Late-stage VC was also on the rise, which McKinsey suggests indicated that certain use cases were ready for growth financing.
Construction remains the highest invested phase of the asset life cycle. It is also relatively mature; only one-third of companies in this phase are newcomers. Preconstruction and back-office phases are also garnering large investments.
McKinsey notes that "cross-cutting technologies" are gaining momentum because of their applicability across different stages of the life cycle. These include 3D printing, virtual learning, design simulation, machine learning, and deep learning. "The number of companies founded in this space over the past five years exceeds any other category, and the dollar value of transactions is quickly catching up with the rest of the categories," the report states.
The report also cites two untapped markets: design/engineering, and concept/feasibility. There are various explanations for this, one being the office-based nature of these phases "means their relevant solutions (such as CAD or BIM) may already be relatively mature and sophisticated."
Consolidation could spur investment
The report states that industry fragmentation is one of the biggest challenges for companies that want to engage with technology solutions. And the lack of use-case integration "is one of the drags on technology adoption at scale." Consequently, more companies are exploring the potential to consolidation solutions that address multiple use cases.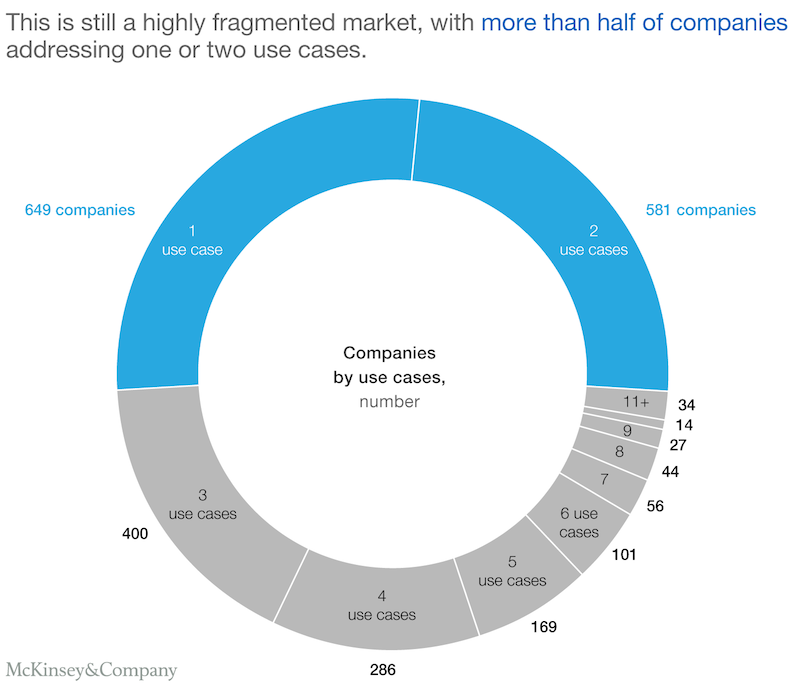 The field of construction technology is still highly fragmented, and integration of technologies that can be integrated across different uses will present investment opportunities. Image: McKinsey & Co.
McKinsey offers its prescriptions for moving the industry quicker into a digital future, starting with investing in talent, which can increase the odds of digitization success by 2.5 times, the report estimates. Actively engaging with the start-up ecosystem and establishing conditions that make piloting and scaling more likely to succeed can also accelerate the industry's transformation.
Tech providers need to listen closer to end users and adapt, and proactively plan for integration and consolidation. Owners should enforce a strong and sharable data foundation, align on supportive contract strategies, and identify and focus on critical user cases.
"Gone are the days when the construction industry can ignore the burgeoning set of technology solutions across the asset life cycle," the report concludes. "We expect investment, competition, and consolidation to continue to accelerate, as use cases and start-ups serving the industry proliferate. As predictions come to life and new capabilities infiltrate the field, team, and office, the winners will be the ones that adapt—sooner rather than later."