Designing a functional, vibrant, and sustainable bus depot is tough enough. Giving the Building Team a fraction of the preferable space is another obstacle.
Most metro bus depots are spread out across one level, but due to site constraints, the Building Team for the MTA Division 13 Bus Operations and Maintenance Facility had to configure 12 acres' worth of programming in a multi-level structure on a 4.8-acre site in downtown Los Angeles. Even in a bit of a squeeze the building doesn't lose its functionality or beauty.
SILVER AWARD
Los Angeles Metropolitan Transportation Authority Division 13 Bus Operations and Maintenance Facility
Los Angeles, Calif.
The 540,000-sf facility has a structured parking garage, a maintenance building, fueling and washing stations, exterior patios, and maintenance and transportation offices. The building supports 525 employees and holds 200 buses.
Perforated zinc panels and purple photovoltaic assemblies distinguish the building from the surrounding urban concrete during the day. LED "stripes" and a glowing lantern make the facility pop at night.
The vertical separation of spaces led to some of the major design elements, such as the "ribbon roof" canopy that covers the internal ramps for buses. It also contributed to the sustainability goals of the project. Two cisterns, which can store a total of up to 410,000 gallons of water, capture 100% of the rainwater that falls onto the building. The water is used to wash the buses. The facility also reuses 30,000 gallons of water a week from an adjacent county jail.
A green roof has drought-tolerant vegetation, while the "open" garage design allows for natural ventilation.
"From a programmatic standpoint, the team thought about all parties when creating this facility," said awards judge Beau Sanders, PE, SE, Associate with Graef. "It's a great place to work, and there are nice, comfortable spaces for the drivers to rest between shifts."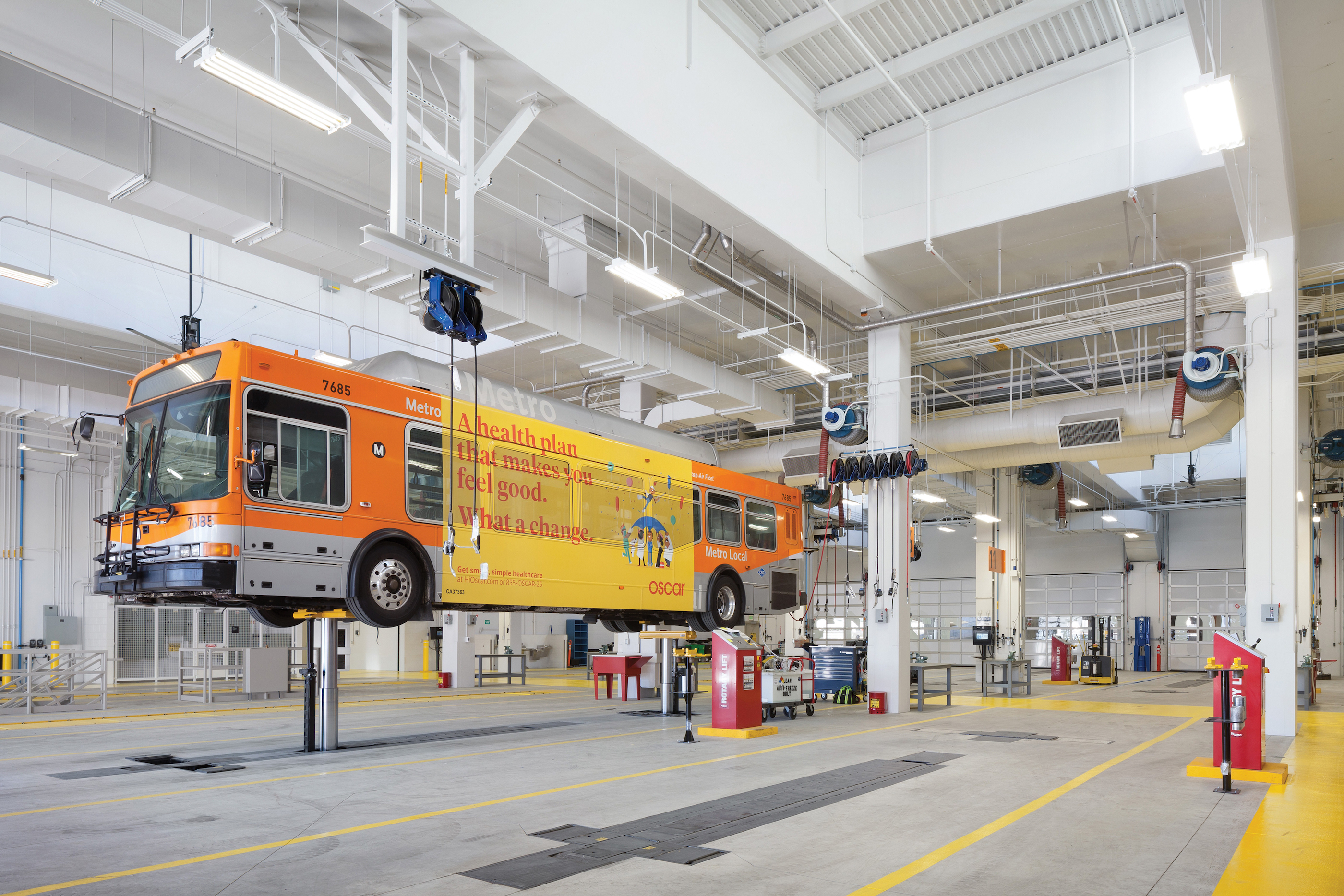 The multi-level MTA Division 13 Bus Operations and Maintenance Facility in Los Angeles holds 200 buses. Photo:& Chang Kim Photography. Click to enlarge.
BUILDING TEAM
+Submitting firm: RNL Design (architect)
+Owner: Los Angeles County MTA
+Structural: Nabih Youssef & Associates
+MEP: CJTSS
+Civil engineer: W2 Design
+GC: McCarthy Building Companies
+CM: Marrs Services
+PM: Maintenance Design Group
GENERAL INFORMATION
Project size: 540,000 gsf
Construction cost: $120 million
Construction period: Sept. 2012 to Nov. 2015
Delivery method: Design-bid-build