Move over Mike, there's another Piazza looking to become famous in the Big Apple. This new piazza won't be gracing Citi Field this summer, and, no, it won't be throwing on the Yankee pinstripes either. In fact, this piazza has nothing to do with baseball, or any sport, at all.
This piazza is a 4,500-sf section covering the final unused area of New York's popular elevated park and is set to become the newest addition to the High Line. The city Parks Department's plan calls for a 420-foot-long area to be restored into a walkway stretching along 30th Street between 11th and 10th avenues, reports DNAinfo New York.
Part of this greenery-covered walkway would pass under an office building at the south side of the Hudson Yards Development and would feature concessions and balconies overlooking the street. Once the path passes under the building it will turn into what is being called the Threshold, a tree-lined path that acts as the opening to the piazza.
The piazza is set to be located above 10th Avenue and 30th Street and will be the largest open space on the 1.45-mile High Line. Part of the piazza's open space is set aside to hold temporary art exhibitions throughout the year.
The plan for the final section of the High Line and its culminating piazza has already been approved by the city Design Commission and construction is scheduled to start in late 2016. The Parks Department has around $31 million in funding available to construct the final segment. For reference, the most recent addition to the High Line occurred in 2014 on an elevated rail between 30th Street and 34th Street and cost about $34 million.
The piazza was chosen as the design for this final section by planners in an effort to accommodate the Friends of the High Line's rotating art program and public events schedule.
Since opening in 2009 along the west side of Manhattan between Gansevoort Street and 34th Street, the High Line has gradually grown in length and scope.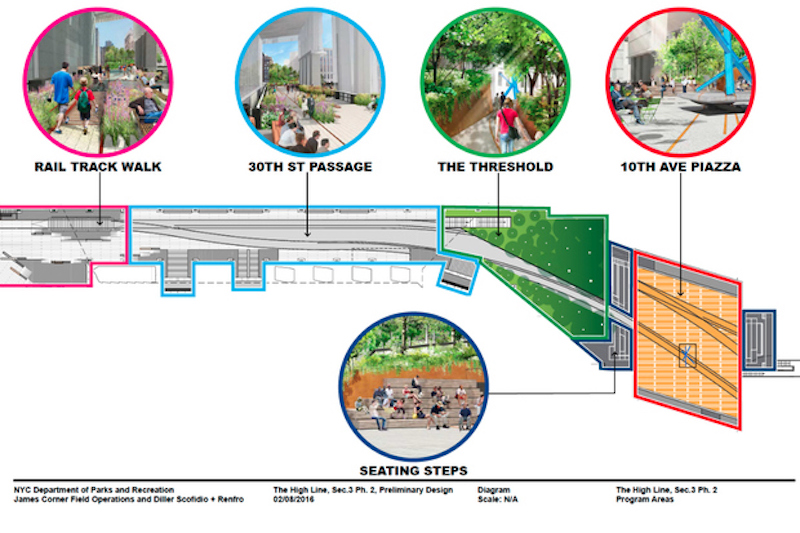 Rendering Courtesy of NYC Parks Department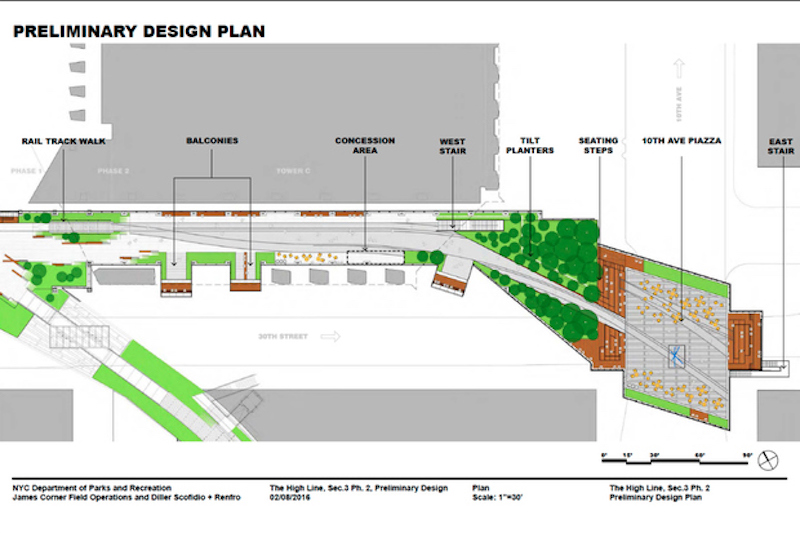 Rendering Courtesy of NYC Parks Department