This evening, Anschutz Entertainment Group (AEG) and MGM Resorts International officially open their 650,000-sf T-Mobile Arena in Las Vegas with a concert featuring The Killers, Wayne Newton, and Shamir. 
The $375 million arena is seen as part of that city's larger strategy to finally lure a professional sports team. At the least, the arena is the latest large-scale entertainment venue for a city where gambling is no longer the main event in town.
T-Mobile Arena is located on 16 acres along Las Vegas Boulevard. Its design, by the Kansas City-based firm Populous, takes visual cues from both the Las Vegas Strip and the desert that surrounds this city. A glass façade faces the street, and gold-and-terracotta toned stone is the main element of the building's bunker suite wall.
Desert and mountain influences are evident in the south and west facades of the arena via a solid skin that protects against intense desert heat. This "of the desert" skin wraps the arena's elliptical form with undulating bands of metal that evoke the color and layering of desert mountains.
A black-and-white video on Populous' website claims this arena features several "firsts," including two 96-ft-high club towers and the Hyde Lounge, as well as two event-level VIP drop-off areas and lounges.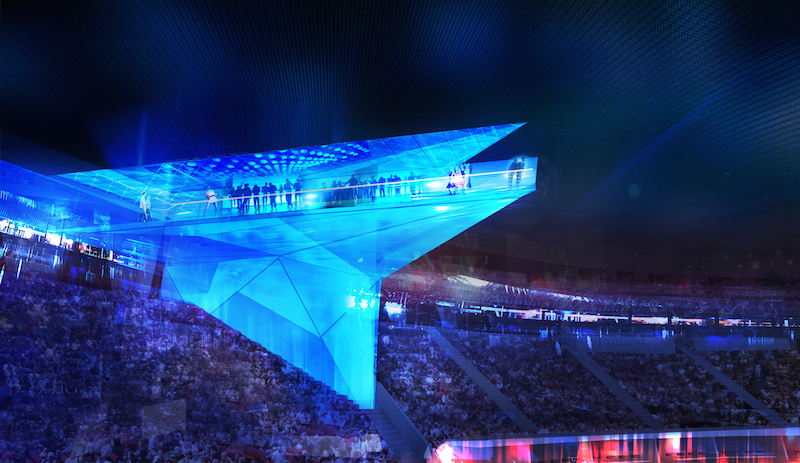 Two sponsored club towers, each 96 feet above the performance floor, are among the amenities offered at the 650,000-sf T-Mobile Arena. Image: Populous
The building provides 44 luxury suites, eight bunker suites, 1,800 club seats, and 124 loge box seats. However, the owners insist they are targeting "multiple social demographics," and will offer a "broad range of seating and event options."
The arena will have a 17,750 seating capacity for end-stage events, 19,200 for center-stage events, and 18,500 for sporting events. The arena makes use of a new arrangement of the seating bowl, to allow for maximum seating capacity when set up for concerts.
A 9,000-sf LED video mesh, which Populous purports is largest of its kind, overlays the glass façade above the main entrance, and is visible from Las Vegas Boulevard. This building will also have what Populous claims is the first-ever exterior concert stage. Mark Faber, AEG's senior vice president of global partnerships, told Vegasinc.com that the two-acre Toshiba Plaza outside the arena could accommodate up to 5,000 people.
He anticipates booking about at least 100 ticketed events per year.
"In our world, it's all about the guest experience," said Faber. "We want to have guests feel comfortable and safe. We think this will transcend the marketplace." He noted specifically that the facility has 30 doors in one entrance, which would minimize how long people stand in line.
However, there is still concern locally about the amount of traffic T-Mobile is going to create, especially given that it's near three other arenas. Most out of towners will probably walk or cab to an event from their hotels. But for locals driving in from the suburbs, traffic and parking could be hassles.
The Las Vegas Review-Journal reports that, in the weeks ahead, MGM will roll out a public education campaign focused on the urban arena experience. The strategy is to persuade locals to make a night of the sports or entertainment event: Arrive early. Eat out before the event. Walk to the arena. Stop for a drink after the event. Play a few slots and allow traffic to clear before going home.
MGM also announced in January a $90 million plan that would include construction of a new $54-million, 3,000-space parking garage near the northwest corner of its Excalibur Hotel property.
T-Mobile Arena opens just as Sheldon Adelson, who owns Las Vegas Sands, is pushing for public money to pay for a $1.3 billion, 65,000-seat stadium just off the Las Vegas Strip, in the hopes of attracting an NFL franchise. That stadium is still in concept phase.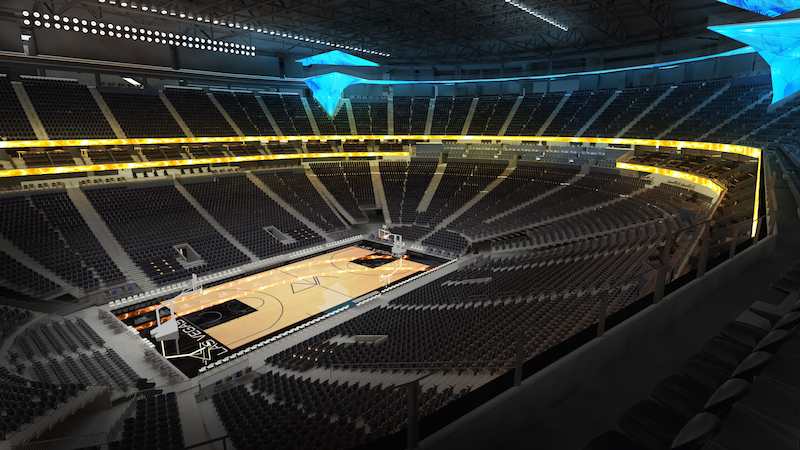 The arena will seat 18,500 for sporting events, and Las Vegas hopes this new facility will help the city attract a professional sports team. Image: Populous
More likely are Las Vegas' chances of securing a professional hockey team, for which T-Mobile would be its home ice. Bill Foley, chairman of Jacksonville, Fla.-based Fidelity National Financial, has stated he will ante up $500 million for an expansion NHL team.
The league is considering applications from Las Vegas and Quebec City. NHL Commissioner Gary Bettman said at GM meetings last month that owners would need to decide by June if the league is to expand for the 2017-18 season, according to Fox Sports. The Review-Journal has reported that Foley is finalizing plans for a practice facility on the outskirts of Las Vegas so it would be ready for the team's first season in 2017.