There are two things in today's technological world that are abundantly clear; people love their smartphones, and those same people love documenting their daily lives and adventures through pictures and video. And while smartphones are usually able to fill the need for a camera on a daily basis, when things get a little bit rough or veer in a direction off the beaten path, the fragility of smartphones (and not to mention the cost) tends to urge people to keep them out of harm's way and tucked safely in the glove box.
Often times action cameras, such as GoPros, fill the void left behind by fragile smartphones in these scenarios. People strap them to their ATVs, jet skis, kayaks, and helmets hoping to capture all of their adventures with little regard as to the cameras safety. This mentality of video documentation has become so ingrained our daily lives that new cars, such as the Toyota Tacoma, come standard with a GoPro mount in the cab.
The problem is, between smartphones, tablets, cameras, laptops, and all the other devices we use on a daily basis, we are left with basically two options; hope the cyclical nature of fashion brings cargo pants back in style soon, or begin consolidating our devices.
Kyocera, a maker of rugged mobile devices, is taking the latter approach. The company's new DuraForce PRO smartphone combines a rugged 4G LTE smartphone with a Super Wide View HD Action Camera. In addition to the 13 megapixel rear camera and the 5 megapixel front camera, Kyocera says the Super Wide View Action Camera gives users the functionality once reserved for dedicated action camera devices, like the GoPro, on their smartphone.
The phone, which offers a five-inch Full HD display and touchscreen that can be operated with gloves and wet fingers, is compatible with many popular action camera mounts and includes an underwater mode, sports mode, slow motion, and time lapse for use with the Super Wide View HD Action Camera. The DuraForce PRO uses a Qualcomm® Snapdragon™ octa-core processor (1.5GHz x 4/1.2GHz x 4) with X8 LTE and multi-mode to ensure fast connections on diverse global networks.
For adventurers, thrill-seekers, or anyone who spends a lot of time outside on a jobsite, the DuraForce PRO offers a shockproof, drop-proof, and dustproof phone that is waterproof for up to 30 minutes while submerged up to two meters deep and has Military Standard 810G protection against dust, shock, vibration, temperature extremes, blowing rain, low pressure, solar radiation, salt fog, humidity, immersion, temperature shock, and icing/freezing rain; basically, short of dropping this phone into the fires of Mount Doom, Kyocera says the DuraForce PRO can handle whatever you may throw at it. A two-year manufacturer's warranty is also included.
Despite the fact that Kyocera is just a few months away from the fall release date it has set aside for its new smartphone, a price has not yet been revealed. However, the standard DuraForce costs $418.99 through AT&T, so you can expect it to surpass that number fairly easily.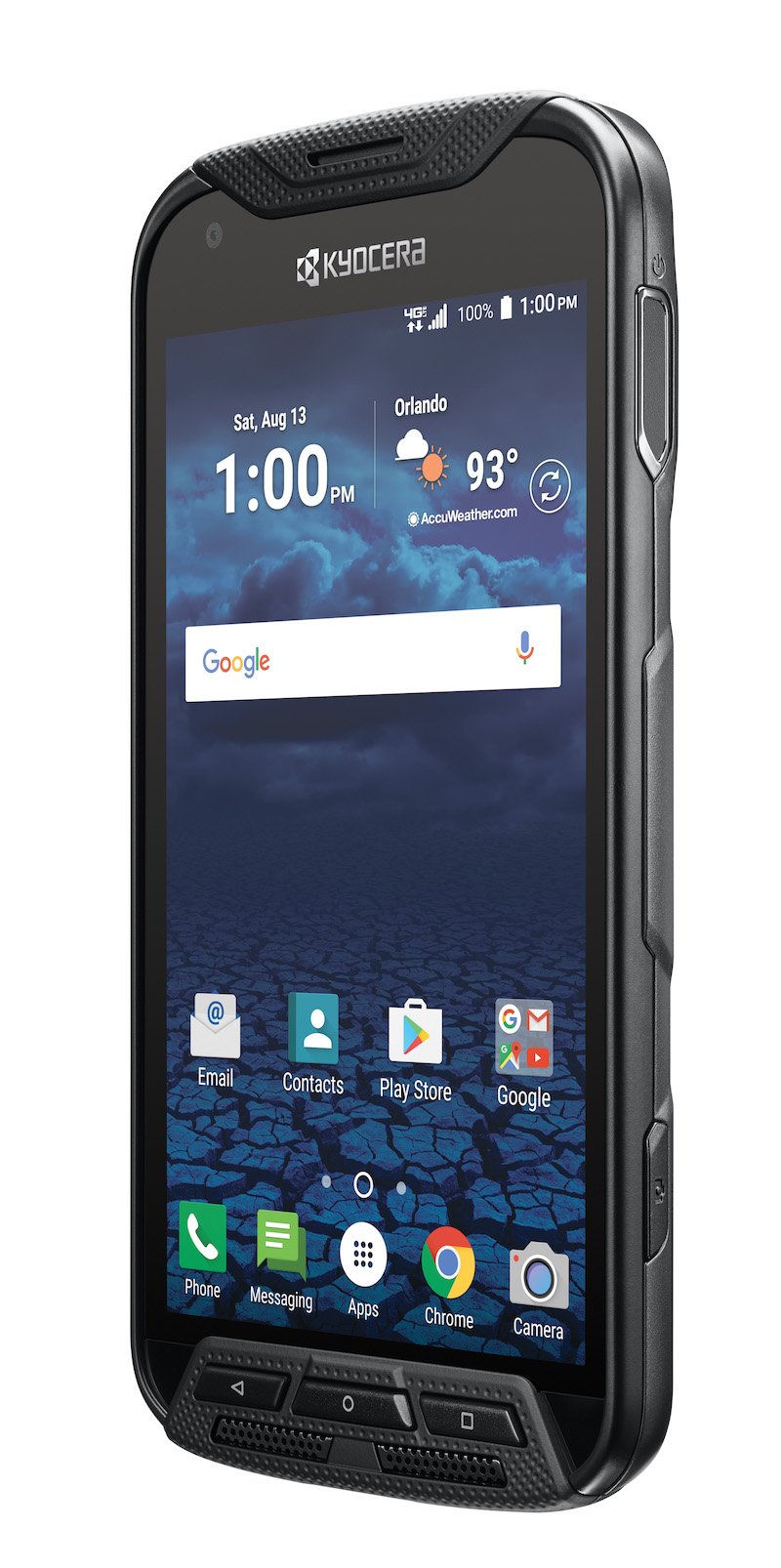 Photo courtesy of Kyocera
UPDATE
Kyocera sent us a DuraForce Pro to review
The very first thing you are likely to notice when picking up the 5.84-tall and 2.89-inch-wide Kyocera DuraForce Pro is its weight. The phone, without a protective case (since one isn't really necessary), is heavier than most smartphones on the market today fully equipped with a heavy-duty case.
This is pretty unsurprising since the DuraForce Pro is meant to be a workhorse of a phone. Increased durability for electronics almost always means increased weight, as well. But this is a bit of a double-edged sword: the heavier weight means the phone is built for durability, but it also means a potential drop could have a more unfortunate outcome, especially on a hard surface like concrete. To this point, however, my review unit has withstood a few accidental drops without any damage.
The phone claims to be dustproof and waterproof. I can't speak to the dustproof aspect right now, but I have tested the phone's waterproof claim. Water has always been the smartphone's kryptonite and dunking a phone into a filled sink seems completely counter-intuitive, but it doesn't seem to be a problem for the DuraForce Pro. Not only does the phone's touchscreen still function when it becomes wet – although, it isn't perfect and sometimes you will touch the screen and it won't register – but the entire phone can be submerged in water for up to half an hour. There is an underwater setting on the camera that allows for video and photos to be taken. When this mode is activated, however, the touchscreen will not work and the camera can only be controlled using the physical buttons along the bottom and perimeter of the phone.
Speaking of the camera, the DuraForce Pro has a 13 MP camera and a 5MP front facing camera. In addition to the underwater mode, there is also a slow motion, time lapse, night view, and sports mode. The most exciting aspect, and the one that separates the DuraForce Pro from previous models, is the addition of a wide view action camera. This function turns the phone into a GoPro-like camera, and because of its durability, it means you can use it to record your mountain biking, kayaking, or off-roading adventures without worrying about it being damaged. The wide view setting is definitely a nice perk. For anyone who regularly leaves the house with a separate wide view camera, having it included in the phone now allows you to leave the house with one less piece of equipment in tow.
Regular.
Wide View.
The phone has more hard buttons than people are probably used to with other smartphones. As mentioned, there are three buttons along the bottom and another six along the sides. With so many buttons on the sides of the phone, it is pretty easy to accidentally press one, which can become pretty bothersome. The large programmable key just below the volume buttons is a nice touch, however. For anyone who doesn't use the push-to-talk feature, this large button can be programmed to another function, such as turning on and off the flashlight, opening Google, or checking the weather.
Despite its bulk, the phone's styling manages to avoid looking like a power brick. Although, with the addition of a case, the phone may become a bit unwieldy for some, and anyone who makes a regular habit of talking for extended periods of time with the phone to their ear will probably find the DuraForce Pro to be a bit too heavy.
If the phone's durability and the addition of the wide view action camera are of no use to you, then a more traditional Apple or Samsung smartphone is probably the better choice. But for anyone who regularly finds themselves outside exposed to the elements, on an inhospitable construction site, or with a desire to record their most recent outdoor hiking or mountain biking excursion, the DuraForce Pro offers a worthy alternative to the traditional smartphone.