The Burj Khalifa in Dubai is currently the tallest building in the world at 2,716.5 feet. But in 2019, when the Jeddah Tower is completed in Saudi Arabia, its height of 3,280 feet will set the new mark for megatall structures.
An increase of over 500 feet is pretty significant, but not significant enough in the eyes of Kohn Pederson Fox, whose Sky Mile Tower design would stand only 419 feet shorter than the Burj Khalifa and the Jeddah Tower put together (yes, you read that correctly). At 5,577 feet, Sky Mile Tower would be the first structure to stretch one mile into the sky and beyond.
A building that height his hard to even fathom. If you have ever seen a picture of the Burj Khalifa and how it dwarfs the rest of the buildings around it or, better yet, have seen the massive structure in person, picture two of them stacked on top of each other. This would still be over 100 feet shorter than the proposed height of Sky Mile Tower. Again, it's almost unfathomable.
While there are currently no construction plans, Kohn Pederson Fox is putting in the research to show how a structure like this could be possible, and it's pretty fascinating stuff.
The tower would be the centerpiece of what the firm is calling "Next Tokyo," part of a "megacity, adapted to climate change through the realization of a high-density ecodistrict built on resilient infrastructure," according to a CTBUH research paper that was authored by members of Kohn Pederson Fox Associates and Leslie E. Robertson Associates. The city would be a chain of manmade, hexagonal islands strategically situated at a bottleneck in Tokyo Bay.
The hexagonal infrastructural rings, which would range from 150 to 1,500 meters in width, would be arrayed in such a way as to disrupt wave action intensity in multiple layers, which would create the potential for the current industrial focus of Tokyo Bay to allow for more mixed-use development and recreational activity in its upper portion.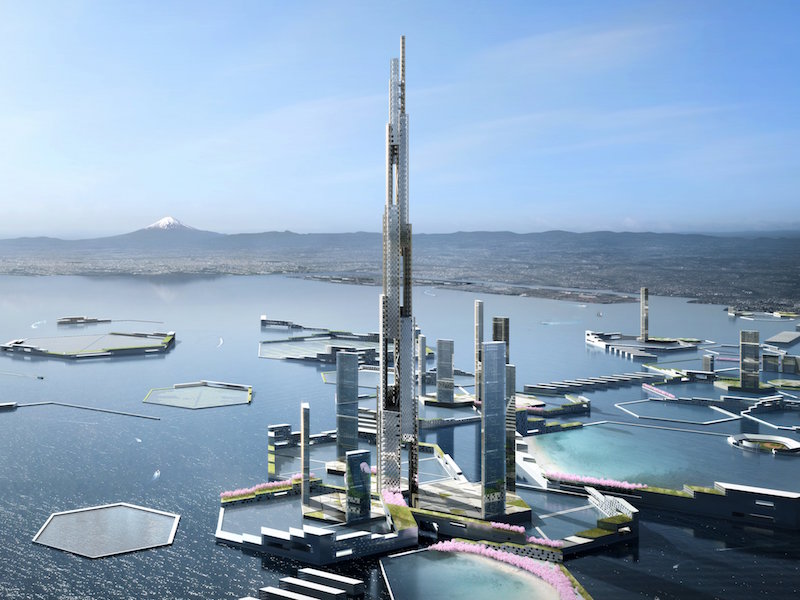 Rendering courtesy Kohn Pedersen Fox Associates
The rings would be connected to each other, Sky Mile Tower, and to the opposing shores via tunnels that include regional rail lines and a "Hyperloop" Maglev-vacuum-tube transport system (the same one Elon Musk is currently developing). There will also be a monorail system and a water bus network.
But let's get back to the tower. With living space reaching 1,600 meters into the air and an overall apex of right around 1,700 meters, Sky Mile Tower is envisioned as a vertical network of segmented residential communities linked together by multi-level sky lobbies that would offer such public amenities as restaurants, hotels, gyms, libraries, and clinics. There would even be open-air spaces, designed for areas of protected pockets with lower wind speeds as identified through the use of wind tunnel testing.
The building would consist of multiple sets of three building legs interconnected to fit within a hexagonally shaped footprint. These building legs would overlap with one another in a rotated plan all the way up the tower. Each leg would have between 60 and 90 floors and would overlap with another every 320 meters. The overlaps would be full floors that extend across the entire central space to provide the connection spaces between the buildings six legs. This is where elevator and stair transfers would happen.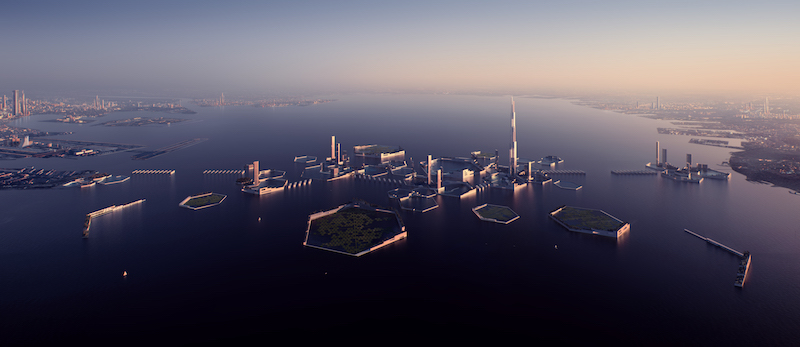 Rendering courtesy Kohn Pedersen Fox Associates
With a building this tall, the primary concern from a structural engineering standpoint is how to deal with the motions and stresses caused by the wind. The six-leg design of the building helps in this aspect, as it allowed for the design team to "vent" the middle of the building in order to let winds pass through with less resistance.
Sky Mile Tower would also feature its own shuttle system to get all of the 55,000 residents to and from their units quickly and safely. The design would call for local elevator car shafts to run within a single residential zone and also express shuttles that would run on longer loops through multiple residential zones.
Just because this would be a massive structure does not mean the designers wanted an equally massive ecological impact. That is why many features of the structure have been incorporated to make Sky Mile Tower as sustainable as possible. For example, the building will help meet cooling and water loads by utilizing the stratified air and lower outdoor air temperatures.
Another problem would be pumping water from the ground all the way to the top units on the building. Not only would it take forever, but it would also be very costly. In an effort to alleviate this trouble, the tower would take advantage of cloud harvesting as a water source by using an articulated façade around its legs to increase surface area and then collect this "harvested" water for treatment and storage at various levels. Then, gravity would be used as a method of distribution to lower levels.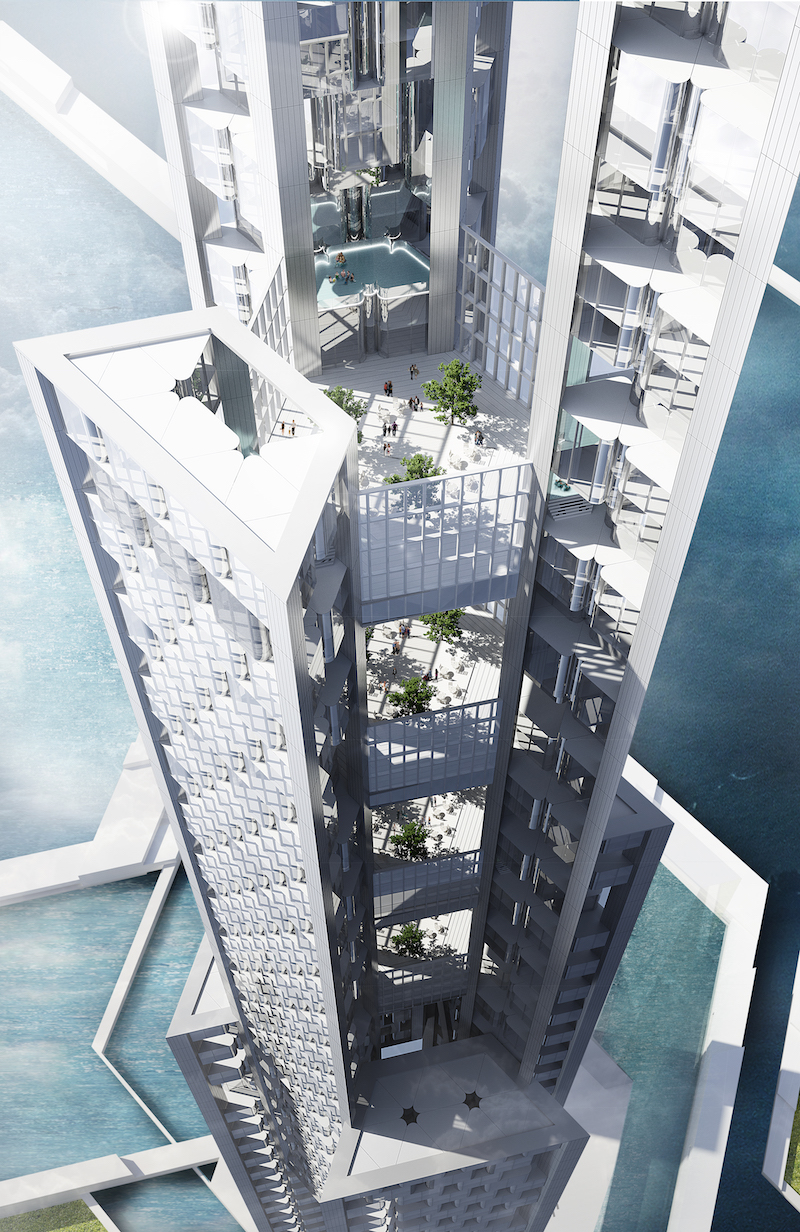 Rendering courtesy Kohn Pedersen Fox Associates
The entire district dubbed as Next Tokyo would occupy 12.5 square kilometers with artificial land accounting for 25% of the total area. Almost all of the high-density development will occur on the smallest of the hexagonal rings and will be clustered around the major transit exchanges. Overall, New Tokyo would be able to accommodate 500,000 residents.

Sky Mile Tower Structural System. Rendering courtesy Leslie E. Robertson Associates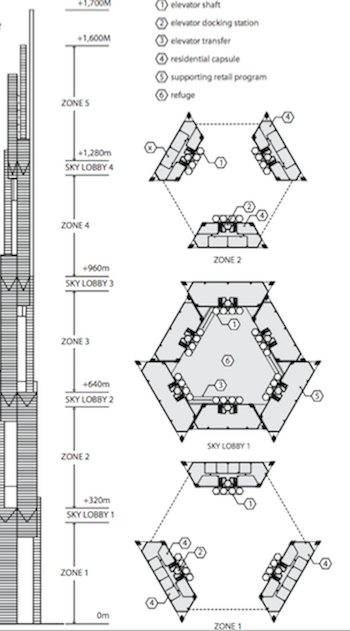 Image courtesy Kohn Pedersen Fox Associates
You can view a PDF of the CTBUH Research Paper here.