Regulations, permits, inspections, licenses – the approval process to build a healthcare facility can seem a bit daunting. When an organization makes the decision to embark on a major capital construction project, be it replacement, reorganization, renovation or expansion, it will be met with numerous requirements from regulatory bodies and jurisdictional authorities. Too often, the development of a construction project moves forward with zeal and optimism without being thoughtful of external factors that may impact the scope and shape of the work.
While these processes cannot be circumvented entirely, they can be managed in tandem with project development so as not to lose time or passion, but in such a way as to ensure the project is in compliance. In order to coordinate the project with the various authorizations, appropriate consideration must be given to each individual process immediately following the project's inception. The following are some of the various regulations and permits that may be required and the process for incorporating approvals into the project.
WHAT IS REQUIRED?
Depending on your local and state authorities, requirements will vary. The best move that you can make when starting a new project is to secure the services of experts. These resources should be familiar with all of the politics and players in your community and will be worth their weight in gold. Navigating these waters may sometimes be treacherous. Experts will ensure that you are prepared to handle whatever may be thrown your way.
A Regulatory Approval Tracking Log should be developed to assist in managing all of the various approvals. Some of the requirements that may be included on your Tracking Log are: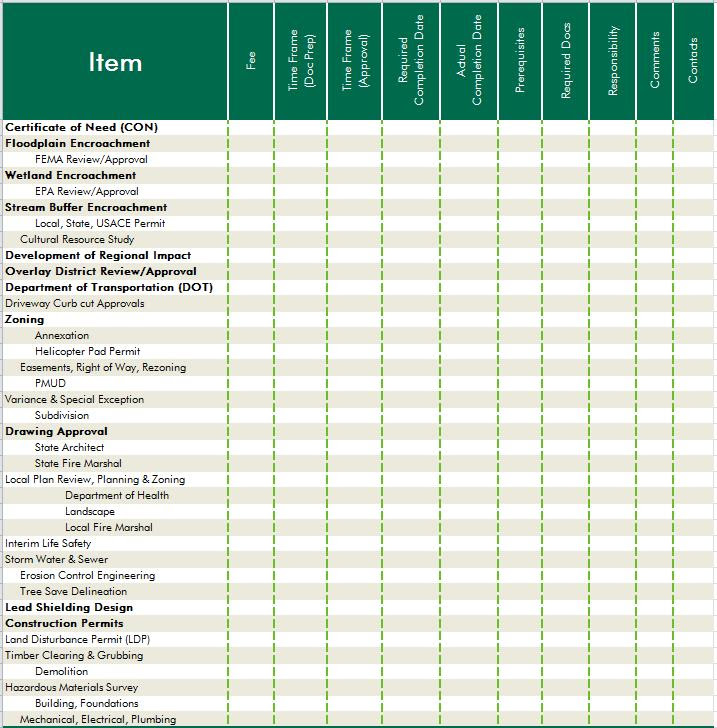 Of all of the regulations and requirements, land use zoning may be the greatest challenge. If your project requires a new or replacement site, the first objective is to locate a desirable piece of property. Sounds easy enough, right? For healthcare owners, this may be particularly tricky especially in urban or more developed areas. In these instances, options for land may be rather limited due to encroachments on neighboring sites and access issues. Your real estate attorney and/or civil engineer should check land records, review environmental surveys and conduct site analysis. This is likely to be required and is important for future approvals and project budget creation. Beyond these basics, the zoning attorney will be able to provide the necessary information to finalize the land purchase which may additionally include the use of traffic/parking engineering studies, further environmental studies/verification, and geotechnical analysis.
Provided the study findings yield acceptable results, the land purchase will be within grasp. Yet, while steering through these variables, there are other issues to consider pertinent to the land use. The zoning / real estate consulting members of the team should identify any supplementary conditions that may require re-zoning of the land to be purchased. This is typically very manageable, but may involve a completely volatile and dramatically variant review: the Community Approval Process. The advice here is to seek out the leader(s) in the community and garner their input on the project and any concerns they may have. Typical concerns revolve around additional traffic, construction noise, loss of existing green space and other items which may require mediation or recreation. For instance, if your land development is replacing an existing park or playground, you may be required to recreate the park or incorporate one into the new property. Also note that land use zoning and community involvement are necessary in the case of an existing facility expansion as well. However, in regard to expansion, much of the basic information is known and more readily integrated into the project development. Nevertheless, if the expansion is large or invasive, the zoning / re-zoning process may be just as time consuming and tedious, if not more so.
A popular method by which to comprehensively zone and expedite regulatory approvals is the Planned Unit Development (PUD). A PUD is a designed grouping of varied and compatible land uses, such as housing, recreation, commercial centers, and industrial parks, all within one contained development or subdivision. If a hospital were to include medical office buildings, parking structures, a day care and separate administrative facilities on the same campus, a PUD would allow for all to be zoned together within the bounds of the development agreement. Often times, a PUD can also aid in project phasing and may facilitate future zoning and approval processes. Architectural and site plan reviews can be incorporated in the overall PUD process to further advance the site development. The PUD process may also require support from the community and local government. Finally, you should be prepared to incorporate non-project related additions such as afforestation if required.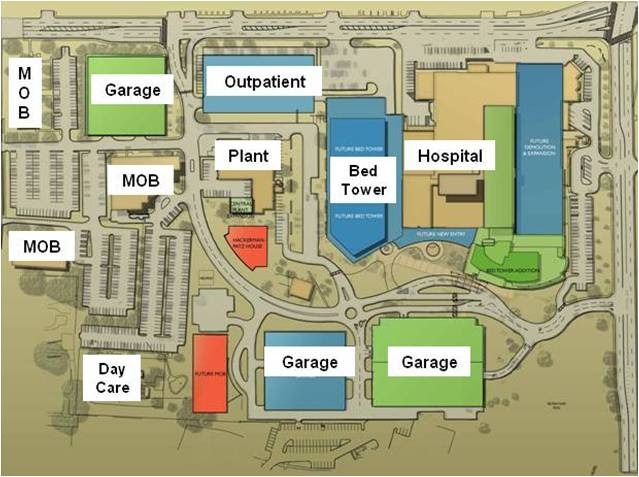 In conjunction with the site development, your state may require Certificate of Need (CON) approval. The CON process is cumbersome and requires a great deal of attention. CON programs are aimed at restraining health care facility costs and allowing coordinated planning of new services and construction. The program, volume and financial support required for the CON will drive the size and scope of the project. Furthermore, while the architectural and engineering components of the CON process may not present a great deal of aesthetic components, the potential architectural and site plan reviews mandated as part of a PUD process will. This will in turn supplement the material available to prepare the CON budget and schedule.
CON approvals can routinely take six to nine months for approval in most states. This adds costs to the project as a result of additional design services and consultants that are often brought into the project team to assist with navigating the overall process.  Time is always of the utmost importance so hospital systems must determine if they are willing to go 'at risk' with any of the development tasks in advance of CON approval in order to save time.  CON's typically apply only to acute care projects. This leaves most ambulatory and outpatient developments to forego this lengthy and potentially expensive process. 
Expanding its ambulatory network plan allows hospital systems a quicker route to complete projects and reach new patients and covered lives.  Ambulatory projects do not usually contain hospital-based services so the development team must ensure that the process is managed as such to prevent unnecessary regulatory approvals.  The one exception to this approach is an ambulatory center that includes a Free-Standing ED component. These are typically always regulated through a CON process.  Many states are still establishing and adopting their regulatory process and requirements for Free Standing ED's. This often complicates and creates even lengthier approval delays for Free Standing ED's when compared to the states that do have established regulations and CON requirements. 
Once zoning and CON approval have been received, or are at least well in-hand, the project management team should have developed a strategy by which the project will be constructed. This strategy should include drawing package phasing and / or early release of work. The permitting process and timing vary greatly by area and may require a third party expeditor to get the drawings returned in a manageable amount of time. The majority of the permitting process should be pretty straightforward but needs to be reviewed early and often so that any environmental impact studies and supporting geotechnical information will be in place to support site work, sediment and erosion control approvals.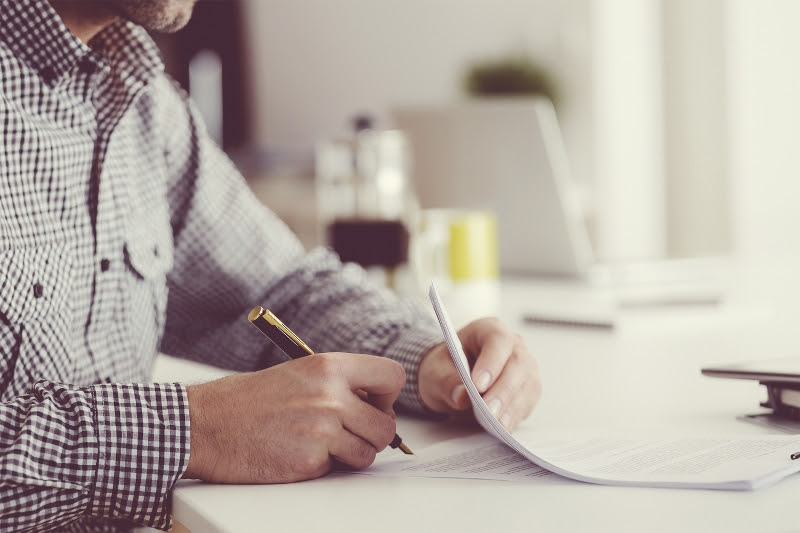 THE APPROVAL PROCESS 
While it may seem like an obvious first step, the project definition is integral to outlining the timeframe and approvals necessary to begin construction. Recognizing that we live in a regulatory environment, it is mandatory to understand the impact that regulation approvals may have on project schedule. In addition, the current state of the economy has made financing and project approvals increasingly volatile. The baseline timeframe will assist the project manager in forecasting a realistic cash flow, developing the completion schedule, and identifying when to select key project team members.
Planning and management is critical at this phase of the project. The project manager should convene a "Regulatory Summit" to identify all of the laws and regulations governing the project. During the summit, the team should address individual roles and responsibilities, regulatory impact, scheduling, and compliance. The basic steps required for regulatory approval are as follows:
Obtain a Certificate of Need, if required
Obtain drawings and specifications of your facility
Plan approval by Department of Health and Environmental Control (DHEC)
Construction Progress Inspections
Final Construction Inspection
Documentation Required at the Final Construction Inspection
Licensing Inspection
Certification Inspection (if required)
CONCLUSION
As with any sort of large capital project the early consolidation of information and consensus on scope and funding are critical in allowing for an unfettered development process. While this article focuses primarily on regulations during the inception and design phase of a project, it should not be perceived as being the decoder ring to every possible approval. Plenty more approvals may be required as you move toward the Occupancy phase of the project – such as:
Licensing for pharmacy
Physicist testing
Approval for equipment locations
Compliance with Centers for Medicare & Medicaid Services (CMS)
Updates to the Statement of Conditions for the Joint Commission
Occupancy and operational approval by the Department of Health
Although the amount of information to be compiled, and the number of approvals may sometimes seem infinite the best advice is to plan early and consult parties who have navigated these waters before. Local experience and camaraderie with authorities is invaluable. Firms that possess these capabilities should be solicited for advice immediately. Do your homework and begin project dialogue as soon as the idea has a spark. You will soon notice that there are many extraordinary factors that perhaps were never considered. By having the proper tools and appropriate team foundation, you will be able to manage through this process and, at times, even use it to your advantage. 
About the Authors: Managing Director Patrick Duke is responsible for building strategic relationships with healthcare providers and industry partners to develop comprehensive solutions delivered in a collaborative manner. With over 16 years of facility planning and project management experience, Patrick brings a wealth of knowledge and expertise to clients, particularly related to team development and alternative project delivery models. Kyle Marden leads CBRE Healthcare Services' Ambulatory Care program. Kyle, a Managing Director with more than 12 years of comprehensive ambulatory development experience across the country, specializes in assembling and managing the team that will work with healthcare system's key stakeholders to ensure the successful planning and implementation of complex ambulatory programs. Director of Project Management David Vollmer applies his field knowledge of the construction process to assist clients in the management of their healthcare capital projects. His responsibilities include project scheduling, budget development and management, contract negotiation, proposal development and review and overall client coordination.