Hotels in the U.S. surpassed five million available rooms for the first time last year. But supply, which is expected to grow by only 1.6% in 2016, at that rate would continue to lag demand, according to forecasts by STR, the research and benchmarking service provider.
This dilemma may account for the increased interest in modular construction among developers and property managers. The Modular Building Institute, in its "Permanent Modular Construction 2015 Annual Report," based on data from 73 North American modular manufacturers, estimates that modular hotel construction in the U.S. increased by 31% and 25.7%, respectively, in the last two years, with the Southeast and South Central parts of the country seeing the most activity in that sector.
"Hotel brands and developers are finding compelling advantages to using the latest forms of modular construction for new projects, whether it's implementing just bathroom 'pods' or pre-fabricating the entire guestroom," stated a posting last May on Hotel News Now's website. That post noted that, by way of example, Hilton Worldwide Holdings had recently teamed with modular provider CIMC to build a Hampton by Hilton at Bristol Airport in the United Kingdom, which CIMC owns and Hilton will manage. That was the first of an anticipated multiple-property push to use newer, comprehensive modular techniques where entire guestrooms are built in the factory, then shipped globally for new Hampton Inn and Hilton Garden Inn properties.
This summer, Boise, Idaho-based Guerdon Modular Buildings is scheduled to complete the last two of five multi-story buildings for The Canyons Lodge & Cabins, the latest hotel project at Yellowstone National Park in Wyoming. When those two buildings open, The Canyons will have 410 guest rooms. Guerdon's modular technology is allowing The Canyons to meet seasonal challenges, reduce its labor costs and room noise, and achieve LEED Silver certification.
Xanterra Parks & Resorts, owned by billionaire entrepreneur Philip Anschutz, is the nation's largest park concessions management company. It is in the midst of a 20-year, $134 million contract to rebuild and renovate lodging facilities at Yellowstone, America's oldest national park. The Canyons project accounts for about $90 million of that contract, according to the Great Falls Tribune.  
Xanterra selected Guerdon to rebuild The Canyons, which was the first modular project of this size that Xanterra had commissioned, according to Rick Hoeninghausen, Xanterra's director of sales and marketing at Yellowstone.
The original cabins at Canyon Lodge, which were built in the 1950s and 1960s, were torn down, and Guerdon started this project in the spring of 2014.
The Canyons consists of 250 53-foot-long modules, about 50 modules per lodge. Each building will have between 73 and 87 rooms. On site, Guerdon is partnering with Martel Construction as its GC. The first three buildings were assembled in six months, compared to the 30 months it would have taken with stick-built construction, according to Mia Bell, Xanterra's assistant general manager at Yellowstone.
Guerdon's CEO Lad Dawson tells BD+C that his company has begun working with "a large hotel chain" (Marriott International, according to a knowledgeable source) "to help them in an initiative to build 1,000 modular hotel rooms per year." Dawson adds that later this year Guerdon will announce other branded hotel projects, about which he didn't disclose details.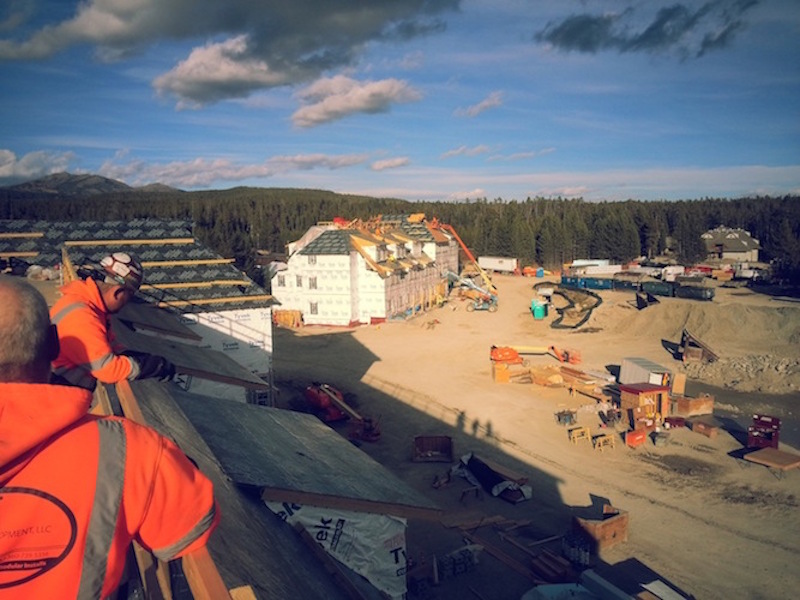 The first three buildings for The Canyons were assembled in only six months, compared to the 30 months stick-built construction would have taken. When its five buildings are completed this summer, The Canyons will have a total of 410 rooms. Image courtesy of Guerdon Modular Buildings.