Collaborative problem solving was on the menu at BD+C's 6th Annual Under 40 Leadership Summit, Chicago (October 26-28), and at its inaugural Women in Design+Construction Conference, Dana Point, Calif. (November 9-10). Each featured an AEC industry first: a business-oriented hackathon.
Popular among engineers, hackathons are forums that encourage "constructive collision" by bringing people into a room, letting them self-organize around common interests and goals, and having them work together in groups over two or three consecutive days to devise workable inventions that fill identifiable needs. A panel of judges chooses the winners.
The BD+C events customized the hackathon model to address operations and business development issues. The time was condensed to a single day in each case.
Hackathons are a means for AEC firms to rethink their role in an era of "human-focused, data-centric design," where buildings are evolving from "machines" to "organisms" with their own digital DNA, said Paul Doherty, President/CEO of DIGIT Group, who facilitated both hackathons.
WOMEN AEC PROFESSIONALS VOICE THEIR CAREER CONCERNS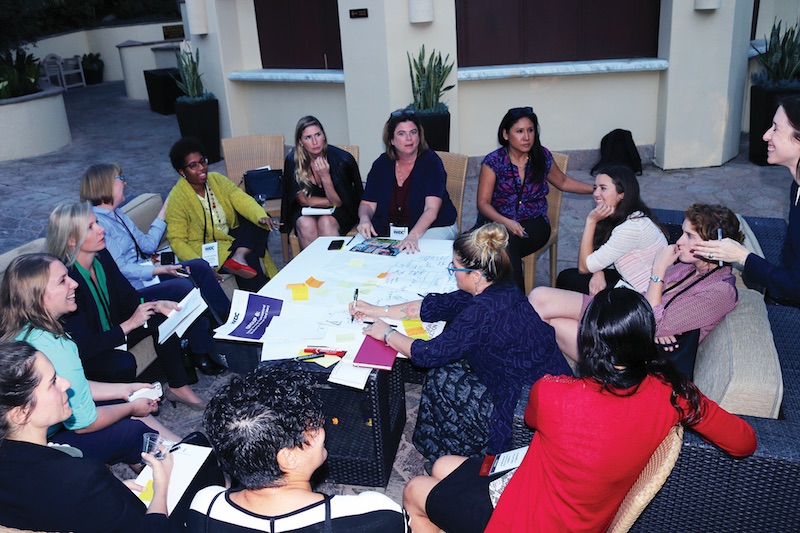 Women in Design+Construction attendees grapple with a thorny hackathon question. David Barista / BD+C. 
The hackathon at the WiD+C conference was a very different animal, starting with its demographic. The women in attendance were palpably enthusiastic about engaging with others of their gender in decision-making capacities, an opportunity that rarely happens for many women at AEC firms, according to panelists and speakers.  Six teams wrestled with plans that could be applied to a workplace in one of the following categories: achieving work/life balance, creating a mentoring system, earning respect in a male-dominated industry, positioning for promotions, remaking the hiring process, and designing the ideal organizational structure.
The work/life group suggested that AEC firms should stop measuring an employee's productivity by the hours she puts in at work, and instead should use a metric that factors in life tasks, from food shopping and parenting to caregiving. "We have to overcome the perception that you're not working hard enough if you're [only] in the office from nine to three," said one team member. Another pointed out, however, that women needed to figure out how to manage those tasks and still get their work done.
One solution: an app—dubbed "Rosie," after the robot maid in the cartoon series "The Jetsons"—who would help a woman manage her personal life more efficiently.
Another group conceived of an app, which they called PRO.TRAC.HER, to help an employee quantify her qualifications, make suggestions about what she needed to do to gain a promotion, and prompt fellow employees to advocate on her behalf to senior-level managers.
A number of speakers pointed out that men are often promoted based on their potential, whereas women are promoted based on their previous work. One hackathon group called for "blowing up the monopoly of the manager" in hiring and promotion decisions and replacing it with something akin to "a jury of our peers," which would evaluate the candidate's portfolio of work.
This team suggested an app that would provide access to an AEC professional's personal and professional history on a "blind" basis with regard to age, gender, and race. The app—which one team member compared to a mash-up of a credit score, electronic medical records, and Match.com—could be merged with supervisors' assessments of the employee.
The WiD+C hackathon judges named "best overall" one team's idea to create a culture of mentorship within a rm. That plan divided employees into three groups—entry level, mid-career, and executive—and four areas that mentoring would cover: skills, business, life, and leadership. "The goal is to have a champion [within the firm] for each group," the team stated in its presentation.
The dearth of female mentors in the AEC industry is one reason why women architects, engineers, and contractors continue to express frustration about their lack of professional opportunities. Women also feel shortchanged because not enough of them have a seat at the table to impact their firms' policies.
Speakers at the WiD+C conference encouraged the women in the audience to speak up for themselves and their ideas more forcefully, regardless of how such aggressiveness is interpreted by male colleagues and supervisors. They also offered strategies for overcoming implicit or unconscious bias in the workplace and for negotiating more effectively. Preparation and tone are the keys to success, said Brenda Radmacher, an attorney with Wood Smith Henning + Berman.
Amy Kalar, AIA, LEED AP, EDAC, Senior Healthcare Planner, RSP Architects, concluded the conference with observations about what AEC firms and individual professionals could do to increase female leadership at rms. For firms, it's a matter of mindset and commitment to policies that promote diversity. For women, it's a matter of "asking for what you need"—and getting more involved in their own advancement.
The ultimate goal, Kalar said, is to remove barriers—both organizational and psychological—that block equity for all workers.
BD+C has launched a LinkedIn site for women in the AEC industry to share ideas and issues of concern: https://www.linkedin.com/groups/12019994.
UNDER 40S LOOK AT DISRUPTION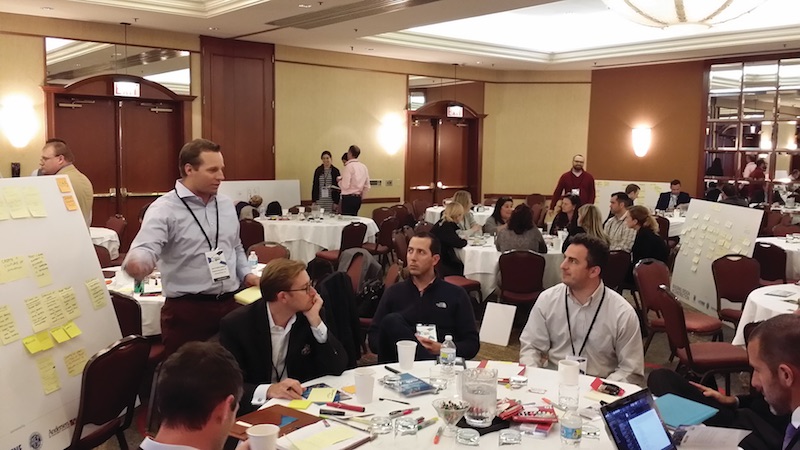 40 Under 40 honoree Matthew Hirsch, President of Primus Builders, leads a hackathon group. David Barista / BD+C.
Under 40 Summit hackathon attendees were given several hackathon topics to choose from: technology turmoil, the talent wars, creating a culture of innovation, attracting and developing new businesses, creating a competitive advantage, and devising a new business model for the next decade.
One group pursued the idea of disrupting the traditional hospital/medical office healthcare model through the creation of an "ecosystem of wellness" that would incorporate the workplace and home.
Another group explored the relationship between innovation and a more egalitarian workplace hierarchy. A group that focused on hiring and retention practices discussed abandoning the "AEC firm structure" altogether, in favor of hiring "free agents" with skills—called "perma-lancers"—as needed for specific projects.
Hackathons can help keep the AEC industry innovative, said Doherty, who helped conduct the first AEC Hackathon with Facebook a few years ago and who was involved in the launches of Revit and Buzzsaw.