As students returned to college campuses this fall, many were greeted by new, renovated, or expanded classrooms, research centers, and residences that operate more efficiently and sustainably.
For example, David Blackwell Hall is the first new student housing facility to open on the campus of the University of California, Berkeley since 2012. UC Berkeley developed this 186,000-sf building in partnership with American Campus Communities. It offers 783 beds, 7,000 sf of ground-floor retail, an 11,000-sf community center, and 5,300 sf for student organizations. The hall is part of the university's plan to add 7,500 beds on campus within the next decade.
The contract for the eight-story David Blackwell Hall, which opened on August 14, called for the building to meet LEED Silver certification standards. But it can actually achieve LEED Gold, says Tim Stevens, AIA, LEED AP, Principal with Solomon Cordwell Buenz, the project's design architect.
To exceed the university's expectations, the Building Team focused on three areas, says Stevens:
• The installation of low- and ultra-low-flow fixtures helped reduce water use by 40%.
• Stormwater is treated on site through a series of bio-filtration planters, thereby reducing the building's impact on the city's sewer system.
• The building, which doesn't have air conditioning, is equipped with a centralized HV distribution system that delivers tempered (67 F) air to each room. Occupants have some control over their comfort, as each room has a thermostat that regulates an electric-resistance heat panel above each window. The rooms also have two ceiling fans and operable windows.
Stevens says UC Berkeley's energy goals—which target carbon neutrality by 2030—typify what colleges across the country are asking for in terms of higher-performing buildings. But schools also want prudent construction: David Blackwell Hall took 18 months to complete and cost $100,000 per bed to build, compared to $150,000 per bed for the last student hall the university opened.
Balancing efficiency with comfort and convenience is something that AEC firms constantly grapple with. "This industry is still far behind" when it comes to making buildings smarter by integrating technology with design, says Gabriel Peschiera, PE, Director of Smart Buildings at Jaros, Baum & Bolles.
But not everyone wants technology in charge, either.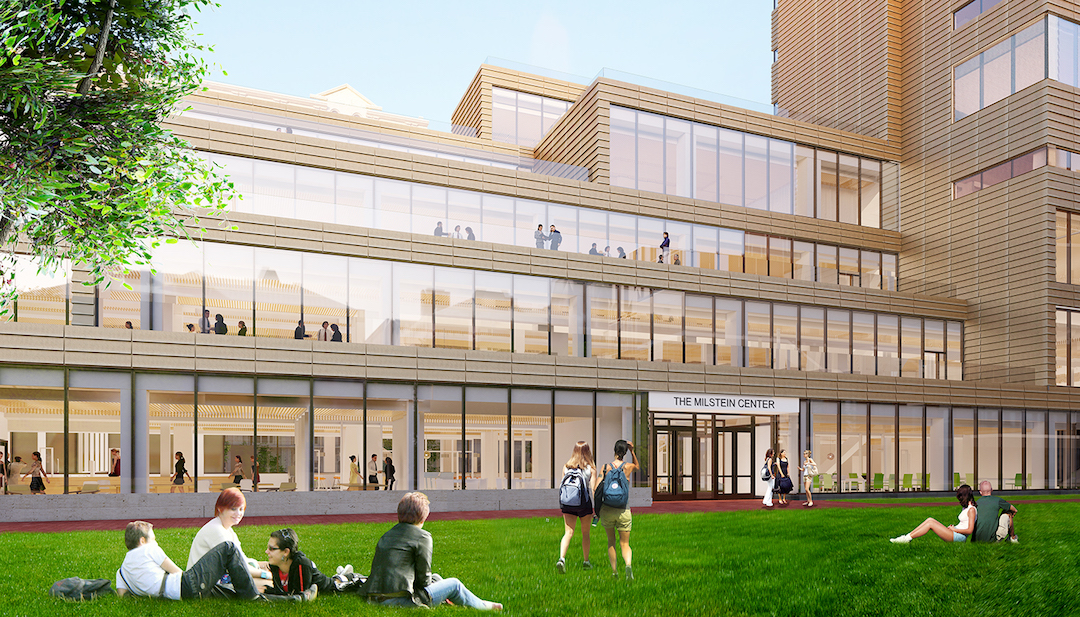 The 128,000-sf Cheryl and Philip Milstein Teaching and Learning Center, on the New York campus of Barnard College, consists of an 11-story office tower and a three-story library and public space, with stacked levels with setback terraces to minimize the building's massing on the lower levels and grass plaza. Courtesy SOM.
Offices account for half of the space within the 128,000-sf Cheryl and Philip Milstein Teaching and Learning Center at Barnard College in New York, which opened on September 4. Late into that building's design process, the university had to assuage faculty members who were complaining that they would have little control over their own comfort. Consequently, each office in the complex's 11-story tower is near operable windows.
Turner Construction, the GC on this project, ran thermal tests to figure out how open windows would affect the building's energy performance, says Suzanne Castellano, Vice President and Construction Executive with Turner. Castellano adds that Barnard and the project team set up protocols for educating the faculty on how to occupy the building.
The Milstein Center's Barnard Library replaces Lehman Hall, which had been the college's library since the 1960s. It is twice the size of Lehman, so the building's massing had to be considered so that it didn't block sunlight from the lower floors of the ground-level lawn plaza. This section of the building was designed as a series of stacked terraces. The building's design reduces heat islands via a sedum roof that covers each terrace's surface.
The Milstein Center is built to achieve LEED Silver certification, and will contribute to Barnard's participation in NYC2030, a Bloomberg Administration initiative. Barnard had already reduced its campus's CO2 emissions by 30% in six years, and is now shooting for a 50% reduction by 2025.
countering heat and humidity
One of the more ambitious university projects is in the works at the Georgia Institute of Technology in Atlanta, where the Kendeda Building for Innovative Sustainable Design is being built to meet the rigorous certification standards of the Living Building Challenge.
Upon its scheduled completion in late spring 2019, the Kendeda Building is expected to be the most environmentally advanced education and research facility in the Southeast. The university and its development partner intend to showcase the Kendeda Building as a repeatable example of a high-performing and sustainable building that's viable within reasonable financial parameters, even in areas with persistently hot and humid weather.
The Kendeda Fund, which provided a $30 million grant for this project, found an ideal companion in Georgia Tech, which has 20 LEED-certified buildings on its campus. "High-performance sustainable buildings have been part of Georgia Tech's DNA forever, and this building is a natural evolution," says Howard Wertheimer, FAIA, Assistant Vice President of Capital Planning and Space Management at the university.
The Kendeda Building will have 36,978 sf of conditioned space and 9,870 sf of open space that includes a 2,618-sf outdoor porch area and a 1,000-sf roof deck. The 4,347-sf roof garden, while not open to the public, will contain a honeybee apiary, pollinator garden, and blueberry orchard. The remaining space (1,905 sf) is for loading and bike storage.
This is considerably larger than the other 11 buildings that are Living Building Challenge-certified. "We've done some really high-performance buildings, but the scale of this project is more comprehensive," says Joshua Gassman, RA, LEED AP, Sustainable Design Director with Lord Aeck Sargent, which is partnering with Miller Hull Partnership to design the building. Skanska USA, the project's GC, had already worked on six Living Building Challenge projects, two of which have been fully constructed and certified.
See Also: Green, and then some: Architecture firms are helping cities raise the stakes in green design
Kevin Bell, Skanska's Vice President of Operations, says that the Kendeda Building's interior glulam structure required sourcing lumber from several forests certified by the Forest Stewardship Council.
The building, which sits on a former parking lot, is recycling as much construction waste as possible, including 1,100 cubic yards of asphalt and 800 cubic yards of dirt. A local company, Lifecycle Building Center, is converting waste from landfills and the university to reusable construction materials—most notably wood from movie sets that was reclaimed for use as 2x4 spacers between structural 2x6s for the building's floor system.
No galvanized metals are being used to construct the Kendeda Building. Bell says one drywall contractor even purchased a machine to roll studs without any galvanization.
The Kendeda Building will be net-positive energy and water. Its features include composting toilets and greywater recycling. Gassman says his team explored a blackwater treatment system, but eventually rejected that idea because Georgia Tech would have had to be licensed as a sewer regulator.
On the rooftop of another campus building, the university has been conducting tests on converting rainwater to potable water, which currently isn't allowed in Atlanta.
During the design process, the project team specified revolving doors to reduce the building's humidity. Georgia Tech balked because it thought the doors would cause traffic jams for occupants. Gassman explains that by not using the doors, there would be a 10% energy penalty under the Living Building Challenge's measurements. So Georgia Tech chose to offset that penalty by installing more solar panels. The completed building will have 913 solar panels with a 328-kilowatt capacity.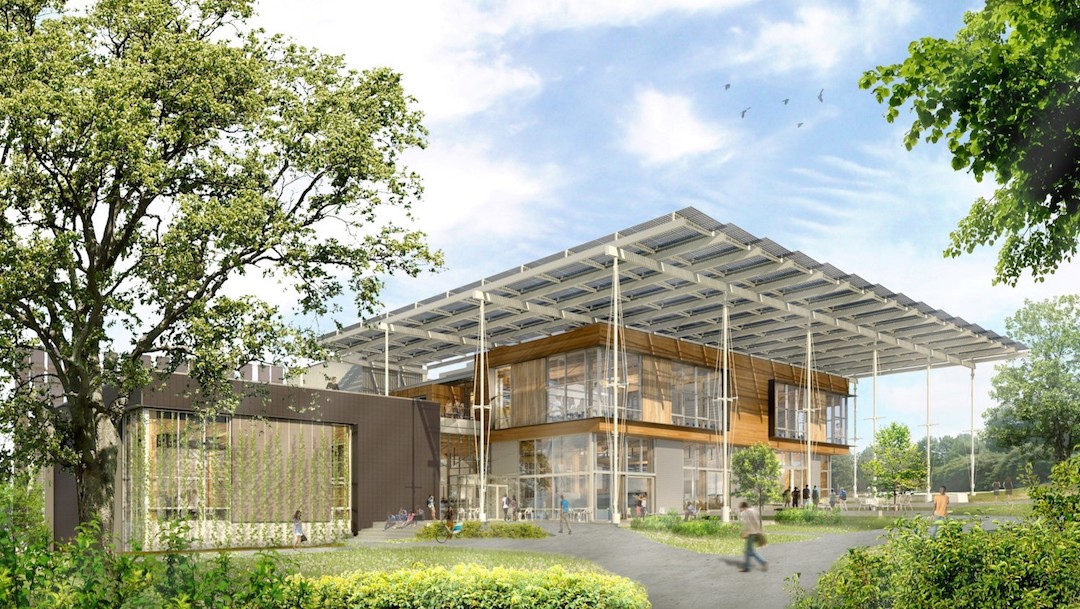 The 47,000-sf Kendeda Building for Innovation Sustainable Design at Georgia Tech in Atlanta has been designed to achieve Living Building Challenge 3.1 certification. The building will be net-positive water and energy. Its construction materials include reclaimed wood from local movie sets to use for floor components. The Building Team: Lord Aeck Sargent and Miller Hull Partnership (design architect), Andropogon (landscape architect), Uzun & Case (SE), PAE and Newcomb & Boyd (MEP), Long Engineering (CE), and Skanska USA (GC). Courtesy Lord Aeck Sargent.
Bell says the ambient temperature of the building will range between 72 F and 76 F, but with a constant airflow. There will be air conditioning, but from smaller, higher-efficiency units. A water pumping system for radiant heating and cooling is being built into the floor slabs. The building's operable windows will be linked to a remote weather station to determine when they open or close. But occupants will have access to override functions.
The university hired Epsten Group in Atlanta to monitor and verify the building's performance. The Kendeda Building is expected to receive Living Building Challenge 3.1 certification by 2020.
Hard construction costs are estimated at $18.6 million, or roughly $397 per sf, based on total programmable space. Wertheimer says Georgia Tech and the Kendeda Fund view this project as a potential catalyst to encourage other developers to consider a higher level of sustainability in future projects. "The stone that creates a ripple," is how Gassman put it.