The impending demolition of a former retail building in New York City will set the stage for the planned construction of a 240,000-ft, 20-story office building whose design and systems will be flexible enough to support and accommodate this metro's growing tech and innovation sectors, which are expected to create 100,000 new jobs over the next decade.
The building, known as 14th@Irving, could break ground in early 2019, and be completed in two years. The building is expected to become a center for training and collaboration for the innovation economy. Its largest tenant will be Civic Hall, a community based organization with 1,000 individual and 150 business members. Civic Hall will lease three of the building's stories for its own use, and program three other floors that will include a digital skills training center.
Five floors in the building are being earmarked for startup tenants that are looking for smaller spaces and shorter-term leases. These companies, the thinking goes, could eventually become large enough to want to take leases in the building's seven floors of Class A office space.  
"This center will be a great place to start and grow new tech businesses within a community of like-minded innovators," says Keith Amann, Senior Associate with WSP Built Ecology. WSP is this project's MEP and FP engineer, lighting designer, and is overseeing commissioning, sustainability, and building technology. He notes that the building will be set up to encourage tenant-to-tenant sharing and collaboration.
The building's ground floor will include a food hall and leased space that features an Urbanspace market, and be limited to vendors with fewer than five locations in Manhattan and no space within a half-mile of the building.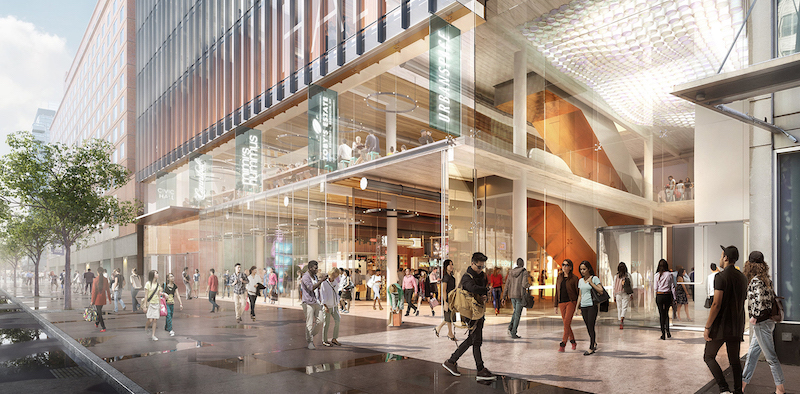 The building's ground floor will include retailers that don't already have a big presence in Manhattan. Image: Davis Brody Bond
RAL Development Services, which specializes in luxury multifamily and resort communities, is developing the building with New York City's Economic Development Corporation. The building's architect is Davis Brody Bond Architects + Planners, and its GC is Suffolk Construction.
Flexibility and sustainability have been driving factors in 14th@Irving's design, says Narada Golden, a Vice President with WSP Built Ecology. "We want to make sure that the building stays relevant for a long time, as technology evolves and tenants change."
The building is targeting LEED Gold certification at a minimum, and Amann expects this building to be 30% more efficient than what New York City's energy codes mandate.
An energy analysis came up with a plan that will result in lower energy costs for the building by using an air-cooled variable refrigerant flow (VRF) system. An efficient HVAC system won't require a cooling tower and condenser water system for heat rejection, which will free up space on the roof as well as shaft space on each floor.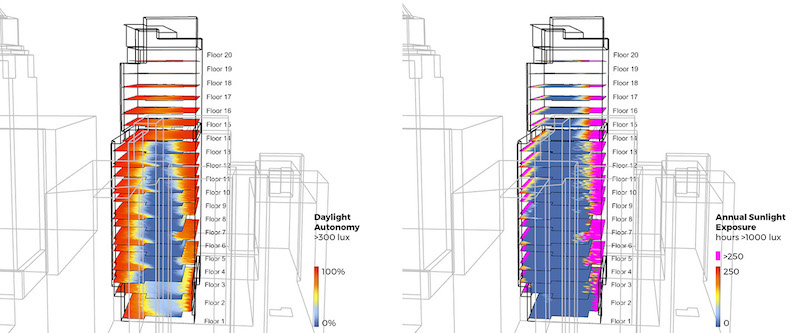 3D technology provided daylighting analysis that showed where heat gain on the facade might be more prevalent. Image: WSP USA
WSP also used 3D modeling to illustrate its daylight analysis of the building and develop an energy efficient design approach.  There will be a solar-panel array on the roofdeck, rainwater harvesting for plant irrigation, and low-flow plumbing fixtures installed throughout.
The building is also shooting for Wired Platinum certification, which gauges digital connectivity. The building's lobby will include a large interactive display to inform occupants about the building's performance in terms of energy and water consumption. The property's management will also communicate with tenants via mobile apps.
WSP's BOLD&R Initiative in Colorado, which tests smart technologies, has been working with RAL on this project to determine whether to install smart sensors that would provide building management with information related to how tenants are using the building, monitoring occupants' patterns, indoor air quality, and so forth, and adjust to operate its systems more efficiently.
"They will be able to see where people are moving through the spaces to improve mobility, and see what is being over- or underutilized," Amann says. "It will become a dynamic building through ongoing data collection." Golden adds that, instead of viewing sustainability, smart technology, and wellness as separate strategies, this building is taking a holistic approach where "we're finding that 'smart' actually facilitates sustainability."