On June 11, the Beauport Hotel had its soft opening. The 115,000-sf facility, on the seacoast of Gloucester, Mass, is this city's first full-service hotel. It features the largest meeting and conference space on Cape Ann, capable of handling gatherings up to 400 people; and a 3,327-sf grand ballroom that can accommodate up to 325 guests.
Located on a two-acre footprint on Pavilion Beach, Beauport Hotel, with 94 guest rooms and suites, sits where once was a fish fillet flash-freezing plant owned by Clarence Birdseye, but had been closed since 2003. The development group Beauport Gloucester LLC that includes New Balance Athletics' chairman Jim Davis and is led by local developer Sheree Zizik, reportedly paid $6.5 million to purchase this property in 2012. The investors saw the transformation of this building as a catalyst for reshaping the identity of Gloucester's future from a New England fishing town into a bustling and economically vibrant city.
Gloucester's former Mayor Carolyn Kirk (who is now the deputy secretary of Massachusetts' office of housing and economic development) and its City Council backed this $50 million-plus design-build project, and the site's rezoning dates back to 2008. But it took six years to get the hotel to the finish line, mainly because local residents who opposed the hotel wanted this site to be used instead to preserve seafood processing and other fishing-related activities.
What appears to have turned the community around was the outreach efforts by Lee Dellicker, president and CEO of Windover Construction, the project's GC and Construction Manager. After listening to the community's concerns, his firm agreed to pull back the building from the street, modify the seawall and curbing, and eliminate a walkway to the beach.
To allay fears about construction-related noise and traffic, Windover held regular meetings to keep the community abreast of activities. Police details monitored and managed traffic and deliveries to minimize disruption.
Windover had been involved in the hotel's development from the early stages of property acquisition and permitting. It was responsible for pre-planning, budgeting, design, scheduling, and hiring the architectural and interior design team. It also managed procurement.
The Building Team included Olson Lewis + Architects (architect), Niemitz Design Group (interior design), Roy Spittle Associates (EE), Superior Plumbing & Heating (ME), Odeh Engineers (SE), GS Associates (FF&E consultant), and Beals Engineering (CE).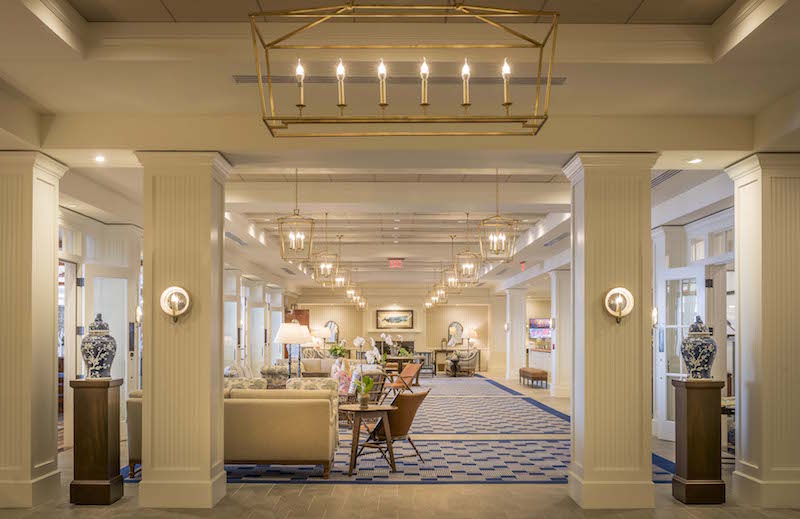 The 115,000-sf Beauport Hotel includes more than 10,000 sf of event space, the most of any facility on Cape Ann.  Image: Peter Vanderwarker Photography
Demolition of the Birdseye plant began in June 2014, and the hotel broke ground the following November. Key construction aspects included erecting a 240-foot seawall along Pavilion Beach to protect the site from ocean flooding. The four-story hotel used podium construction, with structural steel for the lower two levels and wood framing for the upper two, raising the hotel's main floor, at 14 feet above the ground, higher than flood level.
Beauport Hotel's architectural design recalls the grand shingle style hotels that once occupied Gloucester's coastline at the turn of the century. And any guest who wants a reminder of Gloucester's past needs to look no further than next store, to Mortillaro's Lobster Co., which annually ships close to five million pounds of live lobsters throughout the world.