Vendor Relationship Management is the discipline of managing vendors in a consistent manner to maximize value and construct agreements that reflect how an organization wants to do business. A carefully chosen vendor management system will provide clear scope definition, contractual rights, a cost structure, a payment mechanism and a dispute resolution process. These systems typically have a complex IT solution to support daily management. This article will demonstrate how a capital project realizes vendor value in the selection phase, prior to implementation.
Have you ever received bids for a capital project and automatically selected the cheapest, regardless of the spread of bids, thinking it was just a great offer and too good to pass up? How did that work out? The likelihood is the vendor struggled, the client didn't get what they expected and the Project Manager was burdened with extra work administering claims for further payments while disrupting the overall workload. Who is really to blame for this scenario?
UNDERSTANDING THE VALUE OF THE RFP
Request for Proposal (RFP) writers and Project Managers must invest the necessary time and effort to develop a request that accurately reflects the specific requirements of the project. RFPs are not simply templates from previous projects where the dates are changed and a few lines of scope are altered. In realizing the value of a vendor, the RFP should start with a clear definition of the scope and establish expectations for performance. For instance, if continuous cost estimating is expected of a signage consultant as design is developed, this should be clearly defined. To achieve the desired outcome, spell out the specifications. Don't leave room for interpretation. Instructions such as "The vendor shall abide by the project budget for the scope" are vague and nonspecific. Responses will be inconsistent and lead to problematic implementation with performance falling short of expectations.
On average, a vendor will typically develop 6-10 inquiries for an RFP document. Though some may be minor, others identify scope omissions or a lack of clarity. The real value for the client when vendors ask questions is the insight gained as to how much time and attention they are giving the project. The more in-depth their questions, the more value they are providing prior to being engaged. This includes vendors sharing information from past experiences on similar projects. Also, be aware of the vendor who doesn't ask questions and submits a conforming offer without sharing any information. In most instances, this vendor will start discussing options outside of scope immediately upon being engaged. A Project Manager must evaluate a vendor's value proposition prior to contract award in order to appropriately negotiate the final scope and cost of work.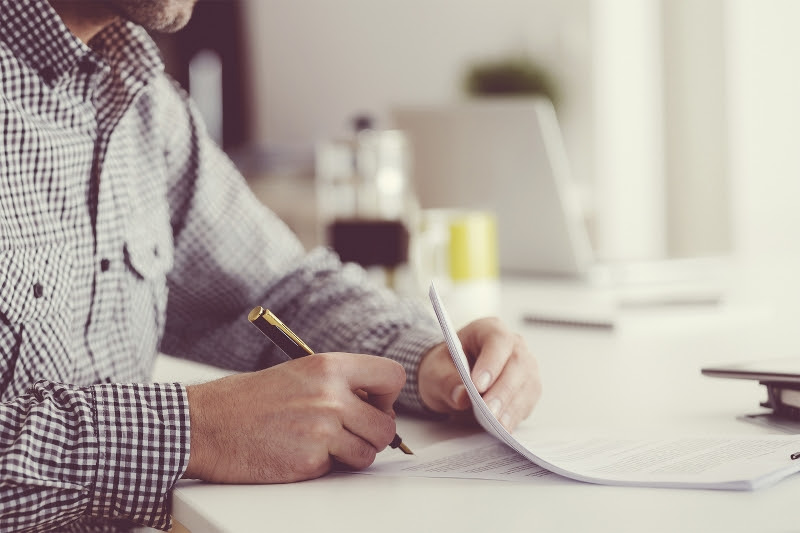 Case Study 1
A request for proposal for electrical services for a large healthcare facility project was distributed to three firms. The budget was $26 million. All three firms submitted intriguing bids; however, one firm returned its response with eight "add-alternate" items that were not included in the original scope of the RFP. Two of the eight items were $100,000 allowance for synchronized time clocks and $50,000 for external feature lighting. Upon further review, the Project Manager realized the exterior lighting had been inadvertently left out of the budget and thus corrections were made prior to awarding the contract. By merely highlighting the absence of these items, this vendor demonstrated its true value by sharing past experiences and best practices. The vendor's insight and knowledge saved the client considerable time and money. The development of a partnership had commenced prior to any contract negotiations. Ultimately, this vendor was awarded the engagement and ended up with five of its eight "add-alternates" being accepted, including scope initially considered for other budget line items.
Case Study 2
The same electrical vendor, continued to add value when it approached the Project Manager to confirm it's pricing met current legislation as it had done on previous projects. Upon evaluation, it was deemed the legislation didn't apply to this particular healthcare project, which was proceeding using the AHA Facility Institute Guidelines, as opposed to state codes. This conversation generated discussion among other company project managers who were also unfamiliar with the current legislation. The outcome led to scope changes on their projects.  In a single value-added discussion, this vendor's knowledge and dedication altered three projects, two of which were proceeding outside of legislation. Ultimately, the healthcare project's contract sum was reduced as the project wasn't required to comply with the current legislation.
DON'T MISS THE VALUE IN A COMPLEX PROJECT ENVIRONMENT
Project management is a complex process, made harder by the overlap of processes and phases of design, procurement, implementation and close out. In the chart below, the larger arrow shows the typical life cycle of a vendor throughout the project phases. Given the number of vendors engaged throughout the project life cycle, the true value of each may be lost if their involvement is not considered well in advance. Integrating new vendors after months or even years of a project is disruptive to the already established team's culture. In managing this overlap of responsibilities, the Project Manager must clearly define the new vendor's role to the established team, its responsibilities, and then manage its transition into the team.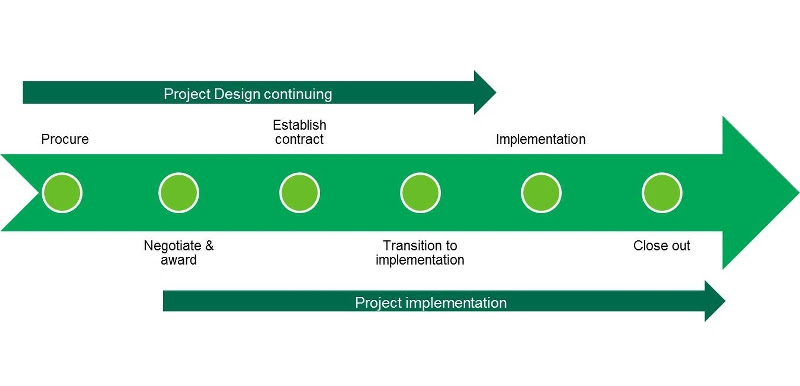 Case study 3
An architect, under contract for a capital facility project, engaged a sub-architect to help support the project. The sub-architect was brought on board two years after the project began and was selected for its expertise in healthcare planning and architecture. Its initial transition was poorly managed by the principal architect and subsequently the sub-architect's ideas, and thus his value, did not filter down to the entire project team. Upon further investigation, the Project Manager realized that there was a clash of ideas and the primary architect felt challenged by the sub. Once again, a loss in value resulted due to a lack of integration and collaboration.
NON-FINANCIAL CRITERIA - THINK ABOUT SCOPE, NOT THE DOLLARS
Identifying project team members based on value as opposed to cost is a very non-traditional approach to team selection. The first two case studies mentioned above were initiated as scope related issues that later became financial decisions and both demonstrate the value in the vendor placing the project's interests above their own. Too often Project Managers evaluate vendors based on the bottom line dollar, instead of focusing on the value the vendor may bring to the project particularly if the RFP has done a poor job of defining the scope to match the project requirements.
One option that owners and/or Project Managers could consider to alleviate this issue is an integrated project delivery method. Integrated Project Delivery (IPD) is a contractual mechanism that relies on non-financial criteria and culture to support project delivery. In this environment, all team members are engaged at the onset of the project to avoid hand-offs and miscommunication down the road. Therefore, it is crucial to determine the value proposition of each vendor and evaluate the teams relationship dynamic. A mutual philosophy and culture that places the project's interests ahead of one's own must be shared by each member. Transparency, collaboration and communication are key components to success.
When assessing vendors, look for non-financial criteria to determine their worth. Things such as product support, innovation, labor force, skill diversity and project experience will paint a picture of the organization and demonstrate its culture. Within the initial RFP and negotiation, it is important to validate the connections between a vendor's value proposition and the actual project requirements. Don't take for granted that every vendor's value will be exposed on your project. Validate this through the RFP process. It is critical to take the time and effort necessary to develop evaluation criteria based on detailed scope elements that serve the needs of the project. Specific criteria will enable clear measurement of a vendor's ability to deliver outcomes that meet project needs.
Case study 4
During a recent interview, a furniture vendor spent the majority of its time discussing the ease of dis-assembling its products for removal and future repurposing. While a definite benefit of its product, this was not the primary concern for the interview team. The focus was on the architectural finishes and comfort of the furniture, something the vendor never bothered to uncover. Had the vendor spent more time focused on the client as opposed to its products features they may have realized their error. As such, they were not awarded the work.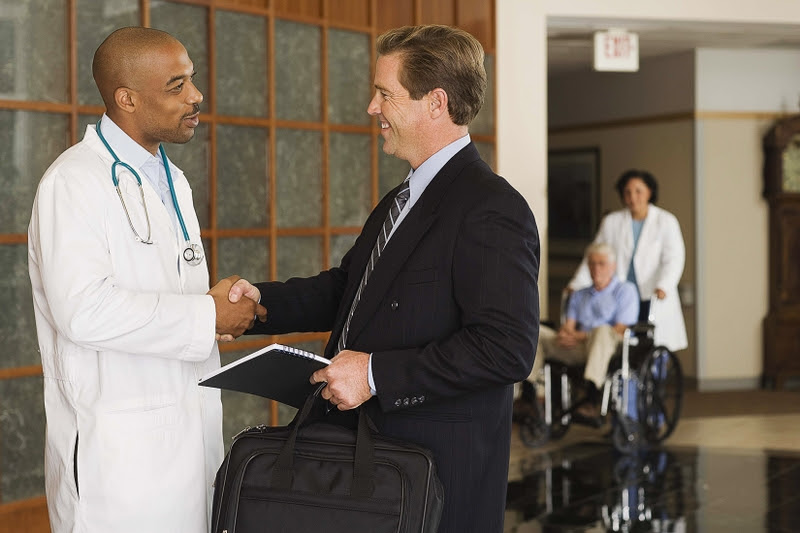 DOCUMENT MANAGEMENT - A DRIVER OF REAL VALUE
A question rarely asked in vendor RFP evaluations is '"How do you manage document control?" Today's capital development environment relies on timely and efficient document management for everything from simple meeting minutes to detail drawings. A vendor should respond to a document management question with a process. Those that simply state "we use email" should be avoided at all costs. To ensure accurate documentation and smooth implementation, a vendor should manage Requests For Information (RFI's), submittals or design drawings with its specific process. Tools like Microsoft applications or other project management software are not value differentiators. The critical factor is that their process meets the general requirements of a project. Vendors with a process which can be modified for project specifics may bring further value to the project team.
INTERVIEW THE VENDOR, DOCUMENTS CAN BE DECEIVING
A final important step in vendor assessment is the face-to-face interview. In today's global society, RFP responses can be drafted from anywhere in the world. Generally speaking, those receiving the initial RFP may not be the implementation team but rather a business development team or a senior manager. By conducting an interview, you'll gain perspective of the background, experience, lessons learned and true value that a vendor's team may bring to your project. Ideally, look to host a semi-structured interview around three to four main questions, but let the interview be a two-way discussion with time to diverge from the questions into topics of mutual interest. You may even consider prohibiting technology in the interview, such as slide presentations, to avoid the dreaded scenario of "death by PowerPoint". Inform vendors to use paper as interview materials and establish a mix of open and closed questions to promote the criteria you wish to evaluate. Ask questions that best attempt to answer the criteria being evaluated and let a vendor prove its value with quantitative and qualitative responses. You cannot let metrics on previous projects guide how your project will be implemented, each project is uniquely different. Also, to be fair, don't request your vendors attend an interview with a lack of notice. This leads to poor planning on behalf of the vendor and possibly the interview panel.
THE PROJECT MANAGER LEADS THE PROCESS
Throughout all vendor negotiations on a capital project, the development, evaluation and ultimate management of the value that a vendor brings is led by the Project Manager. Certain actions will create better outcomes. Each project is unique and requires judgement on behalf of the project team to assess the definition of value for that project. While any vendor may deliver value, the true question is whether you have assessed your specific criteria for success and does the vendor's value match that criterion. Investing the time to properly structure your vendor selection process and following these view simple guidelines will put you on the path to success and ensure outcomes that achieve your goals.
About the Author: As Senior Project Manager, Daniel Waters oversees the entire lifecycle of a construction project from concept to completion. Daniel offers peace-of-mind for owner's teams or internal customers in delivering their project to the highest level of quality and as efficiently as possible. Daniel is a highly specialized construction Project Manager with pre-construction and construction delivery experience. He is well versed in managing multi-disciplinary, multi-location teams with enthusiasm and innovation. For more information on evaluating the value proposition of project vendors, please contact Daniel Waters, Senior Project Manager at Daniel.Waters@cbre.com.