While the entirety of Denver's Wells Fargo Center may have just completed a three-year renovation process, it is the 86-foot floor-to-ceiling digital installation in the lobby that is getting all the attention. Five thin LED columns with screen resolutions that are six times that of normal HD are bringing life to the previously somber lobby of the building originally designed by Philip Johnson.
The five screens, when viewed together, create one cohesive canvas that alternates between artistic and conceptual images such as colorful swirling ink drops or realistic depictions of the surrounding Colorado landscape. A grove of trees rises 86-feet into the air and slowly sways in the breeze, changing with the time of day and the time of season; a flock of birds, animated in real-time, can fly across the screens for hours and never repeat the same flight pattern; and mountainscapes created from thousands of Instagram photos provide different viewing experiences depending on your proximity to the screens. The installation can serve a practical purpose, as well, such as displaying the five-day weather outlook.
The main goal was for the screens to feel like a giant window to the outside, according to Ed Purver, Senior Immersive Designer at ESI Design. The installation is visible from outside through the glass atrium and is quickly becoming a new tourist attraction in the city of Denver.
The lobby also underwent changes to make it more modern, social, and comfortable. New works of art, commissioned specifically for the site, furniture, and lighting were added in an effort to keep the original Philip Johnson aesthetic alive while giving the space a more modern feel.
You can view images of the display and a video below.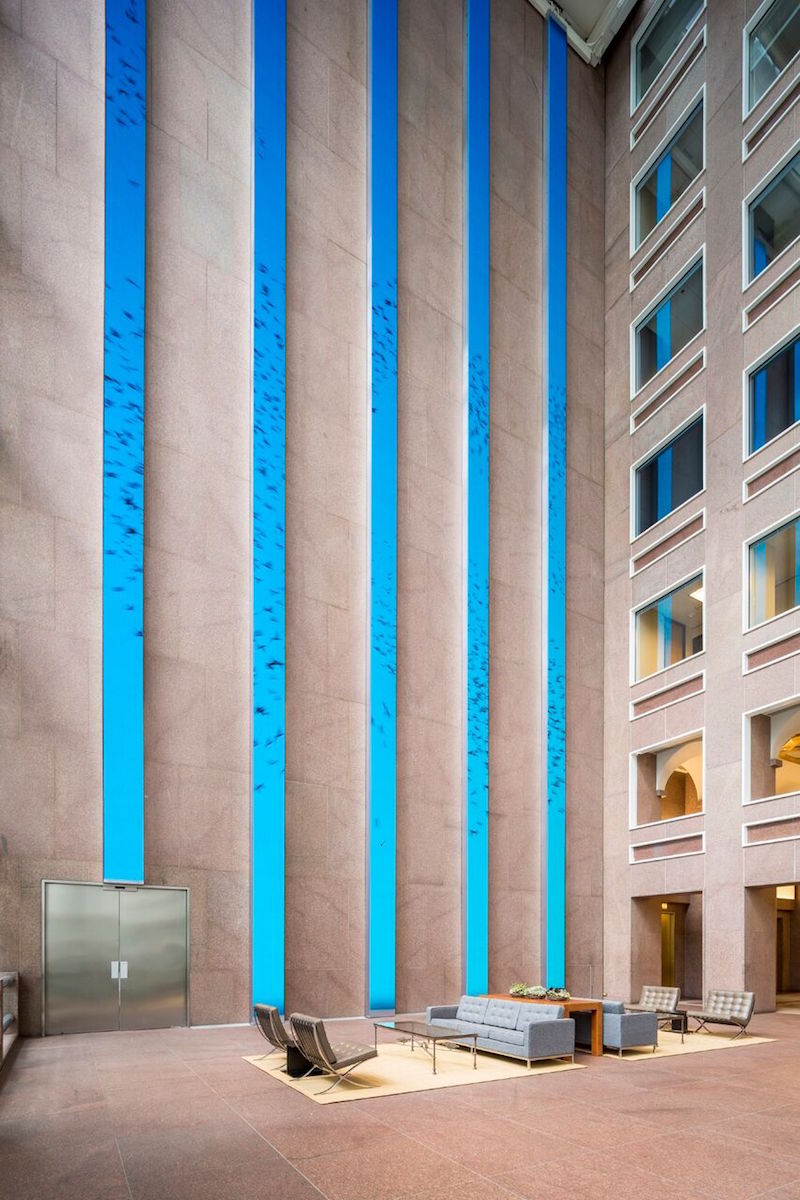 Photo Courtesy of ESI Design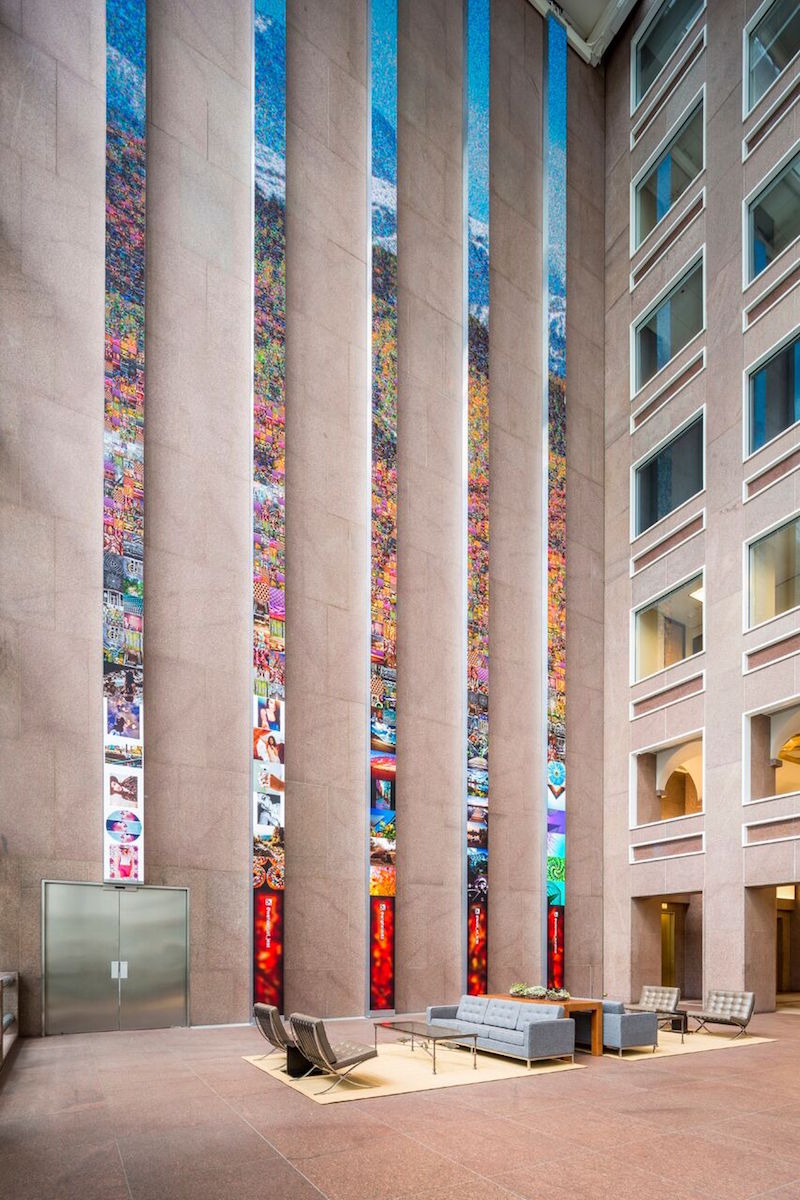 Photo Courtesy of ESI Design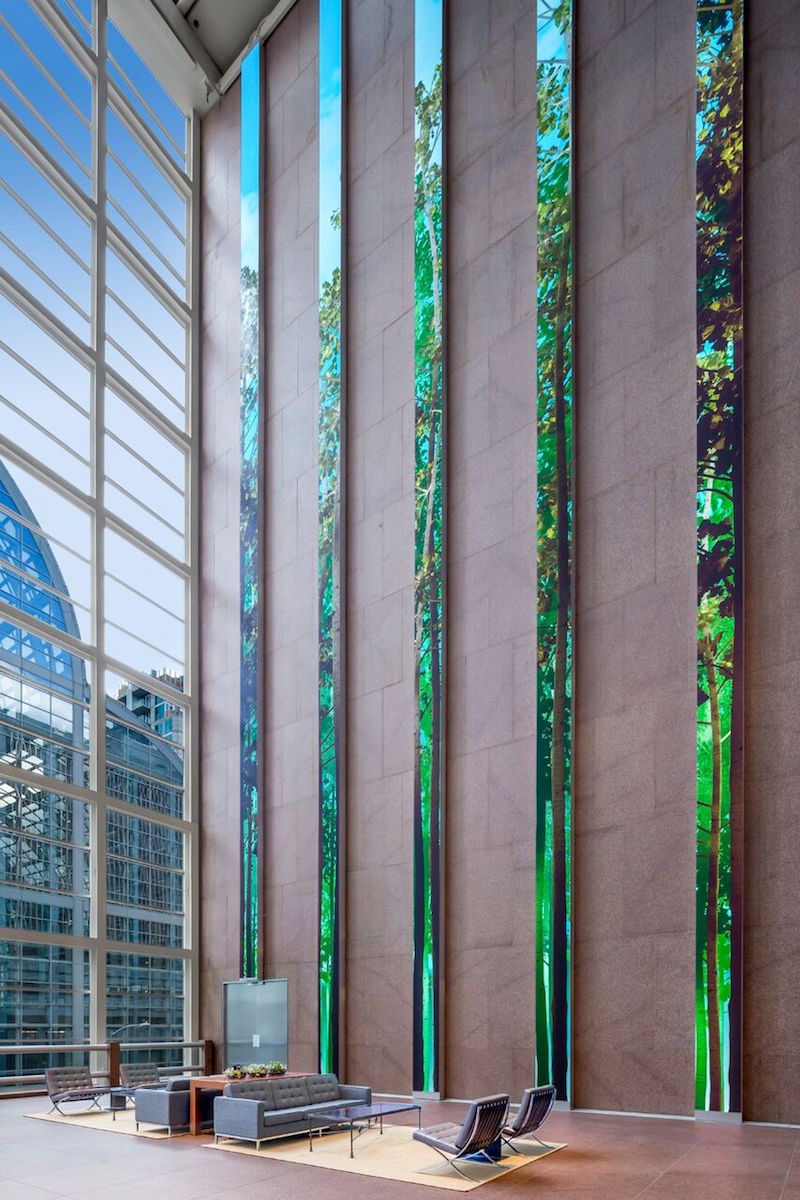 Photo Courtesy of ESI Design
Wells Fargo Center, Denver, by ESI Design from ESI Design on Vimeo.