"Ascent" is the apt name of what would be the tallest mass-timber building in the Western Hemisphere, a 21-story 410,000-sf mixed-use tower that would be located in downtown Milwaukee, Wis.
A Building Team that includes the engineering firm Thornton Tomasetti, Korb + Associates Architects, and the developer New Land Enterprises has unveiled the design of Ascent, which is currently in its planning stages but could start construction by the fall of 2019.
Ascent is the second mass-timber project that New Land and Korb (which are both based in Milwaukee) have worked on together; the first, the design for a seven-story office building in downtown Milwaukee, is scheduled to break ground early next year.
"The modern use of mass timber's modular construction offers a competitive and sustainable alternative to the typical structural materials used in high-rise buildings, such as concrete and steel," said John Peronto, a Milwaukee-based principal of Thornton Tomasetti, in a prepared statement. "Recent technological developments in manufacturing of wood have also led to wood products that outperform conventional sawn lumber, which allows engineers today to expand the boundaries of what timber structures can be used for."
Thornton Tomasetti is no stranger to mass-timber buildings; one of its projects is the proposed 80-story River Beech high rise that is part of the Riverline master plan in Chicago. (River Beech, designed by Perkins + Will, hasn't been approved for construction yet.)
The 238-ft-tall Ascent would be located six blocks from Lake Michigan, on the corner of Kilbourn Avenue and Van Buren Street. The building's first five floors, which would be mostly for parking, will be constructed using post-tension concrete, as will the building's elevator cores. The upper 16 floors, which will encompass 201 luxury apartments, would be made from mass wood, according to Jason Korb, AIA, LEED AP, Principal Architect with Korb + Associates Architects.
The building's floor system will feature prefabricated, 40-ft-long wood panels whose widths range from eight to 12 feet, says Jordan Komp an Associate with Thornton Tomasetti.
Last May, the state of Wisconsin adopted the 2015 International Building Code (IBC), which includes a "special assemblies" clause that, says Korb, allows for the use of mass timber for taller buildings as long as the developer and building team can demonstrate its safety and fire resistance.
Korb says the city's Department of Neighborhood Services, which will need to approve this project's construction, has been "a fantastic partner to work with. We will be required to provide them with [fire] test results, which already exist." He adds that the building's design calls for leaving interior beams exposed—instead of covering them with drywall to achieve a code-compliant fire rating. "We're going to use more wood" as a fire preventive measure, he explains.
Even without the special assemblies clause, the city allows using mass timber for the construction of the shorter office building, which is designed as six stories over podium, says Korb.
Komp says that "pound for pound," mass timber is as strong by density as steel or concrete. However, because it is a lighter building material, one of the challenges will be confirming its strength in different construction scenarios, such as longer spans under floors that, with wood, might be a bit bouncier.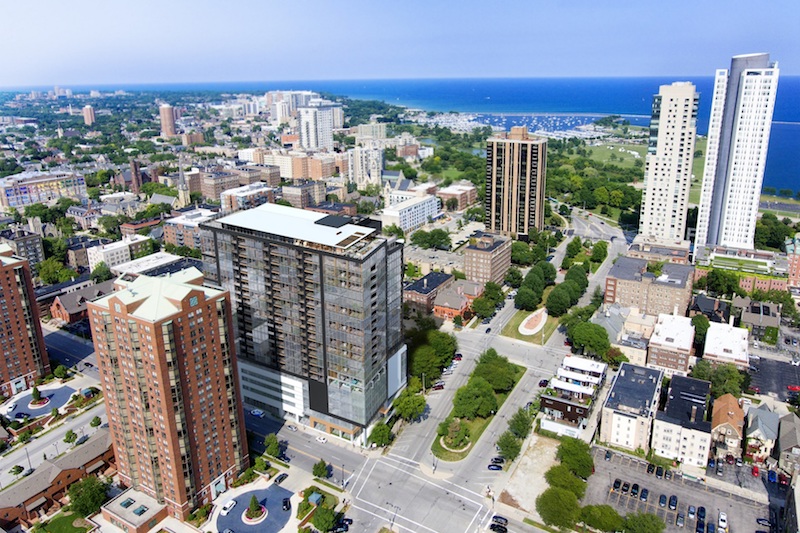 Ascent would be located six blocks from Lake Michigan. Image: Korb + Associates Architects
Korb says Ascent's amenities will include ground-floor retail, and a "wellness floor" (the 6th, atop the parking garage ) that will include a swimming pool and spa/sauna surrounded by glass walls that can be opened up during warmer months. This floor will also have a fitness center.
The 21st floor "will be all amenities," says Korb, with spaces for coworking and events, and two rooftop terraces with three exposures.
New Land Enterprises has not disclosed the price tag for Ascent, nor has it identified its general contractor. Tim Gokhman, New Land's director, was out of the country at presstime and could not be reached for comment about this project.