About one in 10 households in the U.S. is renting space from a self-storage facility. And demand in recent years has soared. About 15 million sf of storage space were added nationwide last year, and another 500 to 600 facilities with an aggregate 30 million sf of space should be completed in 2016.
"It's a hell of a party," said Ron Havner, CEO and President of Public Storage, the industry's biggest storage operator, during the Self-Storage Association Fall Conference and Trade Show in Las Vegas last September. When he made that comment, Public Storage was operating more than 2,200 locations in the U.S. and Europe, and had another 60 facilities in its pipeline. The Glendale, Calif.-based company is targeting Dallas and Houston in particular for aggressive growth.
Expansion through acquisition, however, has been the game plan for the big REITs in this sector, like Public Storage, CubeSmart, and Sovran Self-Storage, as well as large private operators. One REIT, CubeSmart, plans to spend between $200 million and $250 million on acquisitions this year, while spending another $168.3 million on opening seven new facilities
One of CubeSmart's recent purchases is All Stor Self-Storage, a three-story building with more than 600 units, which was built only a year ago by Preferred Self Storage Builders. Last month, JLL, the financial services firm, singled out All Stor as an example of how self-storage was breaking free of its industrial, bland, square-box image and was leaning more toward appealing design.
"We have begun to see local governments step up and enforce codes that are intended to make self storage assets blend in with the community," wrote Brian Somoza, JLL's Capital Markets' Managing Director. "These facilities need to adhere to specific architectural guidelines, and they have to have all the bells and whistles."
In fact, self storage has been moving in this direction for more than a decade, says Edd Haskins, owner of Preferred Self Storage Builders, which over the past 15 years has built more than a dozen facilities. "It's been necessary to upgrade just to receive entitlements," he tells BD+C.
However, zoning hasn't always kept pace with the industry. Haskins says that too many municipalities still zone self storage industrial. "But I can't make money" when one of his buildings is in an industrial area, he explains, because 70% of his customers are women, "and they need to feel confident about the neighborhood and the facility."
That customer base has certainly been a factor driving better design of these facilities. "The trend now is toward multistory, climate-controlled buildings, with more building materials like brick, architectural panels, glass, and offices that are more retail oriented," says Ketan Patel, Senior Director of real estate development for CubeSmart.
All Stor Self Storage sits at the foot of Steiner Ranch, one of Austin's largest residential subdivisions. Haskins notes that this facility's  "modernistic" design is unique, partly because the first floor is built into the side of a hill.
JLL highlighted this 61,440-sf facility's large windows, electronic access, drive-up units and common area lights that are motion activated as evidence of upgraded design. The exterior leads into a retail-oriented office where boxes and moving items are available for sale. Haskins confirms that All-Stor includes a two-bedroom, one-bath apartment for its building manager.
JLL notes that self-storage aesthetics are also driven by investment into this sector. Last year, this market saw a 73% increase, to $3.3 billion, in commercial mortgage-backed securities issuance in the storage sector, according to data from Trepp.com. JLL reports that a "large part" of that investment can be attributed to new construction in this sector.
Haskins says that a lot of newer self-storage buildings are "camouflaged" to look like something else. Indeed, one of CubeSmart's newer facilities is a five-story building in Arlington, Va., on nearly fives, which could easily be mistaken for an office. (Patel says that Butz Wilbern of Falls Church, Va., and Frank G. Relf Architect in Melville, N.Y., are among the architectural firms his company works with.)
"That's not my focus," counters Haskins. "We always want to build something that's distinct and identifiable. I'm proud to be in the self-storage business and don't want to hide that."
Preferred has several new self-storage buildings under construction or development. But Haskins says he's selling buildings almost as fast as he can build them. "There's a tremendous demand for this asset class," he says, adding that cap rates for Class A self-storage buildings are "pretty aggressive, at between 5% and 7%."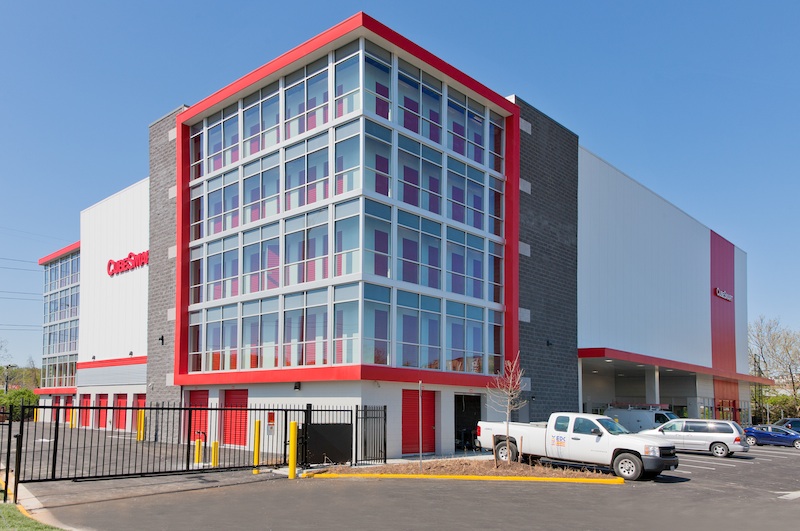 Last November, CubeSmart paid $13.1 million for a 4.7-acre parcel in Arlington, Va., that included a warehouse, which the company demolished to make way for its five-story self-storage unit that resembles an office building. Self-storage operators are paying a lot more attention to design and amenities, as women account for more than 70% of their renters. Image: CubeSmart