Over the summer, Hewlett-Packard signed a 12-year contract to purchase 112 MW of power from SunEdison's wind farm in Floyd County, Texas, for its five data centers in the Lone Star State. Two hundred miles east of the SunEdison facility, in Clay County, the Shannon wind farm was readying 119 wind turbines to go online this year. They will provide all the power for Facebook's new $1 billion data center, which broke ground in Fort Worth in July.
HP is a founding corporate buyer in the Business Renewables Center, which the Rocky Mountain Institute launched in the spring to encourage corporations to use renewable energy. The center's goal is to add 60 GW of solar and wind capacity to the grid by 2035, which would double the current installed U.S. capacity.
Data centers account for 2% of the nation's electricity consumption and about 30% of the power used annually by the economy's information and communications technology sector, according to the National Renewable Energy Laboratory. Energy efficiency and sustainability are primary factors for data center owners and developers looking to lower operating costs. And going green can burnish a high-profile owner's reputation as community steward.
"Energy efficiency is a requirement on all projects," says Dennis Julian, a Principal with Integrated Design Group. On the other hand, "sustainability is a desired trait usually driven by corporate mandate or market demands of potential customers."
One of IDG's recent projects is Novartis's data center, on the Alcon Laboratories campus in Fort Worth. Novartis directed its design team to incorporate sustainable design while achieving lower total cost of ownership. The solutions included on-site power generation through PV arrays (which double as shading for parking and seating areas), rainwater harvesting, and low-voltage LED lighting.
Aaron Duda, PE, LEED BD+C, UA Tier Designer and Senior Associate with Environmental Systems Design, concurs that developers and owners are demanding energy efficiency in their mission-critical facilities because it directly impacts the bottom line. "Sustainability is another story," he says. Most data centers that have emphasized sustainability are owned by well-known companies that see it as a marketing point, he says.
Andy Baxter, Principal and MEP Engineering Director for Page, notes that far greater attention is being devoted to reducing data centers' power utilization effectiveness (PUE)—the ratio of total facility energy over IT equipment energy—and overall operating costs.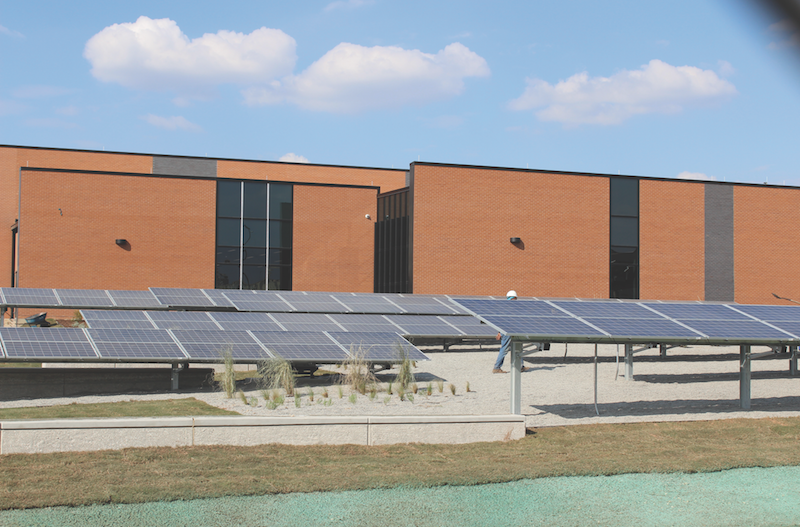 Novartis's 37,000-sf data center opened September 29 on Alcon Laboratories' campus in Fort Worth, Texas. The $53 million facility has a 100-kW PV array that doubles as shading for parking and seating areas. The Building Team: Integrated Design Group (architect/MEP engineer), LA Fuess Partners (SE), and Pacheco Koch (CE). Photo courtesy Integrated Design Group
Owners of co-location data centers, which provide access to multiple clients, are not likely to let concerns about energy efficiency or public perceptions supersede their efforts to attract potential customers. "This does not mean they aren't trying to be sustainable or energy efficient," says Baxter; "They just have a different set of business priorities."
Nearly all of Page's recent data center projects have achieved some level of LEED certification, including one Chicago-area facility that earned LEED Silver. This milestone prompted the owner to improve its strategy for IT sustainability, which led to the company winning a Global Achievement award from the Uptime Institute. However, most data center owners and developers view LEED mostly as a marketing tool, not a requirement. "It's an 'If we get it, great' attitude," says ESD's Duda.
ASHRAE 90.1, ASHRAE 189.1, the International Energy Construction Code, and the International Green Construction Code are far more important standards than LEED in determining how data centers get built. Julian says that ASHRAE has widened the acceptable temperature and humidity levels in data centers, which reduces the amount of compressorized cooling required. "Data centers are no longer considered process loads, and often fall under the same requirements as offices and other spaces," explains Julian.
Baxter says he's keeping an eye on how ASHRAE 90.1 gets integrated into codes for energy modeling, as well as the extent to which ASHRAE's 90.4 energy standard for data centers and telecommunications buildings eventually becomes part of energy codes.
WATERLESS SYSTEMS GAIN SUPPORT
Given how much heat data centers and their computers throw off, cooling is a major focus of any energy efficient strategy.
IDG's Julian says free cooling, or systems that don't use compressors, allow heat to be removed from the facility using energy-efficient processes. "Direct outside air can be used when conditions are correct, but can also bring in contaminated air and increase operational risks," he says. "Indirect cooling systems allow the computer room to stay self-contained and eliminate many of these risks."
Page's Baxter points to direct or indirect economizers, along with evaporative and liquid cooling, as ways AEC teams are efficiently modulating temperatures in data centers. Page is using rotary-type uninterrupted power systems in lieu of lead or acid batteries. IDG's Julian says that UPS manufacturers have responded with more-efficient systems "not only at full load but at the lower loads many redundant systems operate at."
Critics of PUE claim this metric fails to account for water used to cool data centers. "Indirect economizers allow data centers to get the benefit of environmental economization without sacrificing security or critical environmental cleanliness," says Duda. Where water is scarce, he says, there's a push for waterless economizer solutions—Kyoto wheel, air-to-air plate heat exchanges, heat pipes, etc.
Mike Silla, SVP of Skanska's Mission Critical Center of Excellence, says that the life cycle of a data center breaks down into three parts: the building (40 years), the infrastructure (5–7 years), and the IT equipment (2–3 years).
Skanska's approach to sustainability is rightsizing the facility's load, which is the main reason why Skanska prefers to use modular components for mechanical and electrical systems. "Companies that were building data centers on a large scale are now building what they need, when they need it," says Silla.
"Integrating architecture and engineering design is key," says Julian. "As systems are made more efficient, the path that electricity takes and the flow of air through the facility require optimal planning, placement, and design to minimize the materials used and the energy expended to operate the data center."