In the 1920s sears, roebuck & Co. went on a spree constructing regional distribution centers the length and breadth of the country, from Boston to Chicago, from Dallas to Los Angeles.
Sears shipped everything the American consumer could wish for from these massive warehouses: Kenmore appliances, Craftsman tools, kits to build a house. You could order a hound dog. Or a donkey.
The Mid-South was supplied by the Sears distribution center and store in Memphis, Tenn. Built in phases starting in 1927, the 10-story Art Deco structure would eventually rival New York's Chrysler Building in bulk: 1.3 million sf.
The demise of Sears, starting in the 1990s, spelled doom for these white elephants; Memphis slammed its doors shut in 1993. In 2007, a local philanthropist bought the building for $3 million in the failed hope of relocating a local college there.
Three years later, a couple of local arts activists—Todd Richardson, PhD, an art history professor at the University of Memphis, and video artist Chris Miner—approached the owner about using the building for their startup organization, Crosstown Arts.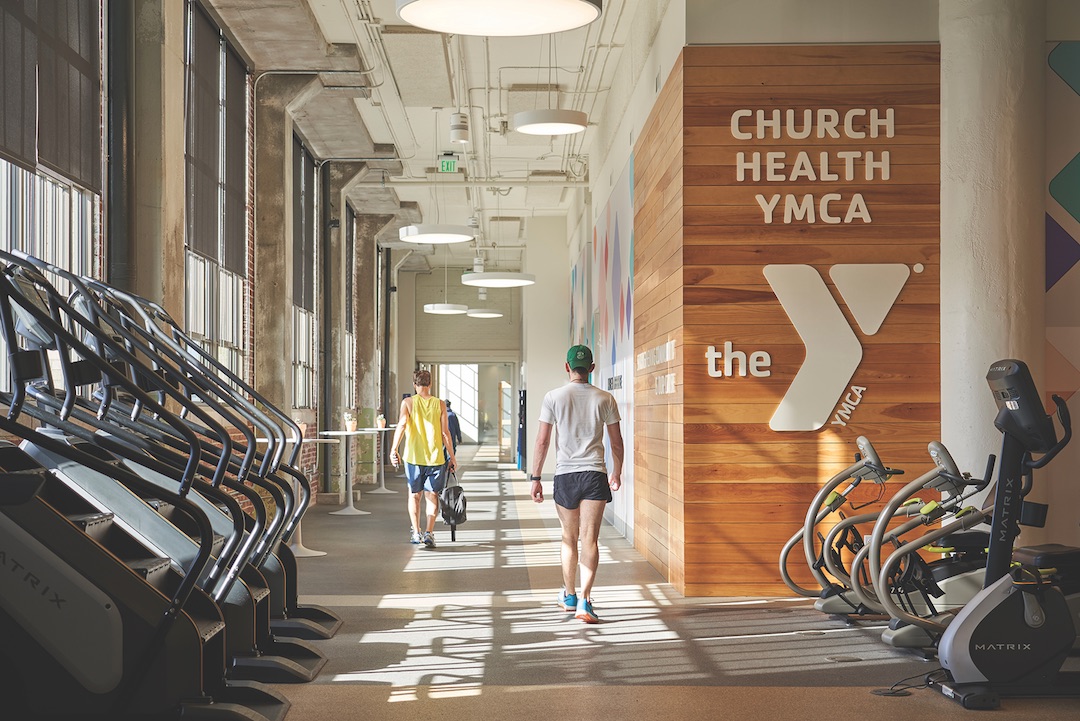 The Church Health YMCA. Crosstown won this year's Driehaus Foundation National Preservation Award from the National Trust for Historic Preservation and the grand prize in the Congress for New Urbanism Charter Awards. It is the world's largest historic preservation project to earn LEED Platinum (Core & Shell v2009).
This was 2010, in the midst of the Great Recession. Not the best time to ask for money. Nevertheless the pair convinced the owner to fund a six-month feasibility study. They used the grant to take civic leaders on tours of other Sears distribution centers that had been revitalized—Midtown Exchange, in Minneapolis, and Ponce City Market, in Atlanta—as well as MASS MoCA, a New England mill that had been converted into an arts center (see page 36).
CROSSTOWN BY THE NUMBERS

— 5,500 tons of rebar removed

— 1,200 tons of steel used

— 365 miles of tuck pointing

— 3,200 new windows

— 7 miles of HVAC piping

— 5 miles of ductwork

— 32 miles of sprinkler piping

— >400 trade workers per day

— 138 designers on the job
Back from their travels, Richardson and Miner held more than 200 meetings with community groups. Their vision expanded beyond just serving the arts. Soon they were talking about turning the Sears facility into an entity that would offer other socially desirable components—education, health and wellness, affordable housing. They called it a "vertical urban village."
Having a vision and paying for it are two different things. But in 2011 Richardson met Scott Morris, a physician and minister, and the founder of Church Health, a nonprofit that provides virtually free healthcare services to poor Memphians.
Church Health was scattered in 14 locations all over town; Morris wanted to consolidate operations. "I need 150,000 square feet. Have you got it?" he asked. "No problem," said Richardson.
The financial commitment from Church Health convinced other civic groups to help Crosstown Arts finance the project: St. Jude's Children's Research Hospital, ALSAC (St. Jude's charitable wing), Methodist Le Bonheur Healthcare, and Memphis Teacher Residency (the local version of Teach for America).
Local hospitality developer McLean T. Wilson, grandson of Holiday Inn founder Kemmons Wilson, came aboard as co-developer with Richardson. The pair would eventually scratch together $200 million ($135 in construction costs) from 32 sources.
Design firm Looney Ricks Kiss, which has been saving culturally important buildings in the city since 1983—notably the Stax Museum of American Soul Music, the Chisca Hotel (where Elvis Presley gave his first radio interview), and the Tennessee Brewery (converted to residential lofts)—was the obvious choice to lead the project team.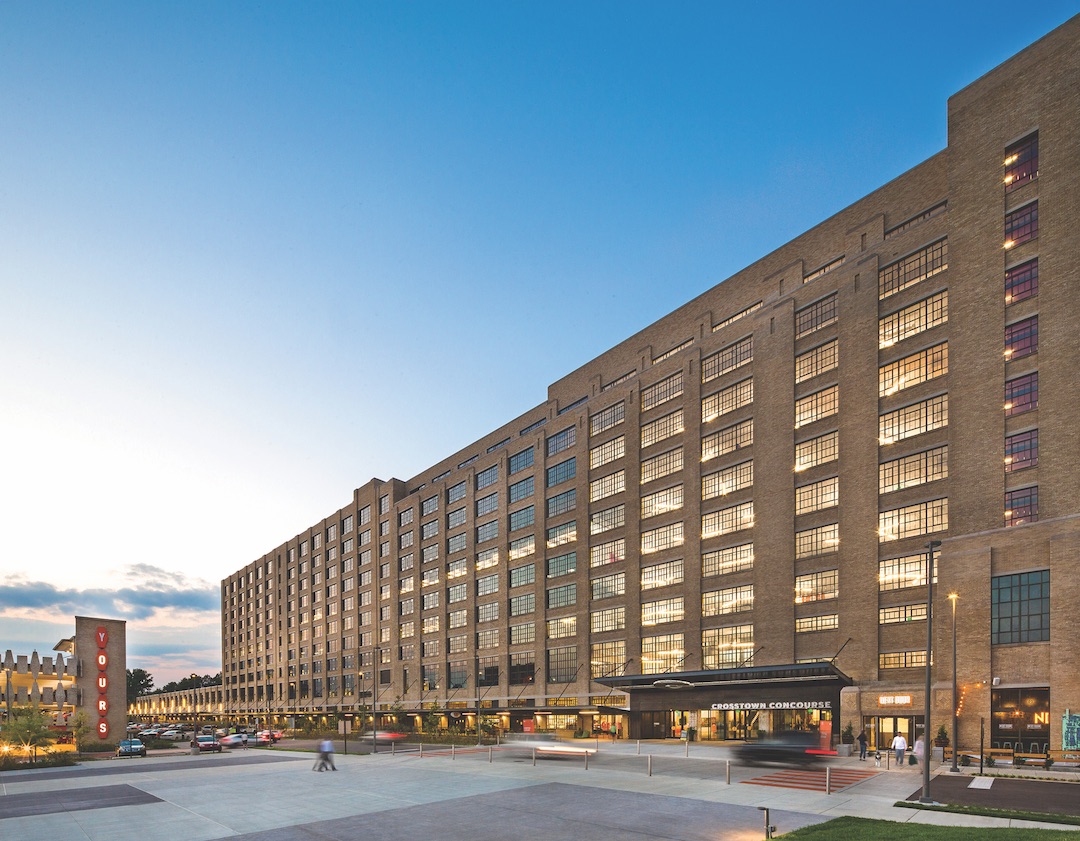 VERTICAL, YES, BUT VITAL, TOO
To my mind, Crosstown Concourse is more than a vertical urban village: it is organic in nature. It weaves together multiple social imperatives that nourish and sustain each other. In that respect, it is almost a living entity.
Consider its residential dimension. Of the 265 apartments, 95 further Crosstown's social goals. St. Jude's rents 20 units to house its PhD residents, and sets aside another 20 for families whose children are being treated at the hospital. Memphis Teacher Residency subsidizes 42 units for its young teachers. Crosstown Arts provides 13 local artists with free rent, free studio space, and—catch this—free dining privileges in the restaurants for up to three months. In return, the artists host public lectures and display their work in the galleries. (The artists can also use the heavily equipped maker space.)
On the education front, Crosstown has its own "XQ" charter school (won in a competition sponsored by Steve Jobs's widow), which greeted 150 ninth-graders in August and will add a new grade next year. The school has use of the recently completed 425-seat black-box theater for assemblies. An outdoor swimming pool (due to be completed by May) will serve both the school's phys ed classes and Church Health YMCA.
Church Health and its YMCA are the pillars of Crosstown's health and wellness edifice. But commercial tenants add to its strength. In addition to having the largest private dental clinic in the country, Crosstown also has a farm-to-table grocery store and a teaching kitchen. A new nonprofit bakery, Lucy J's, employs homeless persons, who also get medical coverage through Church Health. The new Global Café has hired immigrants from Nepal, Syria, and Sudan as chefs.
Of the hundreds of Reconstruction Awards entries I have evaluated since 2002, Crosstown Concourse has, in my opinion, set the highest standards of design, engineering, and construction excellence, as well as the loftiest goals of community service, social justice, and positive economic development.
Artists prepare an installation. Crosstown Arts offers free housing and studio space to local artists for three months at a time.
Platinum Award Winner
BUILDING TEAM Looney Ricks Kiss (submitting firm, residential architect, historic preservation/sustainability consultant) Crosstown LLC (owner) LRK with DIALOG and Spatial Affairs Bureau (core & shell architects) LRK; Carkuff Interior Design (residential interiors) Structural Design Group (SE) SR Consulting Engineers (CE) OGCB Inc. (MEP/FP) Wiss, Janney, Elstner Associates (envelope restoration) Professional Services Industries (geotechnical consultant) Newcomb & Boyd (smoke evacuation consultant) Arup (lighting, acoustics, daylight modeling) Hood Design Studio (landscape architect) Loaded for Bear (signage and branding consultant) Grinder, Taber & Grinder (GC) DETAILS 1,300,000 sf Total cost $135 million Construction time February 2015 to August 2017 Delivery method CM at risk