There probably isn't a contractor in this country that at some point hasn't been a victim of jobsite theft. In 2014, there were 11,625 heavy-equipment thefts reported to law enforcement, up 1.2% from 2013, according to the latest data from the National Insurance Crime Bureau in a report coproduced by the National Crime Information Center.
Total construction equipment theft now stands at around $1 billion annually. And only 23% of the heavy equipment stolen last year was recovered, the NICB report stated.
A survey conducted last year by Cygnus Business Media Research on behalf of LoJack, which makes theft-detection and –prevention devices, found that 83% of construction equipment owners polled had experienced equipment theft.
Courtney DeMilio, LoJack's National Vice President of Commercial and Fleet, points out that theft can have a greater, negative impact on a business. "Loss in job productivity, the inability to complete a job, a diminished professional reputation—all while the owner is spending a substantial amount of time and money to replace the equipment," she says.
The Canton, Mass.-based LoJack recently released its annual "Construction Equipment Theft and Recovery in the United States" report, based on its tracking, from January through December 2014, of theft reports in 28 states where equipment theft was reported and where construction equipment outfitted with a LoJack device led police to recover the stolen assets.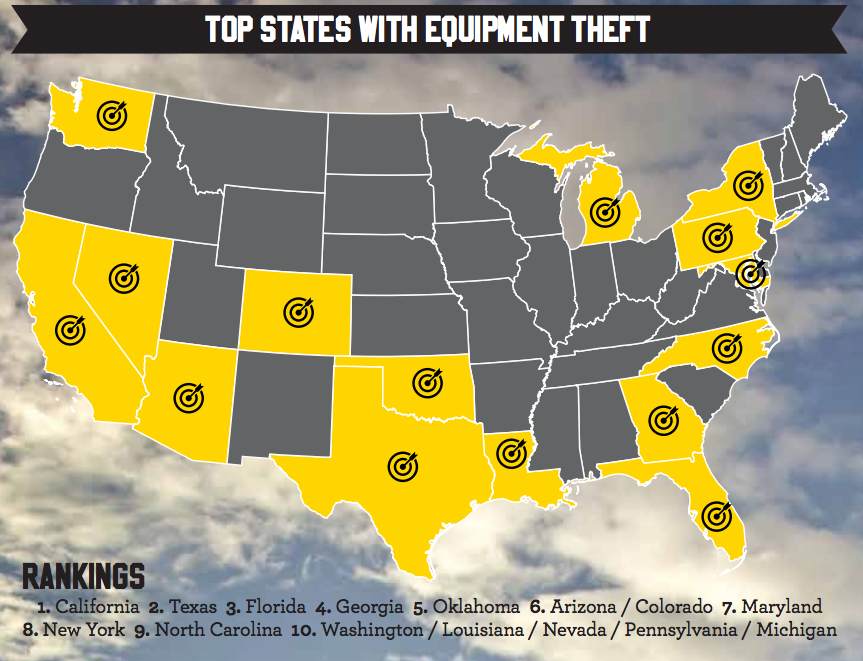 Graphics courtesy LoJack
From that sample, the report identifies backhoe loaders, skip loaders and wheel loaders as the most popular equipment targeted by thieves. "There is little visual differentiation from one backhoe to another, and they all share a common key," the report explains. "Therefore, they are prime targets for thieves based on the ease of theft and how hard they are to track once one is stolen."
Skid steers, generators/air compressors/welders and portable light towers; and excavators are also most susceptible to robbery.
The report notes that thieves typically go after newer and brand-name equipment. In 2014, 54% of the tracked equipment stolen was less than five years old. And 65% of the thefts were of products made by top manufacturers such as Bobcat (24% of the equipment stolen), John Deere (20%), Caterpiller and Case (tied at 8% each), Takeuchi (6%) and Magnum (5%).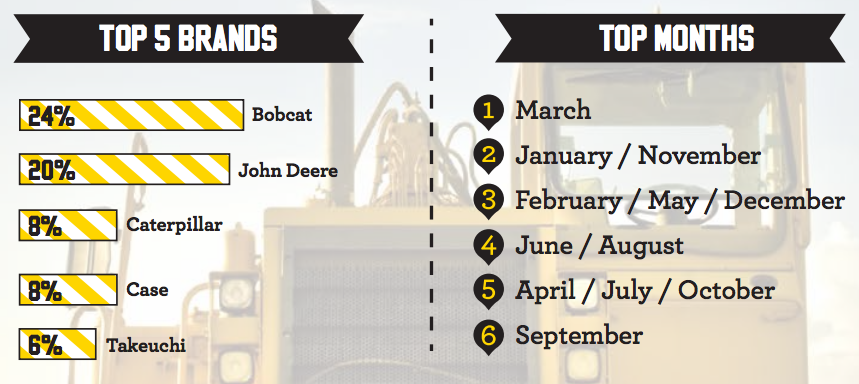 The report gives several reasons why construction equipment and tools continue to be vulnerable to thieves. For one thing, titling and registration of equipment aren't mandated, so it's often hard to report theft and harder for law enforcement to track what's stolen. There's also no standardized identification numbers on this stuff, like the Vehicle Identification Numbers on cars and trucks.
In addition, jobsite security is not always as tight as it could be, and the sites themselves can be remote. And because equipment and tools are constantly being transferred between sites, owners can be lax in their inventory accounting.
"The thief isn't always somebody unrelated to the job, as often he or she can be a member of the company that owns the equipment," DeMilio tells BD+C. But inside jobs aside, the industry has a "natural exposure" to theft because jobsites are on predictable schedules, leaving opportunities open for thieves will often scope out sites looking for weak spots.
Not surprisingly, theft is more prevalent in states where there's more construction activity, with California and Texas having the highest occurrences. But unlike cars, which when stolen often end up in other states, 95% of the stolen construction equipment and tools that are recovered are found in the same state they were stolen in.
DeMilio says contractors and owners need to keep their equipment off the street in secured areas patrolled by guards. They should also be in close contact with police "so they are aware of the area and can be monitoring during off hours." She recommends that owners adopt technology that includes cameras, electronic access pads, GPS geo-fencing, and covert RF recover devices.
LoJack, naturally, pitches the efficacy of installing detection and telematic devices on construction equipment so that owners are alerted to unauthorized use during off hours, and police have a better shot at retrieving stolen goods. It points out that 56% of stolen equipment with a LoJack system was recovered within 24 hours after being reported, and 5% was recovered within an hour.