Massachusetts was ravaged by storms throughout the winter of 2014-15. Boston, for example, received a record 110.6 inches of snow.
The Building Team for 275 Wyman Street, the new home office for Cimpress in suburban Waltham, remembers the season all too well. The team needed to build the 315,000-sf office building in just 14 months, and that meant working in brutally cold temperatures and during multiple snowstorms.
The team used lean construction techniques and staggered the 10-12 daily deliveries based on scheduled construction activity. Most of the plumbing and electrical infrastructure was prefabricated off site, eliminating the need for storage.
BRONZE AWARD
275 Wyman Street
Waltham, Mass.
Commodore Builders took precautions and got as much work done before the winter as possible. The two-phase building was made watertight before the weather turned bad, and subs performed interior construction during the cold and wet days.
The five-story LEED Gold-registered building consists of two stacked sets of 30,000-sf plates centered around a bathroom core and shared lobby. Features include an amphitheater, green roof courtyard, below-grade 1,025-car parking garage, and a cafeteria with a living wall.
MPA worked with Cimpress to customize 275 Wyman. The firm designed a central monumental staircase in the lobby to ease movement between floors. The bathrooms were enlarged, and a fitness center and game room were added.
Cimpress chose an open, flexible, non-hierarchical layout for the facility. The lobby contains casual seating areas with views of the outdoors. Employees can congregate in tech-enabled training spaces and conference rooms, or they can get work done as a group in daylit corner meeting rooms or individually at workstations in the library.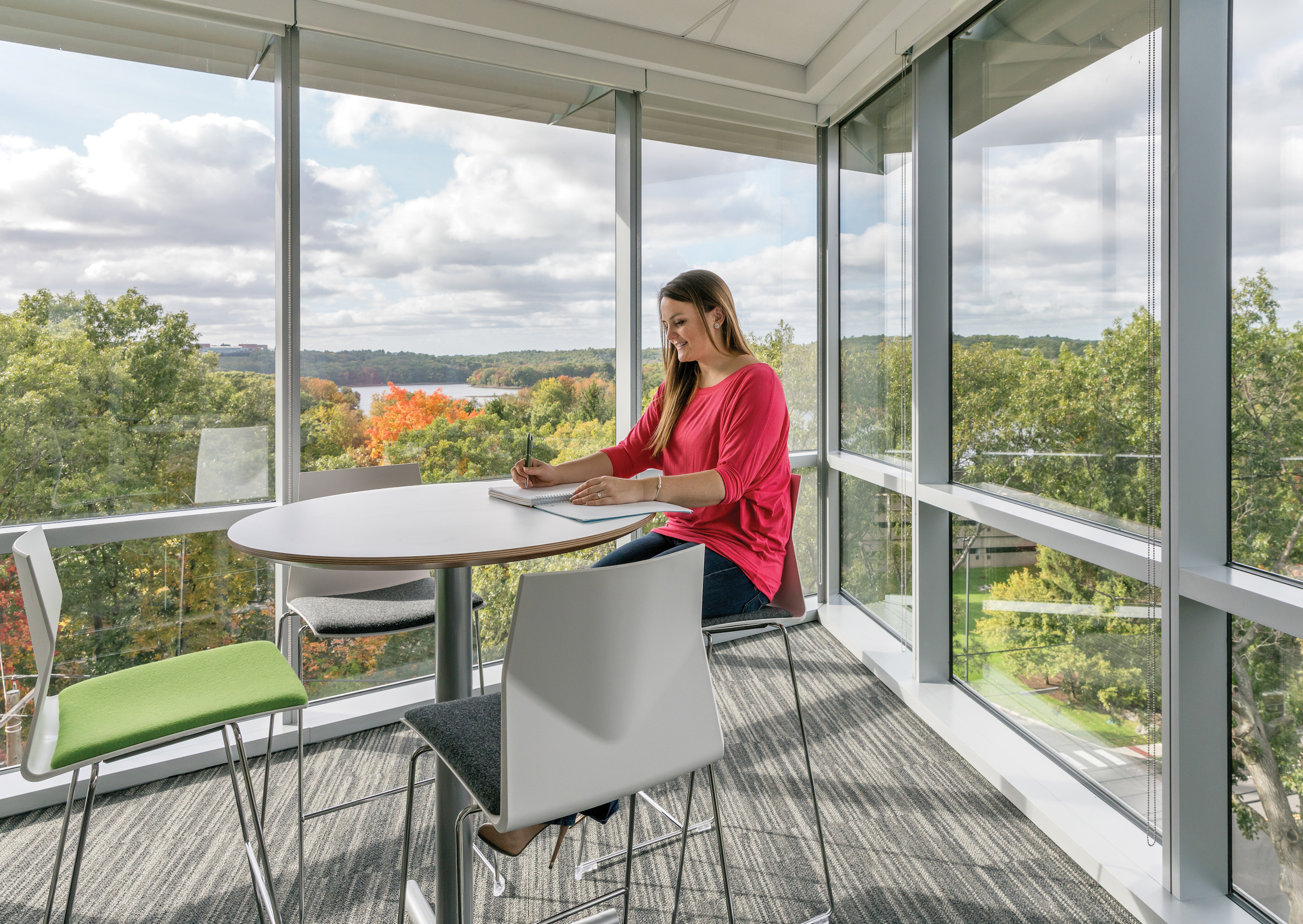 Photo: Warren Patterson Photography. Click to enlarge.
BUILDING TEAM
+Submitting firm: Margulies Perruzzi Architects (architect, interior architect)
+Owners: Hobbs Brook Management; Cimpress/Vistaprint (tenant build-out)
+Owner's rep.: Cushman & Wakefield
+Structural: Simpson Gumpertz & Heger
+MEP: AHA Consulting Engineers
+Acoustical: Acentech
+Lighting: Horton Lees Brogden, Sladen Feinstein
+Landscape: James Royce
+Civil: H.W. Moore
+GC: Commodore Builders
GENERAL INFORMATION
Project size: 315,000 sf
Construction cost: confidential at client's request
Construction period: June 2014 to August 2015
Delivery method: GMP