The Christ Hospital performed the first ceramic hip replacement in the U.S. in 1982. And now the healthcare network's main campus in Mt. Auburn, Ohio, near Cincinnati, is one of the first in the nation to provide comprehensive orthopedic and spine care, education, and clinical research in one location.
Last September, the hospital started receiving patients at its Joint and Spine Center, which adds 87 private patient rooms and 12 operating rooms with state-of-the-art surgical suites to a campus where, previously, joint and spinal care facilities had operated out of a series of buildings. 
The hospital did not disclose the cost of this facility, although the Cincinnati Business Courier and other news outlets reported that its price tag was $280 million.
Some of Christ Hospital's buildings dated back to 1889, and had aged to the point where they couldn't respond to modern healthcare needs. In 2010, the hospital began working with Skidmore, Owings & Merrill (SOM) to devise a master plan to centralize its facilities, beginning with the Joint and Spine Center, with 381,000 gross square feet within seven stories, whose construction began in October 2011 and was completed in May 2015.
By bringing these specialties within one roof, the hospital sought to streamline patient care, and improve hospital staff efficiency.
SOM worked closely with the hospital's healthcare professionals and patients to come up with a user-friendly design. "From the patient room outwards, the design supports individuals, families, and their caregivers in the recovery process and makes visible The Christ Hospital's vital role in Cincinnati and the region," says Brian Lee, FAIA, Design Partner at SOM.
The master plan clarifies the campus's circulation and unlocked the decades-old aggregation of additions. A new concourse and entry link the Joint and Spine Center to existing buildings and connect the Center to a new parking garage via a skybridge. The north-south alignment of utilities and vehicular and pedestrian movement enables future expansion of the campus to the south.
The design team brought order to a color-coded wayfinding system that had grown into a complex patchwork of over 20 colors, by introducing a new scheme focused on simplicity and clarity.
That Center's design, which specified 100,000 sf of glass, lets abundant natural lighting into the building, especially within patient rooms that also provide outside views that support well-being. Those rectangular rooms have wall-to-wall, floor-to-ceiling frosted and clear glass. Patients can control drapes in their rooms electronically.
Natural light extends to the core of the patient floors, where support and utility spaces are decentralized. Compact nurses' stations are positioned next to patient rooms to allow caregivers a more active role in patient recovery, as well as to promote quietude by dispersing staff activities.
"The opening of the Joint and Spine Center allows us to transform the way care is delivered," says Mike Keating, President and CEO of The Christ Hospital Health Network. "This Center supports our mission of improving the health of the community and creating patient value by providing exceptional outcomes, affordable care, and the finest experiences."
The design team was challenged to establish a highly functional integrated hub without disrupting the campus's day-to-day operations. This was accomplished by taking a campus-wide approach: looking beyond the boundaries of the project, the design team created a series of internal corridors linked to adjacent buildings designed to eliminate disruptions to the patient experience. The resulting design creates a seamless, comfortable human experience for patients while separating vital "back-of-house" functions.
Technology improvements in the new Center include using swipe cards to track patient admissions and moves, a fully integrated electronic medical record system, and stand-along kiosks for patient registration and for scheduling appointments. The center includes a hydrotherapy pool and an in-water treadmill with underwater video capabilities for individualized recovery. The latest in robotic technology has also been installed in the Center.
The building includes advanced rehabilitation facilities, physician and administrative offices, conference and training rooms, and dedicated gathering spaces and lounges for families and visitors. Its outdoor space includes rooftop gardens with an infinity fountain for respite and rehab. 
The Christ Hospital Health Network is a not-for-profit care facility with 528 beds and nearly 25,000 admissions in its most recent year reported, according to U.S. News & World Report. It is the second-largest healthcare network in Greater Cincinnati, with 3,500 employees, of whom about 240 (including 120 nurses and 65 surgeons) work at the Joint and Spine Center.
The Business Courier reported last year that Christ Hospital entered into an agreement with General Electric that could make the medical center a destination for GE employees nationwide who need hip or knee replacements.
The hospital has struck similar agreements with other employers that have self-funded healthcare plans, including Optum, the data services division of United Healthcare; and Mazak, a Japanese-based machine tool maker with a plant in Florence, Ky., and 1,000 employees in the U.S.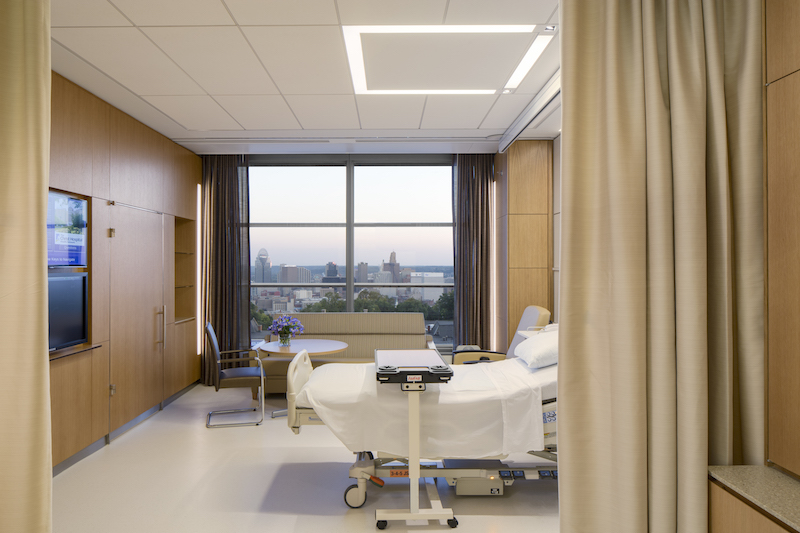 The Center's 87 rectangular patient rooms offer lots of daylight and outside vistas. For privacy, patients can control the drapes in their rooms electronically. Image: @Tom Rossiter/Courtesy SOM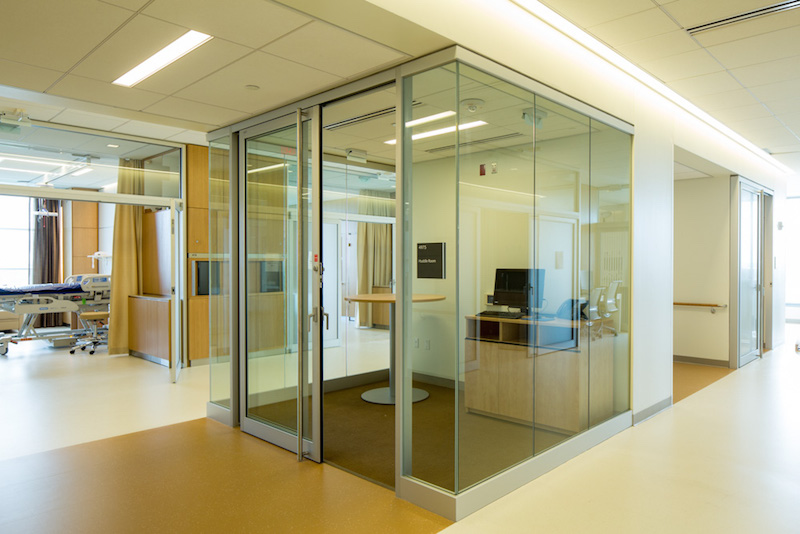 Decentralized nurses stations help reduce noise on patient floors and allow caregivers to be more involved in patients' recovery. Image: @Tom Rossiter/Courtesy SOM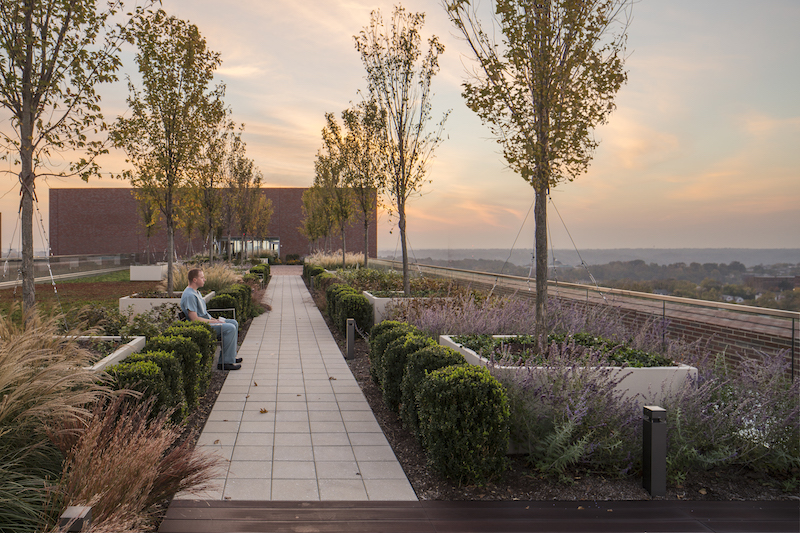 A rooftop garden provide respite for patients, family members, and other visitors. Image: @Tom Rossiter/Courtesy SOM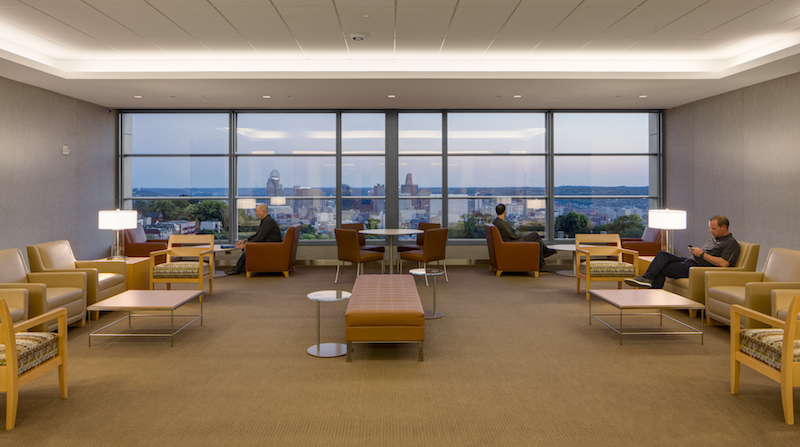 A large waiting area offers a view of Cincinnati. An estimated 100,000 sf of glass were specified for this project. Image: @Tom Rossiter/Courtesy SOM