All key construction measures for multifamily housing rose by double-digit percentages in 2015, and demand for rentals (which continue to account for the lion's share of that construction) is expected to remain robust over the next decade, according to "The State of the Nation's Housing Market 2016," which the Joint Center for Housing Studies at Harvard University released today.
That's good news and bad news for renters, as vacancy rates continue to fall and rents continue to rise.
Growth in multifamily starts topped 10% for the fifth consecutive year in 2015, reaching a 27-year high of 397,300 units. Multifamily accounted for more than 30% of all housing starts last year, and permits—the barometer of future construction—rose 18.2% to 486,600 units.
More than 36% of all U.S. households opted to rent last year, the largest share since the late 1960s. Over the past decade, in fact, the number of renters increased by over nine million, the largest 10-year gain on record, with palpable demand across all age groups, income levels, and household types.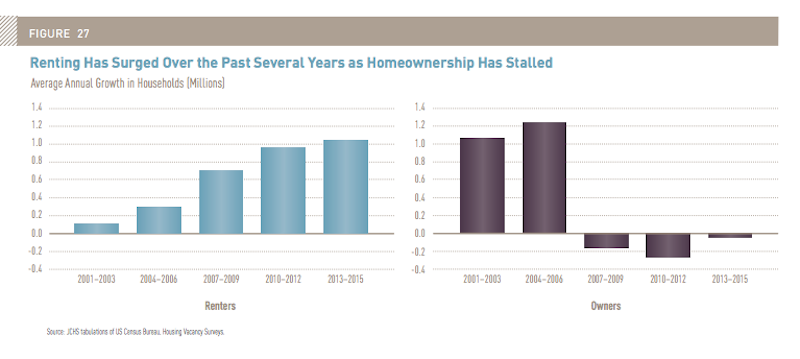 The number of renters increased by 9 million in the past decade, the largest 10-year gain on record. Image: Joint Center for Housing Studies' "The State of the Nation's Housing Market"
Somewhat counter-intuitively, given all the press about Millennials not being able to afford to buy a house, Current Population Survey data indicate that much of the jump in rental demand is coming from middle-aged households. Renters in their 50s and 60s rose by 4.3 million between 2005 and 2015. Renters aged 70 or older increased by more than 600,000 during that decade. And even though their cohort's population actually dipped a bit, households in their 30s and 40s accounted for three million net new renters.
Households under age 30, by comparison, made up only one million net new renters. "reflecting the steep falloff in headship rates among the Millennial generation following the Great Recession," according to the Harvard report.
The micro-apartment trend for urban markets seems to be having a greater impact on what's being built overall. The median size of multifamily units fell from nearly 1,200 sf at the 2007 peak to 1,074 sf in 2015, reflecting the shift in the focus of development from the owner to the rental market.
Many new multifamily units are in large structures, with nearly half of the units completed in 2014 in buildings with 50 or more apartments. And about 36 percent of all new multifamily units added between 2000 and 2014 were in high-density neighborhoods, and another 30 percent each in medium- and low-density sections of metro areas. Even so, growth in the multifamily housing stock during this period was even more rapid in rural areas (up 24 percent) than in urban areas (up 19 percent).
The Joint Center has long decried the scarcity of affordable housing in the U.S. A sizable percentage of the multifamily buildings under construction targets higher-end and luxury renters. In addition, the rental vacancy rate last year fell to a 30-year low of 7.1%, a telling indication that supply isn't keeping up with demand, and that rent appreciation is likely to present challenges for renters at all income levels.
Still, the report postulates that expanding construction of market-rate multifamily product "should provide some slack to tight markets, as older units slowly filter down from higher to lower rents." And if construction sates high-end demand, "developers in some areas may turn their attention to middle-market rentals," the report speculates.
The report acknowledges, however, that high development costs make building new units of affordable or even moderate-income multifamily difficult without government subsidies. And absent of public subsidies, "the cost of a typical market-rate rental unit will remain out of reach for the nation's lowest-income households."
The Joint Center concludes that with housing assistance insufficient to help most of those in need, "the limited supply of low-cost units promises to keep the pressure on all renters at the lower end of the income scale."
It's still not certain how these dynamics will impact homeownership, even when buying is still more affordable than renting in 58% of U.S. markets, according to RealtyTrac's 2016 Rental Affordability Analysis.
"Renters in 2016 will be caught between a bit of a rock and a hard place, with rents becoming less affordable as they rise faster than wages, but home prices rising even faster than rents," said Daren Blomquist, Vice President at RealtyTrac. "In markets where home prices are still relatively affordable, 2016 may be a good time for some renters to take the plunge into homeownership before rising prices and possibly rising interest rates make it increasingly tougher to afford to buy a home."