Attending university for the first time can elicit a mix of different emotions–from excitement and eagerness to apprehension and uneasiness. Often students are away from home for the first time, and must navigate the challenges and freedoms of living on their own. Adding to this, some students also find themselves in a new country adjusting to a different language and culture.
In these circumstances these young adults often face challenges that can affect their university experience. To address these concerns, universities value an active and vibrant campus, and wish to create places that welcome newcomers and offer support.
The University of British Columbia (UBC) is a globally recognized institution with similar goals of creating a vibrant campus community. Their campus master plan advocates for the integration of residence life into the fabric of the campus with the idea that a mix of uses in close proximity will increase the opportunity for social connections through a more dynamic public realm. And in an existing campus, this means taller buildings are required to increase density. As a result, five mixed-used 'hubs' to support those goals are planned for the Vancouver campus.
The second of these 'hubs' is the newly completed Orchard Commons, an academic and student housing mixed-use facility for international and domestic students embedded into the heart of the campus. Comprised of two residential towers, Orchard Commons also includes a purpose-built facility for Vantage College, UBC's innovative academic program that combines first year studies with academic English programming for international students. The university's goal was to create an attractive and inviting facility, drawing students from around the globe, and provide a supportive and welcoming environment to ease their transition. The key to achieving the university's goal was to design a generous facility that fosters social connection.
So how can design encourage social connection?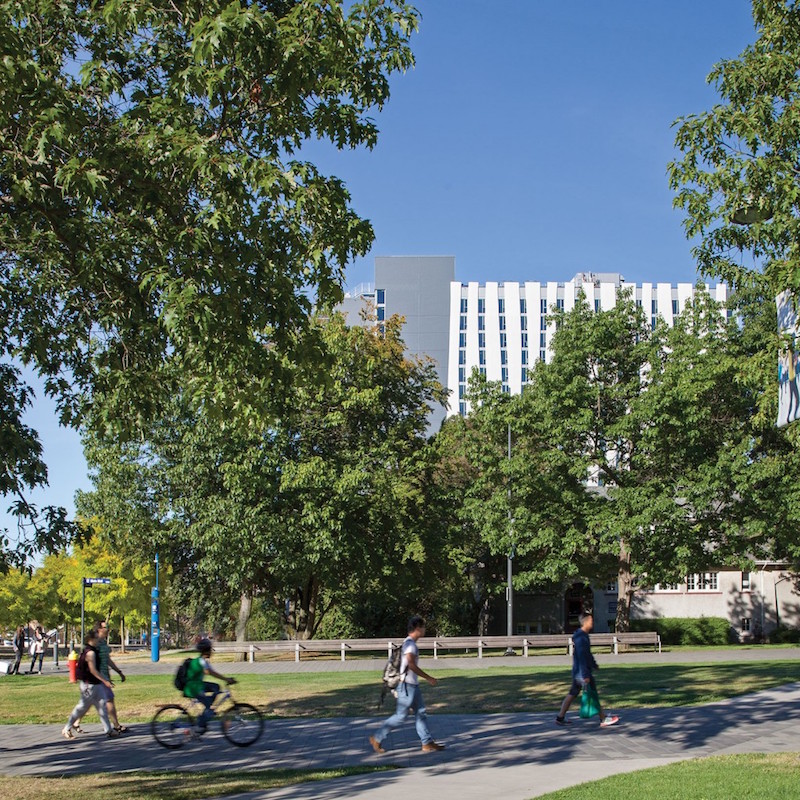 Spaces that Encourage Social Interaction
In a world where social connections are increasingly made through technology, it is imperative to provide spaces on campus that entice students to interact and help form community. By providing a range of places with varying degrees of public and private space, students can choose what fits their needs in any given situation, promoting social interaction and well-being. Designed to be outward-looking with a sense of invitation to the greater campus, Orchard Commons encourages social interaction where students can meet others, share authentic experiences, and create a new common culture.
The Shared Meal
The dining hall offers a powerful opportunity to act as a social connection hub and landing point in the facility. Centrally located, the dining hall is open to all, inviting Orchard Commons residents and students and the larger campus to share a meal and interact, helping to ease students transition to living on their own. Bathed in daylight and punctuated by the use of wood, the dining hall is adjacent to an outdoor commons area making it a highly visible and open setting.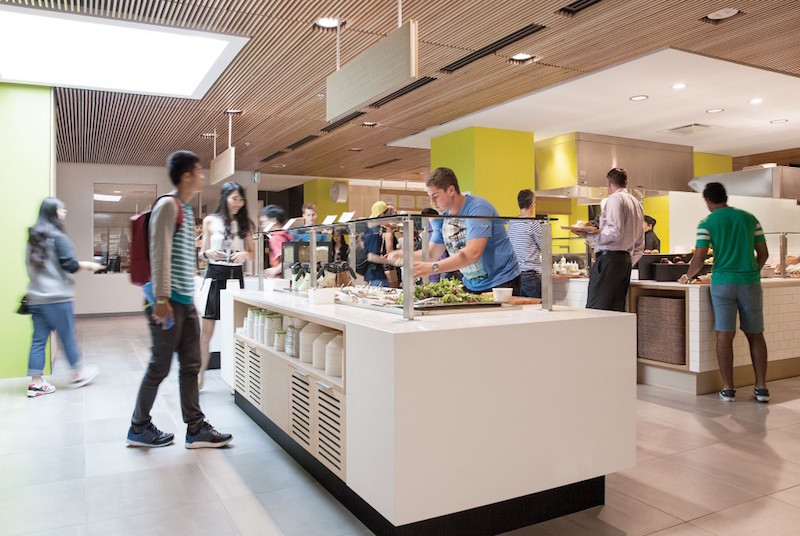 Creating Community in Tall Buildings
Social stratification and isolation are risks associated with high-rise buildings. With residential towers at 18 and 19 storeys, Orchard Commons was designed to avoid this negative characteristic. As the maximum size of a cohesive community is known to be about 100 people, floors were grouped into threes with about 30+ students per floor, creating a community of about 100 residents. Linking these three floor communities are 3-storey interconnected lounges anchored at the end of each floor. These lounges encourage the residents to interact throughout the towers rather than remaining on one floor alone, acting as the 'living rooms' of the community. They feature a double-height multi-purpose room, kitchen, and study space with a wood convenience stair connecting all three levels. Their location at the end of each floor provides high visibility with stunning 270 degree views of the surrounding campus and ocean waters.
To further alleviate the potential for social stratification, transparent glass walls were used between the lounges and the adjacent exit stairs that connect all floors in the residential towers. This transparency provides residents the opportunity to peek into the lounges as they move between the floors and encourages chance encounters. Although a resident is a part of an identifiable 3-floor community, the stairs offer an opportunity to engage with the other communities in the tower.
A similar strategy is implemented in Vantage College, where exit stairs are fully glazed on one side, facing the landscaped commons. The experience of moving vertically through the buildings was designed to encourage socialization, engagement, and well-being.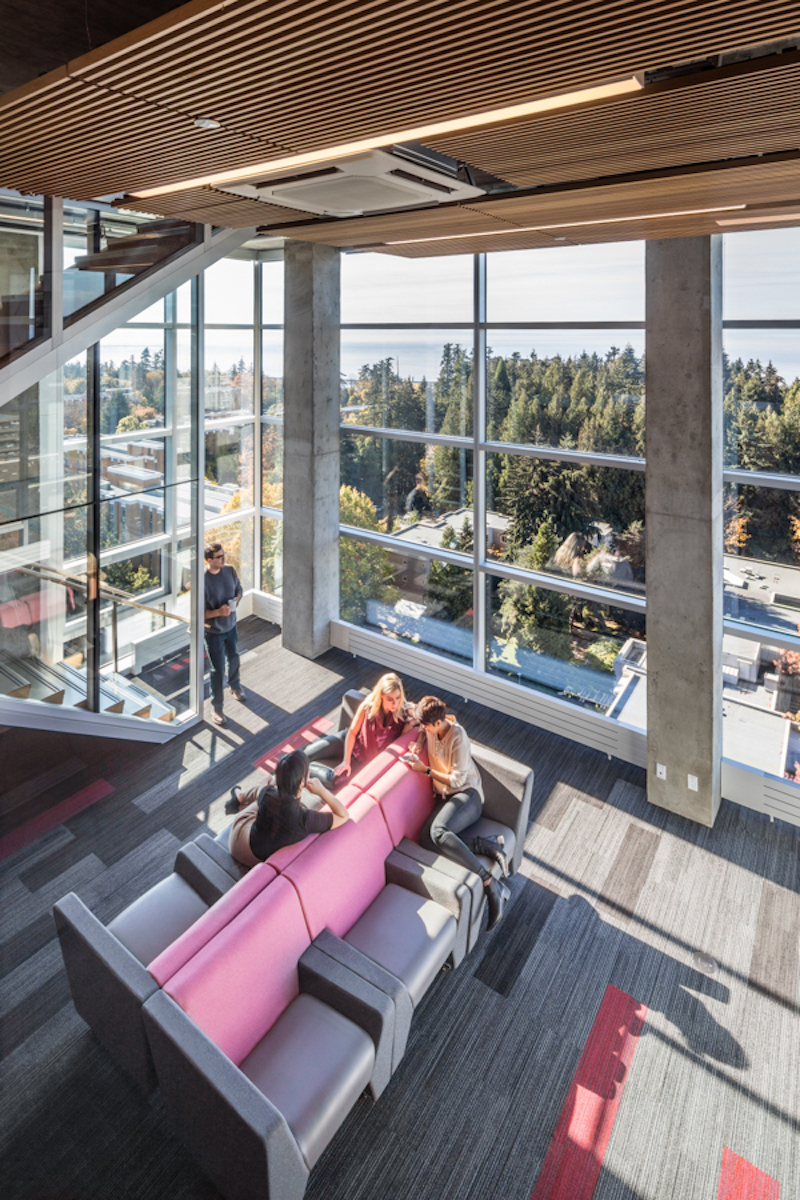 Generosity and Invitation
Throughout the design of these spaces, two overarching principles were used to foster social connection–generosity and invitation. The critical elements that were used to achieve this include:
Transparency: Transparency was used strategically to create a sense of invitation. In addition to the residential lounges and exit stairs, the majority of the ground floor is revealed to the public realm through clear glazing where the activities of the building and the public informal spaces are showcased to the campus.
Daylight: Providing generous daylight throughout the building was a fundamental driver to promote well-being and a sense of place. Top light animates social spaces through glazed atria and clerestories and corridors terminate in glass to create intuitive wayfinding.
Wood: Wood has universal appeal and its natural characteristics are associated with a sense of welcome, and reflects the rainforest setting of the campus. Throughout the facility, wood was primarily used in social spaces such as informal learning space, lounges, and the dining hall.
"Being connected with everyone is better than feeling isolated and not really knowing who you are living with. It's really great to know the person on the floor above me, or who is down the hall. And a lot of that happened when we were in the shared spaces." – Taryn O'Keefe, first year student and resident at Orchard Commons
The Evolving Importance of Social Spaces on Campus
As ways of learning and communicating evolve, so does the importance of social space on campus. With the continuing rise of online learning and the use of technology, university campuses are refocusing their emphasis to provide facilities that encourage social interaction, provide connections, and create an active and vibrant community. Even more crucial for first year students and those from abroad, providing a welcoming and supportive place is key to overcoming the challenges students face when transitioning to university.