There are a myriad of rules, codes, standards and guidelines that help shape the development of our built environment. Unfortunately, rather than being creative generators, these parameters are often perceived as barriers to great design. Case in point: ADA Guidelines. I bet if you polled a group of designers about ADA Guidelines, most would sigh and then cite examples of places where design is compromised by their application.
But let's dream big here for a moment, for equity's sake, and imagine a world where ADA guidelines were actually seen less as a minimum to achieve and more as a creative driver. What would it look like if achieving universal accessibility was a sexy and inspiring point of departure for a project's design process?
Our recent work on the Chicago Riverwalk has some exciting integration that starts to suggest a more accessible path forward. Laudably, our client at the Chicago Department of Transportation demanded that accessibility minimums be exceeded. This manifests in many ways in the first phase of construction, opened in the summer of 2015, including minimum grade walkways, multiple accessible connections to any given space or experience, an incredible accessible walkway "stramp" (part stair/part ramp), and elegantly designed detectable surfaces.
My favorite example, however, is the integration of companion seating. I'll focus here on two "rooms" or blocks called the Marina Plaza and the Cove.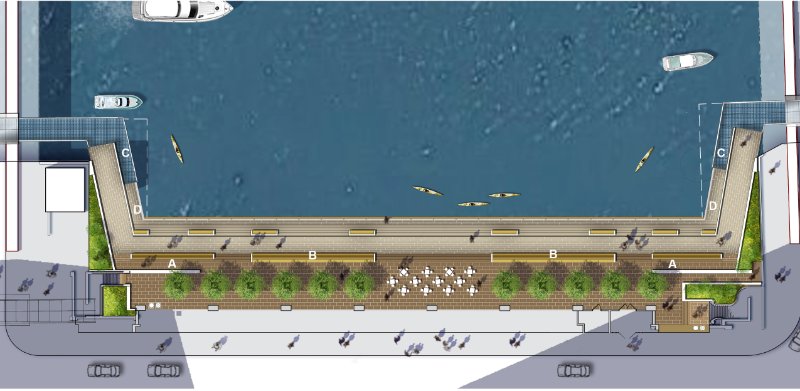 Marina Plaza (A and C) accessible walkways (B) companion seating and (D) accessible docks.
The Marina Plaza is a large space comprised of a simple three-part section: an upper level dining terrace, a mid-level pedestrian promenade and a lower level boat dock. Negotiating the grade between the terrace and the promenade is an iconic seating element we call the Marina bench. Nearly 200' long, broken into distinct sections, the Marina bench is a custom designed piece of urban furniture: part wall, part bar, and part bench. The ends of the bench on both sides of the linear space serve as an edge to the two accessible (less than 5% grade) walkways between promenade and plaza.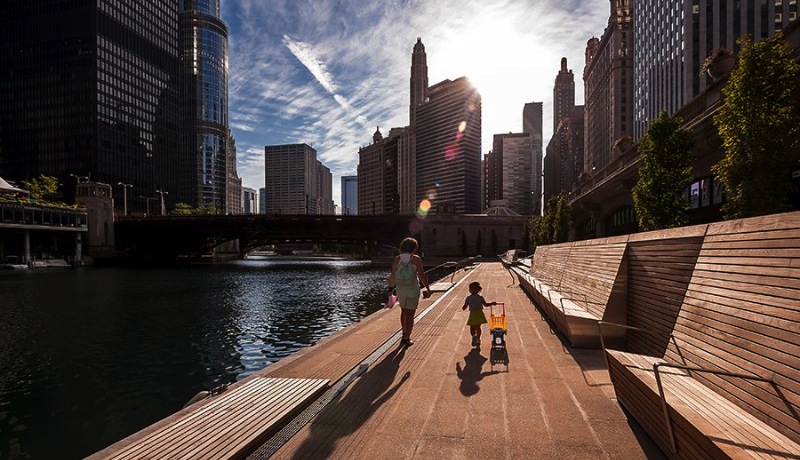 Marina bench, with companion seating space.
Along the Riverwalk, we imagined the Marina bench to be a place to sit and enjoy the amazing views of the amazing life on the Chicago River - and we wanted accessibility and for companion seating to be an integrated part of the experience. Our solution, given the limited space available, was to create pockets of space multiple places (more than required by local code and best practice suggestions) along the length of the bench where wheelchairs and strollers could perch. We studied at length the depth of the space needed (to ensure a wheelchair user and bench user would be nicely aligned, eye-to-eye, shoulder-to-shoulder) as well as the width of the pockets (to ensure that a wheelchair user could sit in the middle of a group of people, rather than an edge).
Critical to our process of creating seating is what we call mock-ups, full-size, or one-to-one, studies of proposed elements. Our team made many full-size mock-ups throughout the Riverwalk design process, including the Marina's bench. Each member of the team had the chance to sit on, lean against, or roll next to this element. We learned from it. For example, the seat as originally drawn in section and constructed in this attempt felt too sharp in experience, and for some of our older participants, was hard to get in and out of. We adapted. We believe this exercise paid off. The bench is as notable in its comfort as it is beautiful constructed.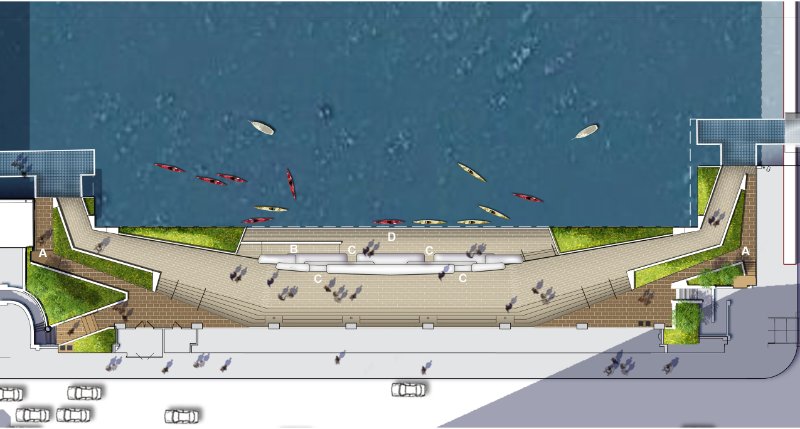 The Cove (A and B) accessible walkways (C) companion seating and (D) accessible dock.
The Cove is another space in the sequence of the Riverwalk. It too is a simple section: a retail arcade steps graciously down to a wide urban plaza and then down again to a low level dock. The driver here was to create a space for human-powered craft to dock - and for users to find places for rest and amenity. Using the grade change between upper and lower levels again as a people place, we incorporated custom precast seating elements (which we called "river stones" and the construction team called "beans" or "pillows"). Here, the irregular nature of the stones allowed us to integrate four locations for companion seats, two at the upper level and two at the lower level, but all in the middle, not the edge, of the action.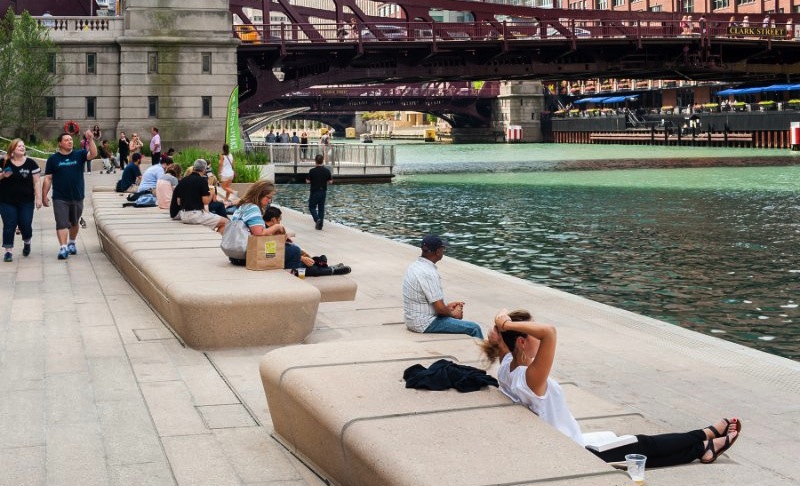 The Cove's "river stones."
The next phase of construction is underway now and includes other accessibility innovations. We look forward to, for instance, a water feature that will appeal to all senses and be enjoyed equally on foot, by stroller, or from a wheelchair. We also can't wait to see the fishing rail in the Jetty - designed at various heights to allow for all shapes, sizes and abilities of visitors. Again, on the latter, we are made confident in the fishing rail's scale, function and feel thanks to a full-scale mock-up the team made in our office's parking lot one glorious fall afternoon.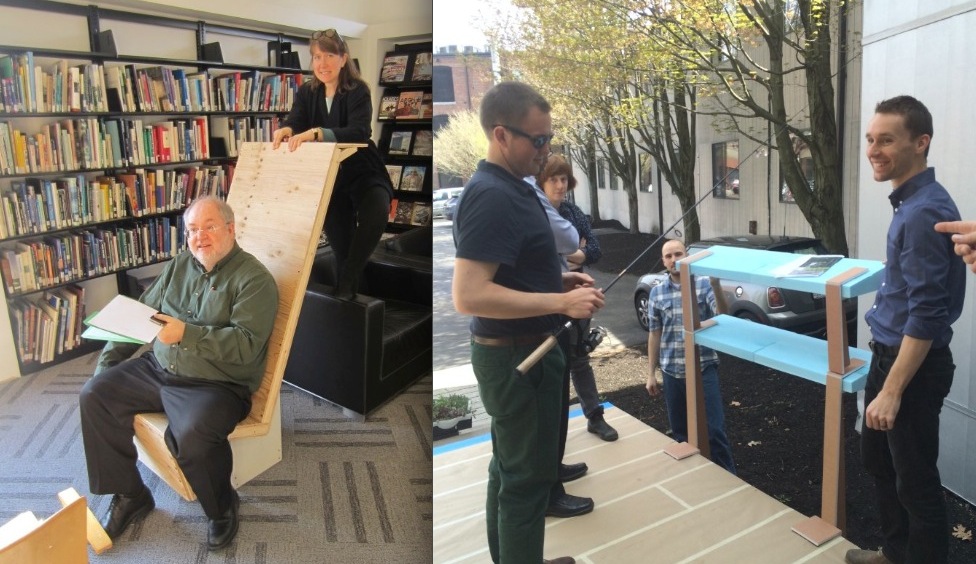 Mock-ups of the Marina bench and Jetty fishing rail.
Though there are lessons learned, as there always are in construction, we are proud of the accessible elements in the Riverwalk. I welcome you to share your thoughts, designs, and experiences of the sexiest of accessible design! Let's together start painting a picture of this brave new world of universal experience.
About the Author: Gina Ford is a landscape architect, Principal, and Chair of Sasaki's Urban Studio. Her work encompasses a wide range of scales and project types, from public parks and plazas to large-scale landscape planning and waterfront projects.