Late this summer, an Atlanta Braves fan fell 40 feet to his death at Turner Field, after falling over the upper deck railing above home plate. This is not the first incident of someone being killed or seriously hurt at a major league ballpark in recent years – or even this season. But it needs to be the last.
As a lifelong Chicago Cubs fan, a father to four kids who also love baseball, and someone who has worked in the sports construction and design industry for more than 25 years, it is becoming more and more apparent that we simply cannot wait until more fans die to change the stadium guidelines. Currently, there are no official stadium design guidelines adopted by Major League Baseball. Design standards have historically evolved over time within the league, typically with the latest and greatest stadium setting the new standards. The time is now to implement new, official policies that will both preserve the integrity of the game and make the experience safer for everyone. Here are three first steps that I think can be taken to achieve this:
1. Rethink railing codes
The International Building Code regulation for front-row railing height in front of fixed seating is only 26 inches, a standard that was put into place in 1929 (though some stadiums install railings above the minimum height). While 26 inches may seem safe while sitting, once a fan stands up and walks in front of other fans on the way to the aisle, he or she has to be very careful as the rail is lower than one's center of gravity – even the slightest bump could lead to going over the rail. As the Atlanta incident showed, a railing of that height makes it all too possible to fall over. On the other hand, all railings in front of aisle steps require a 42-inch railing. If a person is walking down the stadium steps and trips or loses his or her balance, the railing is above the average person's center of gravity, and thus the railing can safely break the fall.
To further make my case, when Skanska is building a stadium, we use 42-inch railings where there is a fall hazard during construction in any seating deck overhang to protect our crews. These safer construction railings are eventually replaced by the shorter 26-inch front row railings, which meet IBC standards and preferred sight lines. Shouldn't the millions of fans receive the same level of protection as our construction crews?
Some people fear increasing the railing height will impact game views if traditional pipe rails are used. However, structural glass railings can be installed and still preserve the game-watching experience and prevent falls. Glass railing technology has improved greatly in recent years and is often used in premium seating areas, so why not use them in general seating areas as well? Isn't the added expense worth the cost to ensure fan safety? The evidence is clear: Major League Baseball should require the front rows of cantilevered seating decks to have a 42-inch railing.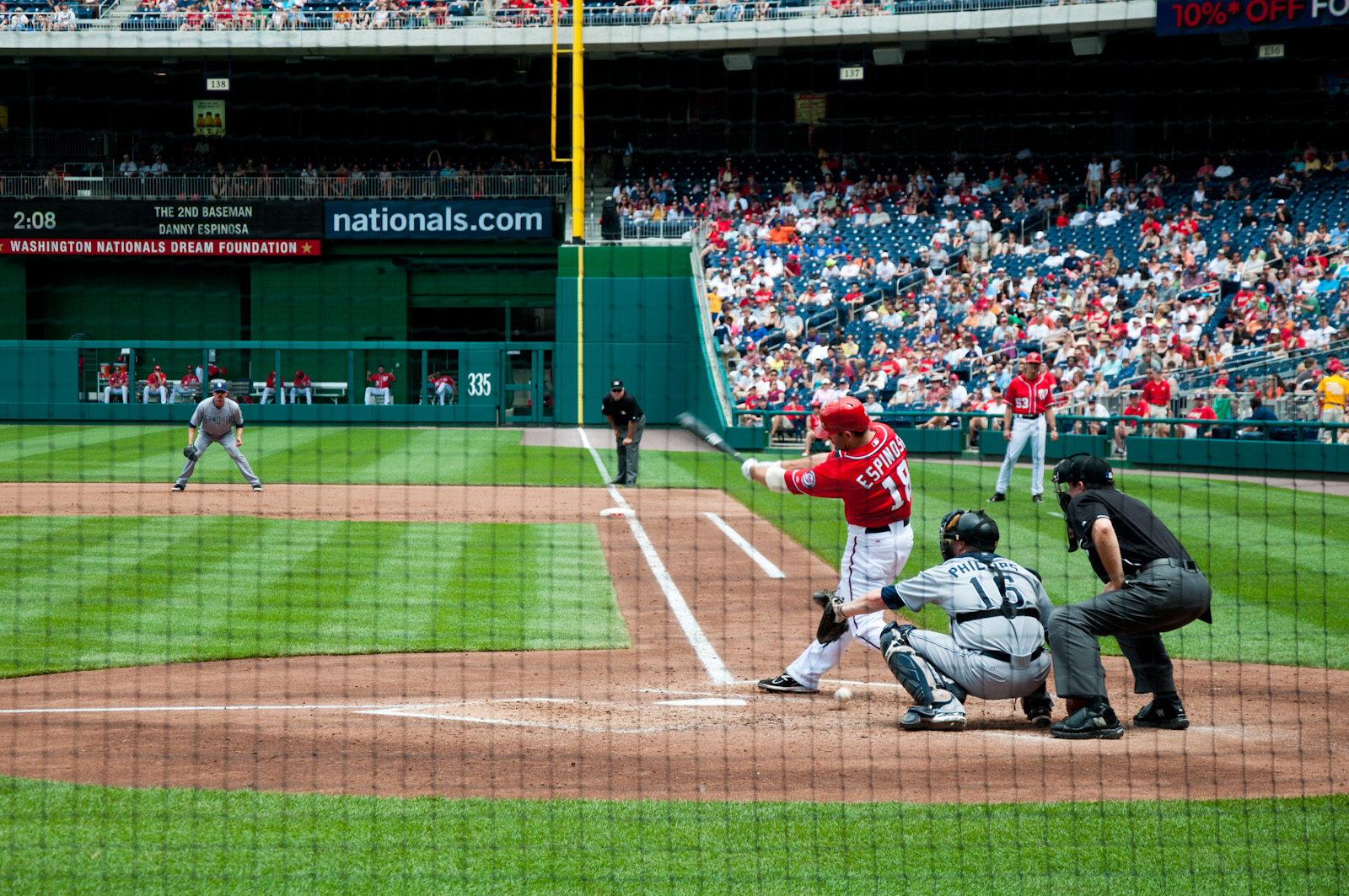 Photo: Wendy/Creative Commons.
2. Regulate minimum backstop netting height
Surprisingly, there is no prescribed height for backstop netting. The only rule is that it must be installed. Without a determined height, nearby fans are not necessarily protected from balls in action. The nets used to extend to the press box at an angle, so foul balls would roll back down to the field. However, when the 1994-1995 MLB strike occurred, ending the season early over players' salaries, stadiums removed this netting the following season to draw fans back into the stands with the hopes that they could catch foul ball pop-ups. Catching a foul ball is part of the game experience, but when line drives go into the stands, it's a different, dangerous story. The height of the net is generally determined by the height of the home plate camera, but fan safety should prevail over television broadcasts.
At the very least, MLB needs to come forward and determine a minimum netting height, somewhere in the 25- to 30-foot high range to protect spectators and employees who are navigating the aisles and tending to fans.
3. Increase the backstop netting distance down each foul ball line
The rules of baseball do not specify how long backstop netting should extend. Over time, this length has varied with each new stadium. Eventually, a general guideline was accepted: the edges of the backstop netting should align with the foul ball lines, meaning that currently there is only netting behind the home plate in most stadiums. To protect fans, it should be extended down the first and third base lines.
For example, some recent stadium designs have located premium seating between the edge of the netting and the home plate end of the dugouts, meaning these fans are both close to the field and not protected by netting. Dugout configurations vary in each stadium, but they are always located between home plate and first and third bases, beyond where most backstops end. These seats are great for watching the game, but it's important to ensure these fans are out of harm's way from foul balls, since the protective netting often does not extend to this point.
Another group of fans that are at risk are those in the front rows. The first row of seats in some ballparks is between 52 and 60 feet from home plate. This is even closer than the pitcher, who is 60 feet, 6 inches from home plate. In 2013, the average MLB pitch reached 92 mph, which gives people not even half a second to react. And with a baseball often reaching over 120 mph when leaving the bat, this gives spectators less time to move out of the way. Add to this fact that fans are often distracted as they socialize or eat, and aren't always paying as close attention as they should be to the pop-ups and foul balls that fly over the backstop net. It is quite telling when most MLB players won't even allow their families to sit outside of the netting for fear of a ball hitting them.
It is time to establish a new requirement for backstop nettings, one that is consistent in all ballparks. Backstop netting should be extended down each foul line until they align with first and third base. Limited backstop netting, wicked line drive foul balls and an occasional flying broken bat and distracted fans add up to a recipe for disaster.
As the great American pastime, baseball is among the last affordable family entertainment, especially as ticket prices in other sports rapidly increase. This is one of the reasons why it is so important to protect the fans – they want to get close to the action, and hear the players and the crack of the bat. But families won't take their kids to a game if they feel their families are not safe. It took the 2002 death of 13-year-old girl from a puck that flew over safety glass for the National Hockey League to update its netting regulations. Today, this netting has become accepted as just another part of the game. We cannot wait for a similar incident to happen in a MLB stadium. Action must be taken before another innocent life is taken for the love of the game.
About the Author: Tom Tingle is Skanska USA's Senior Vice President and National Director, Sports and Entertainment Center of Excellence