With the U.S. population aging, Alzheimer's has become the sixth leading cause of death, affecting more than 5.3 million people.  Patients with Alzheimer's are often cared for in nursing homes or other healthcare facilities. While these provide important and essential care, the realities of life with Alzheimer's means that patients require specific environments designed to alleviate some of the disease's unique challenges.
To that end, Skanska recently completed the construction of Abe's Garden in Nashville, Tenn. Abe's Garden is believed to be the first memory care community in the U.S. designed and built to demonstrate and disseminate best practices to improve the lives of individuals and their care takers affected by Alzheimer's disease. The 33,000-square-foot facility can house 42 full-time residents and 15 adult day care/evening care participants.
While Skanska is an expert at building healthcare facilities, the Alzheimer-centered design elements at Abe's Garden presented some unique challenges. We took on an extensive planning role, partnering with the customer – Park Manor – and designers to enable a design that met the overall goals while staying within budget.
Designing for Alzheimer's & dementia
For those with Alzheimer's, routines are vitally important. Anything out of the ordinary can be incredibly disorienting. Abe's Garden was therefore designed to feel as home-like as possible, with three family-sized households themed around arts and lifelong learning; connecting to nature; and music and movement. A central enclosed courtyard connects the three households and serves as an important therapeutic environment.
Since patients can become upset in unfamiliar places, these households have retro design-features from the 1950s that residents may recognize from their childhood. From a construction point of view, this meant building a commercial healthcare building – complete with all the requisite health, safety and fire code regulations – but with residential finishes. For example, to echo a typical home, the roof was designed with decorative shingles – not something that is usually attached to a commercial-grade steel roof!  Resolving such challenges required our team to devise innovative solutions.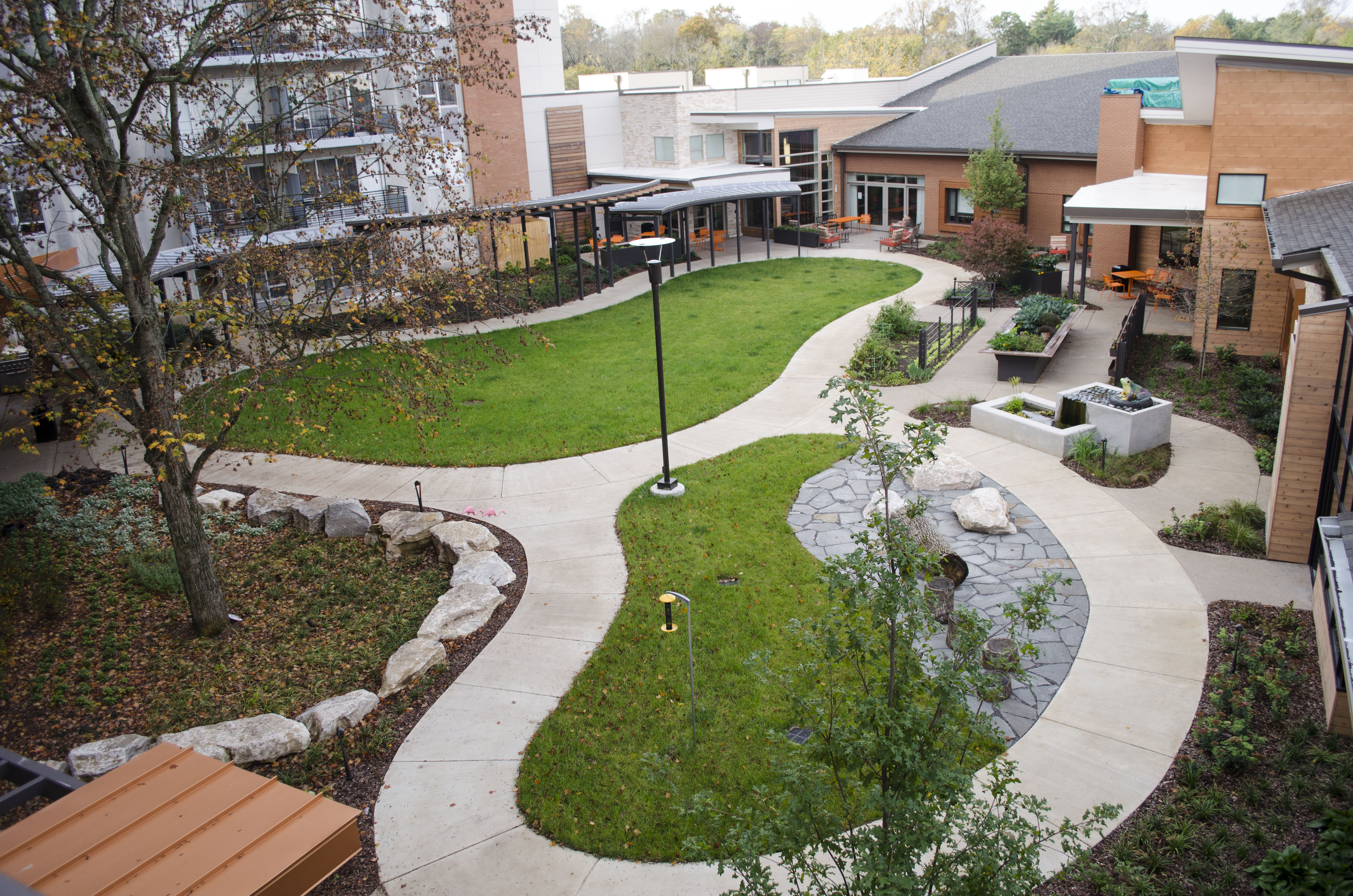 The Abe's Garden courtyard features a single looped sidewalk, allowing patients to enjoy walks without the concern of wandering. Photo: Skanska (click to enlarge).
In addition to ensuring the facility had a residential feel, we also had to make sure it was secure and safe for patients suffering from memory loss. Alzheimer's patients are prone to what is termed as "wandering," so all the complex's exterior doors accessible by patients were designed to open onto the internal courtyard.  The courtyard's single looped sidewalk allows patients to enjoy walks without the concern of wandering. Even the doors on the courtyard are designed to make patient's feel at home: rather than a traditional healthcare facility entrance, each household has its own "front door."
Patients with Alzheimer's often also suffer from "sun downing" — behavioral problems that begin at dusk and last into the night. Abe's Garden aims to alleviate these challenges by maximizing natural light, and incorporating state-of-the-art lighting to support circadian rhythms, reduce glare and minimize shadows. Since older adults have challenges adjusting to changes in lighting, the team incorporated transitional spaces like screened-in porches to help them adapt from outside to inside lighting.
Building on an active campus
We built Abe's Garden on the existing campus of the Park Manor Senior Lifestyle Community, which remained operational during construction. Additionally, this project included renovating the existing facility's main entrance and general social spaces. These two facets meant it was especially important that we regularly communicate with residents to ensure their safety and deliver the facility on schedule to minimize disruptions.  We held town halls, in which we invited residents to ask questions, share their concerns and get to know the project team. The residents were very curious about the project and were always trying to see what we were doing! Our monthly town hall gave them the opportunity to ask questions and understand upcoming activities. It's rare that you get to build such a connection with the people your structure will serve!
Abe's Garden represents Building What Matters on a number of levels. Not only will it provide essential and differentiated treatment to Alzheimer's patients, but it will also serve as a model program to help advance best practices in memory care. It's inspiring to know that our work will help the patients, families and caregivers at Abe's Garden, while also providing a roadmap for future facilities around the U.S. and the world.
About the Author: Jeff Elpers is a Senior Project Manager with Skanska.