The most successful workplaces enable a clear flow of ideas and people, allowing multi-disciplinary collaboration to be spontaneous and effortless, and corporate culture to be inherently experienced by both occupants and visiting clients.
However, achieving this ideal is challenging for workplaces that occupy multiple levels. In these workplaces the inherent separation between occupants reduces the likelihood that impromptu and idea-generating conversations will naturally occur. We often see client spaces grouped on a single floor, separated from the day-to-day workplace activity. These spaces can seem formal and can lack the buzz of activity and sense of corporate culture that the current workplace trends favor.
So, how do we support the flow of ideas and people in a multi-level workplace? Below are some strategies that have proven successful:
1. Plan stacked "anchor" destinations. Borrowing a strategy from retail design in which shopping malls have "anchor" stores at different corners of the mall to draw foot-traffic, workplaces can similarly plan for anchor destinations within different levels of the building to attract occupants and to encourage vertical flow. The desire for shared spaces such as bookable rooms and lounges, and the necessity for shared functional spaces such as the copy room and administrative spaces, draws occupants to these destinations.  When occupants have a reason to move through the workspace, a more dynamic atmosphere is created resulting in more spontaneous collisions and multi-disciplinary collaborations.
2. Activate client spaces. A buzzing reception area gives visiting clients a real glimpse of the organization's culture while offering a welcoming environment for occupants to dwell and converse. The trend is to create inclusive spaces that blend client reception/waiting areas with informal work areas and destination cultural spaces. This is one way to activate the space and allow clients feel like contributors to the corporate culture. Another strategy to activate the client space is to distribute it throughout the multi-level workplace and expand the client's experience to multiple floors. This allows both clients and occupants to move vertically within the space, maximizing opportunities for interaction and idea exchange.
3. Make it enjoyable to move through the space. The principles of active design teach us that users are more likely to use the staircase if it is an enjoyable experience. In addition to providing health benefits, the staircase provides ample opportunity for spontaneous collaboration and idea sharing which might otherwise be missed. To create this effect, stairs should be central, prominently placed, and wide enough to enable conversations to happen with ease; ample stair landings and visual connection between floors can enhance the experience. Similarly, welcoming corridors with periodic "perches" or respite places invite people to stop and converse.
4. Facilitate collaboration everywhere. The success of collaborative opportunities can be further heightened by making technology easily available to support communication . The ability to charge devices, access the network and WiFi, share screens, and record ideas allow impromptu collaboration to be both enjoyable and productive.
We applied the strategies above when designing CBRE's new office in downtown Vancouver. Relocating from a single-floor space, CBRE's new home is spread across four floors amounting to nearly 23,000 square feet in the newly constructed MNP tower.
Destination planning played a key role in making the office a "buzzy" space. The deliberate separation and stacking of key functional areas across the different levels ensured that movement became integral to experiencing the workplace.
The reception area is surrounded by a variety of small to medium-sized meeting rooms. These rooms are appropriately sized to the majority of meetings hosted by CBRE, therefore ensuring that this area is activated all day as a destination for both employees and clients. Switchable electronic glass on the room fronts provide occupants with privacy when desired. When deactivated, the glass reveals the spectacular views across Vancouver Harbour, which significantly adds to the space's desirability.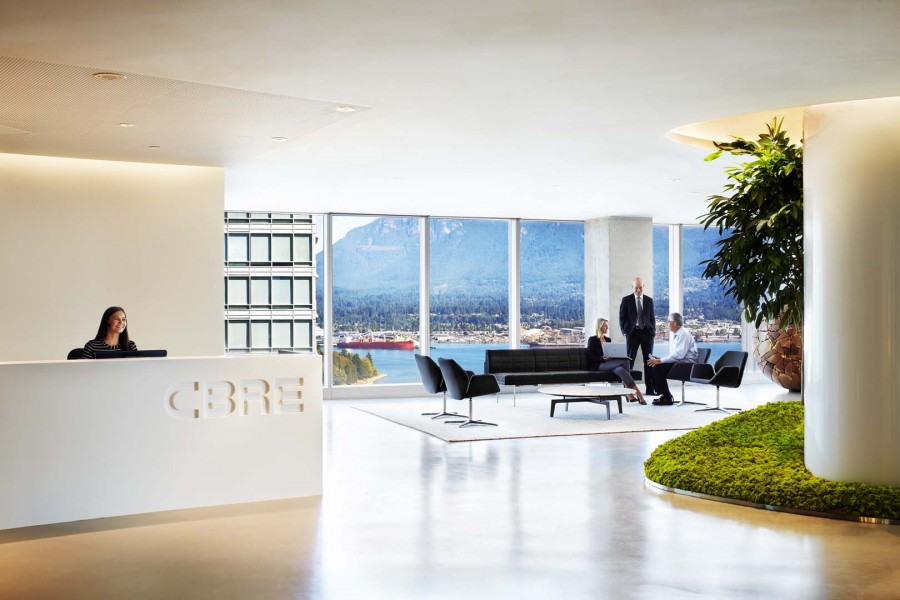 On an upper level, these breathtaking panoramic views are reserved for the employee café. This café represents the cultural heart of CBRE as the daily gathering place for their multidisciplinary employees. By positioning the executive boardroom adjacent to this café, visiting clients can experience the buzzing café and see for themselves the CBRE collaborative culture in action.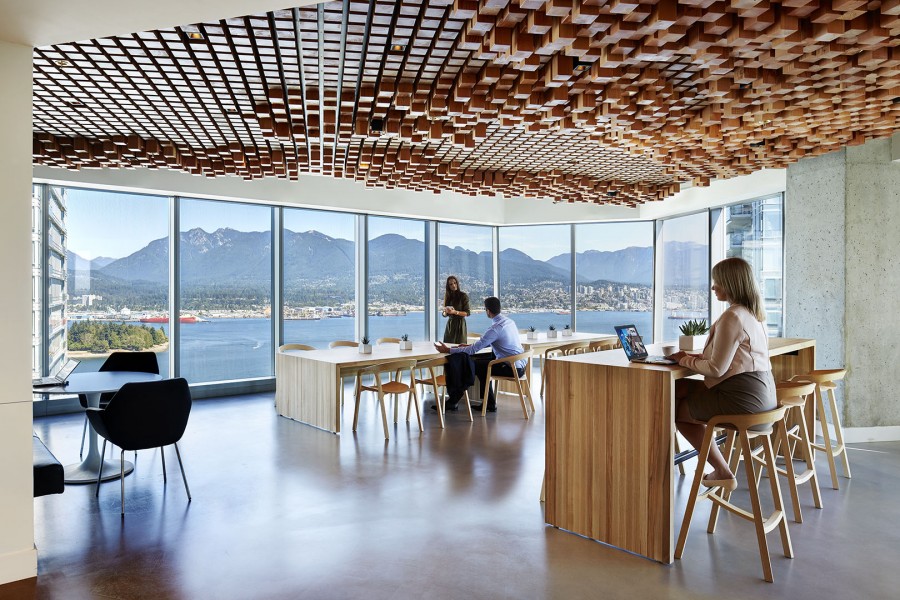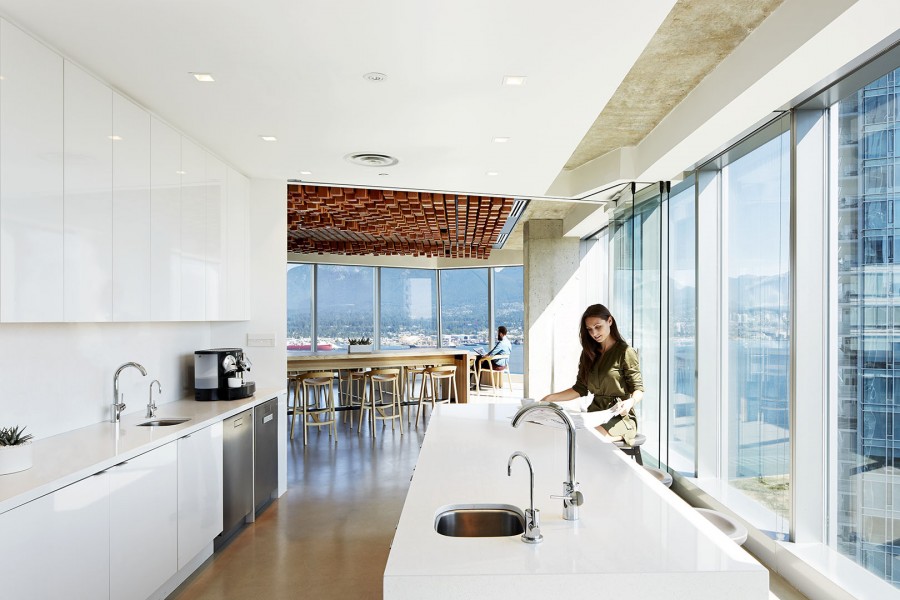 To maximize vertical movement, the most important design feature for CBRE is a stair connecting all four levels. The stair is centrally located and generously proportioned with two landings between every floor. Encased in floor-to-ceiling black glass, the stair makes a strong visual statement while also providing degree of privacy from the surrounding workstations. The stair is heavily activated by both clients and occupants moving between meeting spaces, cultural spaces, shared resources and various work environments.
By creating a memorable journey to stacked destinations, our design has injected energy to all floors of the workplace. People and ideas flow naturally, and both employees and clients are participants in the dynamic CBRE culture. An ideal workplace, you might say.
About the Author: As a Senior Interior Designer at Perkins+Will's Vancouver office, Sarah Stanford has over a decade of experience across practice areas specializing in workplace, retail and hospitality design. As a vital member of the interior design team, her experience ranges from tenant improvements and prototypes to large-scale architectural projects in North America and abroad.