The planning and execution of major construction projects can be challenging and stressful endeavors for organizations. Whether it's the expansion of an existing hospital, the renovation of a student center on a university campus or a brand new corporate headquarters, the potential for legal risk, financial loss and poor outcomes can keep company leadership up at night.
It's important for executives to not simply view construction efforts as necessary evils and instead take an active role in pushing their teams to find better solutions. There are new delivery models and strategies that can significantly reduce risk, enhance certainty of outcome and help companies achieve their financial and operational goals. Once such method is design-led construction, a single-source delivery approach where the architecture, engineering and construction entities are one and the same and work collaboratively throughout the life of a project.
This unified approach can directly help C-suite leaders achieve their organizational goals. Here are four examples.
Design-Led Construction Strengthens Balance Sheets
As every diligent Chief Financial Officer knows, major construction efforts have a tendency to exceed budget and impact bottom line more than expected. One key benefit of design-led construction is the ability for the design-led construction team to guarantee price for the client. With both the design and construction teams as one entity, communication, coordination and collaboration are improved as project teams work to solve problems without sacrificing adherence to budget.
Design-led construction also allows the team to treat the project budget as a living document that tracks current pricing against the target project cost throughout the  duration of both design and construction phases. This provides an evolving snapshot of current costs and opportunities to constantly look for savings, ensuring the owner is receiving the best value for every dollar spent. This dynamic approach helps CFOs and their teams realize the most cost-effective solution as possible and maximize their firm's financial investment.
Design-Led Construction Saves Time and Reduces Inefficiencies
The longer construction projects take, the more likely they are to negatively impact company operations. Chief Operating Officers often fear that construction efforts will weaken employee efficiency due to distractions or temporary work environments that aren't conducive to their work needs. This becomes even further complicated with education efforts about the new space, relocation, change management, etc.
 An inherent benefit of design-led construction is its ability to streamline the process of concurrent activities with the increased comfort level that exists between the designers on the A/E side and the construction managers on the construction side. This state-of-the-art project delivery method of integrating people, systems and practices, into a collaborative process that harnesses the talents and insights of all participants, undoubtedly optimizes results by reducing waste and maximizing efficiency. This single source alliance, structured to carefully monitor these concurrent activities throughout the various phases of design and construction, results in streamlined workflows that reduce time consuming redundancies normally associated with this type of overlapping scheduling methods.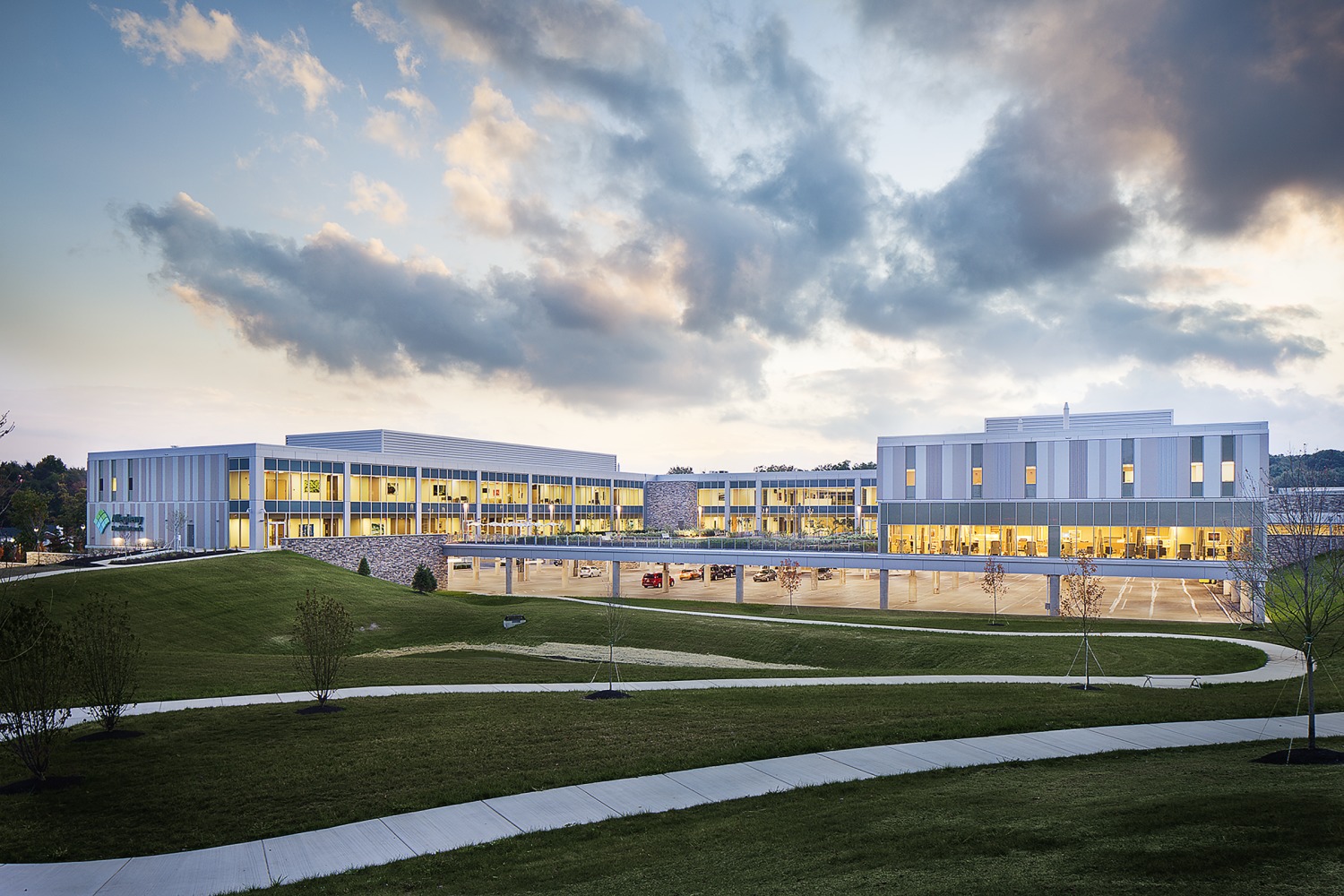 Allegheny Health's Wexford Health & Wellness Pavilion. Image courtesy Cannon Design.
The speed to market allows an organization to recognize operational efficiencies earlier as well as generate revenue faster than a traditional approach. 
This delivery method was leveraged by Allegheny Health Network during the creation of its new Wexford Health & Wellness Pavilion. The streamlined effort helped the team achieve an aggressive 22-month timeline for full design and construction activities, which the health system's leadership believes would not have been possible without the architect and contractor being one in the same and working together seamlessly.
"Allegheny Health Network is in the process of transforming the way healthcare is delivered in western Pennsylvania and we have invested considerably in both the upgrading of our existing hospitals and the development of new outpatient facilities designed to better meet the future needs of our patients," said John Paul, President and CEO, Allegheny Health Network. "CannonDesign's unique capabilities for designing and constructing attractive, innovative and patient-centric facilities ahead of schedule and on budget has been a significant advantage to our organizations."
Design-Led Construction Reduces Legal Challenges
Under traditional delivery models, there are no guarantees to the owner that the merging of two distinct and separate entities will result in an effective relationship where problems are solved quickly and communication is effective. When these relationships go off-course, Chief Legal Officers may find themselves involved in months- and years-long litigation battles.
Design-led construction essentially eliminates the risk of insurance claims related to both professional liability and contractor performance as well as threats of third-party litigation commonly associated with temporary teaming agreements. Under this model, the entities are one-and-the-same, meaning any challenges they face need to be solved internally and not by multiple legal teams.
Additionally, the architect's full involvement during the construction phase ensures that the owner is receiving the full benefit of what was designed and specified as the design professional legally certifies the Pay Application, attesting that the Project has been executed in accordance with the Contract Documents.
Design-Led Construction Strengthens Brand
Design-led construction stands out as it is "architect-led," meaning it gives enhanced importance to architecture and the overall design quality of a project.  This is key for organizations and Chief Marketing Officers that want to create cost-effective, timely facilities that also exude their organizations' rich brand and culture. The design-led construction model sets forth the idea that organizations don't have to choose one or the other, but can still have both.
When properly leveraged, design-led construction has the ability to make life easier for everyone in the C-Suite from the CFO to the CMO. By helping companies aggressively pursue financial, operating and brand goals, design-led construction can be a gateway to turn construction efforts into opportunities to advance corporate goals. And, enhanced performance by the C-Suite coupled with all the fore-mentioned benefits, will also make life easier for the CEO as they work to guide the company to its best possible future.
About the Author: Louis P. Astorino is the Executive Director of CannonDesign's Design-Led Construction Practice. In his leadership role, Lou is responsible for the strategy, development and client engagement for Design-Led, Design-Build across the firm. He was the driving force in the establishment and successful implementation of this delivery solution while leading Astorino prior to their merger with CannonDesign. With nearly 20 years experience in the industry, Lou is well renowned and respected for his service to his clients and the community. A leader in the Pittsburgh, Pa area, Lou supports many local organizations and is a member of the Young Presidents Organization.