A pyramid, the giant spiral, a residential-office building with vegetation sprouting from its exterior, and a structure that takes its cue from Rubik's Cube.
These are the characteristics of the four Best Tall Building Award winners of 2016, as chosen by a jury representing the Chicago-based Council on Tall Buildings and Urban Habitat (CTBUH). The eight-person main jury was chaired by Karl Fender, director Fender Katsalidis Architects in Melbourne, Australia. The eight-person technical jury was chaired by SawTeen See, managing partner with the engineering consultant Leslie E. Robertson Associates, New York.
The winning buildings were selected from 132 submissions representing 27 countries. They will be recognized during the Council's 15th Annual Awards Symposium on November 3, at which time the Awards Jury will pick the Best Tall Building Worldwide from the regional winners: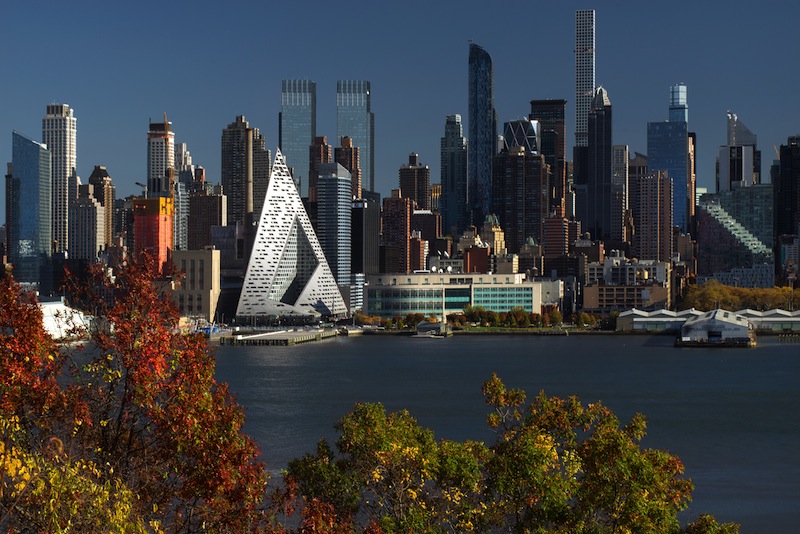 Via 57 West. Image: @Nic Lehoux
The Americas:
•Via 57 West, New York City. This pyramid-shaped, 940,012-sf residential building is 467 feet tall, with 709 apartments within 34 above-ground floors. Via 57 has been called a "courtscaper," because it combines a European perimeter block and the traditional Manhattan high-rise that encompasses a 2,040-sf courtyard. The Building Team included The Durst Organization (owner/developer); Bjarke Ingels Group (design), SLCE Architects (architect of record), Thornton Tomasetti (SE), Dagher Engineering (MEP engineer), and Hunter Roberts Construction Group (GC).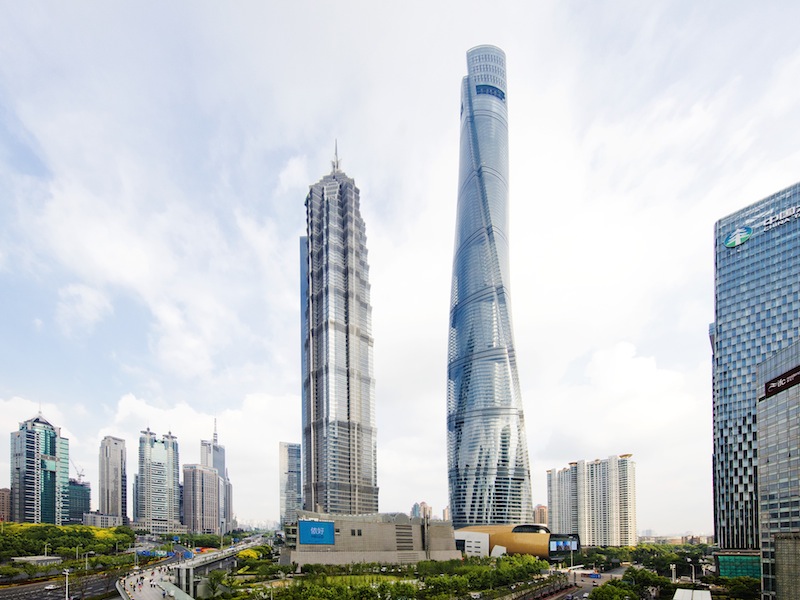 Shanghai Tower. Image: @Connie Zhou
Asia and Australasia:
•Shanghai Tower, Shanghai, China. This 632-meter hotel and office tower is the second-tallest in the world. It is the third of a trio of towers in the heart of Shanghai's new Lujiazui Finance and Trade Zone. Its curved façade and spiraling form allowed for a 24% savings in structural wind loading compared to a rectangular building of the same height. The 4.5 million-sf tower includes 258 hotel rooms, and sports the world's fastest elevator, at 20.6 meters per second. The Building Team: Shanghai Tower Construction & Development (owner/developer), Gensler (designer), Tongji Architectural Design Group (architect of record), Thornton Tomasetti (SE), Cosentini and Aurecon (MEP), Shanghai Construction Group (GC), Shanghai Jianke Engineering Consulting (project manager).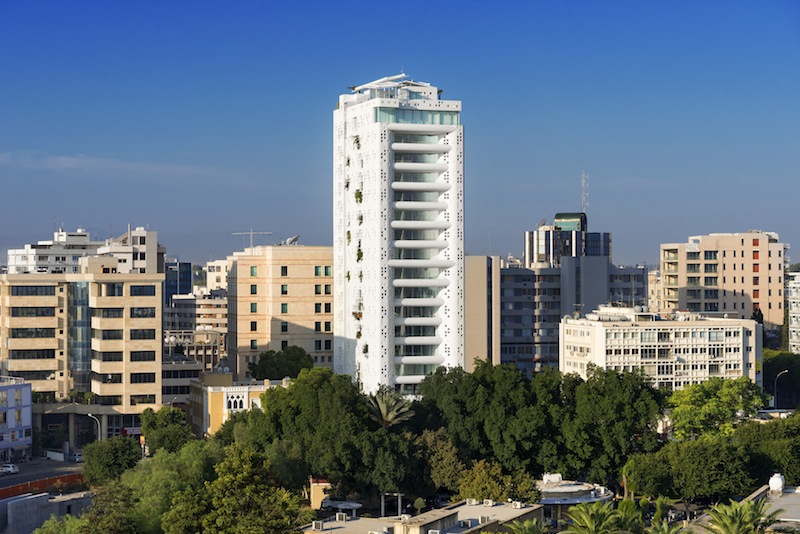 The White Walls. Image: @Yiorgis Yerolymbos, courtesy of Nice Day Developments
Europe:
•The White Walls, also known as Tower 25, in Nicosia, Cyprus. This 107,639-sf residential-office tower is 228 feet high. It has 18 floors above ground, and three below. There are eight apartments in the building. Its distinguishing feature is its Mediterranean design, and concrete white exterior walls accented by numerous square perforations, through which vegetation hangs. Native plants, in fact, cover 80% of the façade. The building was completed last year. Its Building Team included Nice Day Developments (owner/developer), Ateliers Jean Nouvel (designer), Takis Sophocleous Architects (architect of record), KAL Engineering (SE), Mitsides Samouhi & Partners (MEP), Lois Builders (GC),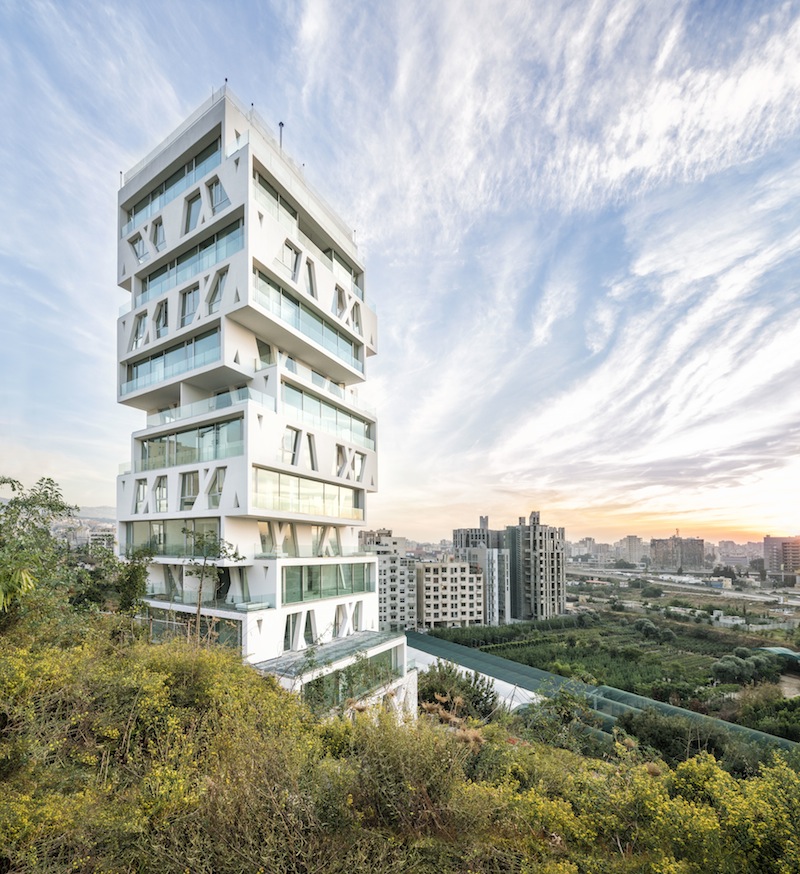 The Cube. Image: @Matthijs van Roon
Middle East and Africa:
•The Cube, in Beirut, Lebanon. This 60,278-sf, 186-foot-high residential building, completed last year, includes 21 apartments with fluid spaces, large balconies, and wall-to-wall window frames. The building design stacks 14 rotated floor plans on top of a lobby. The structure uses self-consolidating concrete, allowing loads to be directed to four areas of rotated girders on every floor, with no additional structural slabs added to the façades. The building has 15 floors above ground, three below. Its Building Team included Mash­­arii (owner/developer), Orange Architects (designer), CBA Group (architect of record), Bureau d'Etudes Rodolphe Mattar (SE), Ussama Mogharbei (MEP), and K.Abboud (GC).
The finalists for the Best Tall Buildings Award were:
In the Americas: 423 Park Avenue, New York; The Tower at PNC Plaza, Pittsburgh; and Torre Reforma, Mexico City.
In Asia and Australasia: Beijing Greenland Dawangjing Tower, Beijing; Jiangxi Nanchange Greenland Central Plaza, Nanchang, China; Shinsegae International, Seoul, South Korea; SkyHabitat, Singapore; and South Beach, Singapore.
In Europe: Allianz Tower, Istanbul, Turkey; Allianz Tower, Milan, Italy; ECB - European Central Bank, Frankfurt, Germany; Grattacielo Intesa Sanpaolo Torino, Turin, Italy;
In the Middle East and Africa: Iris Bay, Dubai.
The Urban Habitat Award winner is Wuhan Tiandi Site A, an urban regeneration master plan in China.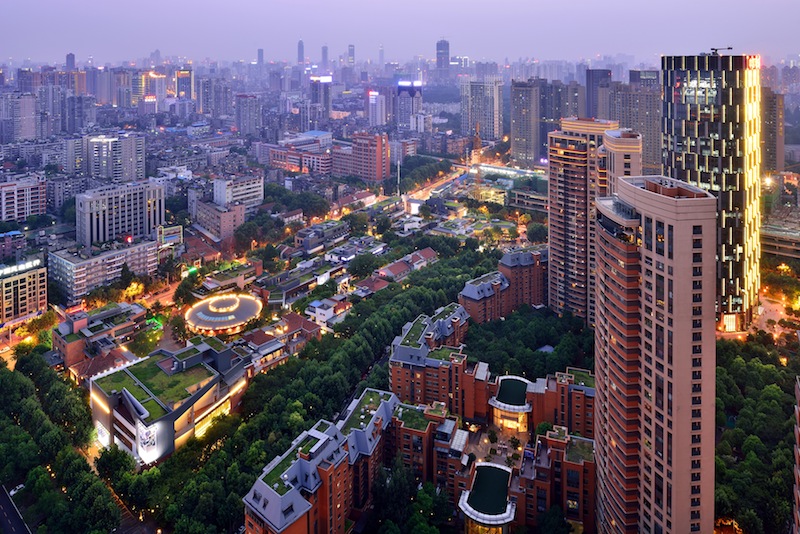 Wuhan Tiandi. Image: @Shui On Land