When architects at Austin-based PSW Homes initiated plans for Thornton Flats, a three-building, 104-unit urban-infill luxury apartment complex, the design team developed a leaf graphic for the community to give Millennial residents an icon that was representative of their values and those of the builder.
PSW turned to Cambridge Architectural to brand a Thornton Flats façade with a metal mesh design that incorporated the leaf graphic and created a distinct street presence.
"We were seeking a more natural and chill South Austin vibe on this project that would not only create a welcome departure from the feature-laden rentals popping up in the area, but also accentuate the indoor/outdoor living that PSW strives to create," said Andy Webre, PSW Homes Architectural Project Manager. "We wanted something that had the ability to create a sense of place other than a boring building number."
Working with PSW designers, engineers at Cambridge began with 10 panels of raw stainless woven wire (1,276 total square feet) in the company's Mid Balance mesh pattern to create a facade "canvas".
Matisse-like, leaf "cutouts" were designed by powder-coating the surrounding metal in antique bronze, which looks black to the eye.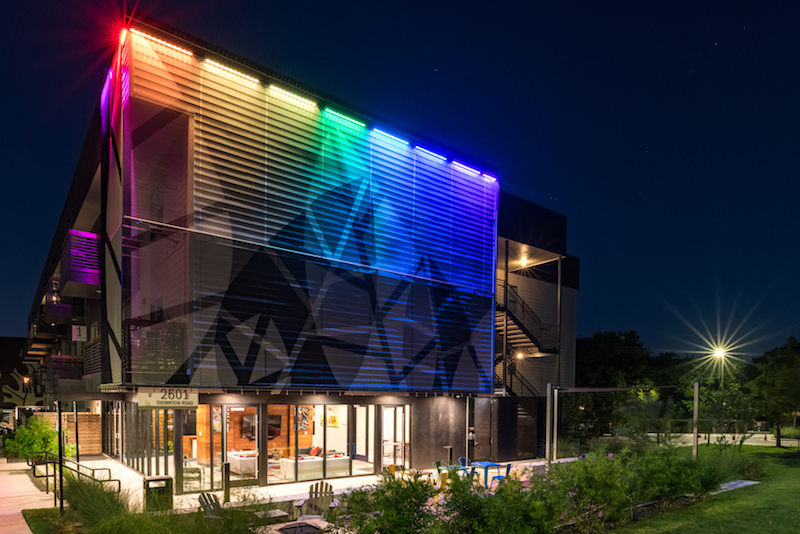 Subtle colored lighting provides additional depth to Cambridge Architectural's metal mesh leaf graphic at Thornton Flats in Austin. Photo: PSW Homes/Stephen Cunningham.
A tan wall behind the 50 percent opacity mesh produces a 3D-like effect. Subtle color-changing lighting gives additional depth to the façade in the evening.
L&S Erectors of Litchfield, Ohio mounted the mesh using Cambridge's custom Eyebolt attachment system.
"We really liked the translucent layering design opportunities the mesh screen offered," Webre said, "as well as the long-term durability of powder-coated stainless steel."
For PSW, the metal mesh leaf helped to fulfill the company's objective of creating a story around each project while weaving in special moments and details.
"I think the Cambridge metal mesh on this project is a great example of how one feature can complement and even accentuate the other project goals," Webre said. "We had never used metal mesh. Cambridge was awesome in helping us traverse the unchartered territory on this project."
Cambridge Architectural Business Director David Zeitlin said powder coating expands the design possibilities for metal mesh.
"Thornton Flats is a great example of how we use powder-coating on metal mesh to transform large, designed spaces and facades into signature branding opportunities that feature decorative images, logos or lettering. Powder-coating, used at Thornton, or blast-etching processes create long-lasting visuals capable of withstanding weather and environmental conditions."
The metal mesh also added to PSW's goal of sustainable design practices that reduce carbon footprint.
An active member of the U.S. Green Building Council, Cambridge helps architects take maximum advantage of LEED credits.
Metal mesh is readily recyclable and manufactured from recycled materials, according to Zeitlin. A cold-forming manufacturing process generates less environmental impact than processes for heat-treated products. The end result is virtually maintenance-free and has an indestructible lifecycle.
For more information, visit www.cambridgearchitectural.com, email sales@cambridgearchitectural.com or call 866-806-2385.