By almost every measure, 2015 was a good year for the airline industry. U.S. airlines and foreign carriers serving the U.S. flew an all-time high of 895.5 million passengers last year, up 5% from the previous record high of 853.1 million reached in 2014, according to the U.S. Department of Transportation. Twenty-sixteen is on track to be another record-smasher.
TOP AIRPORT TERMINAL ARCHITECTURE AND A/E FIRMS

Rank, Firm, 2015 Revenue
1. Corgan $65,839,265
2. HOK $60,840,000
3. Gensler $44,390,000
4. Gresham, Smith and Partners $25,600,000
5. RS&H $24,300,000
6. Stantec $19,226,351
7. HNTB Corporation $15,998,381
8. HKS $15,309,071
9. Leo A Daly $13,529,252
10. Alliiance $11,260,000
That's good news for AEC firms that design and construct airport facilities. "Airports and airlines are pulling the trigger on projects that have been in conceptual mode for many years," says Robert Chicas, AIA, LEED AP, SVP/Director of Aviation and Transportation Practice at HOK. Terminal construction in the U.S. will grow from $5 billion in 2015 to $5.9 billion in 2016, according to the American Road & Transportation Builders Association. Terminal work will reach $8 billion in five years.
New York's LaGuardia Airport has $4 billion of construction in the works. The domestic terminal at Atlanta's mammoth Hartsfield-Jackson is undergoing a $393 million modernization. Most of the nation's other major airport authorities also have expansion or modernization on their minds.
Self-service ticketing kiosks have already allowed airlines to reduce the number of ticketing agents and shrink ticket counters. "There may be a point where there are no ticket agents," Chicas says. Less space for ticketing opens up more areas for revenue-generating services, he says. Airlines might even locate their premium flyers clubs in those locations.
Security operations are a critical factor in today's terminal design. New technology could help alleviate this frustrating experience, but to have the biggest impact, airports have to revamp the whole security process, says Damon Brady, Division Leader for Intelligent Infrastructure at Leidos. "Infrastructure has been set up as a series of checkpoints—information display, ticketing, security, shopping, gate holding areas, boarding areas," he says.
TOP AIRPORT TERMINAL ENGINEERING AND E/A FIRMS

Rank, Firm, 2015 Revenue
1. Jacobs $138,770,000
2. Burns & McDonnell $71,332,857
3. WSP | Parsons Brinckerhoff $61,418,000
4. Arup $38,079,330
5. Ghafari Associates $22,500,000
6. Ross & Baruzzini $11,121,605
7. Walter P Moore $7,476,835
8. Woolpert $6,272,452
9. Jensen Hughes $6,023,819
10. Leidos $5,707,000
Each step adds time to the procession from front door to departure gate. Instead, passengers could use mobile technology to check in, obtain boarding passes, and print out baggage tickets themselves.
Airports in Europe and Asia have already revamped customs procedures for international arrivals. In the past, passengers presented their passports before getting their bags, then proceeded to another checkpoint with bags in tow. Now, it's a one-stop process: Passengers pick up their bags before queuing up at Customs. The new process does require larger pre-screening areas for passengers toting luggage, says Daniel Diez, RA, Senior Associate at contractor Heery International.
Some overseas airports have introduced pre-screening mobile apps that speed up the customs process. Passengers enter biographical and flight information that can be verified by computer before the plane lands. In the U.S., the TSA may follow suit, possibly for domestic flights as well, Diez says. These new technologies and procedures should improve passenger flow, but in the short term, the trend is toward larger security gate areas.
In Europe, there is a new approach to waiting areas near gates, says Fernando Gavarrete, AIA, Heery's Vice President and South Florida Area Manager. "It used to be that you would provide seating for 80% of people waiting at the gate," he says. "The trend in Europe is to only provide seats for a small percentage of the population, especially for the elderly and handicapped." Everyone else waits in restaurants or elsewhere in the concession area.
TOP AIRPORT TERMINAL CONSTRUCTION AND CM FIRMS

Rank, Firm, 2015 Revenue
1. Hensel Phelps $664,080,000
2. Turner Construction Co. $400,203,029
3. Austin Industries $341,922,742
4. Skanska USA $313,740,376
5. Walsh Group, The $283,239,511
6. Balfour Beatty US $140,722,239
7. Whiting-Turner Contracting Co., The $133,323,660
8. Manhattan Construction Group $129,346,000
9. Clark Group $126,144,654
10. McCarthy Holdings $125,989,779

 

AIRPORT GIANTS SPONSORED BY:
For this strategy to work, passengers must have real-time flight schedule information within eyesight to ensure they can make their flights. This may require more flight information screens, though many passengers are using their mobile electronic devices for status updates.
Airport operators want to get passengers through security and into the concession area as quickly as possible. "When passengers are more relaxed, they are more likely to shop," says Enrique Melendez, Leidos's Market Technology Leader. Every airport operator wants to boost revenue via more and better concessions.
With concessions essentially becoming gate holding areas, there is an opportunity for merchants to bring their products to the people, Brady says. Dynamic, personalized advertising can allow waiting passengers to order and pay for food or goods on their mobile devices, then dash into the store to pick up their orders—or even have them delivered to their seats. Retailers might even want to demonstrate products in front of waiting passengers. Plenty of space to accommodate such sales techniques, comfortable seating, and ample smartphone charging outlets will be needed to optimize this strategy.
The recent introduction of Airbus's giant A380 model, which holds up to 544 passengers, means gates have to be expanded to accommodate boarding and disembarking the megaplane. "When one comes in, 500 passengers are looking for a bathroom as soon as they get off the plane," says Gaverette. More and bigger bathrooms might be needed as more of these behemoths take to the skies.
The demand for design and construction services to provide additional capacity and modernize terminals bodes well for AEC firms working in the airport market. Those trends should result in several years of strong demand—a welcome change from the doldrums of the Great Recession.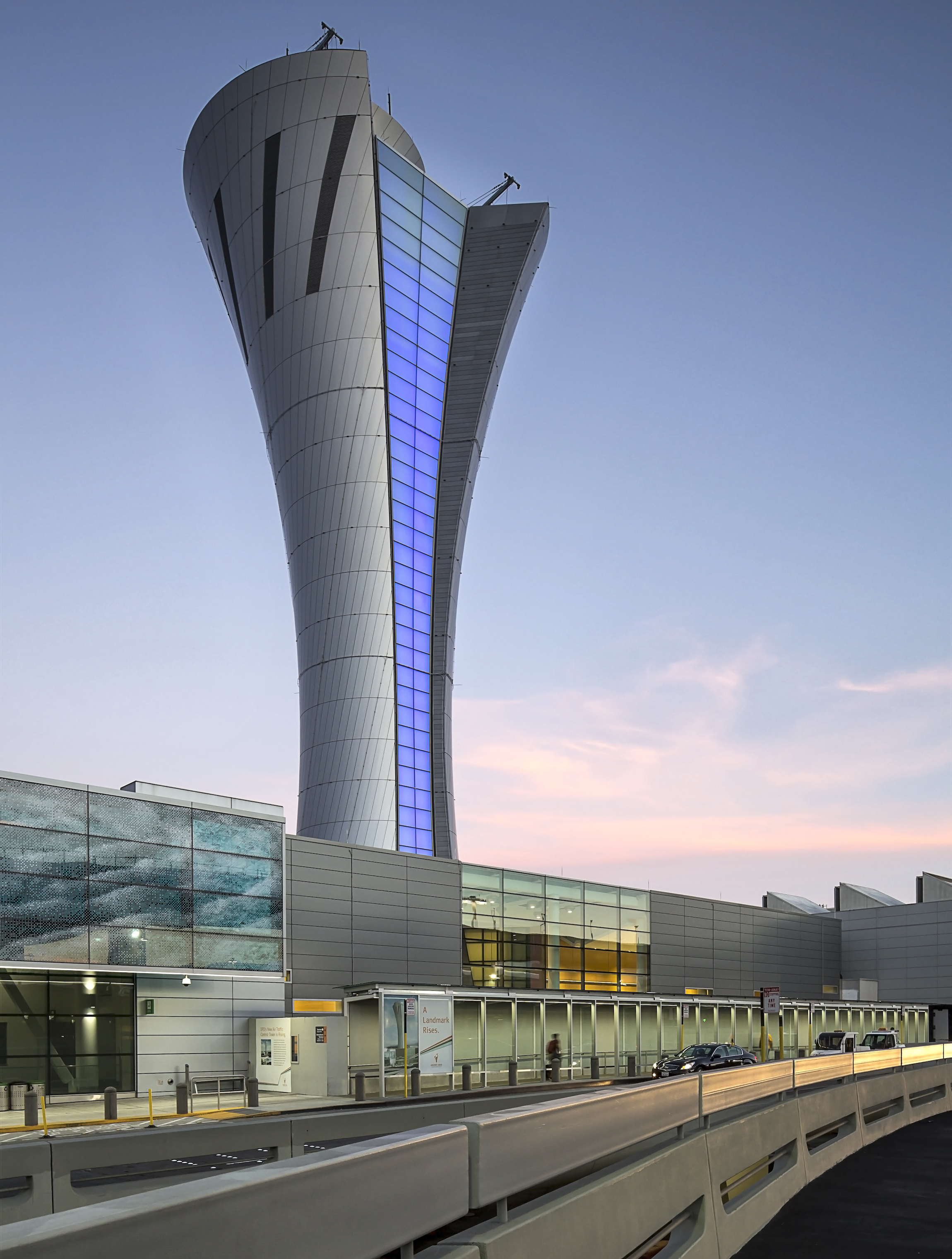 The new Air Traffic Control Tower at San Francisco International Airport was recently named the Grand Conceptor award winner by the American Council of Engineering Companies. The new tower, designed by Walter P Moore (SE) to withstand a magnitude 7.5 earthquake, replaced the 1960s-era tower that was temporarily knocked out of commission during the 1989 Loma Prieta earthquake. It will open in October. Photo: © John Swain Photography. Click to enlarge.