Later this month, Airborne San Diego, a 26,508-sf indoor skydiving facility, will open in this city's East Village near Petco Park stadium.
This is the first facility operated by Airborne America, a Coronado, Calif.-based business that started in 2013. Airborne San Diego will be going head-to-head with iFly, which started in 1998 and until now was the only manufacturer operating wall-to-wall vertical wind tunnels in the U.S. iFly debuted its facility in San Diego in February 2016, one of 11 it opened in the U.S. this year. iFly currently operates a total of 37 locations worldwide, 27 of them in the U.S., and continues to expand.
Airborne America claims that what sets its San Diego facility apart from its competitor is that it will be the first of its kind to offer side-by-side "flight chambers," glass tubes measuring 30-ft high by 14-ft in diameter, with wind tunnel speeds up to 200 miles per hour.
Having two tunnels allows for competition among patrons. And the facility will have a special training area set aside for military personnel where they can learn to free-fall before graduating to parachute jumps.
The wind speeds can be adjusted to accommodate the skill levels of individuals, and to compensate for variable body drag during advanced acrobatics. "By using a single, highly efficient wind tunnel fan instead of multiple smaller fans, wind noise is reduced, providing a quieter, more energy efficient flight environment," the company states.
The three-story Airborne San Diego also offers a sky lounge with three levels of viewing platforms, and will operate an onsite café and bar.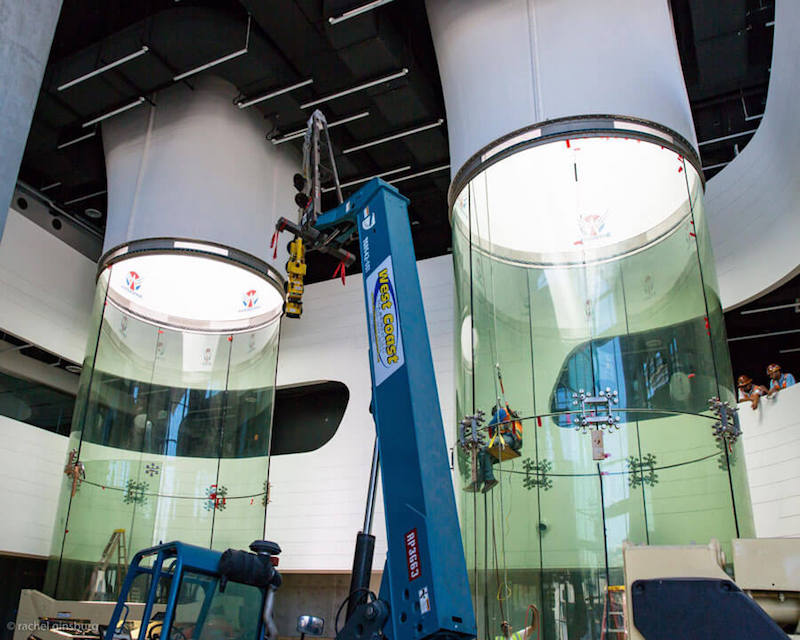 Airborne San Diego will be the first indoor skydiving venue to offer dual wind tunnels, each 30-ft high, with wind speeds up to 200 mph.  Image: IndoorSkydivingSource.com
Carrier Johnson + CULTURE, which is based in the city, designed Airborne San Diego, and Swinerton Builders was the GC. Aerolab was the wind-tunnel engineer. The website Indoor Skydiving Source reports that Airborne San Diego will be the first in the U.S. to use Tunnelinstructor.org's rating system to train its instructors.
Airborne San Diego's design strives to recreate the way skydivers maneuver their bodies as they soar, drift, and plummet through the air. "It's definitely based on the skydiving experience," says Claudia Escala, RA, LEED AP, a principal with Carrier Johnson + CULTURE, who with Ray Varela, a design principal with the firm, spoke with BD+C last Friday.
Varela adds that the building assumes an "urban attitude," with an internal courtyard that opens up to San Diego's cityscape.
Alan "Buzz" Fink, Airborne America's president and director, told the San Diego Union-Tribune that his company could open as many as 10 more facilities across the U.S. over the next five to seven years. (The construction cost of the San Diego facility was not made public.) Escala, who resides in the East Village, says that Fink—who also operates skydiving planes—was intimately involved in the design of the San Diego location, which she says "is a prototype for an urban setting."