The Gold Nugget Awards, known as the "Academy Awards" of residential development, are open to builders, developers, designers, and land planners with projects in the U.S. and around the world. From among the 45 projects that were honored at the Pacific Coast Builders Conference in June, we picked four outstanding Grand Award winners in affordable multifamily housing.
Social priorities shape workforce housing
Five88
>100 units/acre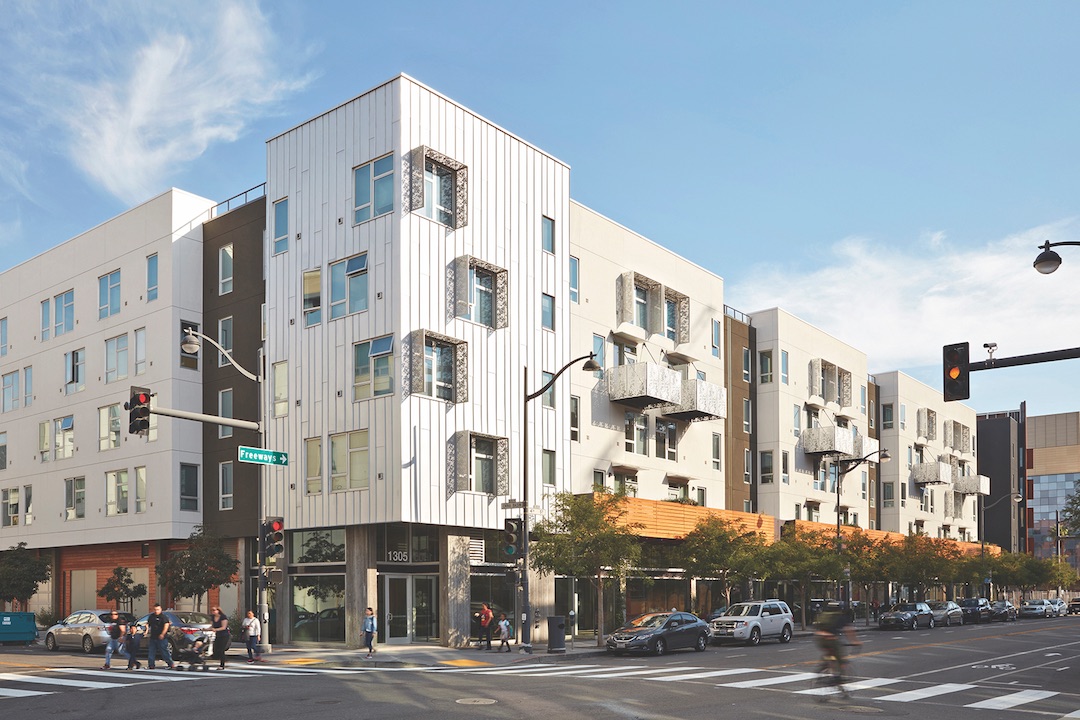 Mariko Reed.
FIVE88 gives priority for affordable workforce housing to residents who work at public education and healthcare institutions and applicants who live or work in San Francisco.  Located in a rapidly developing neighborhood near the new UCSF Medical Center, it is the largest 100% affordable development in the city in the last 10 years.
FIVE88 steps down from four stories at the west side of the block to three stories toward the east. It provides 200 apartments—72 one-bedroom residences ($1,090 to $1,320/month) and 128 two-bedroom flats ($1,299 to $1,576/month)—plus 10,079 sf in a retail arcade.
The building wraps around a large communal open space. A second-level courtyard sits atop an embedded garage on the west side and a ground-level courtyard on the east.
FIVE88 earned a Gold GreenPoint rating. Sustainable strategies include domestic solar hot-water panels and drought-tolerant landscaping. As a coastal landfill site, the project required extensive settlement strategies: surface pavers, foundation piles, and tilting stairs at stoops. The project is located along the Fourth Street bicycle route, so the designers set aside 200 secure bicycle parking spaces plus visitor bicycle parking.
PROJECT TEAM | FIVE88
OWNER Related California  NONPROFIT DEVELOPER Chinatown Community Development Center ARCHITECT/INTERIOR ARCHITECT David Baker Architects ASSOCIATE ARCHITECT G7A | Architecture + Urban Structural Engineer DCI+SDE Engineers  Ce  Freyer & Laureta MECHANICAL ENGINEER Tommy Siu and Associates  ELECTRICAL ENGINEER  Alfa Tech GEOTECHNICAL ENGINEER Rockridge Geotechnical  SUSTAINABILITY CONSULTANT Bright Green Strategies  LANDSCAPE ARCHITECT GLS Landscape | Architecture  CM Construction Resource Management GC Nibbi Brothers General Contractors
It's family living with a scenic falir
Hoa Mai gardens
60-100 units/acre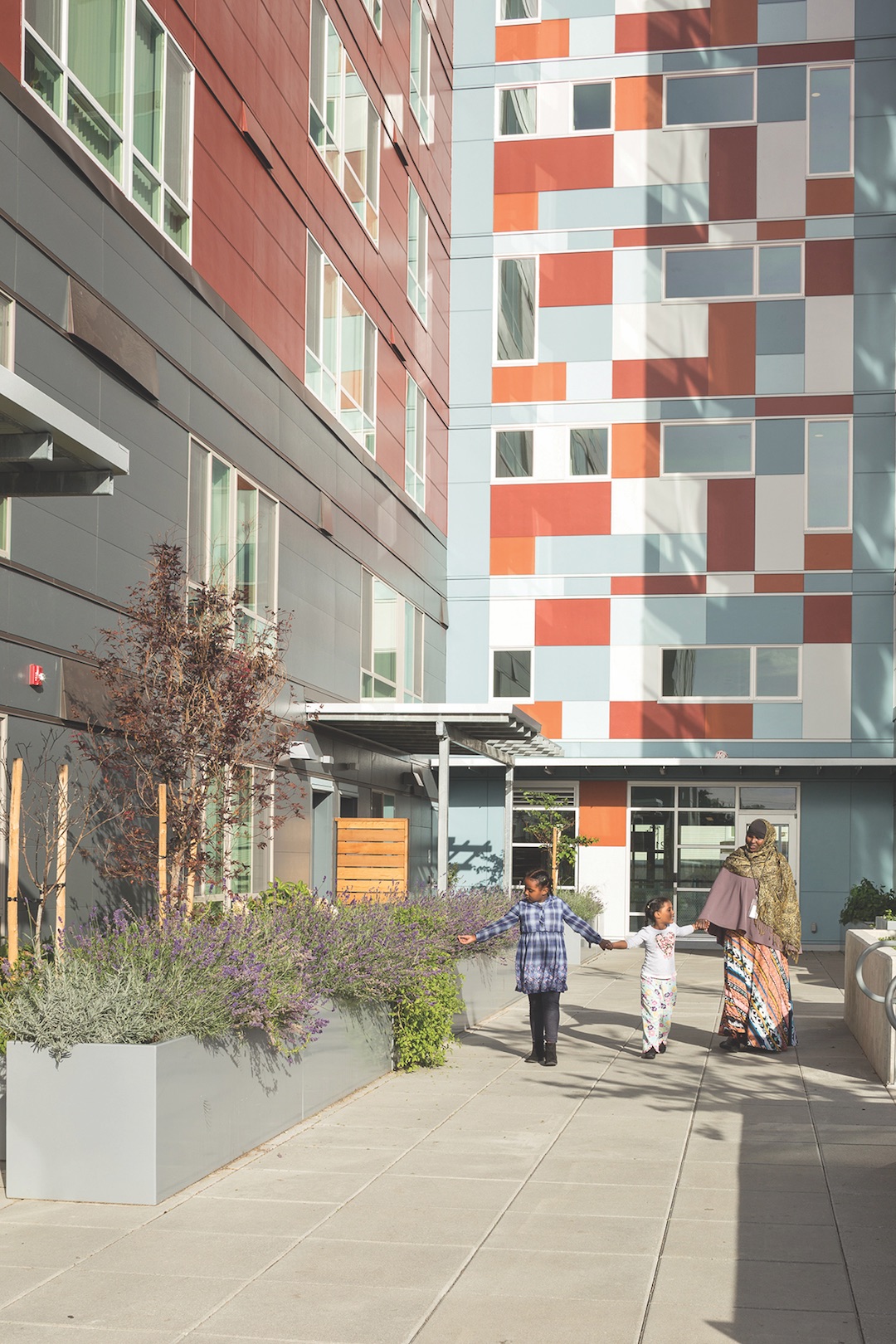 Photo: William Wright Photography.
Thanks to its L-shaped design, Hoa Mai Gardens offer its residents an impressive scenic lineup: Elliott Bay, the Cascade Mountains, and Mount Rainier. The 111-unit, family-oriented affordable housing complex is the third building in the redevelopment of Seattle's Yesler Terrace. The property is sited on a steep slope with a risk of landslide, necessitating extensive site stabilization.
The 146,425-sf complex has 51 one-bedroom, 43 two-bedroom, 12 three-bedroom, and five four-bedroom units. The four-bedroom townhome units provide enough space for multigenerational families. All residences are subject to LIHTC rental limits; 70 receive project-based Section 8 subsidy. Average rent: $445/month.
The community has plenty of family-friendly features: a library, units with in-home daycare capability, on-site social and youth services, a 4,014-sf courtyard, outdoor playgrounds, a green roof deck, gardens, and sewing classes.
Hoa Mai Gardens meets the state's Evergreen Sustainable Development Standard. Its building systems use no fossil fuels. Sustainability features include solar hot water preheat, rainwater harvesting (by Water Control Corp.), and graywater piping systems for toilet flushing. A pedestrian path on the west side connects the project to the Yesler Terrace neighborhood's network of walking/bicycling paths.
PROJECT TEAM | HOA MAI GARDENS
DEVELOPER Seattle Housing Authority  ARCHITECT SMR Architects  SE/CE Coughlin Porter Lundeen  GEOTECHNICAL  GeoEngineers Inc. DEVELOPMENT ENGINEER MIG|SvR BUILDING ENVELOPE JRS Engineering  MECHANICAL DESIGN-BUILD CONTRACTOR Auburn Mechanical ELECTRICAL DESIGN-BUILD CONTRACTOR Valley Electric MEP DESIGN-ASSIST/ENERGY MODELING/COMMISSIONING Glumac SUSTAINABILITY CONSULTANT O'Brien & Co.  ENVIRONMENTAL CONSULTANT Soundearth Strategies  ACCESSIBILITY CONSULTANT Karen Braitmayer, FAIA  ACOUSTICS SSA Acoustics PERMITS Permit Consultants NW  LANDSCAPE ARCHITECT  Fazio Associates  GC Andersen Construction
Safe harbor for homeless veterans and families
Anchor Place
30-60 units/acre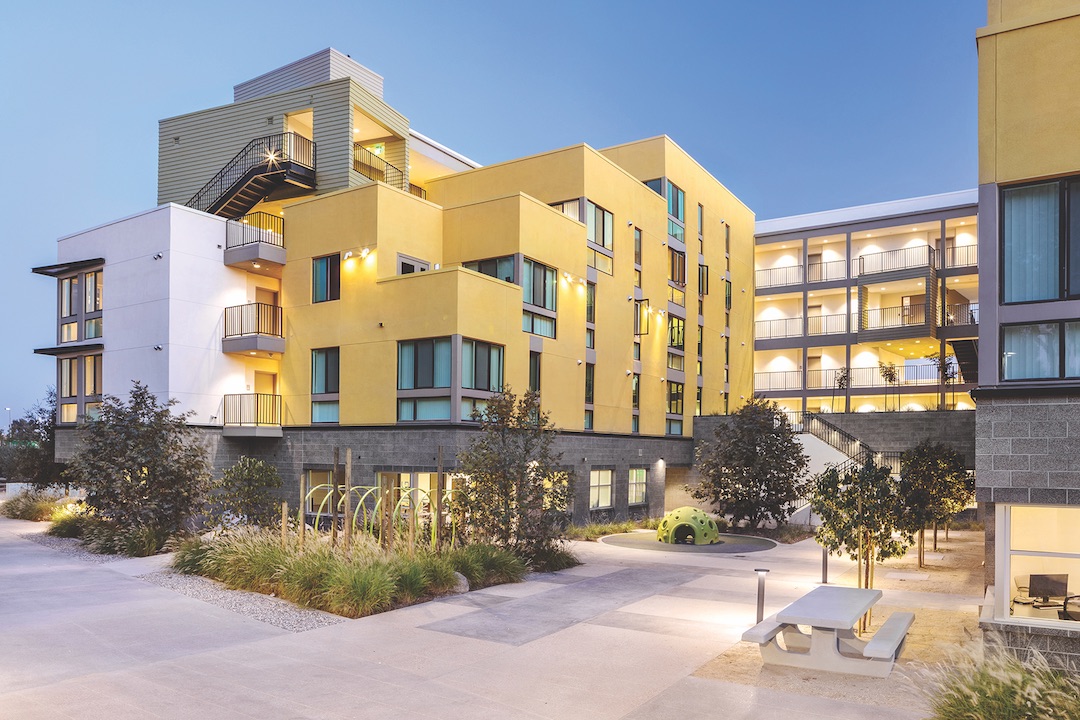 Photo: Panic Studio LA.
Anchor Place provides affordable housing for homeless veterans and families. Built as the second phase of the Century Villages at Cabrillo, a 27-acre campus on the site of the decommissioned Long Beach (Calif.) Naval Station, the 120-unit community has 75 apartments set aside for homeless vets and 18 units for homeless families and individuals earning 30-60% of AMI. Rents range from $507 to $845/month for the 95 one-bedroom units; $608 to $1,216 for the 20 two-bedroom units; and $703 to $1,406 for the five three-bedroom residences.
The community has social services offices, a fitness room, laundry rooms, a bike center, a yoga/dance studio, a two-story community room, and a game room. Outdoors, there's a community garden and three courtyards: one for kids, one for solitude, one for  socializing.
In total, the project offers 10,000 sf of community space. It achieved LEED for Homes Platinum status.
PROJECT TEAM | ANCHOR PLACE
OWNER Century Affordable Development, Inc. ARCHITECT The Architects Collective INTERIOR DESIGNER Collaborative House SE David Choy & Associates CE KPFF Consulting Engineers MECHANICAL/ELECTRICAl engineer S.Y. Lee Associates SUSTAINABILITY CONSULTANT Global Green LANDSCAPE ARCHITECT RELM CM Primus GC Walton Construction Services
Multigenerational living 'reimagines' vacant church site
Wesley village
<30 units/acre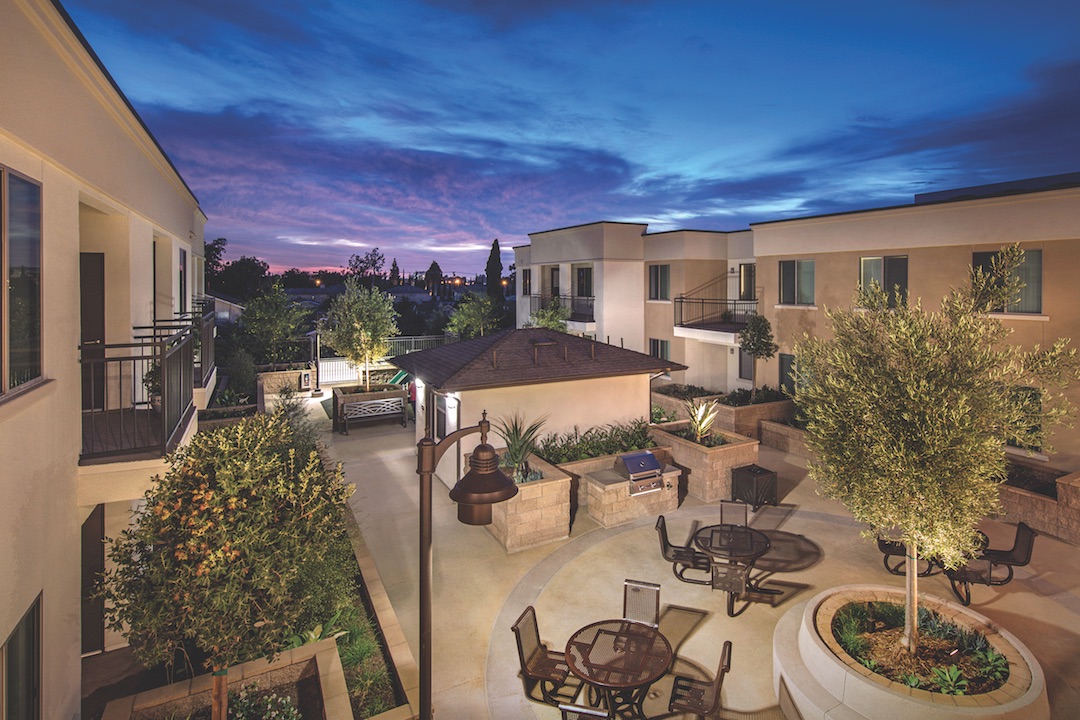 Photo: Juan Tallo.
Wesley Village, a mixed-use community in Orange County, Calif., features multigenerational housing for families and seniors. The community was built in partnership with the 141-year-old Garden Grove United Methodist Church, the city of Garden Grove, and nonprofit developer Jamboree on the site of a vacant parking lot and unused church land. Wesley Village provides affordable housing for 47 families and seniors, along with 10,000 sf of active open space.
The complex, part of the city's Re:Imagine Garden Grove program, is formed by two three-story residential buildings—one for seniors (16 units), one for working families (31 units)—and a third building that houses a Head Start learning center, a Boys and Girls Club, an Alzheimer's care service, the Lestonnac Free Clinic, Project Hope Alliance, and other free educational, health, and wellness services.
A community recreation center has offices, a health clinic, a computer center, a library, and multipurpose rooms. The complex has 20 one-bedroom (813 sf), 11 two-bedroom (885-932 sf), and 15 three-bedroom units (1,126 sf). Wesley Village achieved Gold certification under LEED for Homes. 
PROJECT TEAM | WESLEY VILLAGE
DEVELOPER Jamboree ARCHITECT/LAND PLANNER  Newman Garrison + Partners  INTERIOR DESIGN Collaborative House Structural engineer Wright Engineers  MECHANICAL/PLUMBING ENGINEER TAD  ELECTRICAL Candela  LANDSCAPE ARCHITECT Site Design Studio  GC Quality Development and Construction