The 118,000-sf Seaholm Power Plant, an Art Deco industrial facility originally designed by Burns & McDonnell, provided power to Austin, Texas, from 1951 to 1989. It served as a training center through 1996, when it was shuttered. In 2005, Austin's city council selected Seaholm Power LLC—a joint venture with four principal investors—to restore the site.
The power plant was on the National Register of Historic Places and is a Recorded Texas Historic Landmark. Its redevelopment marked the first time that Austin had made preservation of a historical landmark a significant objective. The city worked closely with the developers over a three-year span to formulate a master development agreement.
What emerged from those talks was an adaptive reuse of the plant as part of a 7.8-acre neighborhood development.
The plant was converted to four floors of office space for its main tenant, the healthcare tech company athenahealth, and software subtenants Patient IO, Umbel Corp, Able Lending, and Vox Media.
A two-story contemporary glass-and-steel building offers 68,000 sf of mixed-use space for retail (including a 33,000-sf Trader Joe's grocery) and offices (including MapMyFitness, a subsidiary of Under Armour).
The neighborhood also encompasses a 30-story, 615,000-sf high-rise with 280 luxury condominiums over a 7,000-sf True Food Kitchen. The high-rise was completed this past June, but all the condo units had been reserved by November 2013. The decision to change the residential tower from apartments to condos added $8 million to the budget.
A one-acre public plaza adds vitality to the development.
The project had its share of obstacles to overcome, chief of which was a nine-year, $13 million cleanup of hazardous materials. Seaholm was the first facility in the nation to receive a Ready for Reuse designation from the U.S. EPA and the Texas Commission on Environment Quality under the federal Toxic Substance Control Act.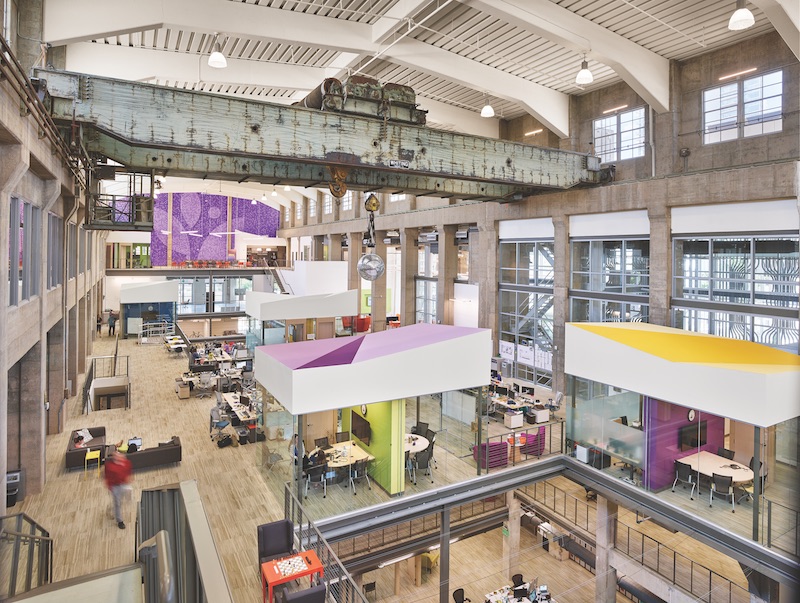 Courtesy of Casey Dunn Photography.
powering up the ENERGY savings in Austin
By updating the walls and glazing, the renovated power plant was made 24.3% more energy efficient. Underground parking minimized heat island effect and helped reduce the energy use in the low-rise building by nearly 30%. Ninety-six percent of construction waste from the power plant and 74% from the high-rise were diverted from landfill.
Rainwater is harvested from all three buildings into storage tanks with a 325,000-gallon capacity; it is used to irrigate the entire site and surrounding streetscape vegetation. 
STG Design (architect) retained much of the character of the historic building and its extensive industrial elements, notably a massive gantry and a series of pipes bent into unique patterns that frame the turbine hall windows. Floor openings were enlarged in the hall to let more light into the power plant.
"This project was successful due to the owner's persistent vision to maintain the historic integrity and bring vitality and function to a grand Austin icon," said Emily Little, FAIA, a Principal and historic preservation architect with Clayton & Little Architects, Austin.
Reconstruction Awards judge Krista Gnatt, LEED AP, with Western Specialty Contractors, said, "Converting a massive, abandoned, energy-hungry, historic masonry facility to a vibrant, sustainable community space shows extreme ingenuity."
On September 15, Seaholm Power LLC and CIM Group, a Los Angeles–based investor that joined the project as a co-developer, announced that they had sold the mixed-use development, excluding the residence tower. (They did not disclose the buyer or purchase price.) That transaction repaid 100% of the eligible incentives the city provided to make the project happen.
PROJECT SUMMARY 
Gold Award Winner
Seaholm Power Plant Redevelopment | Austin, Texas
Building Team: STG Design (submitting firm, consulting architect); Seaholm Power LLC (owner); Charles Rose Architects (design architect); Structures + Haynes Whaley (SE); Bay and Associates (MEP); Capital Project Management (CM); Flintco (GC).
Details: 800,000 sf. Construction cost: Confidential. Construction time: April 2013 to June 2016. Delivery method: Negotiated bid.