1. Domino sugar factory remake gets its first occupants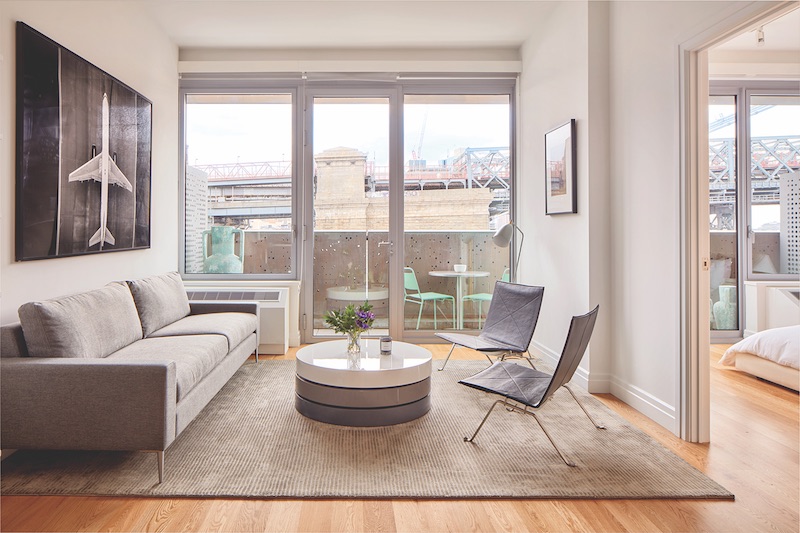 The 16-story, 800,000-sf 325 Kent building is the first structure to open at the $3 billion, 11-acre Domino Sugar Factory redevelopment on the waterfront in Brooklyn, N.Y. Designed by SHoP Architects for owner/developer Two Trees Management, the dramatically shaped edifice brings much-needed rental housing to booming Brooklyn. One-fifth of the 522 units have been set aside for low-income residents. (Two Trees received more than 87,000 applications for the 104 affordable units.) The building's doughnut-shaped west façade is formed by a three-story amenities structure that spans the two apartment towers at the top levels. On the east façade, the residential floors step up in terraces to connect the existing neighborhood with the taller Domino buildings. Studio, one-bedroom, two-bedroom, and one-bedroom with home office rentals are available, starting at $2,495/month.
See Also: 6 noteworthy projects: Transit-oriented rental community, micro-unit residences, and an office tower becomes a mixed-use community
2. 12-story tower addresses needs of San Diego's homeless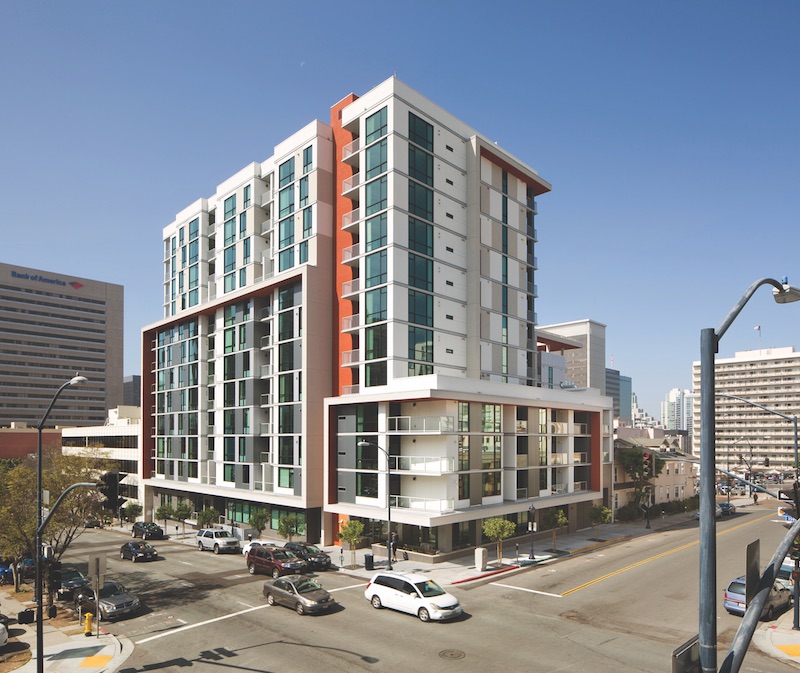 San Diego County has more than 9,000 homeless persons. "Atmosphere," a new 12-story edifice with 205 one-, two-, and three-bedroom residences, provides 51 permanent supportive apartments for the formerly homeless, including those with mental disabilities. Through the Housing First model, Atmosphere also provides social support service to these residents. Subsidized rents in the $79.3 million project range from $525 to $1,250/month. Joseph Wong Design Associates was the architect and Suffolk Construction the GC for developer Wakeland Housing and Development Corporation.
3.Co-living operator 'common' opens its second D.C. location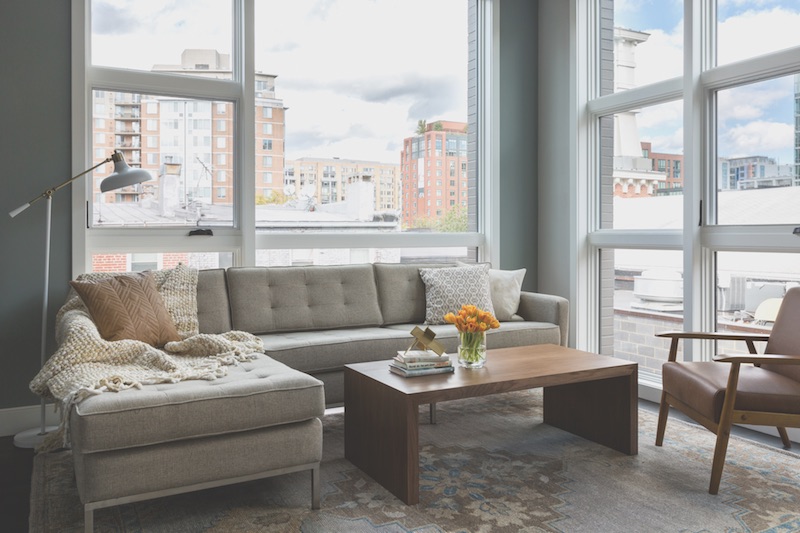 Developer and operator Common sees opportunity for growth in co-living projects. Common Bowman is its latest location, and its second in Washington, D.C. The 8,300-sf home, located in Chinatown, includes 14 fully furnished bedrooms across four suites. Residents (called "members") share furnished living rooms, en suite balconies, and a roof deck with views of the city. Member benefits: weekly room cleaning, shared supplies, WiFi, heating/AC, on-site laundry, and access to Common's networking events. The developer now has 14 locations across Chicago, New York, Oakland, San Francisco, and Washington, D.C.
4. Rental multiplex adds 201 subsidized units in Las vegas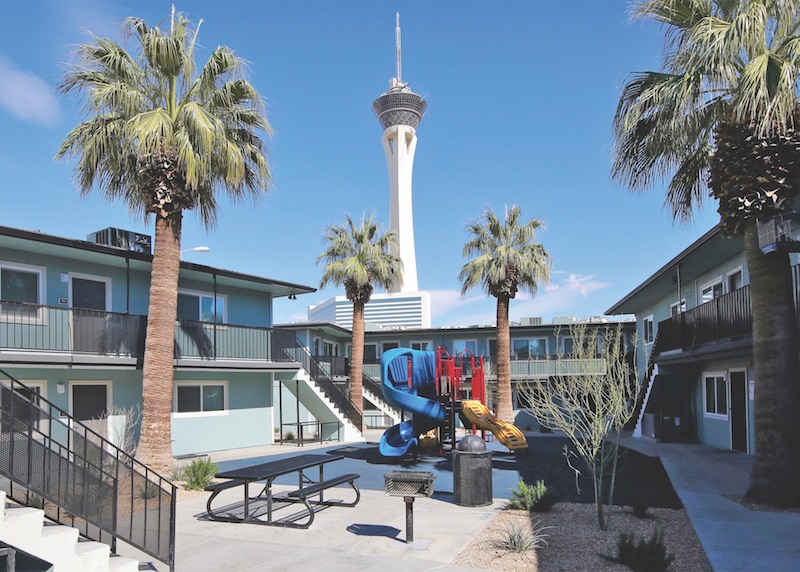 Twenty-one buildings constructed between 1958 and 1960 have been rehabilitated into 201 subsidized apartments in Las Vegas. Families earning up to 60% of area median income were eligible to receive Section 8 rental assistance in the new complex, known as Baltimore Gardens and Cleveland Gardens. Community Development Partners pulled together $21 million in financing from tax-exempt state bonds, HOME funds, and equity from the sale of 4% Low Income Housing Tax Credits. The project team: Integrated Design & Architecture (architect), Cornerstone Residential (property manager), and Precision General Contractors (GC).
5. L.A. Development caters to two neighborhoods with a single structure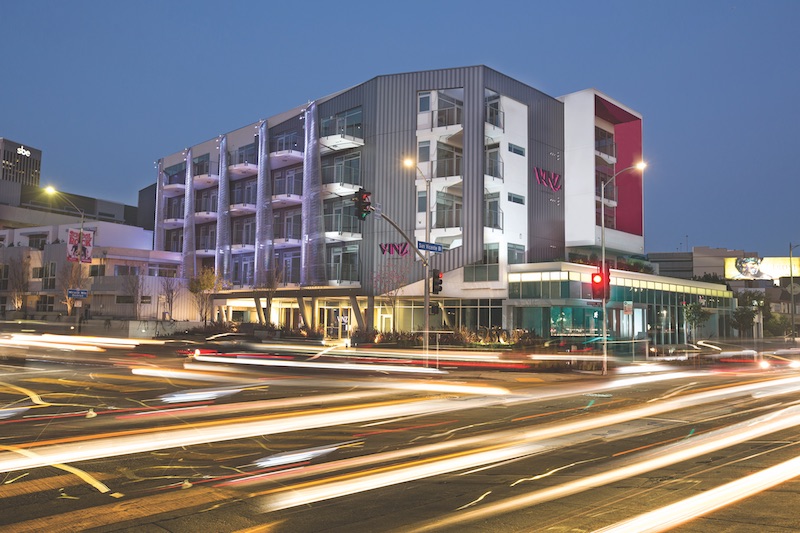 Situated at the crossroads of two distinct neighborhoods in Mid-City Los Angeles—Fairfax, a busy commercial thoroughfare, and Orange Grove, a quiet residential street—the five-story VINZ on Fairfax mixed-use development appears as two separate buildings, each matching the scale and vibe of its adjacent neighborhood. Shimmering silver screens highlight a more vibrant, emotional aesthetic along Fairfax Avenue, while a muted design styling makes up the Orange Grove exterior. Developer Alliance Residential Company brought 144 rental units and 4,280 sf of commercial retail and amenities spaces to Mid-City. Available units start at $2,950/month: studios, one/two bedroom rentals, three-story townhomes, and penthouses with private elevator access. Amenities: zero-edge pool, outdoor cooking area, fitness center, outdoor movie screen, and electric-car charging stations. Cuningham Group was design architect; Gensler did the interiors.
Photos: Adrian Gault