Last year, for the first time, Americans spent more on dining out than on groceries. Through March of this year, sales at restaurants and bars totaled $157.5 billion, compared to $151.8 billion at grocery stores, according to the U.S. Commerce Department.
This shift in spending has taken on enormous significance for the U.S. design and construction industry. "Food has become a major solution for saving brick-and-mortar retail," stated CallisonRTKL, in its recent "Mall of the Future" white paper.
Lifestyle centers were the first retail development model to emphasize dining as a magnet for shoppers. And as the "foodie" generation seeks out new culinary experiences, restaurants are pivotal to the success of the 445 lifestyle centers that, according to the International Council of Shopping Centers, have sprung up across the country.
20,000 LEEKS UNDER THE SEA

This August, a submerged underwater restaurant will open near a coral reef in the Maldives. Senior Editor John Caulfield has more details.
Liberty Center, a $350 million, 1.2 million-sf lifestyle center that opened near Cincinnati last October, will eventually offer 21 restaurants. The 600,000-sf Hill Center Brentwood, a lifestyle center situated between Nashville and Franklin, Tenn., is scheduled to open this fall with at least three standalone restaurants: the 8,000-sf Mexican casual Uncle Julio's, the 3,500-sf Nami Sushi bar, and the 2,800-sf fast-casual YEAH! Burger.
Tom Rogers, Director of Community and Economic Development for Mill Creek, Wash. (2015 population: 19,760 est.), says the tenant base in the city's "town center" has changed dramatically since its opening in 2004. "Our original vision as mostly high-end retail boutiques has evolved to become more service oriented, like chiropractors and restaurants—things you can't buy on the Internet." The 500,000-sf town center, about 20 miles north of Seattle up Interstate 5, now hosts 15 sit-down restaurants and another eight food and beverage shops with seating.
"Restaurants bring an energy to town centers that not all retail can," says Beau Arnason, EVP/Asset Manager for developer Steiner + Associates, whose six town centers include Liberty Center.
The following trends show the central role that restaurants—at 14.4 million, the nation's second-largest employer, according to the National Restaurant Association—play in the future of brick-and-mortar retail, and in customers' lifestyles.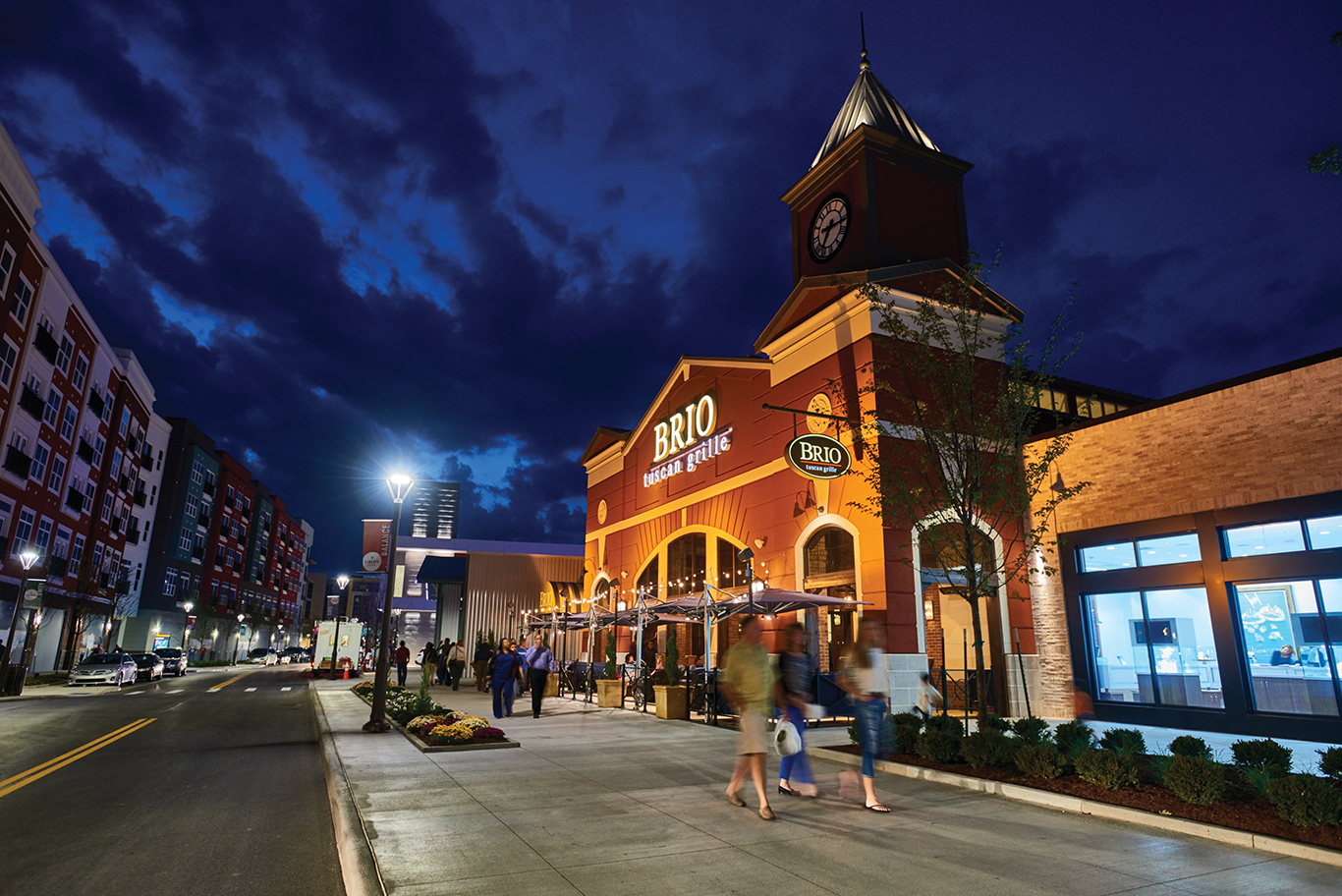 When the developer Steiner + Associates opened a freestanding Brio Tuscan Grille at its Easton Town Center in Columbus, Ohio, too many shoppers passed it by. So the Brio at Steiner's Liberty Center near Cincinnati (pictured) is flanked by two smaller retailers. It also has a front and back patio. Photo: Todd Joyce for Liberty Center. Click to enlarge.
1. Lifestyle center developers are encouraging restaurant tenants to make a bold statement and attract shoppers to their retail stores.
Lifestyle centers set out to create walkable mini-communities with distinct, often nostalgic, architectural styles from which their developers usually don't permit much deviation. Chain operators and drive-throughs are prohibited at Mill Creek.
Hill Center Brentwood's developer, H.G. Hill, is "very strict" about maintaining the look of the neighborhood, says Matt Nicholson, Business Development Manager in Turner Construction's Nashville office. Turner was the contractor on the project.
But lifestyle center developers are open to new realities, which may explain why Hill Center Brentwood's design includes more glass for daylighting than is typical for such projects, says Nicholson.
Mark Eclipse, AIA, LEED AP, Principal with Prellwitz Chilinski Associates, says PCA's recent experiences designing lifestyle centers have found "developers really want the restaurants to stand out." At the 475,000-sf Marketplace lifestyle center in Lynnfield, Mass., restaurant tenants must offer outdoor seating. So PCA's design included canopies over the seating areas.
Lifestyle center developers are a bit more flexible when it comes to design parameters for restaurant interiors. Gensler's Washington, D.C., office is working with a client whose restaurant will anchor a lifestyle center. "The developer is doing backflips to accommodate the chef," says Kimoy Lallement, AIA, LEED AP, Gensler's Design Manager.
The design originally called for a quarter of the space to be outdoors. No, no, said the chef, it must be completely enclosed, but with more windows. The changes are being made, because the developer is convinced the restaurant will attract shoppers to the center.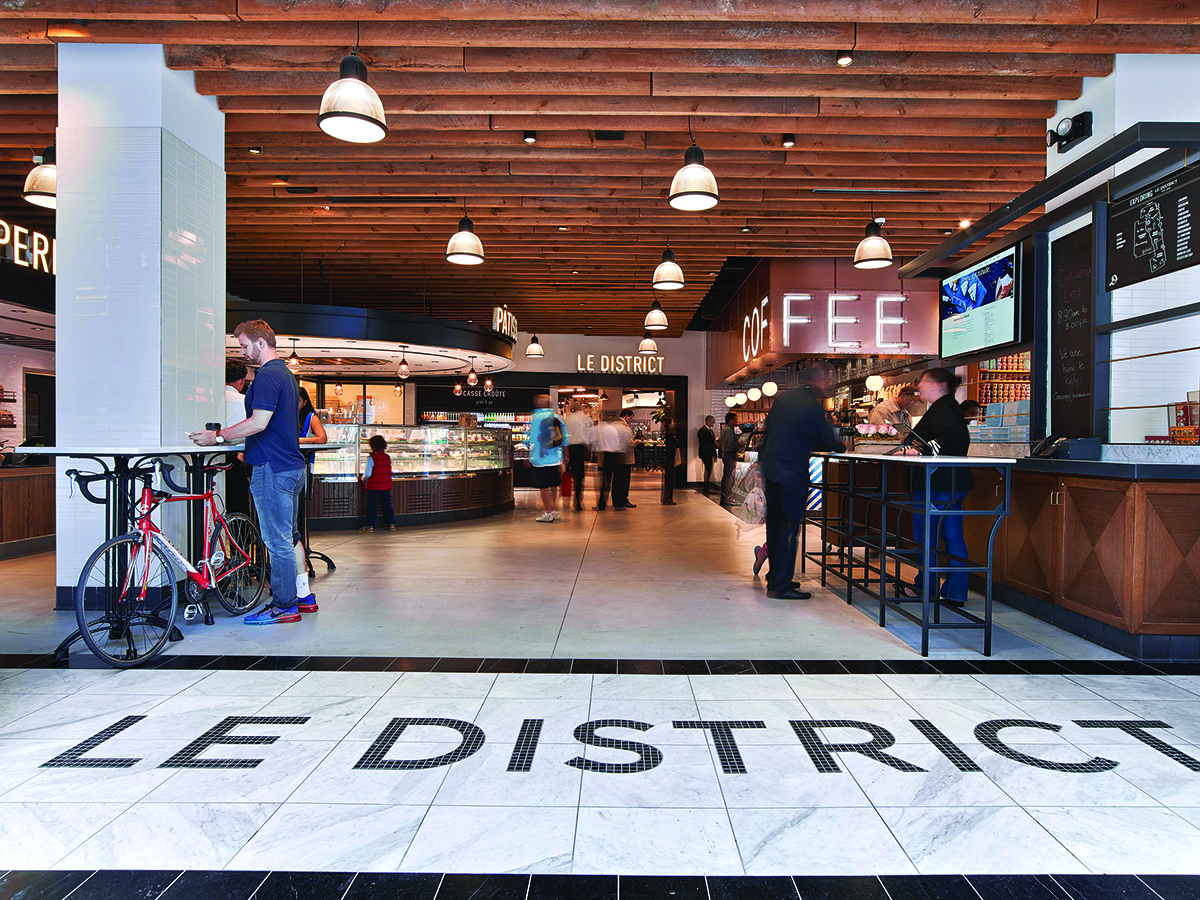 Food halls such as LeDistrict in New York City have become very popular with diners and vendors alike. This HPH Hospitality-operated, iCrave-designed hall includes 13 culinary stations and 500 seats. Photo: Eric Laignel for iCrave. Click to enlarge.
2. Chefs and owners are taking the lead in design.
Chefs and owners are getting more and more involved in the design process. "Customer expectations are so much higher," says Rick McCormack, President of design firm Studio McCormack, Costa Mesa, Calif. "That's caused us to raise our game."
Mariela Alvarez, a designer with the New York firm iCrave, suggests that "many of them feel that if they don't design the restaurant, it's not theirs."
BRANCHING OUT IN RESTAURANT STYLING

The food court is no longer the only dining option for outlet shoppers. "Today, outlet centers offer many more alternatives for dining, including sit-down restaurants that serve high-quality food," Andrew Schulman, SVP of Leasing for North America with McArthurGlen Group, an outlet mall developer, told rebusinessonline.com.

In Torrance, Calif., the recently renovated and expanded Del Amo Fashion Center added four semi-detached restaurant pads. Tenants include Frida, an 8,800-sf Mexican restaurant whose colorful concept was devised by chef Vicente Del Rio, Founder of Frimax Hospitality Group. Charlie Dusenberry, CEO and President of ICS Restaurant Builders, the GC on this project, says Frida provides power stations for recharging mobile devices at each of its booths and along its bar. A 68-foot-long sliding glass door opens onto the patio. ICS will install a rollback roof this summer.
For the 30,290-sf Le District food market, which opened in March 2015, Alvarez recalls having several meetings with the owner (HPH Restaurant Group), the chef, and the director of operations devoted entirely to picking materials.
Chef/owner involvement can be a double-edged sword for Building Teams. "Experienced owners know the customers they are targeting, and can provide us with a lot of input," says Gregory Gatserelia, Partner, Gatserelia Design, Beirut, Lebanon. (His latest work includes the Art Deco–style, 1,000-sm Play Restaurant & Lounge that opened recently in Dubai.) "I don't believe in design for design's sake," he says.
In Lebanon, he notes, diners "like to see and be seen"; the "arrival experience" is salient to a restaurant's design. In Europe, restaurants are seen as "cozier," more intimate spaces: everything, but especially the acoustics, must be fine-tuned for privacy and discretion.
McCormack, a former VP-Design for the Cheesecake Factory, does a lot of work with multiunit restaurant operators like Matchbox and Wood Ranch. He says such clients have a hard time adapting their design and branding concepts for different markets and demographics. "Our clients are focusing on materials, colors, and finishes, and we're encouraging them to go farther."
Working with chefs who have a strong vision is "a plus," says PCA's Eclipse, whose firm has had long-term relationships with restaurant owners like Legal Seafoods. PCA's job, he says, is to help clients realize their vision, even when it is not entirely clear what that vision might be.
That job sometimes entails reining in a client whose vision has outdistanced the budget. Forté Specialty Contractors' CEO Scott Acton singles out his work on SushiSamba, a Brazilian/Japanese/Peruvian fusion restaurant in the Venetian hotel, in Las Vegas. The designer, iCrave, hired Forté to fabricate and install a series of red ribbons throughout the dining room spaces. Forté reduced the cost by $170,000 by recreating the ribbons with plastic bands that the contractor hung from wires in its shop while it attached urethane side walls and cast glass fiber reinforced gypsum in place to create different shapes for subsequent installation.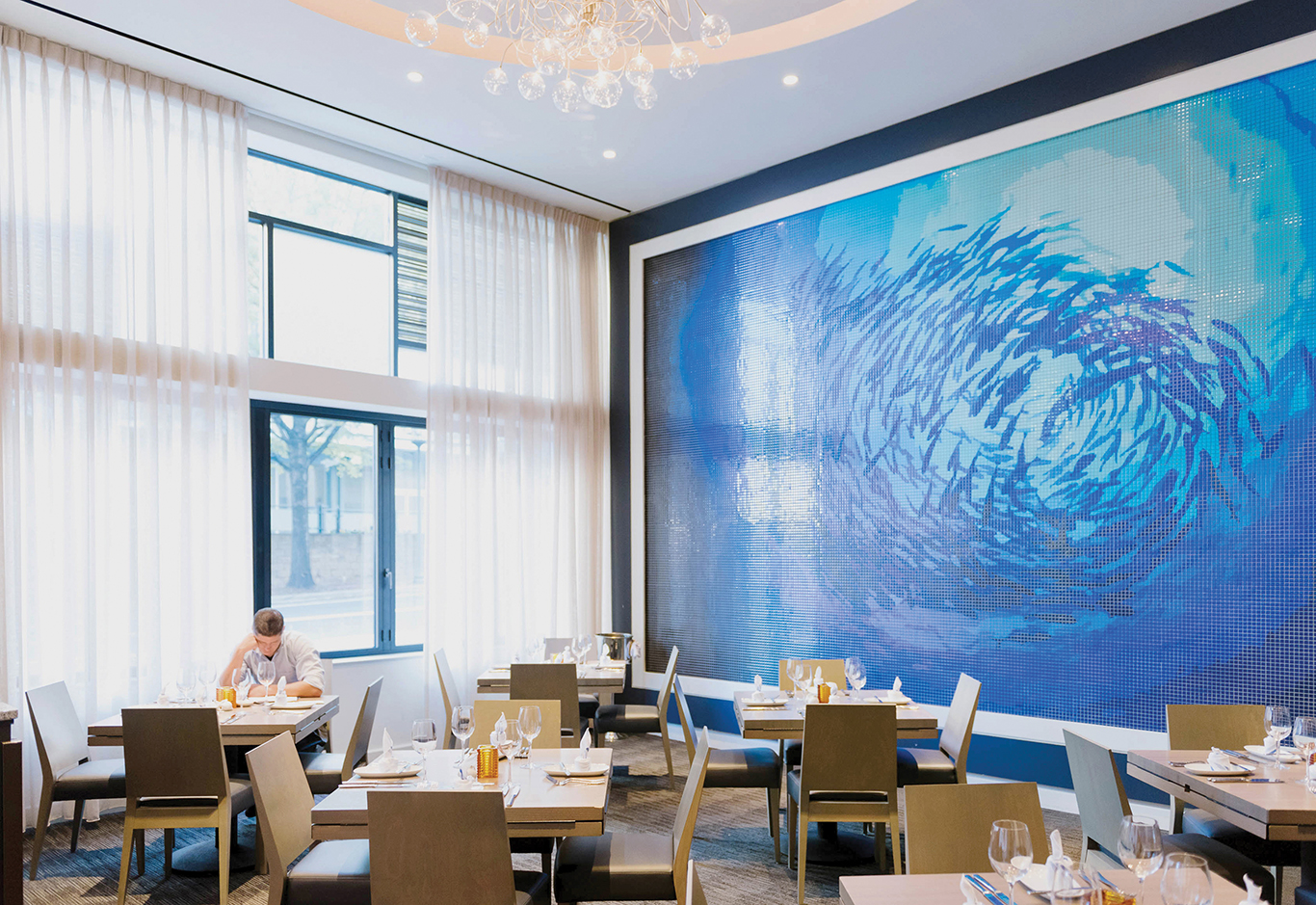 PassionFish Bethesda in Maryland, a 10,000-sf seafood restaurant that opened last September, is divided into several dining areas, one of which is dominated by a mural of swirling fish. The Building Team included Gensler (interior design), Face Consultants (MEP) Rathgeber Goss Associates (SE), Potomac Construction Services (GC), Lighting Workshop (lighting consultant), and SK&I (base building architect). Photo: Kate Warren. Click to enlarge.
3. A more "democratic" market should not mean a downgrade in quality.
Last fall, the National Restaurant Association polled 1,575 members of the American Culinary Institute. The second most-cited trend, behind "locally sourced meats and seafoods," was "chef-driven fast-casual concepts."
Chefs are extending their brands down market to meet the growing demand of Americans to eat out. Alvarez notes that food, in general, is "becoming democratized." And there are "a lot of customers out there who can't afford to go to high-end restaurants," adds Charlie Dusenberry, CEO/President of ICS Restaurant Builders, a GC in Fallbrook, Calif.
Gatserelia notes that Alain Ducasse—who currently holds 21 Michelin stars, and whose restaurants are among the priciest on the planet—recently opened a restaurant in Paris that has helmet racks in the booths because so many patrons arrive by motorcycle or bicycle.
This does not mean that targeting a wider patron base must mean sacrificing quality in the dining experience. As the website FastCasual.com recently posted, when it comes to restaurant design:
Don't ignore the experience.
Don't assume cuisine or healthfulness can replace culture.
Don't focus on the template; find your differentiator—in other words, no cookie-cutter designs, please.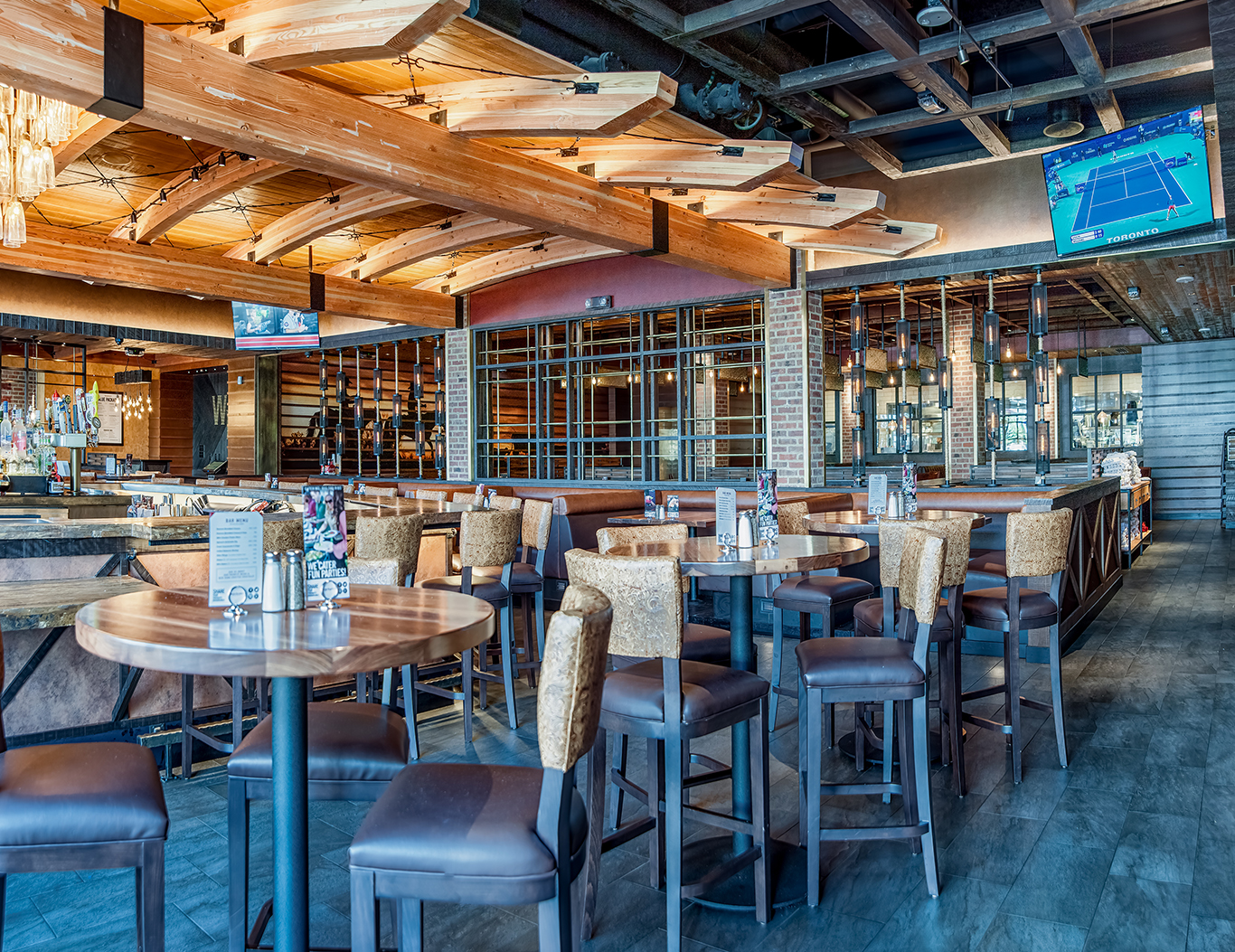 Multiunit operators like Wood Ranch BBQ & Grill (pictured) must balance their brand image with customers' expectations for something new. Courtesy Studio McCormack. Click to enlarge.
4. Technology is elevating the dining experience.
Restaurant developers, restaurateurs, and their Building Teams are relying on technology more than ever to create new experiences for diners.
Lighting has rarely been as crucial to restaurant design as it is today. "Lighting sets the tone," says iCrave's Alvarez. Her in-house team worked with lighting supplier Cerno on the design of the 11,400-sf, 350-seat Ocean Prime Beverly Hills, which opened in 2014, and on the 275-seat Ocean Prime New York, which opened last year.
Gensler's Lallement is working with a lighting designer who is proposing to connect Ketra-brand LED lamps to a touchpad. This would allow the restaurant staff to "curate" the lighting for different times of the day and night, all but eliminating the need for a conventional dimming system. Two other sources for this article also pointed approvingly to the Ketra lighting system.
Carbone, a 10,000-sf Italian restaurant, opened last October in the Aria casino-hotel complex in Las Vegas. The client originally wanted its main dining area to include a chandelier suspended from a dome with acoustical panels and gold leafing. But to achieve the desired sound transmission class rating, Forté, the project GC, lined the dome with a perforated stretch ceiling material (Barrisol), which helped prevent diners from hearing each others' conversations and maintained the dome's intended shimmer.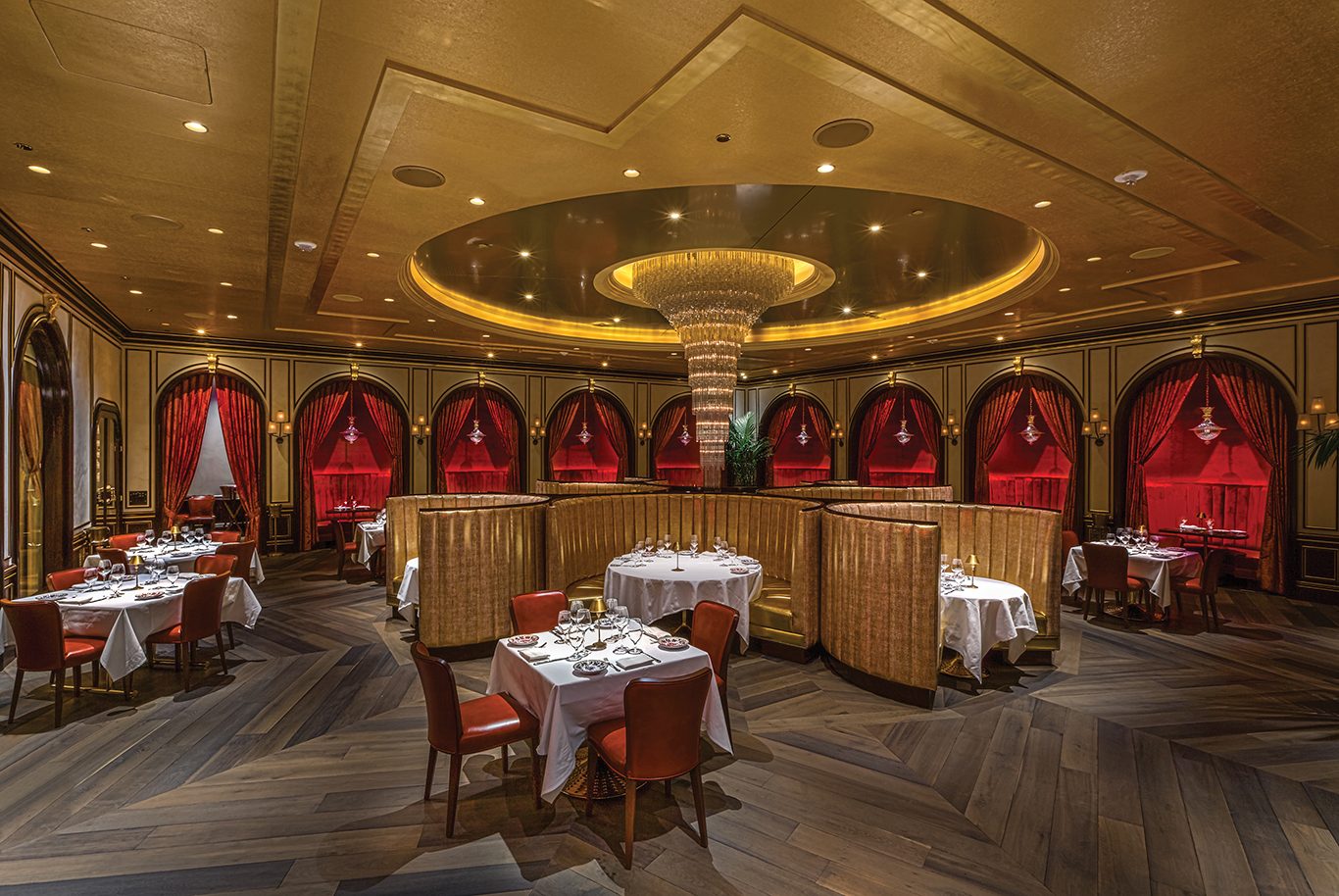 A spaceship-like Italian chandelier hovers over the dining area in Carbone restaurant in Las Vegas. Bergman Walls & Associates was the architect, Ken Fulk the designer, Forte Specialty Contractors the GC. Photo: Forté Specialty Contractors. Click to enlarge.
5. Artwork can enhance the element of surprise.
While dining out might not be the special occasion it once was, people "still want to be wowed when they eat out," says Alvarez. So, restaurateurs are incorporating more art into their venues to meet the expectations of their patrons, particularly Millennials.
Charles Doell, who owns Mister Important Design, a design boutique in Oakland, has been hiring well-known street artists to develop murals for its restaurant clients. These include the Australian artist Tyrone Wright (aka Rone); Ben Watts, a English fashion photographer known for his gritty New York street-life images; Marco Battiglini, an Italian specializing in hip-hop versions of classical paintings; and the Australian graffiti artist Hush, whose work has an Asian inflection (he was once a toy designer in Japan).
The inclusion of art adds to a restaurant's sense of place and authenticity. McCormack points to Tap, a 9,500-sf bar and restaurant he designed for the MGM Grand casino, in Detroit, into which he sprinkled local memorabilia that his firm purchased from an old pub owner who had collected and kept this stuff for decades. McCormack thinks this concept could be adapted for other markets.
Art and bold colors can sometimes present design dilemmas. Lallement says Gensler is working with a restaurateur who favors "whimsical" art, "like a six-foot rooster." So Gensler "creates a neutral canvas that can be an elegant backdrop to the art," she says.
MEET OUR EXPERTS
The editors wish to thank the following technical advisors for their help with this report:
Scott Acton, CEO
Forté Specialty Contractors
Las Vegas, Nev.
Mariela Alvarez, Designer
iCrave
New York, N.Y.
Beau Arnason, EVP/Asset Manager
Steiner + Associates
Columbus, Ohio
Charles Doell, Principal
Mister Important Design
Oakland, Calif.
Charlie Dusenberry, CEO/President
ICS Restaurant Builders
Fallbrook, Calif.
Mark Eclipse, AIA, LEED AP, Principal 
Prellwitz Chilinski Associates
Cambridge, Mass.
Gregory Gatserelia, Partner
Gatserelia Design
Beirut, Lebanon
Kimoy Lallement, AIA, LEED AP, 
Design Manager
Gensler
Washington, D.C.
Rick McCormack, Principal
Studio McCormack
Costa Mesa, Calif.
Mike Murphy, Managing Director
M.J. Murphy Ltd.
Auckland, New Zealand
Matt Nicholson, Business Development 
Manager
Turner Construction Co.
Nashville, Tenn.
Andrew Schulman, SVP of Leasing/N.A.
McArthurGlen Group
New York, N.Y.
Tom Rogers, Director
Community and Economic Development
Mill Creek, Wash.