Jaynes Corp., a premier general contracting firm with locations in New Mexico and Colorado, eschewed traditional methods and instead used state-of-the-art 3D scanning technology to document the location of rebar in tilt-up panels at the Albuquerque, New Mexico, Sandia Casino and Resort. The project included a 28,000-sq-ft, two-story office complex adjacent to the main casino. Jaynes, whom had successfully performed many projects for this owner in the past, is equipped with a specialized design and construction department. The firm's reputation and expertise in providing coordination, scanning and modeling services for industry professionals were among the reasons it was tapped for this challenging project.
At the top of the list of challenges for the Sandia project was that the building's walls were being constructed entirely of tilt-up panels, complicating the ability to locate rebar in event future sleeves or penetrations would need to be created. The panels were 20 feet in height and of various widths. The rebar used was #5 and #6. While a more traditional process of photography and X-rays would have been possible, it also would have been cost prohibitive.
Originally, the Jaynes team's plan was to verify sleeve locations using a combination of shop drawings and 3D modeling. However, as with most projects, it is not uncommon for designs to change, penetrations to be relocated or a need for additional ones to be cut in. Capturing the exact location of the wall's embedded reinforcements insured any changes could be performed safely and accurately.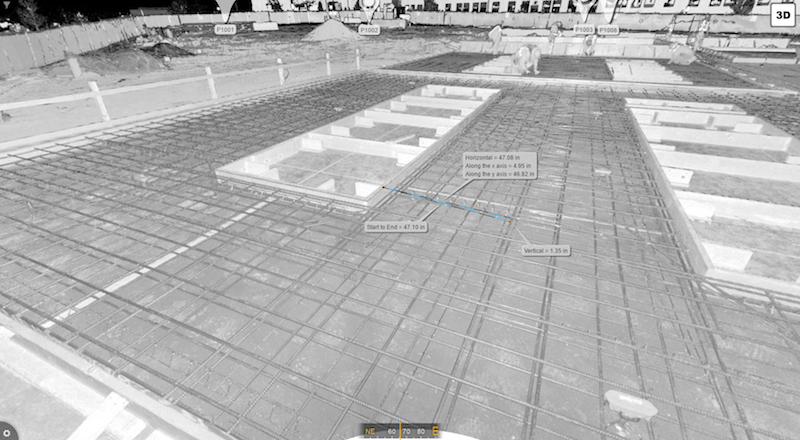 In order for Jaynes to identify safe locations to cut into the panels, they decided to create a virtual record of where all the rebar had been placed. Bob Ferguson, 3D Scanning Specialist, CM-BIM for Jaynes Corporation, credits Project Manager, Jesus Ortiz, and Superintendent, Jeff Harper, for having the foresight to perform scans of the panels on the ground prior to pouring them. For this project, the team used the FARO® FocusS 150 Laser Scanner. The accuracy of the S150 (<2mm at 150m) allowed them to confidently identify the exact location of the rebar in relationship to the edge of the panels and to the edge of the penetrations.
Ferguson explains, "You can use traditional photography, but it is difficult to accurately reproduce measurements in a photograph. We prefer to use more reliable methods of recording such data. Scanning affords you the ability refer back to that data in a more realistic environment—by using 3D scanning, we now know exactly where to direct any cuts; preventing strikes to the rebar and avoiding any potential complications."
The tilt-up panels were stacked. After they would cure, another would be framed on top of the previous ones. Some panels were three or four deep. Each time they went out, new panels with the rebar tied in place would have been framed and ready to go. The team made seven trips, scanning three or four panels each time. Altogether, 23 panels were captured.
The Jaynes team knew that once the panels were in place, they would now have reliable landmarks they could use in the event additional penetrations were needed. Inevitably, their planning paid off.
"There were at least six instances where the sub-contractors needed to create new cores. Our project superintendent was able to open up the scan, identify the location of the rebar and provide the sub-contractor with the critical measurements," Ferguson explains.
Jaynes uses FARO SCENE Software to process and register the scans after acquisition. SCENE is FARO's proprietary software platform for 3D laser scanning that efficiently manages the data and prepares the scans for additional use, such as in Autodesk® ReCap™ or Revit®. SCENE has the ability to produce another helpful tool called SCENE 2Go (formerly WebShare 2Go) that the Jaynes' team created and gave to the superintendent as the final deliverable.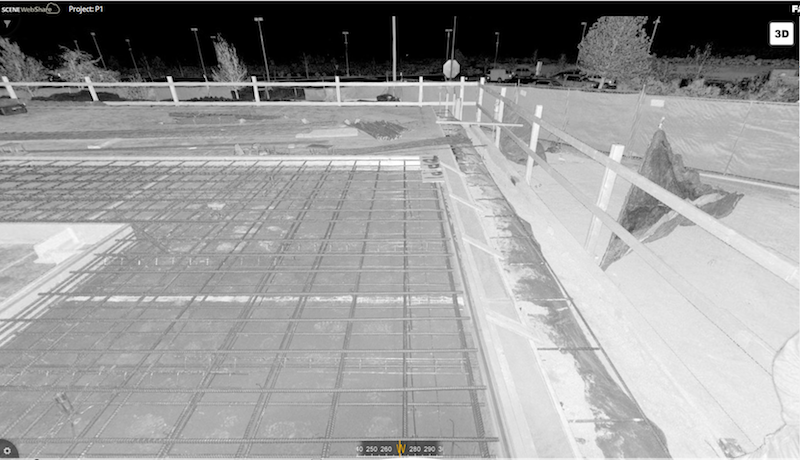 According to Joseph Hawkins, VDC Director at Jaynes Corp., "This is important because when you're scanning, the final deliverables can be extremely large. We often find ourselves collaborating with clients who are remote and may not have systems robust enough to handle the large files, or you need to provide real-time accessibility to the scans once fieldwork has been completed. The best way to do that is to use this online version where it's accessible, secure and protected. The real advantage is that clients can not only access the data in real time, they can also acquire measurements, provide feedback, annotate, etc."
Ferguson agrees, noting that FARO's SCENE 2Go, as used on the Sandia Casino project as well as other jobs, allows all stakeholders to have access to the scans without having to purchase any additional software. He says, "It is a great resource that we create and distribute on every project. For any client that is going to use FARO's SCENE 2Go, all they need is a laptop or PC with an available USB port. It's a very user friendly and reliable tool."
When awarded this project, Jaynes knew they would also be performing traditional system coordination. Taking into consideration the specific construction techniques involved, they decided to take it one step further and incorporate 3D scanning services. Using this technology, Jaynes was able to provide a safe and reliable method of mapping the location of the internal reinforcements.
Superintendent Jeff Harper describes two specific instances where change orders required new cores to be cut. The rebar was mapped out on the surface of the panels based on measurements acquired from the scans, and two 6" cores were successfully removed without any compromise to the rebar, per the engineer's specs. They now possess a permanent record of those locations in relationship to visible elements such as door and window openings, all while realizing a significant cost savings when compared with more traditional methods
Ferguson shares, "We have a very talented and diverse department. Our team has a combined 12 years of scanning experience. Jaynes added terrestrial scanning to their menu of services a little over a year ago. In that time, we have used it on 48 jobs for a total of just under 3500 scans. We have a reputation for doing good work and fortunately have now begun branching out to other states."