The new year is bringing interesting, fun and useful trends to the realm of senior living as providers seek to offer more to future residents – more amenities, more space, more social gathering spots, more glam, and more contemporary aesthetics.
Nonprofits who have been planning their strategies post-recession are finally getting their projects up and going to compete with the offerings of their for-profit counterparts. However, something nonprofits and for-profits are not providing more of is skilled nursing. Often a huge financial drain with more losses than gains, many developers and operators are combining former skilled nursing units or simply designing them in smaller quantities.
Leading architects at three: living architecture have found better ways to utilize space, repurpose outdated areas, cater to different clientele, and design for communities without cutting corners. Rockland "Rocky" Berg, principal and director of business development at three: living architecture, is looking forward to helping shape the future of senior living design, and is optimistic about the direction senior living will take this year. 
"In the last year, we've seen many older communities moving away from what worked for the silent generation and beefing up their offerings for the boomers," said Berg. "Renovations and expansion projects have been popping up nationwide so communities can stay current and competitive. However, many nonprofits spent a considerable amount of time contemplating and planning, and now face increasing construction and financing costs. Communities old and new are decreasing the number of available long-term care beds or simply dedicating less beds for patients in need of that level of care. Costs are high to maintain skilled nursing, so many skilled nursing wings/buildings are being used for short-term rehabilitation and therapy services instead, making the space more profitable. New developments have also increased nationally, and will continue to do so, but we are seeing a shift from developing in rural areas to more urbanized parts of towns. Clients are buying land in and near more affluent parts of the city in hopes of bringing in a more affluent demographic."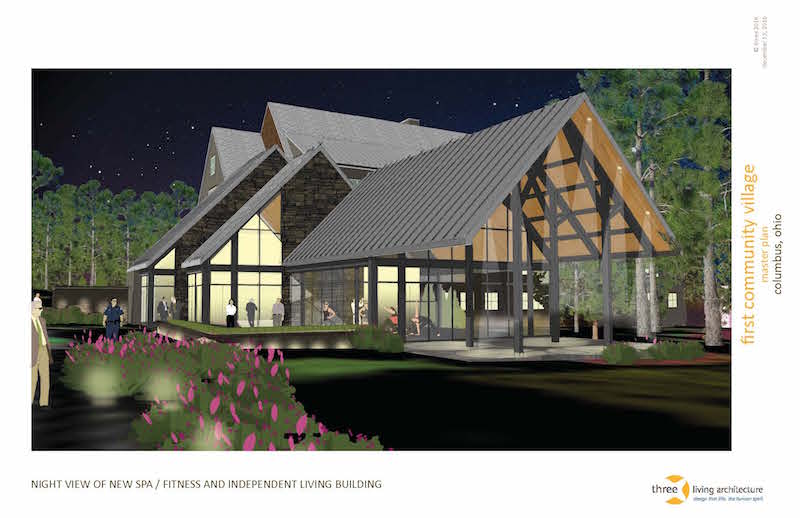 Rendering of new spa and fitness center that is positioned at the front of the independent living building at First Community Village. Rendering courtesy of three: living architecture.
In order to draw in this type of consumer, their offerings need to appeal to an affluent lifestyle. The positioning of these amenities is also key, as well as the events that take place within those spaces. Pools, fitness gyms, and spas/salons are not new services for senior living communities to tout. Their location, however, can be significant in drawing nonresidents in for a tour or to use services.
By moving rehabilitation and physical therapy gyms closer to the entrance, those needing outpatient care are more inclined to choose a community where they can access these services from the front. Positioning pools, spas, and fitness areas in more transparent locations near the entrance is also wise, as it provides easier access for visitors. Using finesse and elegance in the design of these amenities will help the community attract the younger visitor, while preserving the balance of private to public space.
The design of the multi-purpose space is also a top priority. This is where communities can hold a number of functions and activities to suit the lifestyle needs and desire of the residents, or it can serve as a space that neighbor organizations can reserve for their own special events. Communities are incorporating multi-generational activities in these spaces by hosting social, cultural, and entertainment events.
"In addition to beefing up the aesthetics and positioning of standard amenities, we have noticed that many clients have an increased appetite for pre-dinner bar experiences with entertainment pieces you would find in a smart bar," said Berg. "They also want sweeping terraces and outdoor porches for entertaining. The communities are typically open, with each space spilling into the next, an experience at every turn. Seniors don't just want more space and options in the commons areas though. They now expect more out of their residences as well. We are seeing requests for larger floorplans with walk-in closets, dens and spacious bathrooms. Baby boomers do not want to live in studios. They want a home that inspires them, one with natural sunlight spilling in and 9 to 10 windows so they don't feel cramped. Residences are being designed with the woman in mind. Sorry gentleman."
The entire design of individual residences and commons spaces is taking a contemporary turn.