No other place in the country generates more advertising revenue from building façades than Times Square. A single billboard can command upwards of $4 million per advertiser per year. Using the latest digital signage technology and creative building redevelopment plans, building owners and developers jockey for the primo positions to capture eyeballs along this famed commercial intersection.
The 20 Times Square mixed-used project at the corner of 47th and Seventh Avenue is indicative of the great lengths Building Teams will go in order to maximize real estate and media opportunities in Times Square. The project involved redeveloping portions of the historic Cecil B. DeMille building, pouring new foundations for the entire site, and then erecting a 42-story luxury hotel, retail, and entertainment tower on the compact, 16,000-sf property.
Demolishing the DeMille building would have been the easy route, but it would cost the developers precious billboard real estate. For new construction, the city requires a setback at 60 feet in height. This would have nearly halved the 110-foot-tall street wall that wrapped the DeMille building. To save its street wall height, the team would have to qualify for a special Alteration 1 permit.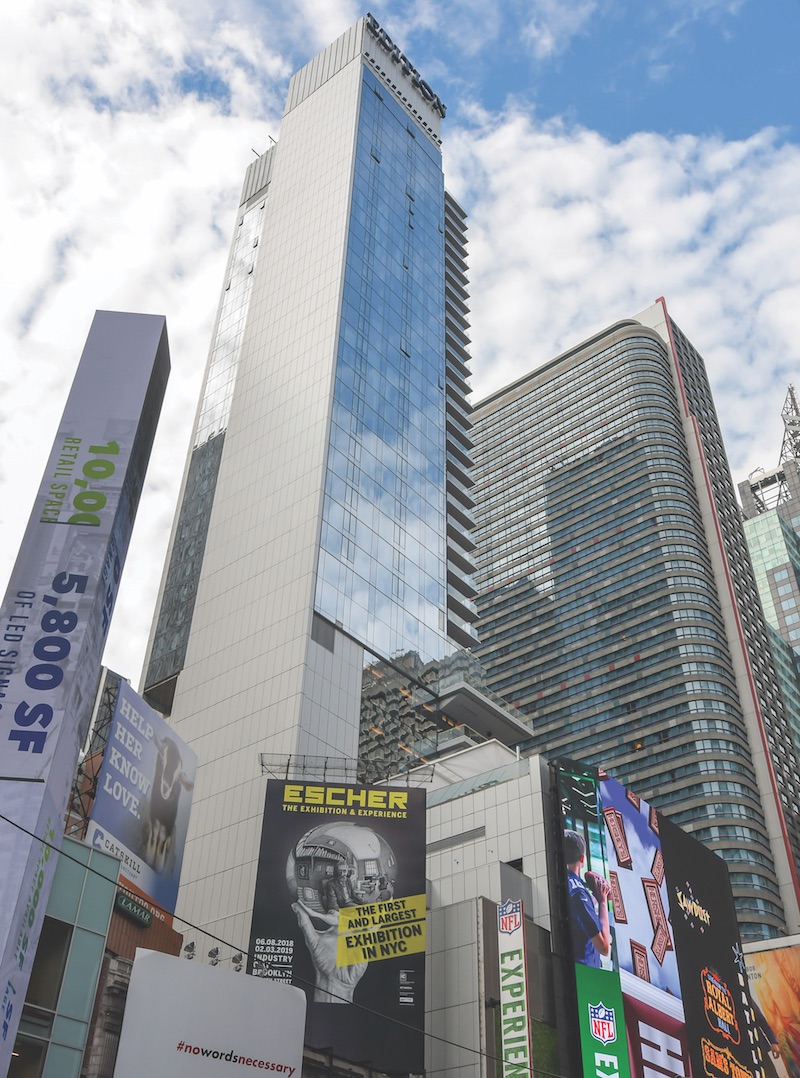 The solution entailed demolishing 70% of the existing building, leaving a 10-story, L-shaped configuration along 47th Street and Seventh Avenue. The team took painstaking measures to save the street-facing structure of the DeMille, a plan that met the city's requirement for saving at least 25% of the existing floor levels. It included: temporary shoring and bracing of the existing structure until the permanent foundations could be poured; removal of the small Pig & Whistle pub building and an accompanying party wall shared by the adjacent New York Hotel (different owner); the discovery of misplaced columns and undocumented structural framing that required re-engineering on a weekly basis to maintain the shoring/bracing; and the install of vibration monitors and telltales to monitor movement of the existing "L" structure during construction.
The combination of a complex project, with numerous unforeseen issues, on a tight site, in one of the world's busiest intersections made 20 Times Square the "most taxing, yet exhilarating" project in the 40-year career of CNY's President Kenneth Colao. The risks "were very material."
Bronze Award Winner
BUILDING TEAM CNY Construction (submitting firm, CM) Maefield Development (owner) The Witkoff Organization (developer) Platt Byard Dovell White (architect) Adamson Associates Architects (interior architect) Severud Associates (SE) Cosentini Associates (MEP) DETAILS 378,000 sf Total cost Confidential Construction time 2015 to 2018 Delivery method CM at risk with GMP