Click here to return to the 101 Top Products homepage
1. ANTILIGATURE SHOWER SYSTEM | Best Bath Systems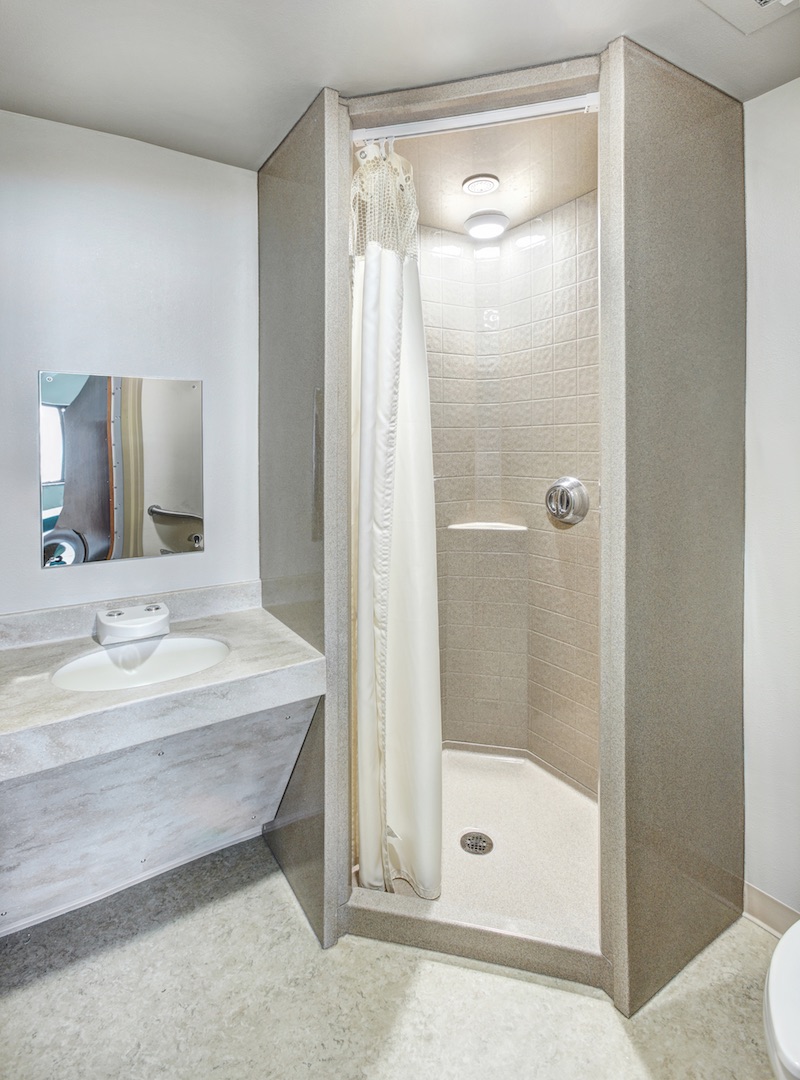 The Eastern Idaho Regional Medical Center in Idaho Falls provides care to individuals who are at risk of harming themselves. Every feature in the facility must be safe for patients and incapable of being used by patients to cause bodily harm or attempt suicide. When the existing showers revealed themselves to be a potential hazard, the team at EIRMC commissioned Best Bath Systems to create a custom shower system solution that would mitigate risks. Best Bath delivered a smooth, composite shower design with an inset showerhead, capped LED lighting, and a curtain rod with antiligature clips. The shower's 45-degree opening has a curtain that hangs low enough to contain water inside the shower. The streamlined design is also easy to clean, reducing long-term maintenance for EIRMC's facilities team.
2. SUREFLO SOAP DISPENSER | Bobrick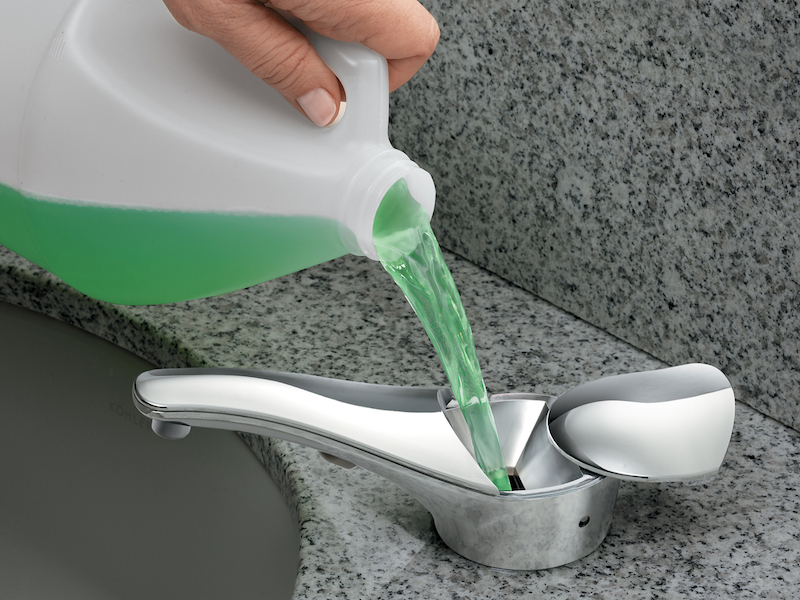 This automatic top-fill liquid and foam soap dispenser reduces labor and can cut soap costs by as much as 80% over proprietary closed-system cartridge setups, according to the maker. SureFlo soap dispensers feature an oversized top-fill port designed for economical bulk jug soap—no more undercounter servicing of screw-on cartridges. An electronic activation system defines the "dispense zone," eliminating hand waving and false dispensing.
3. EQ SERIES ELECTRONIC FAUCETS | Chicago Faucets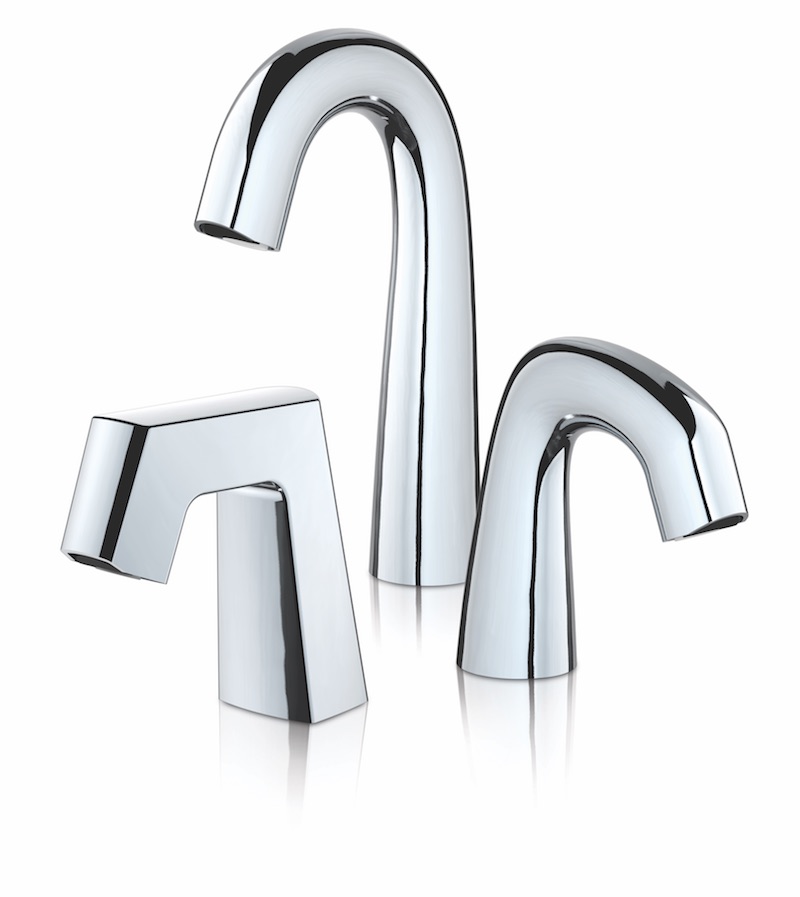 Designed for high-traffic, high-use public restrooms, the EQ Series electronic faucets are made with heavy-duty cast brass spouts and high-quality electronic components. The solenoid, power module, and mixing valve are assembled into a compact control box that fits under the sink and installs with two screws. The stainless steel hose and electronics cable are preinstalled for plug-and-play capability. The EQ learns over time and adjusts for dependable performance and water savings, cutting water usage by as much as 77%, according to the maker. 
4. TEMP2O HAND SHOWER | Delta Faucet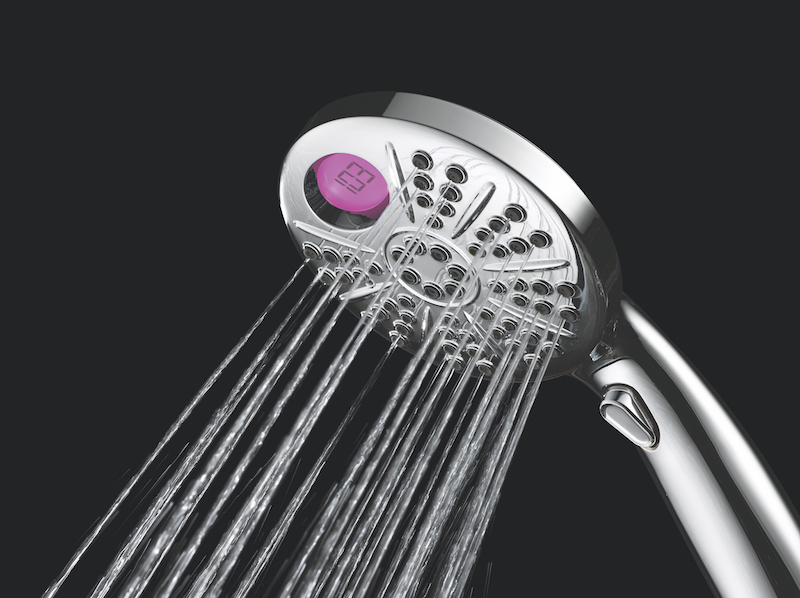 This hand shower line features a hydropowered LED digital display that changes colors— blue, magenta, red—so users can find the ideal water temperature. No batteries required for this WaterSense-certified, 2.0 gpm (80 psi) shower head. Six spray settings: full body, full spray with massage, massaging, shampoo rinsing, shampoo rinsing with massage, and soft drench.
5. HYDRO BAN BARRIER FREE SHOWER SYSTEM | Laticrete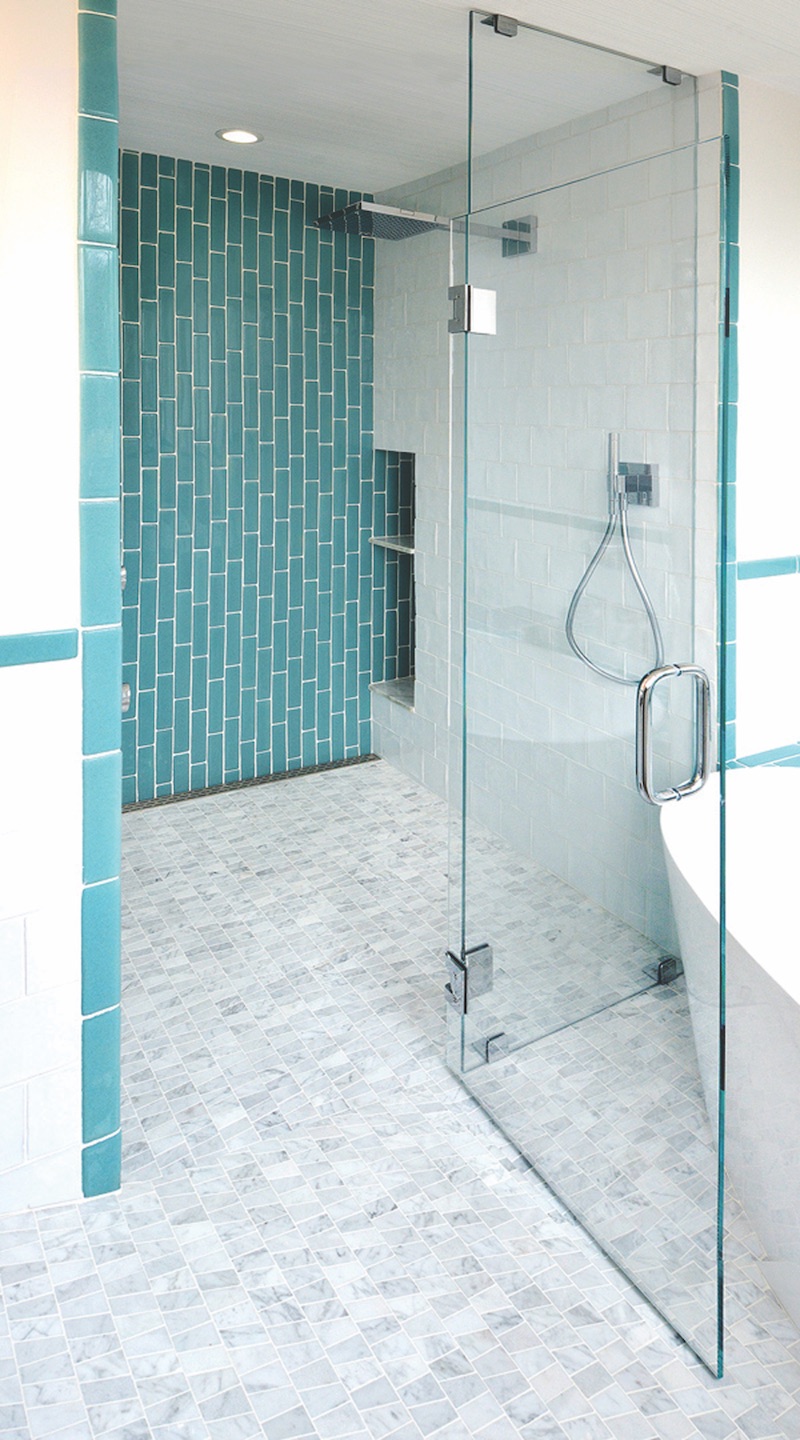 Developed to meet the growing demand for barrier-free showers in multifamily and healthcare applications, Hydro Ban combines multiple Laticrete products to make installation of the system easy and suitable for shower units with either bonding flange drains or linear drains. Hydro Ban can be installed with the drain at the shower entry or far wall, over the current substrate or recessed substrate to form a shower system utilizing large-format tile and stone.
6. ECOFLEX POTABLE PEX PLUS | Uponor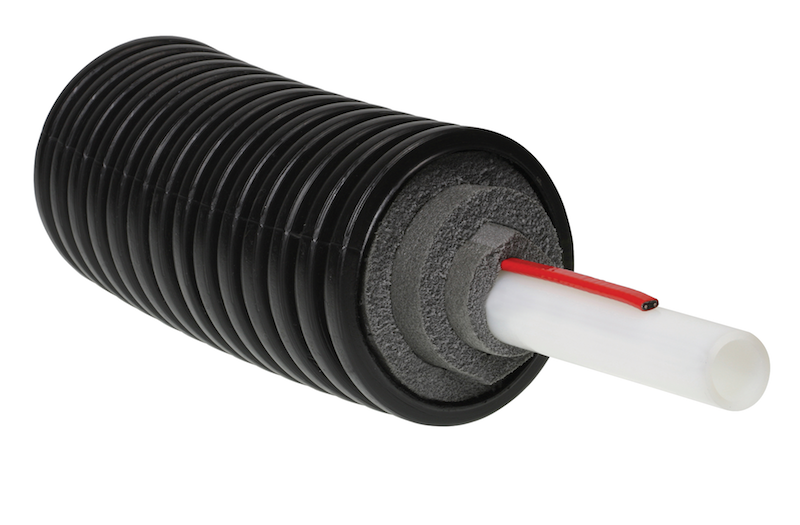 This pre-insulated, energy-efficient pipe system is used for underground potable-plumbing applications, providing freeze protection in cold climates. It features a 1 1⁄4-inch Uponor AquaPEX service pipe with a seven watts/foot heat-trace cable that runs the pipe's entire length. The pipe and cable are then wrapped by multilayer PEX foam insulation and covered with a corrugated, waterproof HDPE jacket. Approved for underground potable water applications. 
7. PROPRESS SECURE PIPE CONNECTIONS | Viega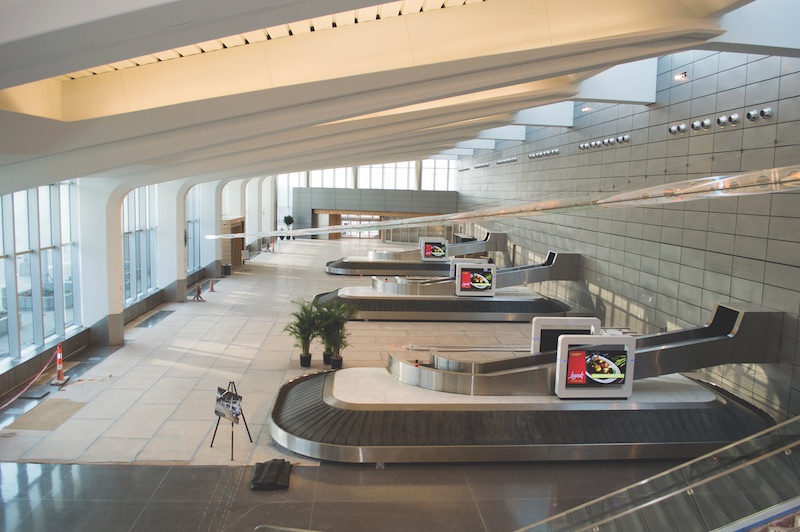 The Dwight D. Eisenhower National Airport in Wichita, Kan., features 23,000 sf of radiant floors, 8 1⁄2 miles of gas and hydronic lines, and 267 plumbing fixtures. To speed the installation of the airport's plumbing and mechanical piping while ensuring secure pipe connections, MEP contractor Waldinger Corp. specified Viega systems: ProPress copper in half-inch to four-inch in domestic potable water applications, ViegaPEX Barrier and Viega FostaPEX tubing for a snow melting system, and a Viega ProRadiant heating system.
8. VERGE LVS-SERIES LAVATORY SYSTEM | Bradley Corp. (Editor's Pick)
 
This multi-user lavatory combines functionality with a high design aesthetic. Its elongated, organic design allows for easy cleaning and maintenance. Individual drains create personalized handwashing space for multiple users and eliminate communal water concerns. Available in three standard models, including one, two, or three stations. Suitable for contemporary office buildings, hotel lobbies, fine art establishments, retail and restaurant environments, and spa resorts. 
9. Hybrid urinal | Sloan (Editor's Pick)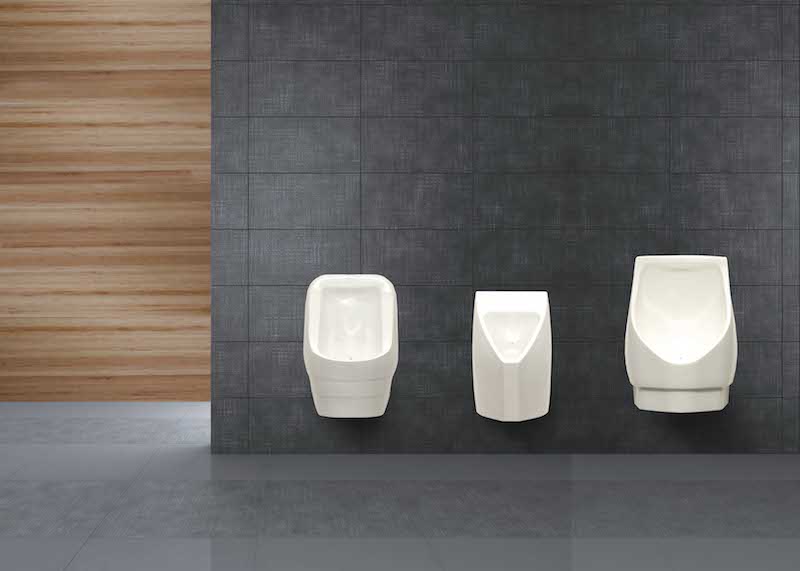 Ultra-low-flow urinal uses just one gallon of water every 72 hours (or about 100 gallons/ year), regardless of the number of users. It features Sloan's Jetrinse Solution Technology, which automatically injects water into the drain and housing to purge the system and virtually eliminate odors and drainline sediment formation. Eliminates bucket dumps and bottle brush cleaning common with waterless systems. Available in a retrofit model.