JLL has released a white paper that sets out to identify 10 trends in a volatile world for commercial real estate (CRE), and how these trends are likely to influence companies' and investors' decision making in 2016 and beyond.
Drawing from its own research and other relevant polls and market data, JLL depicts an evolving environment where technology and data intelligence are transforming organizations, where the primacy of user experience and workplace collaboration are strategic imperatives, and where growth opportunities are expanding well beyond the half-dozen or so metropolises that have dominated real estate development and investment in the past.
Here's a breakdown of JLL's trends and inferences:
• Threats. Any CRE strategies and policies need to account for an increasingly dangerous world with elevated geopolitical risk, security concerns, and uncertainty.
Between October 2014 and October 2015, there was a 56% increase in politically motivated cyber attacks and a 100% increase in criminal targeted attacks, according to Control Risks. The Capital Conference Barometer identifies increased global and regional political instability as the greatest risk to business over the next six to 12 months, followed by more volatility in commodities and currencies.
• Convergence. As CEOs demand higher performance, CREs have been integrating human resources and real estate. A poll of 277 corporate-suite executives last October found that 75% expected to improve workplace productivity and 60% expected improvements in people and business productivity. More frequent interaction between company divisions should facilitate some of these gains.
• Experience. More than three-quarters of respondents to JLL's latest Global Corporate Real Estate Survey report that leadership has high hopes for enhancing workplace experience over the next three years. The physical environment will play a role here, as more companies make the connection between employee productivity and better lighting (including daylighting), ventilation, and temperature control.
• Digital Drive. By 2020, total mobile subscriptions could reach 9.2 billion worldwide. The ubiquity of digital and third-platform technology will have a profound impact on real estate and its users. Cloud-based organizations will be mobile and have an embedded culture of outsourcing. Smarter talent will gravitate to companies operating from smarter, more efficient buildings. And the workplace itself will be collaborative, flexible and, increasingly, virtual.
• Sustainability. With the United Nations' recent meeting in Paris setting ambitious goals for sustainable real estate (to limit global warning to less than 2 degrees Celsuis this century), "our industry will need to respond with aggressive operational and strategic plans," JLL writes. Indeed, more than half of the respondents to JLL's Global Corporate Real Estate Trends 2015 cited mounting C-suite pressure to drive corporate sustainability.
• Ownership. Corporate dispersals in 2015 reached their highest levels in eight years. And two-fifths of real estate leaders polled said they are under pressure to raise capital through their portfolios. As the balance shifts toward ownership, lease accounting will alter portfolio strategies and decision-making at the board level.
• M&A. Nearly three fifths of senior-level executives polled last year said they expected to pursue acquisitions in the following 12 months. In the first quarter of 2016, global M&A deals were expected to be 7% higher than during the same period a year earlier. "Speed is crucial to maximize value," states JLL, as is devising a real estate plan that's "fully aligned" with the company's acquisition strategy and objectives.
• Coworking. Corporate clients are embracing co-working to drive innovation and growth. The number of co-working spaces worldwide grew to 7,800 in 2015, versus 3,400 in 2013, according to DeskMag's Global Coworking Survey 2015. And the number of people using co-working spaces could hit 1 million by 2018. This trend is helping real estate companies reduce their footprint and increase their employees' satisfaction and personal growth.
• Data Intelligence. Integrated business intelligence will optimize CRE performance, JLL asserts. Research and polling conducted by JLL and Forrester Consulting found that 57% of respondents globally intend to enhance their company's data-gathering capabilities over the next one to three years. More than half of those polled said that the lack of effective data and analytics hindered their companies from enhancing their value. As many as one third of respondents say their companies still need training to analyze and apply data to their strategies.
• Cities of the Future. Urban hubs are boosting CRE opportunities.
The established world cities for real estate investment and construction—New York, London, Paris, Tokyo, Hong Kong, and Singapore—are being challenged by a newer cohort of world cities that includes Munich, Oslo, Vancouver, Barcelona, Denver, and Brisbane.
As important are emerging world cities, where 26% of firms with annual revenue above US$1 billion are based. JLL breaks these emerging cities into five groups: Nearly emerged (Shanghai and Beijing), Competitive Megacities (such as Istanbul and Mexico City), Agile Higher-Quality Emerging (such as Dubai and Bangalore), High Potential/Weakly Governed (Mumbai, Manila, Jakarta), and Lagging Megacities (Dhaka, Lagos, Karachi).
JLL believes that up to 50% of firms with $1 billion-plus in revenue could be based in emerging world cities by 2025.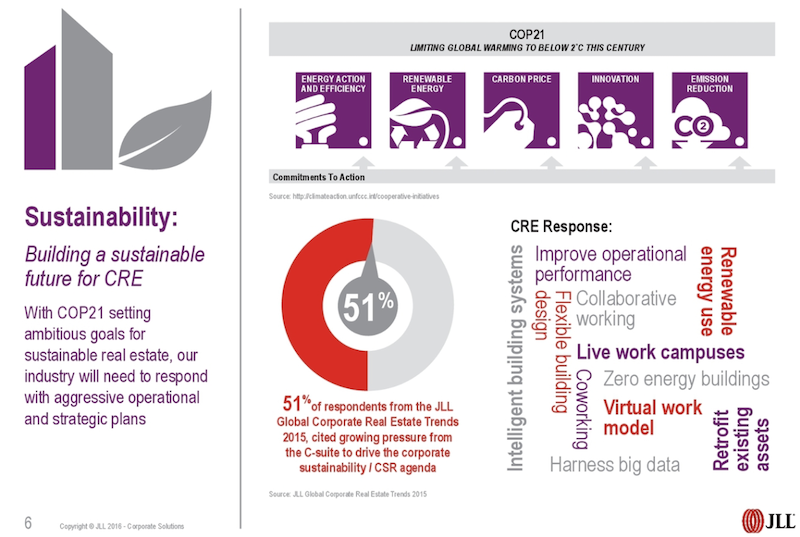 JLL finds that more CRE firms are at least aware of the need to build sustainability into their future plans. Image: JLL