According to George Costanza, the kitchen is the most sociable room of the house. Holidays, dinner parties, or just good old-fashioned family dinners all tend to center around the kitchen. As such, it is typically a room that people like to spend a little extra money on to get it looking its best. Just in the last two years alone, the average price for kitchens has shown an increase.
But what constitutes "its best" changes throughout the years. It can be tough to stay on top of the trends on a year-to-year basis, but the National Kitchen and Bath Association (NKBA) is a good place to turn for help. The NKBA has just released its 2016 Kitchen & Bath Design Trends Survey and it appears as though clean lines, less ornamentation, and personalized luxury are leading the way for 2016 trends.
Personalized luxury is defined as unique features that are meaningful to the owner. They are decisions based on lifestyle enjoyment and not future resale. A functional kitchen has also taken rise over the more showy "trophy kitchens" of the past. This means many homeowners are making bolder choices with colors, textures, and finishes as they are more concerned with their enjoyment of the space and not whoever will come after.
This online survey was conducted in late 2015 and incorporated the responses of more than 450 NKBA members. In addition to reporting the results for the full calendar year 2015, respondents were also asked to report on which styles and products were increasing, decreasing, or showing no change in popularity.
The trends identified in this study are most relevant for kitchens in the $20,000 to $49,000 price range (almost 50% of kitchens done by NKBA members fell within this price range) and up.
The following are 10 of the top kitchen design trends (sure to excite anyone's inner George Costanza) for 2016.
1. A timeless transitional style with clean lines and less ornamentation
Transitional kitchens are currently the most popular kitchens for North American residents. 76% of NKBA respondents specified creating a transitional kitchen in 2015 and 51% expect to do more in 2016. "Cleaner lines. Less obsession over embellishments. Going toward more utilitarian looks and simpler accents with a focus on accent materials like lighting and backsplashes," said a kitchen and bath designer based in New Jersey.  Like Henry David Thoreau said, "Simplicity, simplicity, simplicity!"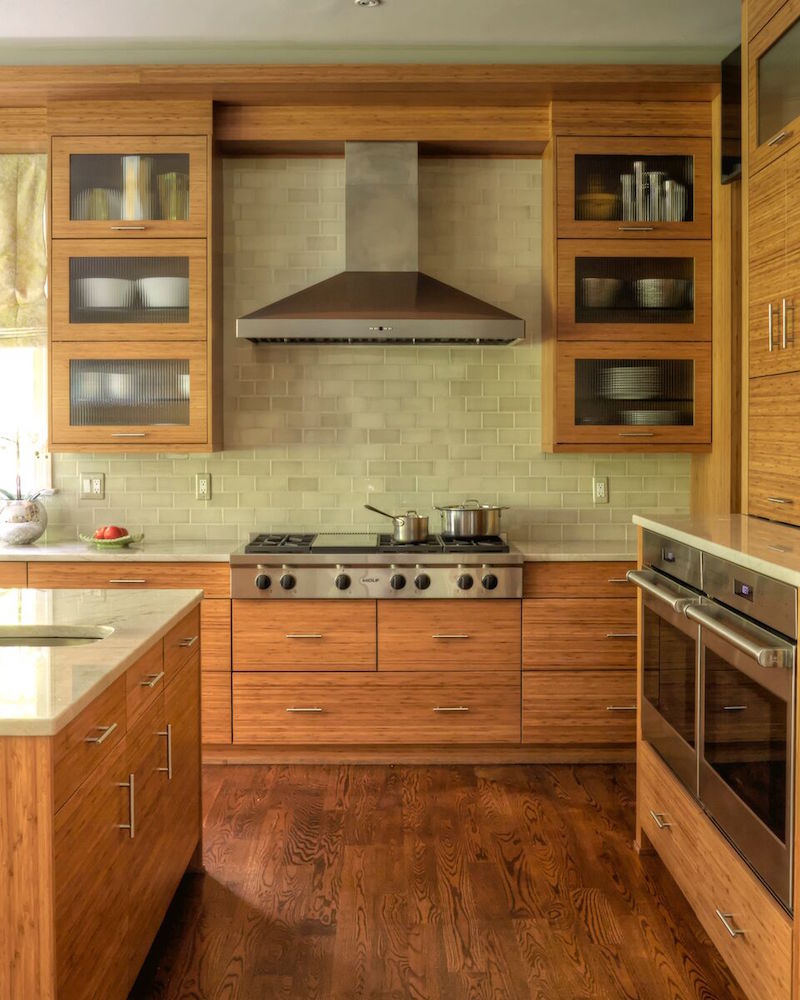 Photo Credit: Mike Kaskel, Mark T. White, CKD, CBD
2. Multiple cabinet colors/finishes, often a light/dark combo
Grays and whites still dominate the color schemes in a typical kitchen, but mixed colors are beginning to make themselves known, as well. While 82% of respondents specified using grays in 2015, 60% specified two or more colors with 33% expecting to do more in 2016. This is part of the bold choice movement many homeowners are leaning toward recently.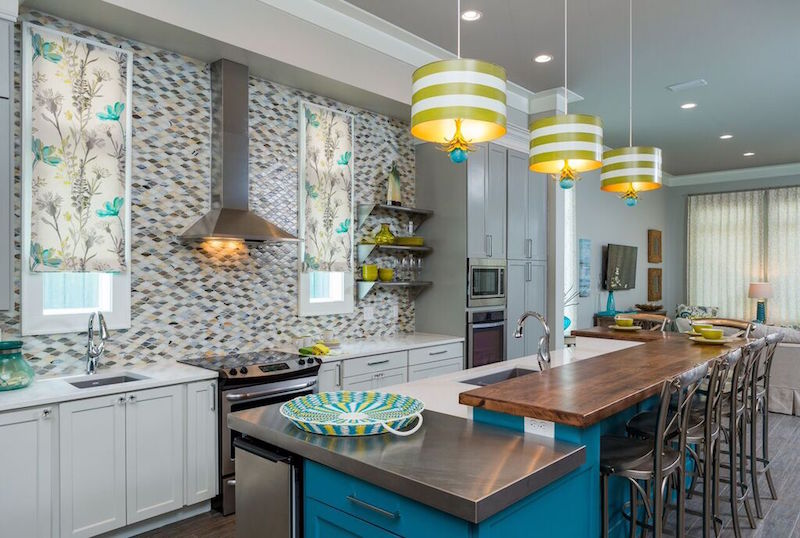 Photo Credit: Greg Riegler, Cheryl Kees Clendenon
3. Storage, storage, storage: It's all about the built-ins
Kitchens typically require more storage space than anywhere else in a house. So it shouldn't come as much of a surprise to learn that features such as rollouts and tall pantries are included in more than 90% of kitchen projects completed by NKBA members in 2015. Trash and recycling pullouts, lazy susans, and spice pullouts were all prominent features of 2015 kitchens. Open shelving, charging drawers, and under-sink accessories are other amenities mentioned by multiple respondents. More storage space helps to maintain the clean lines so many homeowners desire.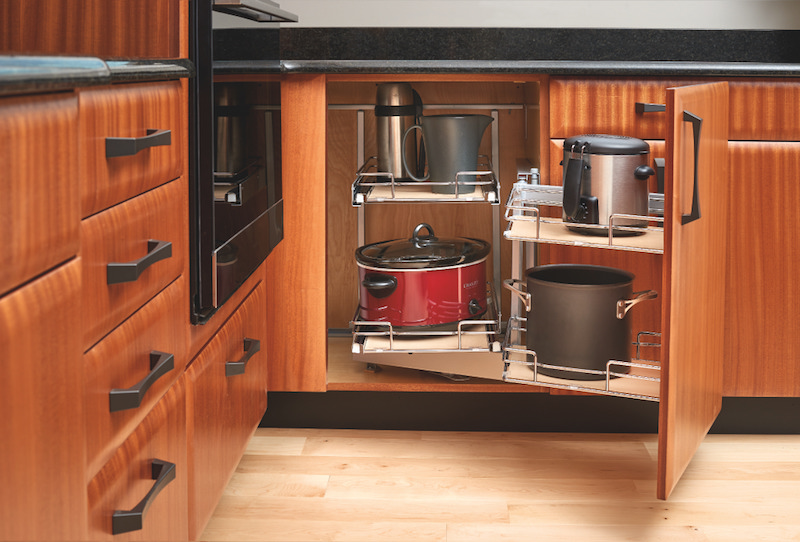 Photo Credit: Mike Tuell, Tom E. Lutz, AKBD
4. Wood floors, real or fake will suffice
Wood flooring was specified by 78% of respondents, making it the most popular flooring choice. In addition, 35% of respondents expect to do more in 2016. Ceramic or porcelain tile came in second with 75%, but many respondents noted wood-look ceramic was a popular choice for consumers. "Wood-look ceramic and porcelain, especially in a herringbone pattern," said Andrea Lewis, from a mass retailer in Ontario, Canada. Only 3% of respondents expect to do less wood floors in 2016.
Photo Credit: Mike Tuell, Tom E. Lutz, AKBD
5. Countertops varying in material and color
While quartz and granite still control the majority of the countertop market, mixing countertop materials is becoming a more popular choice. 35% of NKBA members expect to do more surface mixing in 2016. Combining wood with stone or stainless steel proved to be an interesting combination in 2015. Often times, homeowners will choose to have the countertops for a kitchen island differ from the perimeter countertops.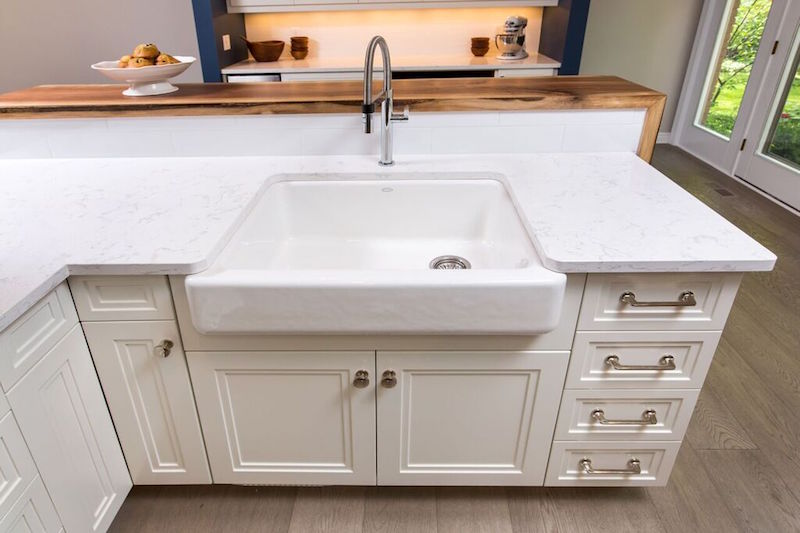 Photo Credit: William Standen Co., Cassandra Nordell-MacLean
6. Cooking without borders: Outdoor kitchens
Outdoor kitchens appear to be most popular in the Southeast among consumers with annual incomes of $100,000 or more. If kitchens truly are the most sociable room of a house, then moving it to the great outdoors for, say, a cookout on a beautiful day would only work to strengthen its grasp on that particular title. "We design outdoor living entertainment areas, including an outdoor kitchen as an outdoor room," said Jessica White, a kitchen and bath designer from Maryland.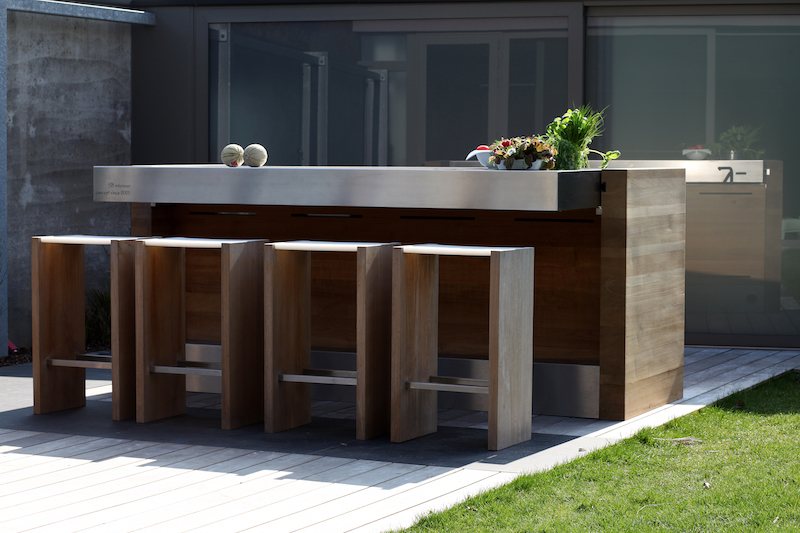 Photo Credit: Line Omey, Wikimedia Commons
7. Built-in coffeemakers and wet bars
There are seemingly an infinite amount of Internet memes holding coffee and its caffeinated goodness up as the elixir of life. Many Americans start their days off with a cup (or big gulp sized travel mug) of coffee. It stands to reason, then, that about one third of NKBA members specified built-in coffeemakers and coffee/espresso stations in kitchens. That number is expected to hold steady. Wet bars were another popular feature, even among people with small kitchens.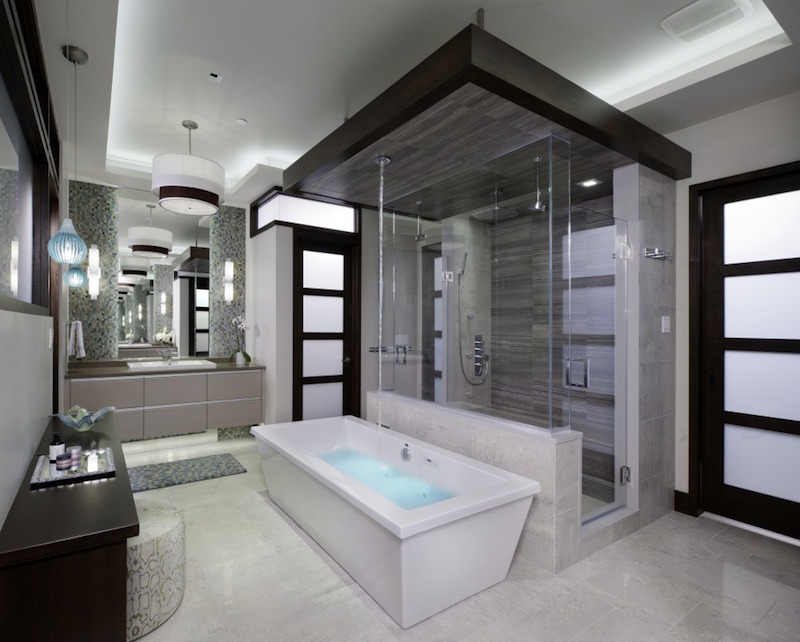 Photo Credit: Dale Lang, Robin R Fisher, CMKBD, CAPS
8. Now you see it now you don't: Pocket doors
More than 70% of NKBA members specified pocket doors in 2015. 35% of members expect to do more in 2016. The biggest appeal of pocket doors is their disappearing nature. When opened, a pocket door has the ability to open up a room much more than a traditional door, but can just as easily be closed, creating a partition when needed.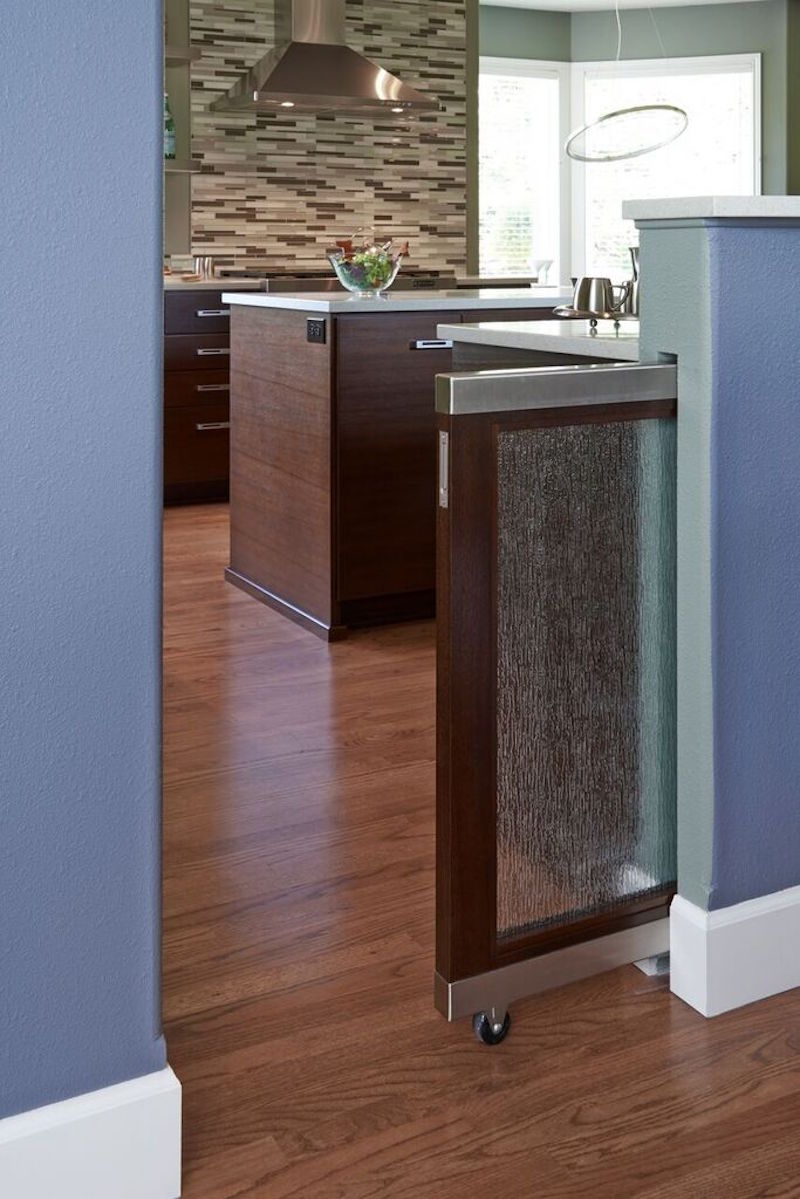 Photo Credit: Dale Lang, Robin R Fisher, CMKBD, CAPS
9. Incorporated Pet Stations
For most households with pets, they are a part of the family. So many homeowners have started requesting special features for Fido to incorporate directly into the design of the kitchen. Almost 50% of NKBA members included pet-friendly features in 2015 with 35% expecting to do more in 2016. Pullout stations for feeding, food storage, and built-in beds and crates were the most popular features. "We designed on three separate jobs, marble lined dog crates in kitchens," reported Cyndy Cantley, CKD, a kitchen and bath designer from Alabama.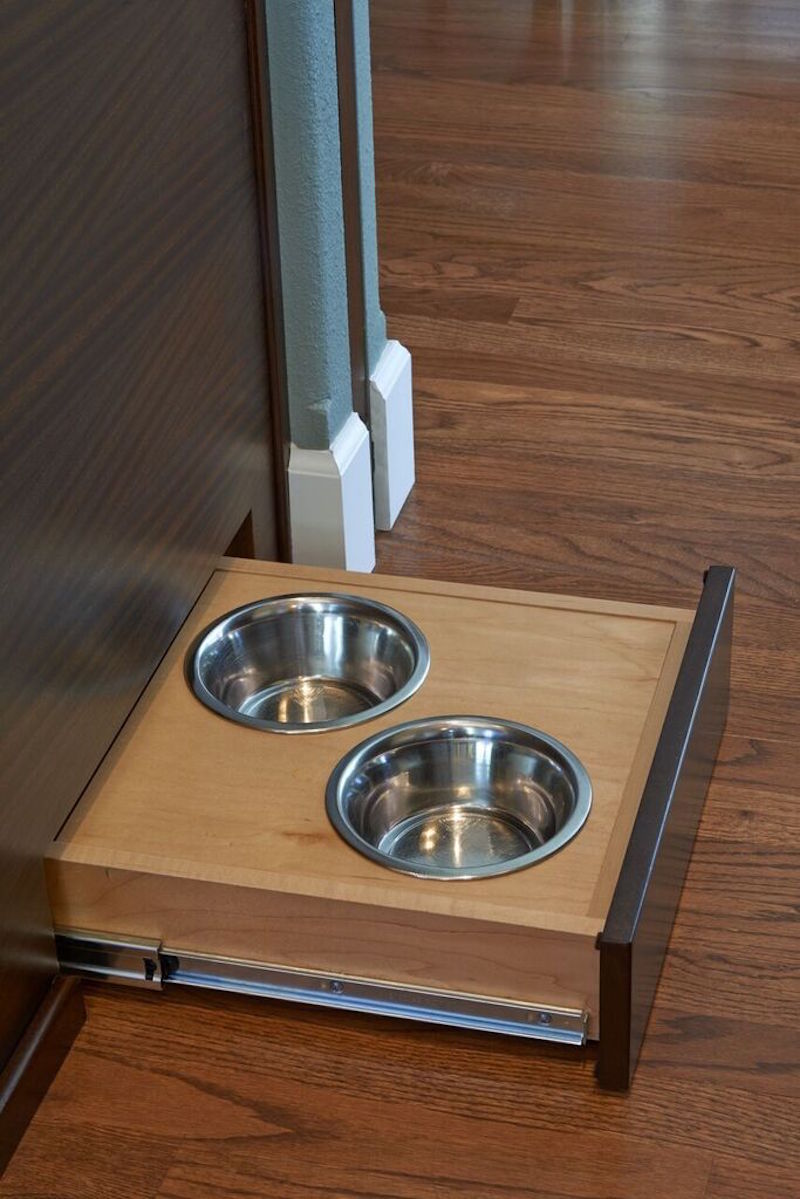 Photo Credit: Dale Lang, Robin R Fisher, CMKBD, CAPS
10. Docking and Charging Stations
It seems we have come to the point in our society where so many of the various gadgets we use on a daily basis require charging, that a specific area to do this has become a hot feature in kitchens. Everyone can relate to the frustration of having a phone that has only a 2% charge left only to discover all of the electrical outlets are currently in use. A designated area for charging, which includes pop-out outlets, would rectify this little annoyance.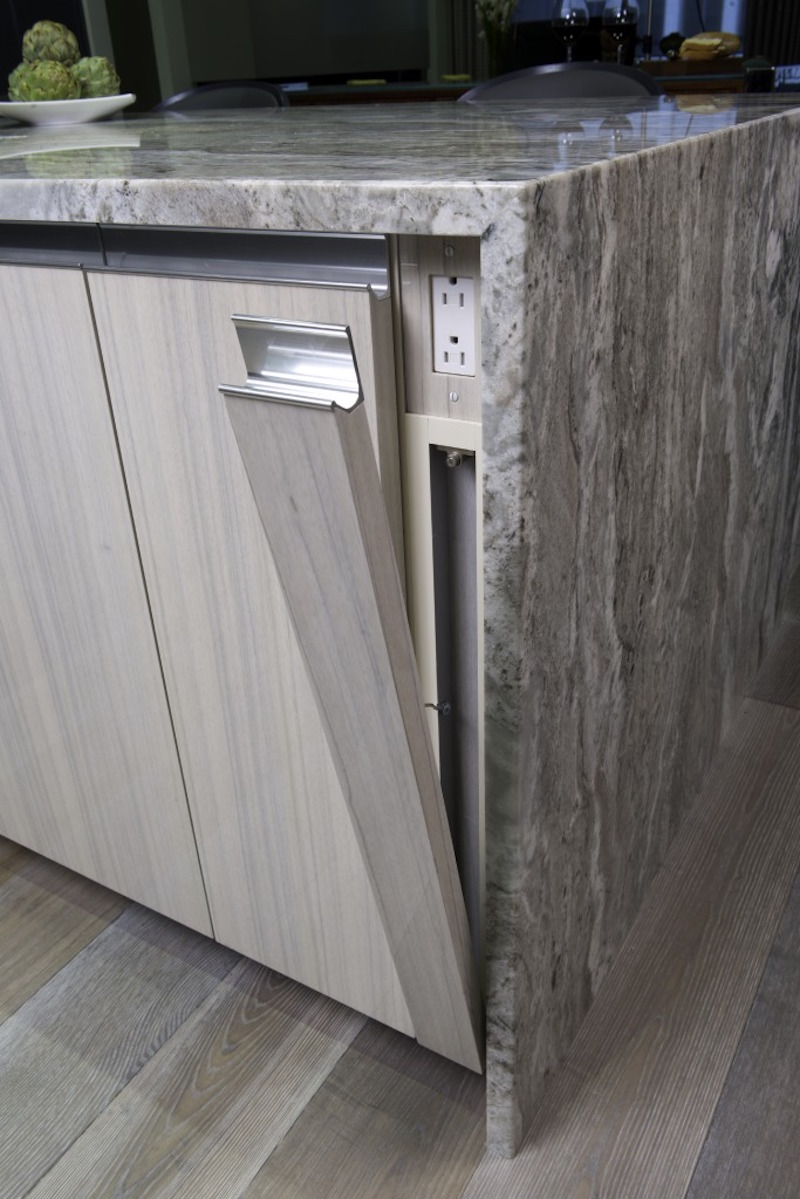 Photo Credit: Craig Thompson, Emily Miller, CKD, Thomas S. Trzcinski