Since 1985, there have been well over 400 studies conducted that have dissected how key design elements impact commercial buildings and their occupants. That body of research has quantified how high-performance buildings reduce energy and maintenance costs and increase asset values. (Buildings consume 40% of the energy in the U.S. and European Union, and nearly 14% of potable water use.) Newer research has tracked on how high-performance buildings can improve their occupants' work habits and health.
But there's been scant analysis of whether upfront investments in high-performance buildings translate into stronger long-term profits for the companies in them. 
stok, a global real-estate service provider, released a report that outlines the financial benefits to owner-occupants and tenants that invest in high-performance buildings. The report assumes that these buildings benefit their occupants, and concludes from its analysis that these benefits can produce significant positive impacts on a company's bottom line.
stok concedes some limitations in its methodology: that productivity is difficult to measure; that there's little data available to assess employee retention patterns in association with high-performance buildings; and that cost baselines vary markedly by location. stok also laments that, regardless of methodology, there has yet to be a real-world case study that baselines all the metrics listed in its report and compares them to an occupant moving into a high-performance building. "For a comprehensive study to occur, an organization's human resources, finance and accounting, IT, management, and others would all need to work together and transparently share resources and data."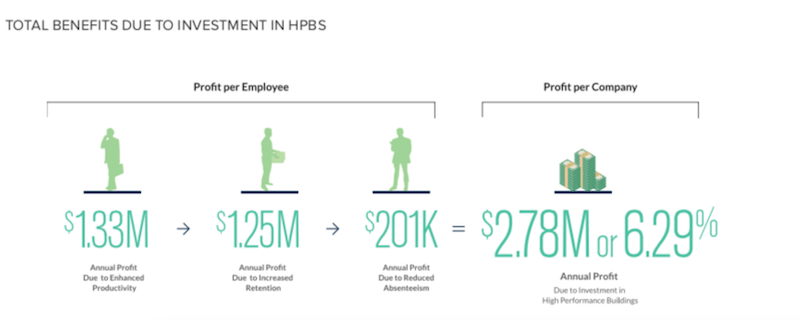 Businesses can reap significant cost savings and stronger earnings from working out of a high-performance building. Image: Stōk  
Nevertheless, the report infers that the proposition about how much a company can benefit from working in a high-performance building now supersedes questions about how much that building costs either to construct or retrofit.
"Rather than focusing on the lowest costs possible, owner-occupants and tenants should shift their perspective to the long-term opportunities of high-performance buildings," the report states. If more than 80% of a company's value is based on its people, "shouldn't buildings be designed to optimize their performance and wellness?"
Most people work in buildings that were not designed to support their well-being. And multiple reports show that only between 1% and 4% of a building's total cost goes toward its initial design and construction.
High-performance buildings, on the other hand, share certain traits, says stōk. They enhance the occupant experience and improve human health and wellness, optimize resource efficiency, minimize environmental impacts from design to demolition, increase resiliency, and deliver a higher financial return than traditional buildings of the same use type.
stok's report applies financial impact calculations to the findings from 60-plus research studies on the effects of high-performance buildings in three key areas: productivity, retention, and wellness.
The report's calculations assume a hypothetical company with 820 employees that occupies 150,000 sf in the building, or 183 sf per worker.  This hypothetical company's baseline annual revenue is $540,000 per employee who works 265 days per year and whose salary averages $100,000. The hypothetical company's baseline profit margin is 10%.
The results of stok's math—which also assumes a $20 per sf premium for construction costs—show that companies occupying high-performance buildings gain a median $3,395 in annual profit per employee, or $18.56 per sf. Over a 10-year period, this works out to a "Net Present Value" of $21,172 in profit gain per employee, or $115 per sf. The combined total benefit equals $2.78 million in annual profit gain, or 6.29% of a company's annual earnings.
And these calculations only measure the gains related to productivity, employee retention, and wellness; when cost savings for utilities and maintenance are factored in, companies would realize a $23,584 profit gain per employee, or $129 per sf, over a decade.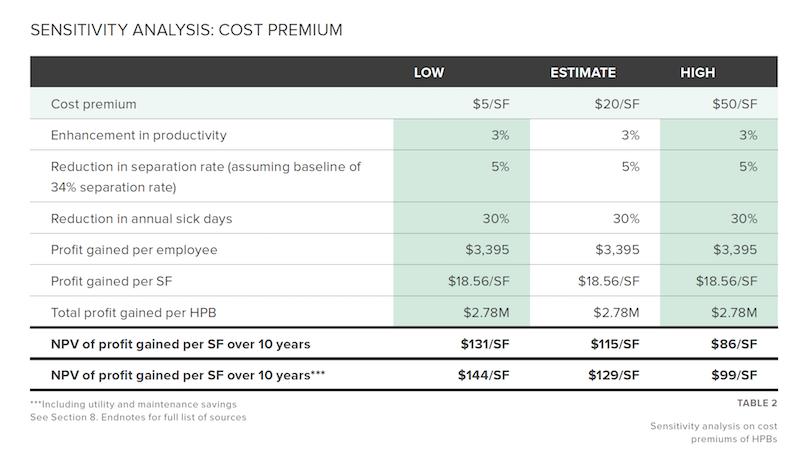 Assuming different construction premium levels, Stōk breaks down the profit gains by productivity, employee retention, and wellness. Image: Stōk 
The report's calculations assume that its hypothetical company undergoes a 34% annual "separation rate" where employees leave voluntarily. Empty desks cost companies anywhere from 90% to 200% of an employee's annual salary. And at a time when businesses are competing fiercely for talent, high-performance buildings can be powerful recruiting and retention tools, says stōk.
A building that promotes wellness, too, can help companies attract and keep employees. Based on research it has analyzed, stōk finds that 69% of employers offer wellness promotions, 67% of U.S. building owners are interested in creating healthier buildings for people, 91% of employers offer health and wellness programs for reasons beyond medical cost savings, and 73% of employers believe their responsibility to ensure the health and wellness of their employees will increase over the next few years.
The report sees the value of investing in high-performance buildings from minimizing employee absenteeism.
The report projects that 41% to 48% of new construction going forward will be high-performance buildings, which should provide the flexibility these properties need to adapt to changing tenant requirements by offering modular systems, personal environment controls, and multi-use spaces.
And for those companies and developers that still insist on gauging a building's investment value by its projected energy and operational savings, the ROI in high-performance buildings remains provable. stok cites the General Services Administration, which estimates that energy costs for traditional sustainable buildings are 28% lower than the national average. When retrofitting a building with the types of improvements associated with high performance, energy costs would be cut by 50%, with maintenance savings being reduced by approximately 12% of the national average.