Like many architects before him, Turan Duda initially wanted to be an artist.
He went the architecture route instead, which he views as an art form. As a Partner with the Durham, N.C., firm Duda|Paine Architects, Duda, FAIA, has made it his mission to include an element of art in every project his team gets involved in.
The relationship between art and architecture is as old as history. But lately, clients and businesses seem to be catching on to the connection linking art and design, employee productivity, social responsibility, and customer satisfaction.
A recent survey conducted by ICM, a London-based research firm, and Art & Business, a non-profit network that builds partnerships between businesses and the arts, found that 73% of employees polled want more art in the workplace, stating that it both motivated and inspired them.
"The inclusion of art in the workplace is not a decorative gesture," wrote Harlan Levey, a lecturer, art consultant, and owner of Harlan Levey Projects in Brussels; and Denis Maksimov a cultural critic and associate curator at that gallery. "It is not the same as buying some new plants. On the contrary, it can have several positive impacts and play an important role in your business. Art in the workplace can encourage employees to think creatively. It can create conversations amongst them while actively constructing an image of corporate culture, values and ambitions. It can also create revenue and diversify the company portfolio."
Duda says this connection began to resonate with him when he was a student at Yale, where he recalls a "wonderful" studio with Peter Eisenman, a Principal with Eisenman Architects. "He asked us 'what is architecture?' and described it as a building with multiple readings that do more than one thing."
After nearly two decades with Cesar Pelli & Associates, Duda and Jeffrey Paine, AIA, launched their firm in 1997. Over the years, Duda|Paine has built a reputation for using art to help clients express their vision.
Duda says that art is now "almost expected" in civic and public works. He speaks admiringly of the water walls at Millennial Park in Chicago as examples of the communal aspect of art. He has also seen art being included in new buildings in Austin and Asheville, N.C., "which are centers for creative folks."
But for many nonresidential building clients, art "is an afterthought" that gets moved to the forefront of projects only when "it's integral to the architecture." Duda paraphrases the artist and MacArthur Fellow James Turrell that the most beautiful thing about art is when it doesn't look like art. 
The criteria for using art in nonresidential settings are site-specific, he explains. "We think of our work experientially; what is the experience we want people to have as they arrive at the building." And it's much easier to have discussions about art and budgets at the beginning of a project, "when we can make art part of the design of the building."
One of Duda|Paine's first noteworthy attempts at incorporating art into its designs was a commission by Bank of America in 2000. The architect, working with the artist Ned Kahn, developed "Wind Veil," 80,000 small aluminum panels that covered a 260-ft by six-story-tall façade of the parking garage at Gateway Village in Charlotte, N.C. The panels were hinged to the building to move freely in the wind, "creating an impression of waves in a field of metallic grass," according to Kahn's website.
Last year, owner-developer Boston Properties opened 601 Massachusetts Avenue, a 650,000-sf, 11-story building with offices and retail in Washington D.C. In the lobby of that building, Duda|Paine installed a 30-ft stone travertine curtainwall supplied by the Italy-based artisan Henraux, which Duda describes as "a piece of art." Also gracing the lobby is a freestanding stone sculpture called Le vie della luce ("the ways of light"), created by the Italian sculptor Giovanni Balderi.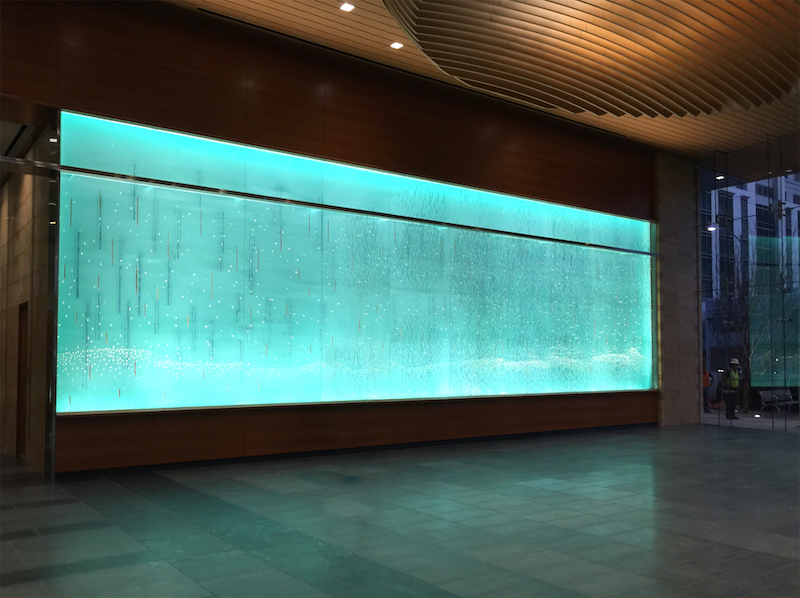 Huge glass walls, backlit by LED fixtures, are prominent art elements in the lobby of Colorado Tower in Austin, Texas. Image: Courtesy Duda|Paine
Another recent Duda|Paine-designed project is the Cousins Properties-owned Colorado Tower, a 29-story, 650,000-sf mixed-use building in Austin that opened in January 2015. Colorado Tower's lobby is distinguished by huge glass walls that Duda|Paine developed in collaboration with the glass artist Kenneth von Roenn. Jr., who was a classmate of Duda's at Yale. 
On the Kaiser/von Roenn Studio website, von Roenn states that the objective of the glass walls—which are visible from the street—is "to create a soothing/calming effect" by referencing the Colorado River, which is only three blocks from the building. LED lighting illuminates the walls, which were painted in colors that create the appearance of undulating water.
Ultimately, says Duda, what his firm is attempting to achieve by including art in its designs is to "control the view, control the experience."